Nearly 50 years ago Neal's Yard was on its last legs.
It was owned by developer Thomas Neale (hence the name), and he didn't have much use for it except as a dumping ground for Covent Garden's fruit & veg merchants. Things were not looking great. But just before its shelf life expired, entrepreneur Nicholas Saunders swooped in and breathed new life into the place – starting in 1976, he cleaned it up, and turned one of the local warehouses into a wholefood shop. From there it grew and grew into the organic-loving oasis we have today.
Now, this secluded sidestreet in Seven Dials is a vibrantly colourful courtyard – swathed in shrubbery – where innovative eateries, wine bars and independent shops rule the roost. It's not the easiest to track down (entrances on Monmouth Street and Shorts Gardens; Google Maps is beneficial here), but once you do, here's a guide to refer to when eating, drinking and shopping around the area…
WHERE TO EAT AND DRINK IN NEAL'S YARD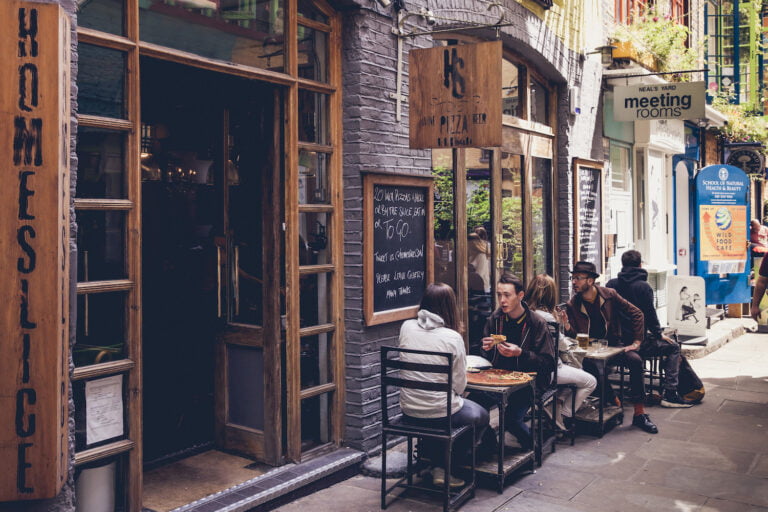 Neal's Yard is where Homeslice first started to sling their enormous NY-style pizzas, and where London became obsessed with them. It's the team's maiden parlour where pizzas come out of the wood-fired oven at a whopping 20-inches, and where toppings tread the line between the classics (margherita, salami, mushroom) and unconventional creations like braised beef with beetroot and goat's cheese. If you're being pulled in both directions and don't know which way to turn, there's a middle-ground option to go half-and-half.
Details: 13 Neal's Yard, WC2H 9DP | Open Mon-Sun 12-10pm. Walk-ins only. 
The founder of this gourmet Sicilian deli and restaurant, Cedric Casanova, used to have a career in the circus before deciding he'd rather sling olive oil and wine than walk slack-ropes. Fair enough. Now, he woos in those in need of a sleepy Italian escape with small antipasti plates (like tuna bresaola with wild fennel and pumpkin pasta with ricotta and basil) and an alluring assortment of natural and organic Sicilian wines. From the grocer: give your pantry a Mediterranean makeover with their imported anchovy fillets, wild capers, olives, cherry-tomatoes and sweet pistachio cream.
Details: 6 Neal's Yard, WC2H 9DP | Open Tue-Thu 12-10pm, Fri-Sat 12-11pm.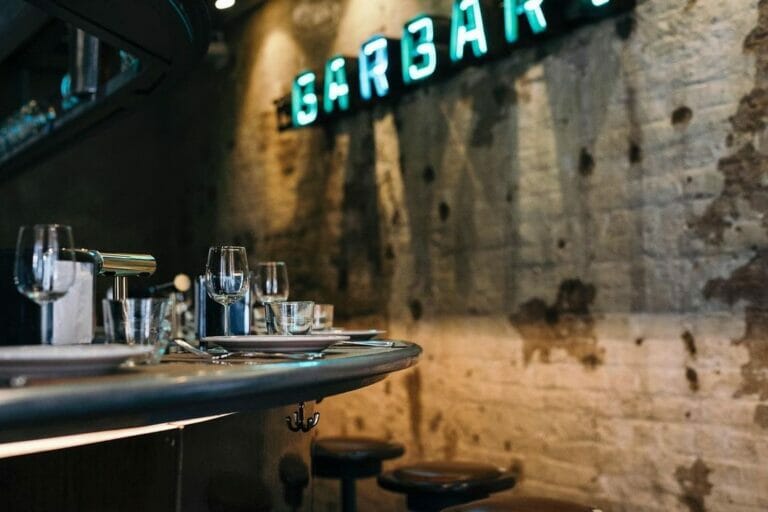 Proof that sequels can be just as good if not better than the original. The Barbary is the follow up to The Palomar, and while the latter looks towards the future with it's Israeli-inspired menu, The Barbary harks back to the trading days of North-Africa circa the 1600s – incorporating spices and cooking techniques from the likes of Morocco, Algeria and Libya. You're seated around a 24-person horseshoe-shaped bar and fed dishes divided between earth (veggie), land (meat) and sea (fish). Highlights include harma octopus, Jerusalem bagels and the hashcake dessert (pistachio-based, people…). A restaurant as raved about as this does indeed get the queues, and for that there's a 'queue menu' where you can munch on sardine bruschetta and Moroccan cigars as you eagerly await the main event.
Details: 16 Neal's Yard, WC2H 9DP | Open Mon-Wed 5-10pm, Thu-Fri 12-2.30pm, Sat 5-10pm, Sun 12-10pm. Booking are made one month in advance, do that HERE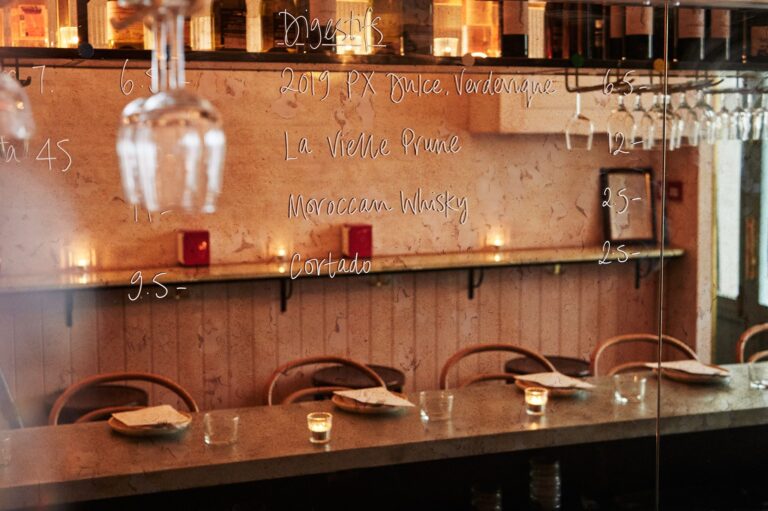 Believe it or not, The Barbary Next Door is… next door to The Barbary. It's from the same amazing crew, with the same motifs, food beliefs and affinity for the North-African coastline – just in a smaller dose. Capacity squeezes in just ten, so nabbing a stool requires some persistence (like The Barbary, you can book but a month in advance). When you're in, expect to engage in chit-chat with the chefs as they drop gastro wisdom while wowing you with their famed flatbreads, cumin-salted quail eggs and heftier plates like crispy chicken pastilla filo pie and oxtail tagine. Wine also plays a starring role in the experience: you'll scout offerings curated by sommelier-superstar Honey Spencer (she's worked with Sager + Wilde, The Mulwray, etc.) including Old World organics and a bunch of bottles from Morocco.
Details: 16A Neal's Yard, WC2H 9DP | Open Tue-Wed 5-10pm, Thu-Sat 9am-2.30pm & 5-10pm, Sun 10am-3pm. Book HERE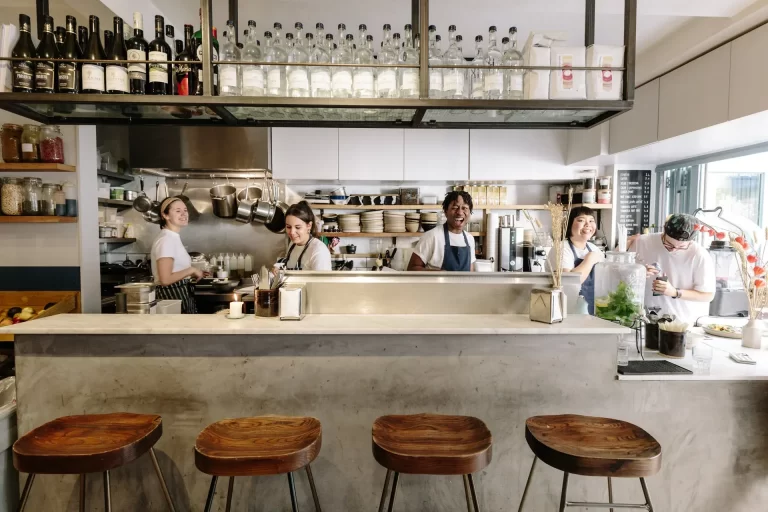 26 Grains isn't any old run of the mill restaurant… It's a small but airy Scandinavian-styled restaurant that props up one of the unsung heroes of the breakfast world: porridge. Their nourishing bowls of colour and nutrition cover hot and cold, while oat options change with the seasons (currently banana, tahini, honey and cinnamon or roasted apricots with spiced golden raisins and pistachio crumbs). If you were to go against the grain, there's also Turkish fried eggs, toasties and various tasty things on sourdough. No matter whether you pop in during the AM or PM, it's a winner.
Details: 1 Neal's Yard, WC2H 9DP | Open Mon-Sun 9am-4pm. Check out their website HERE. 
Compagnie des Vins Surnaturels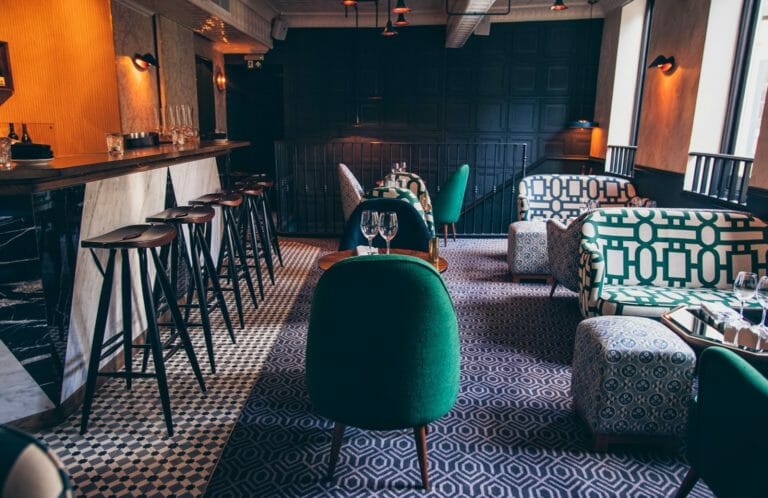 The Francophiles who brought us Soho's Experimental Cocktail Club are behind another portal to Paris here in Neal's Yard. At this plushly-decorated, two-storey wine bar and restaurant they've switched their allegiance from spirits to the vino, of which they've deftly assembled over 400 drops. Bottles galavant across France and through the rest of Europe, and if you haven't the foggiest idea about wine, the sommeliers are well up for talking your ear off about the stuff. Food is also high on the agenda, covering mostly Gallic classics like charcuterie, beef tartare and a posh croque madame (with truffle ham and quail egg).
Details: 8-10 Neal's Yard, WC2H 9DP | Open Mon-Wed 4pm-midnight, Thu-Sat 12pm-midnight, Sun 12-11pm. Call 02077347737 for reservations.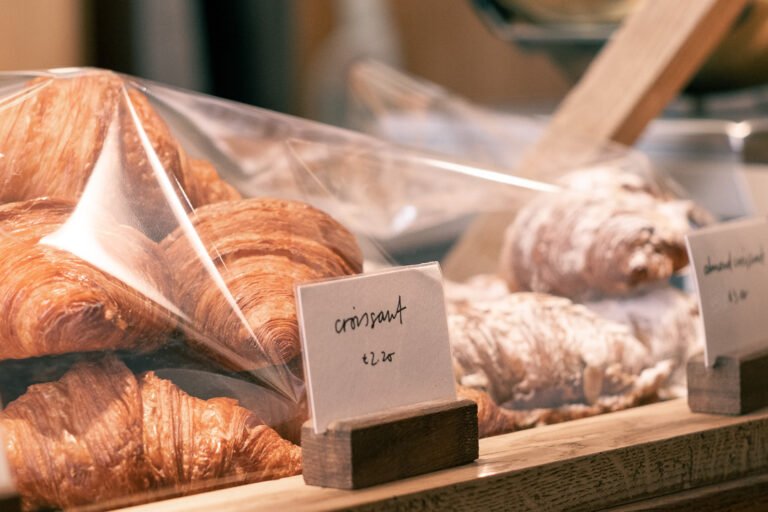 Monmouth has been helping city slickers get their buzz on since 1978. Through expertly-made ethical brews it continues to tick along just fine in the current age, still one of the best coffee shops in London even in the face of all the well-groomed, new-wave spots that seemingly crop-up in the capital every week.  Though they now roast beans in their new Bermondsey base and there's a bigger branch in Borough, Neal's Yard is where this sensation started. If you're trying to blend in with all the coffee connoisseurs that populate the place, go for the daily filter special where beans come from farms in regions like Peru and Colombia.
Details: 7 Monmouth Street, WC2H 9EU | Mon-Sat 8am-5pm
WHERE TO SHOP IN NEAL'S YARD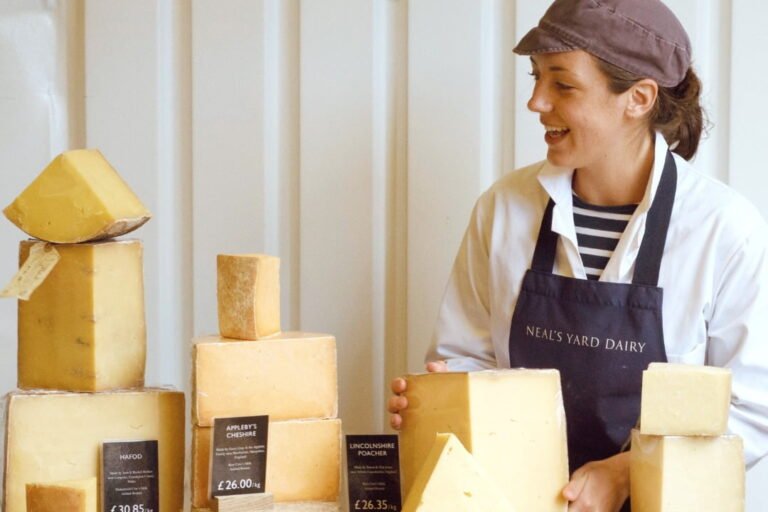 The cheesemongers at Neal's Yard Dairy have been around the block for over 40 years and do admirable work shining light on British cheese. Their Neal's Yard store is paradise for picnickers looking to stock up on farmhouse fromages as well as dinner party hosts looking to recreate high-end London restaurant cheese boards from the comfort of their own homes. Some of the more sought-after varieties from the inventory include the Red Leicester, Montgomery's Cheddar and Colston Bassett Stilton, and even if you're only in the market for one, the jovial white coat-wearing staff will likely tempt you into buying all three.
Details: 17 Shorts Gardens, WC2H 9AT·| Open Mon-Wed 11am-6pm, Thu-Sat 10.30am-6.30pm
Besides tending to their Michelin-starred nose-to-tail restaurant, the St. John team have a very-successful side hustle: a bunch of spin-off artisanal bakeries (that are easily some of London's best bakeries). The first is here in Neal's Yard and yes, their destination donuts line the counters – the insta-famous ones you've probably dribbled over on social media, covered in caster sugar and filled with flavours such as vanilla custard, chocolate and strawberry jam. Though a box of those is the mandatory order to-go, other brilliant bakes like the Eccles cake and statement-making sourdough deserve a look-in too. Chuck in a few bottles of French wine and you'll be flatmate/partner of the year when you return home.
Details: 3 Neal's Yard, WC2H 9DP | Open Mon-Sat 8am-6pm, Sun 10am-5pm. 
Can't sleep, get itchy feet or suffer from an unsightly amount of dandruff? Strong chance that a visit here will cure any of those ailments. Neal's Yard Remedies cottoned onto the clean-living, wellbeing trend long before anyone else (on the 4th of December 1981, to be precise) and supply all sorts of pristinely-packaged health and beauty products – from essential oils and herbal remedies to shower gels, skincare and supplements – handcrafted and formulated in their eco- factory in Dorset. If you're after an immediate solution, the on-site therapy rooms will have you on the mend; offering services spanning acupuncture, facials and deep tissue massages.
Details: 15 Neal's Yard, WC2H 9DP | Open Mon-Fri 10am-7pm, Sat 10am-6pm, Sun 11am-7pm. For info on the treatment rooms, click HERE
---
Looking for more stuff to explore nearby? Take a look at our guide to the best things to do in Soho.