"When a man is tired of London, he is tired of life," Dr Samuel Johnson famously once said. Less well known, because he didn't actually say it, is his subsequent truism: "But when a man is tired of London walking tours which focus on Jack the Ripper, Harry Potter, and 'edgy' East London street art, that's absolutely fair enough."
There is, happily, more to the city's walking tours than those three somewhat inevitable subjects. So put your best foot forward, and prepare to have your mind blown by the finest walking tours London has to offer – and all without a Banksy in sight.
London's Secret Gardens
Though it's easy to forget it whilst attempting to cycle round Old Street roundabout, London is one of the greenest cities in the world. So allow Look Up London – which specialises in high-quality, detailed, cliché-free walking tours – to share just a few of them with you; namely, the open and green spaces in the Square Mile, of which there are 376 (yep, that's right). You'll discover hidden away spaces like St. Dunstan-in-the-East and Postman's Park – oases so beautiful you'll be torn between 'showing them off to your mates' and 'keeping them to yourself forever'.
Starting point: Outside Mansion House tube station | Time: 2 hours | Price: £20 | Book here

Borough Market
Whilst technically a walking tour, this expert-led exploration of London's mighty Borough Market (formally established, lest we forget, in 1756 – so there's plenty to learn about) is very much, as you would hope, also an eating tour. In charge is Celia Brooks, an expert cook, cookbook author, food writer – and, at one point, Stanley Kubrick's private chef (why not).
Her 'gastro-tour' of the Market may not be the cheapest, but it does feature as many tastings as you could possibly hope for – including cheeses, oysters, wines, chocolate, and cannoli. You'll leave with happy memories, food to take home – and, possibly, gout.
Starting point: 1 Cathedral St, London SE1 9DE, United Kingdom | Time: 3 hours | Price: £110 | Book here.

Unseen Tours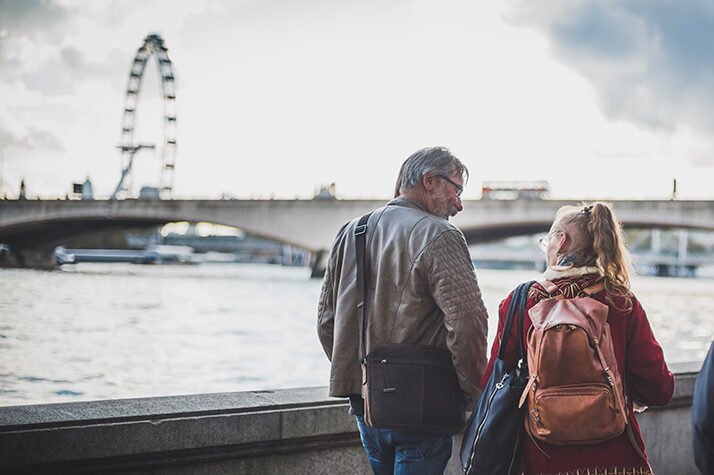 You'll look at London a little differently following an Unseen Tour. The social enterprise, established in 2010, works with those affected by homelessness – and their tours of London are developed, curated, and led by the vulnerably-housed. 
Of all their offerings, perhaps the most fascinating is Ben's tour of Kings Cross to Clerkenwell, which explores the way that industry and capitalism have shaped – and continue to shape – the area and the community from the Victorian railway to the currently rapidly-sprouting commercial and residential developments. Fascinating and sobering in equal measure.
Starting point: Outside the Betjeman Arms Pub, on the first floor of St. Pancras Station | Time: 2 hours | Price: £18 | Book here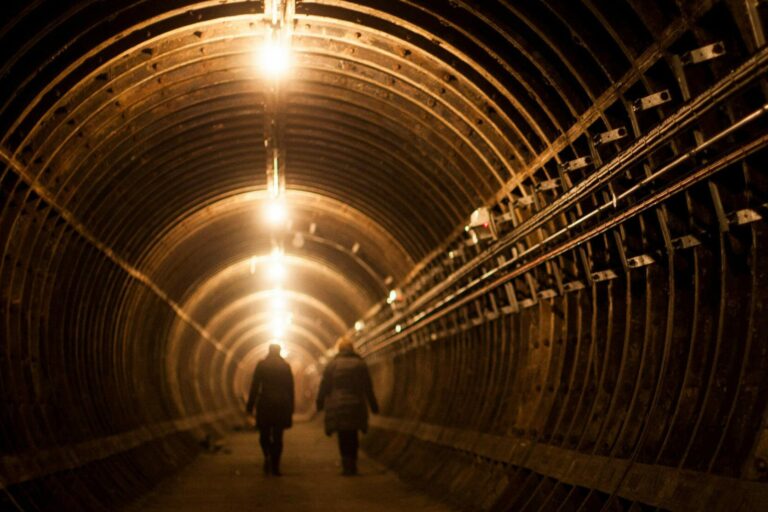 All aboard for one of the most undeniably-cool walking tour experiences available: exploring the London Underground's abandoned tunnels. Thanks to the London Transport Museum's range of Hidden London tours, your inner 13 year-old will be overjoyed as you journey both underground and back in time – venture down into the abandoned platforms of Aldwych Station, check out the immaculately-preserved vintage posters in Euston, and journey beneath Shepherd's Bush station to learn about the history of the Central Line (yes, it's always been too hot).
Locations and pricing: Various – find out more information here
–
Karl Marx Walking Tour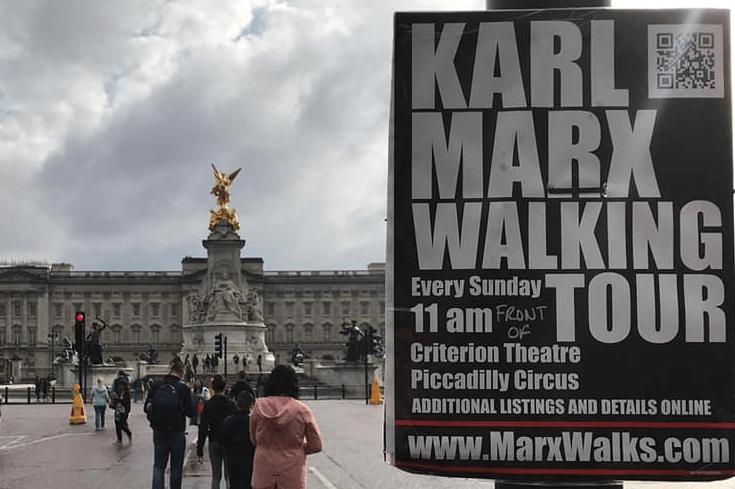 As late-stage capitalism consumes us all, why not get a bit of historical perspective by experiencing central London via the legendary Karl Marx Walking Tour. Starting at 11am every Sunday, the tour kicks off outside the Criterion Theatre, Piccadilly Circus. Narrated by seriously learned guides with both academic grounding in Marxist theory and practical experience with workers' solidarity movements, the tour tells the story of Marx's life, and those of his fellow revolutionaries who made London their home. As a chance to appreciate the city from unusual Engels, it gets top Marx.
Starting point: Outside the Criterion Theatre/Eros, Piccadilly Circus | Time: 2 – 2.5 hours | Price: £10 | Book here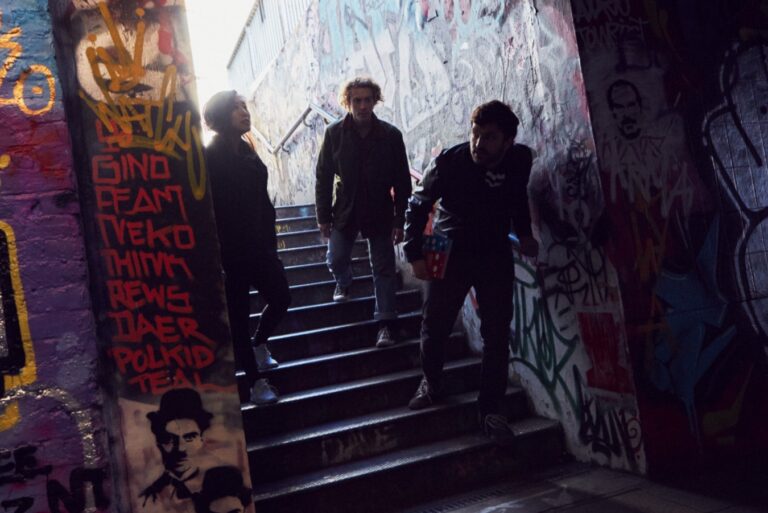 Is it a tour? Is it a game? Is it a piece of immersive theatre? Is it an escape room? The answer to all of the above is a resounding 'sort of!' Hidden City is, in actual fact, a delightfully unusual way to experience London in a new and different way, guided entirely by an unfolding narrative on your phone, which sends you on a quest through the city. Choose one of three treasure hunt-style experiences, gather your team, fire off a text, and begin exploring.
Take The Enchanted Mirror, for example, in which you'll scramble to foil the powers of a jealous queen. Whilst the secrets you'll uncover can't be revealed, what can be is that you'll spend 3-4 hours exploring South Kensington and West London, and having a whale of a time. 
Starting point: South Kensington Tube Station | Time: Depends how good you are at cryptic clues… | Price: £50 for two people (designed for teams of 2-6) | Book here

Mudlarking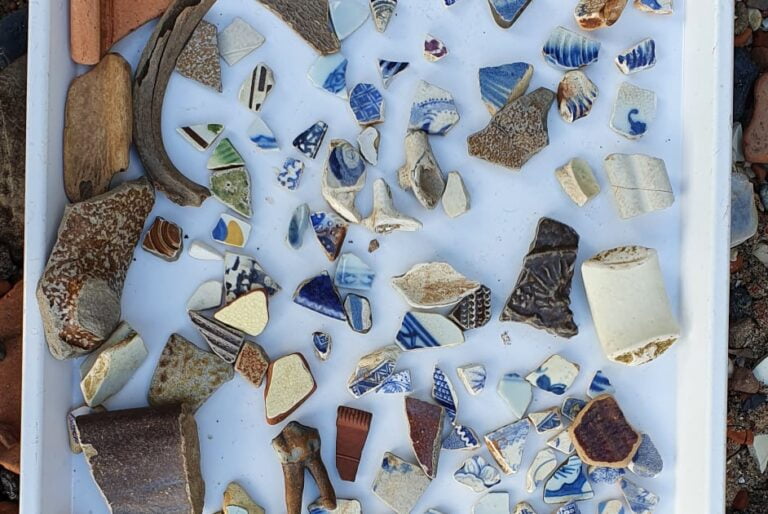 The Thames is steeped in both history and mud – and you can explore both of those things with the expert guidance of the Thames Explorer Trust, who lead you onto the river's foreshore (the bit of the shore between high and low tide) for an exploration of London's many partially-submerged riches. The odds of finding a historical artefact are actually pretty high, and it's genuinely thrilling when you do (although, expectation-management: you're not allowed to keep them).
Starting points: Multiple locations along the Thames | Time: 2 hours | Price: £25 per ticket | Book here
Fleet Street Secrets
Never believe anything you read in the media, obviously – but do believe everything you hear about the history of Fleet Street, care of Look Up London's superb walking tour. It spills the beans (or should that be the ink) about the historic home of the city's journalists – and their scurrilous encounters with the surrounding community of cabbies, lawyers, activists (and the odd parrot or two). Breaking news: it's really good fun.
Starting point: Outside Temple Underground Station | Time: 90 minutes | Price: £20 | Book here

Churchill's War Rooms

Light up a cigar and descend into the maze of underground rooms that sheltered Winston Churchill and his government during the Blitz (also, please don't actually light up a cigar, you'll be asked to put it out immediately). Full of eye-catching details – from the sun-lamps used to get Vitamin D to the underground-dwellers, to the signs indicating the weather outside – it's a properly captivating experience, revealing a pivotal moment in the nation's history.
Starting point: Outside Big Ben | Price: £63 per ticket | Book here
The Non-Tour Tour…
We know that what you really want from a good walking tour in London is a couple of hidden gems, something fun to do, a great restaurant to break up the day and of course a suitably atmospheric bar to hole up in at the end. And the occasional ring-tailed lemur thrown in for good measure. Which is why we're building a growing library of Itineraries designed to help you explore the best parts of London's neighbourhood, with Nudge-approved stop-offs along the way: find all your Nudge Itineraries here.
---
Worried you'll be left starving from all the walking? We've got you covered with our list of the best restaurants in every London neighbourhood…