Like a faithful sheepdog with a strangely specific nose for good cooking, interiors and atmosphere, we've dutifully rounded up the best restaurants in every neighbourhood in London.
For there are many great places to eat in this city, but sometimes what you need is that go-to restaurant so that you know where to go irrespective of where you find yourself in London.
Naturally, listing just one restaurant per neighbourhood means that we've had to leave out large numbers of amazing London restaurants… and that hurts. So in some instances – mainly just to soften the blow in the event of our #1 choice being full – we've listed one or two alternative options for you to consider.
We've also dropped in the odd suggestion for amazing cocktail bars near our chosen restaurants, to help you choose a location for pre- and / or post-dinner drinks.
Enjoy.
---
JUMP TO: EAST | SOUTH | WEST | NORTH |
---
THE BEST RESTAURANTS IN CENTRAL LONDON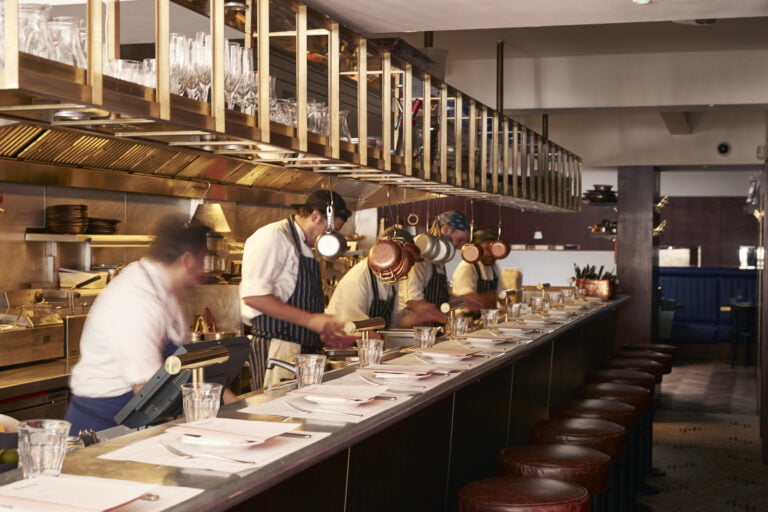 Just as we were starting to feel that The Palomar's unstinting reign at the top of this list should perhaps be brought to a close to give Soho's other restaurants a look in, the team (Zoë and Layo Paskin) go and decide to give the place a top-to-bottom refurb. Meaning that there's now an even longer dining counter where you can overlook the chefs assiduously preparing Jewish-Spanish-North-African dishes like wild seabass tartare and silky hummus; and even bigger tables at the back where you can now book for up to 10.
Details: 34 Rupert Street, W1D 6DN
Our favourite bar nearby: Soma, a sleek speakeasy serving cocktails with a hit of Indian flavour.
OTHER AMAZING RESTAURANTS IN SOHO – It's London's restaurant epicentre, so there's a lot. But Speedboat Bar, Rita's and Firebird are all exciting recent additions to the neighbourhood. See all our favourite Soho restaurants
–
Marylebone | Kol
When René Redzepi decided to open a pop up of Noma in Mexico back in 2017, he chose Santiago Lastra to help run things. The man is an unbelievably good chef. And now he runs his own Michelin-starred restaurant in London, where you can score langoustine & smoked chilli tacos; whole grilled octopus with bone marrow; and roe deer & pumpkin tzic – sat at the chef's table with Santiago himself, if you so choose – before sliding downstairs to the basement mezcaleria.
Details: 9 Seymour Street, Marylebone, W1H 5BT
Our favourite bar nearby: The Zetter Townhouse, an eclectic parlour with adventurous cocktails
See all our favourite Marylebone restaurants
–
Fitzrovia | Lisboeta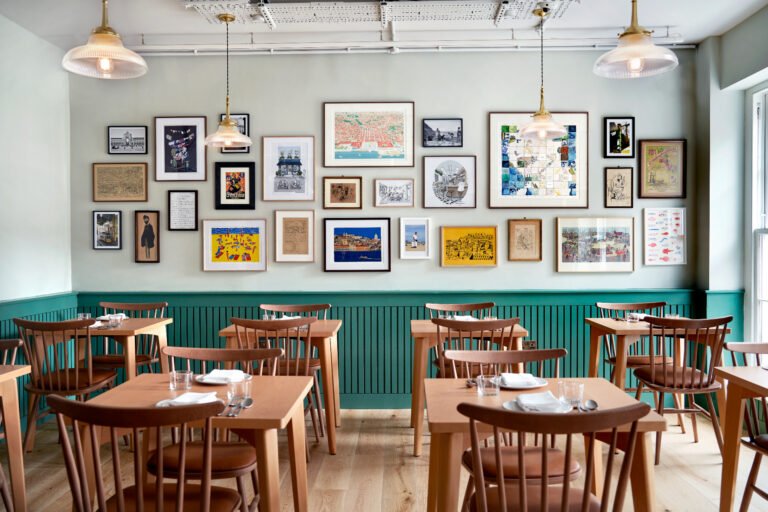 Nuno Mendes has ticked off pretty much every item on the chef's bucket list. He's scored Michelin stars. He's run one of the most popular A-lister restaurants in town. And he's opened a restaurant in a tiny Shoreditch building that barely seated a dozen people. So now, he's returning to his roots with Lisboeta, an airy and critically acclaimed Fitzrovia restaurant that he calls his "love letter to Lisbon".
Details: 30 Charlotte Street, Fitzrovia, W1T 2NG
Our favourite bar nearby: The wine bar at Carousel, or Bourne & Hollingsworth for cocktails
–
Bloomsbury | Master Wei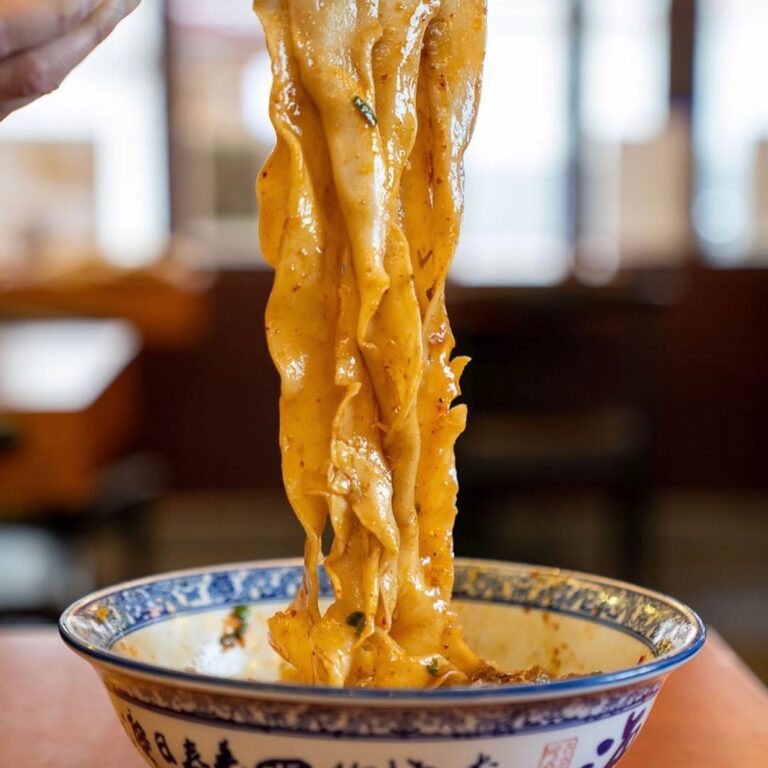 They're not overplaying the 'master' thing, seriously. This is the first solo London eatery from Guirong Wei, who at one point was the only female head chef in her home city of Xi'an (before she came over to head up Xi'an Impression). And it's here that you'll find the finest biang biang noodles in London – lovely, chilli-slathered strands wrapped around pork, tomato and egg, and served up with a thirst-quenching Chinese plum juice.
Details: 13 Cosmo Place, WC1N 3AP
Our favourite bar nearby: The Bloomsbury Club Bar, a fairy-lit den with tarot-themed cocktails.
–
Holborn | Ikoyi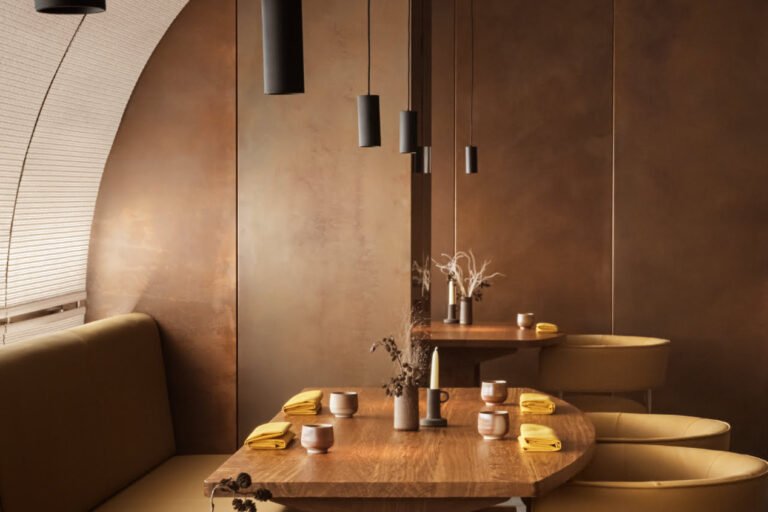 In a gracious move (which, incidentally, has given them a lot more space), the folks at Ikoyi have recently transplanted their entire Michelin-starred, critically acclaimed restaurant from restaurant-saturated Mayfair to the Strand (and isn't that really, in a way, basically Holborn?). Their new digs are gorgeously copper hued, with hand-thrown crockery and curving armchairs that envelop you as you tuck into tasting menus of adventurous cooking that combines influences from around the globe, with an emphasis on African spices and techniques.
Details: 180 Strand, Strand, WC2R 1EA
Our favourite bar nearby: Venture towards Covent Garden and drop into NoMad's Side Hustle.
–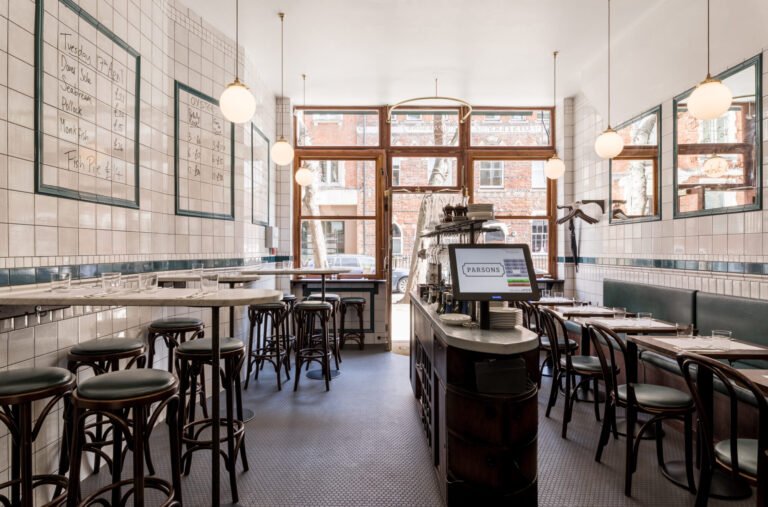 It's not easy for a restaurant in one of the busiest parts of London to feel 'neighbourhood-y'. But with space for just a handful of diners in what feels like an old Victorian fishmongers, Parsons fits the bill. Head here for daily specials sourced fresh from the boat, plus a generous wine list offered by the glass – unsurprising, since the team also run The 10 Cases across the street.
Details: 39 Endell Street, WC2H 9BA
Our favourite bar nearby: Compagnie des Vins Surnaturels, a secluded wine bar in the charming Neal's Yard.
OTHER AMAZING RESTAURANTS IN COVENT GARDEN – Superlative dumplings at Din Tai Fung, the elegant dining room that is Cora Pearl, and of course the amazing Frenchie, a sleek Covent Garden eatery from the chef behind the insanely popular Paris restaurant of the same name. See our pick of the Best Restaurants in Covent Garden here.
–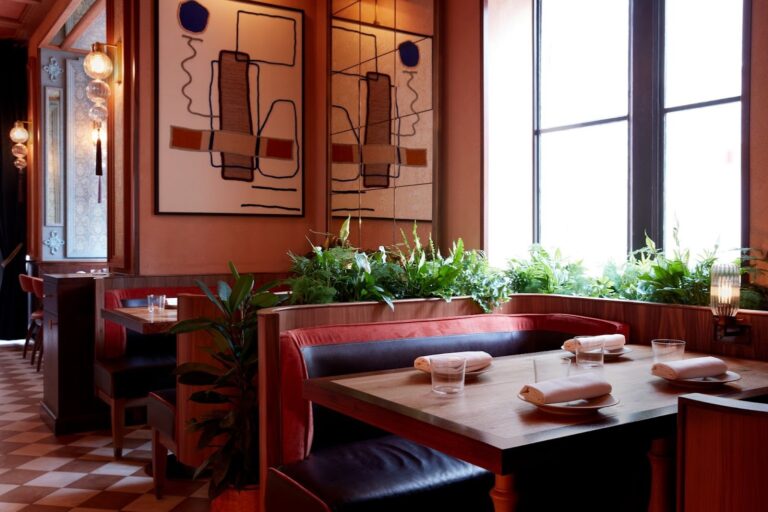 BiBi is the long-awaited solo venture from Gymkhana and The Ledbury chef Chet Sharma, who's poured all of his exceptional talent into a tasting menu that plucks spices and unique ingredients from across India, and pairs them with fresh British produce. The result? Dishes like raw Orkney scallops with nimbu pani (Indian lemonade); dahi aubergine with tempered yoghurt; and truffle & king oyster kichdi – all served in a beautiful, date-worthy setting.
Details: 42 North Audley Street, W1K 6ZR
Our favourite bar nearby: The Connaught Bar, ranked Best Bar in the World twice in a row.
THE BEST RESTAURANTS IN EAST LONDON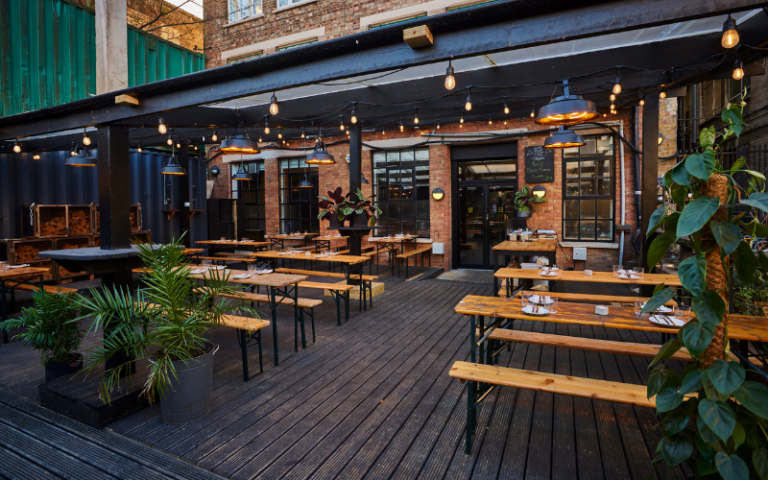 ACME Fire Cult worships the grill. Chef Andrew Clarke's showstopping BBQ spot is parked right by 40ft Brewery (which has the fortunate side-effect that a lot of beer makes it into the recipes). And surprisingly, it's not just slabs of meat making their way onto the rack – although the Tamworth pork chop is something to behold – vegetables are given the spotlight with dishes like aubergine steak with sourdough mole, coal-roasted celeriac and delicious smoked potatoes with tahini mayo.
Details: The Bootyard, Abbot Street, London E8 3DP
Our favourite bar nearby: Three Sheets, a no-frills cocktail bar with award-winning drinks.
–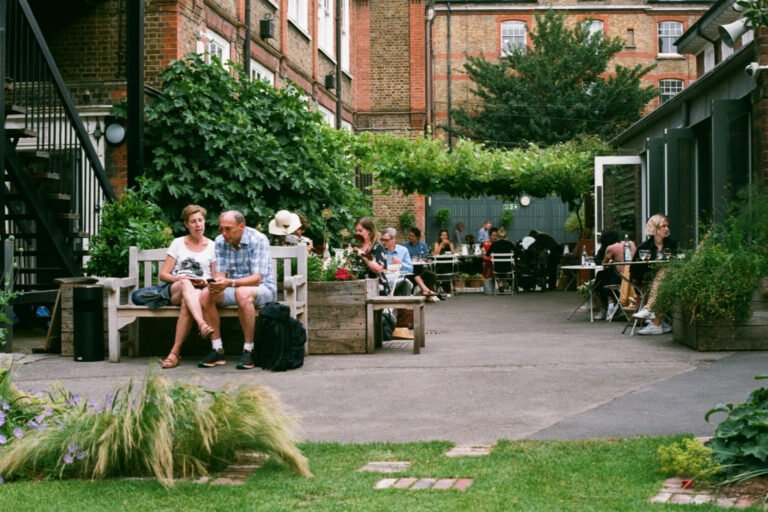 Rochelle Canteen is one of those places that's difficult to get into. Not because of a starry A-list clientele, or a booking system that fills up months in advance… but because it's housed in an old school bike shed, tucked away behind a door in a garden wall. The Modern British food befits the garden setting, with playful inventions like grilled pork with dandelion, nettle arancini and apricot sorbet with vodka featuring on a regularly changing menu from culinary legends Melanie Arnold and Margot Henderson.
Details: 16 Playground Gardens, E2 7FA
Our favourite bar nearby: Seed Library, a low-lit, brutalist basement bar from cocktail wiz Mr. Lyan.
OTHER AMAZING RESTAURANTS IN SHOREDITCH – Brat, the smoke-filled Michelin star dining room opened by former Kitty Fisher's head chef Tomos Parry – aaand all these other excellent restaurants in Shoreditch.
–
Hoxton | Morito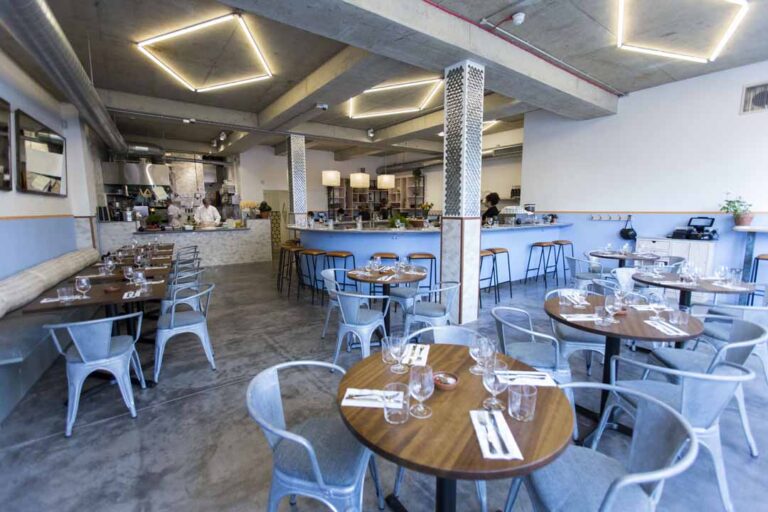 Remember when no-one cared about nostalgia? Those were the days. Like back in 1997, when Moro first opened and everything was all-new: like their fresh style of North African & Spanish Moorish tapas, or their then-innovative, stripped-back space with countertop dining and a wood-fired grill. Well two decades later they opened a new place, Morito on Hackney Road. And it's amazing.
Details: 195 Hackney Road, Hackney, East London, E2 8JL
Our favourite bar nearby: Sager + Wilde, one of London's best wine bars.
ANOTHER AMAZING RESTAURANT IN HOXTON – On a Sunday, there's really nowhere else you should be than enjoying a roast with the Sunday papers at The Marksman.
–
Haggerston | Berber & Q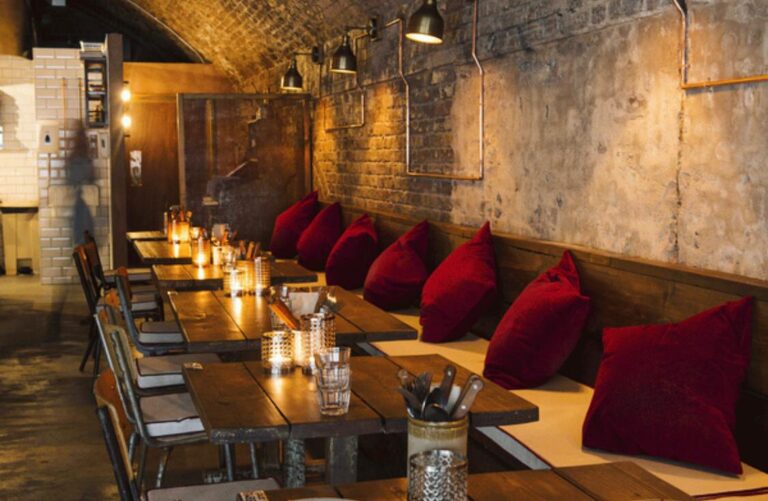 Perched inside an old railway cavern in Haggerston, this exposed-brick, industrially-styled space sees some pretty unusual fusion cuisine plated up on its wooden tables: Middle Eastern and North African recipes, cooked using American BBQ techniques. Which, if you're wondering, takes the form of dishes like smoked pork belly with pomegranate molasses BBQ sauce, harissa hot wings, and dirty-fried mejadrah (a type of sweet rice) with sumac onions and barberries. You won't find better Middle Eastern BBQ in town, trust us.
Details: Arch 338 Acton Mews, Haggerston, E8 4EA
Our favourite bar nearby: Brilliant Corners, one of London's best bars with live music
–
Clerkenwell | St John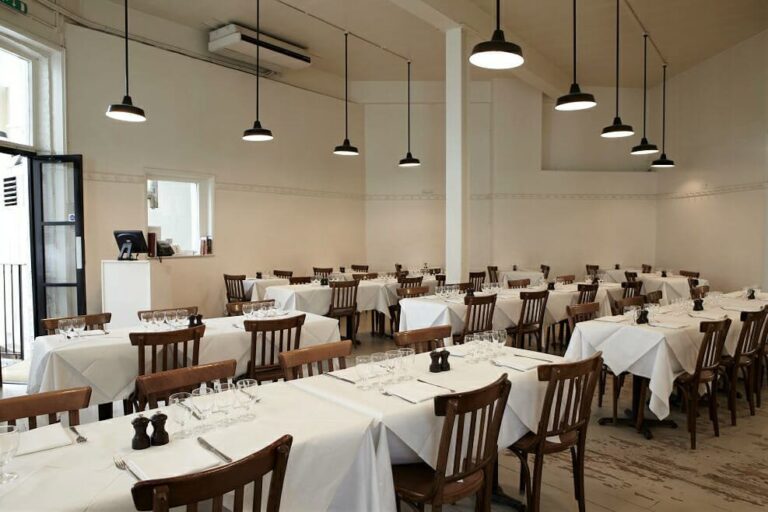 Despite fierce competition from the wildly trendy Sessions Arts Club, our loyalty remains with St. John – a pioneering eatery and probably the best value Michelin Star in the city. Reasonably priced, and changing daily, the menu is famed for its nose-to-tail philosophy, but in addition to alternative cuts of meat, you'll find the likes of cured sea trout served with cucumber and dill; langoustines; poached rabbit; and freshly-baked madeleines (which can, and should, be ordered by the dozen).
Details: 26 St. John Street, Smithfield, EC1M 4AY
Our favourite bar nearby: RIP Oriole – mosey up to The Zetter Townhouse Clerkenwell instead.
–
Farringdon | Quality Chop House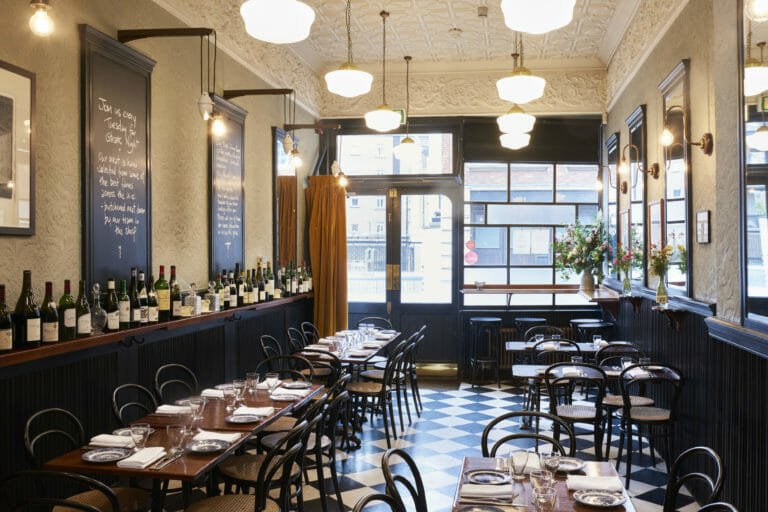 Behold a place that totally lives up to its name.
A 19th-century working man's eating house revamped as a Modern British dining room, The Quality Chop House has been feeding the residents of Farringdon, and those from a little further afield, since 1896. And it was all getting a little 'meh', until 2012 when the grade-II listed dining room was taken over by new owners, who overhauled the menu, the service… and added cushions to the wooden benches. Which was nice.
Details: 88-94 Farringdon Road, The City, EC1R 3EA
Our favourite bar nearby: Quality Wines, the neighbouring wine bar with a food menu equally worth investigating.
–
Bethnal Green | Rogues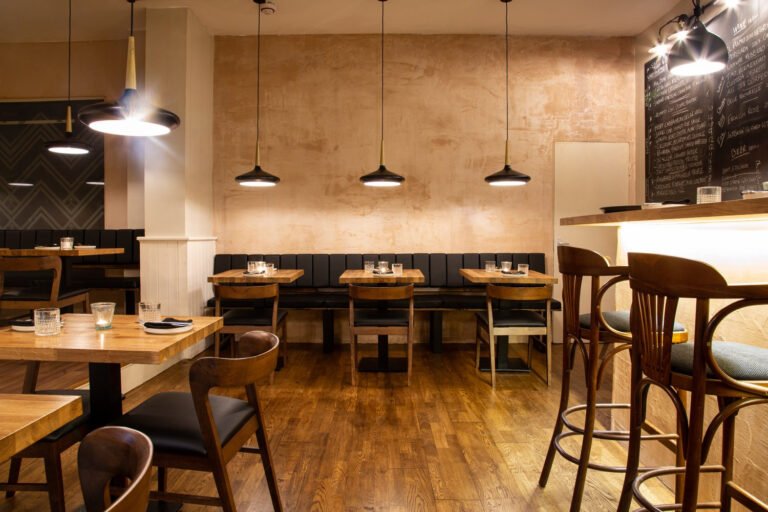 It's a beautifully intimate restaurant built lovingly from scratch by two former Galvin La Chapelle chefs, combining relaxed, cosy interiors with a mouthwatering menu of globe-trotting small plates scrawled on a blackboard menu and a short, elegant list of natural wines and classic cocktails. No gimmicks; just an all-round wonderful experience. Pretty rogue.
Details: 460 Hackney Road, E2 9EG
Our favourite bar nearby: The equally excellent and unfussy Satan's Whiskers
ANOTHER AMAZING RESTAURANT IN BETHNAL GREEN – The stripped-back, airy space serving up a daily menu of beautifully seasonal European fare that is Brawn.
–
Hackney Wick | Cornerstone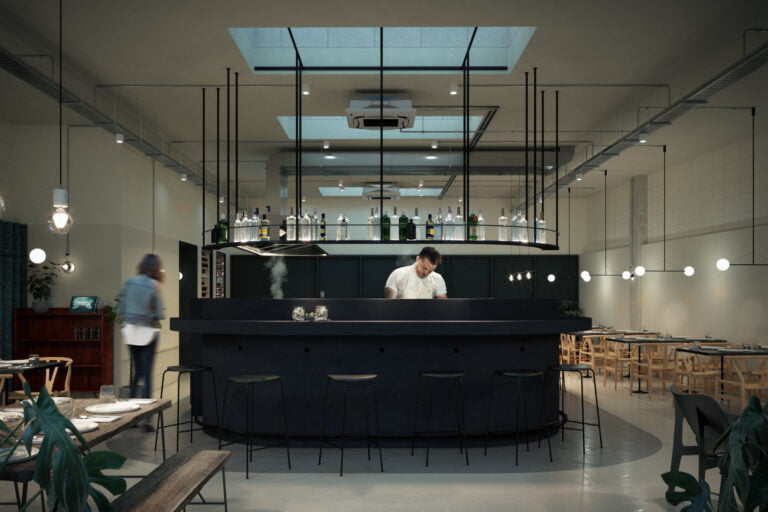 The debut restaurant from Tom Brown, Michelin-starred Cornerstone (which, as soon as it opened, immediately looked like the foundation of something big) has a distinct industrial / minimalist feel. At its heart is a small open kitchen from which the chefs cook up a seafood-driven menu, which rotates according to whatever Poseidon allows the day boats to snap up.
Details: 3 Prince Edward Road, E9 5LX
Our favourite bar nearby: Barge East, a century-old Dutch barge with cocktails
–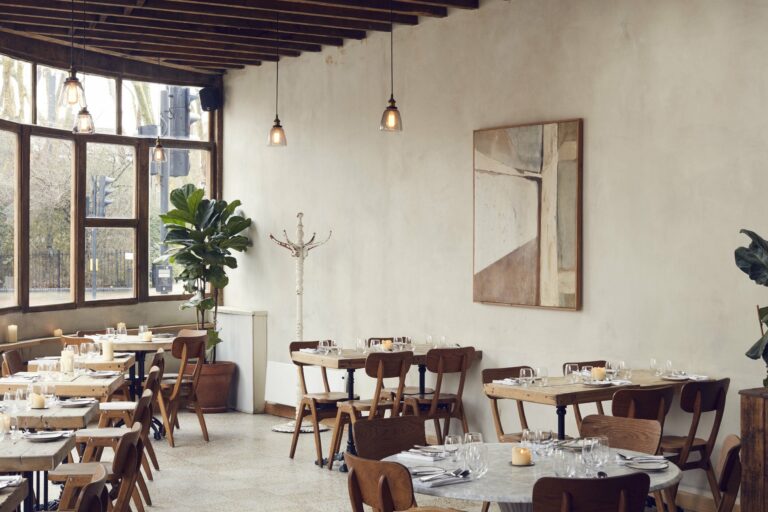 Perilla is an "anti-fine dining fine dining restaurant". And as it turns out, hypocrisy tastes delicious. More specifically, it tastes like seaweed bread brushed with roasted lamb fat, roast kale with cod roe, and cuttlefish bolognese; complimented by a concise yet worldly wine list, simple, flower-laden tables, and a strongly botanical cocktail menu.
Details: 1-3 Green Lanes, Newington Green, N16 9BS
Our favourite bar nearby: The Lady Mildmay, a proper local with an excellent beer garden
–
Spitalfields | Bubala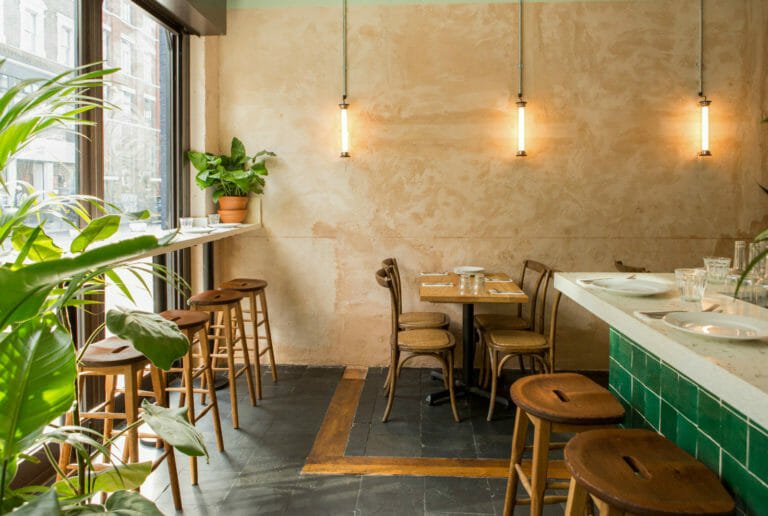 After years of sold-out supperclubs and pop-ups, the dream team behind Bubala – Berber & Q's Marc Summers and former Palomar chef Helen Graham – finally went permanent. Their debut eatery, named after the Yiddish word for 'darling', scores 10 on every front – rustic, welcoming atmosphere; thirst-quenching wines and cocktails; and an absolutely knock-out menu of Middle Eastern vegetarian dishes.
Details: 65 Commercial Street, E1 6BD
Our favourite bar nearby: Discount Suit Company, serving creative cocktails in an old tailor's basement.

THE BEST RESTAURANTS IN SOUTH LONDON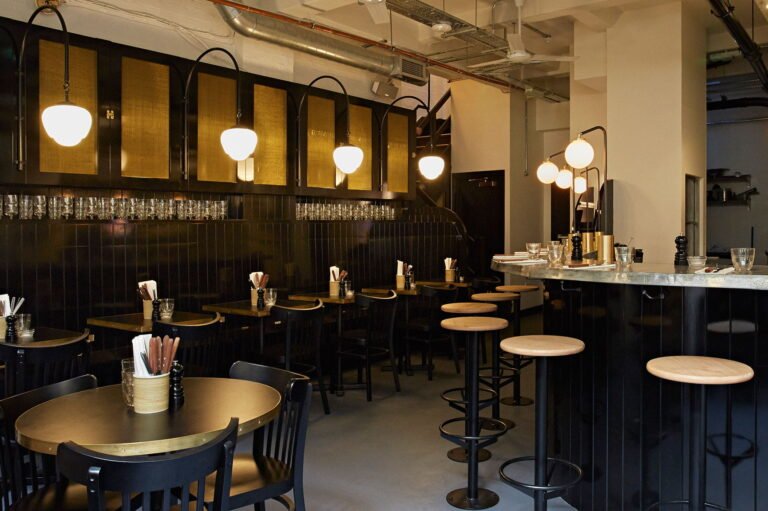 Perched on the edge of Borough Market, Padella serves only fresh, hand-made pasta – which you can see being made from the window, all day. It comes in a short-but-sweet list of just ten dishes, almost all of which hover around a tenner. You'll find pappardelle with 8-hour beef shin ragu, tagliarini with Dorset crab, and duck mezzaluna with sage butter, all served up over two floors of slick monochrome dining.
Details: 6 Southwark Street, SE1 1TQ
Our favourite bar nearby: Swift Borough, a South London outpost of the award-winning cocktail bars in Soho & Shoreditch
ANOTHER AMAZING RESTAURANT IN LONDON BRIDGE – And yes, we get the whole "is this London Bridge, Borough or Bermondsey?" conversation… but these places are basically our favourites "in and around London Bridge station". So there's the amazingly cute and delicious Casse-Croute on Bermondsey Street; Portuguese small plates at Bar Douro; and the ultimate "date to impress" spot, with panoramic views of London, that is Aqua Shard. Find a full list of our favourite London Bridge restaurants here.
–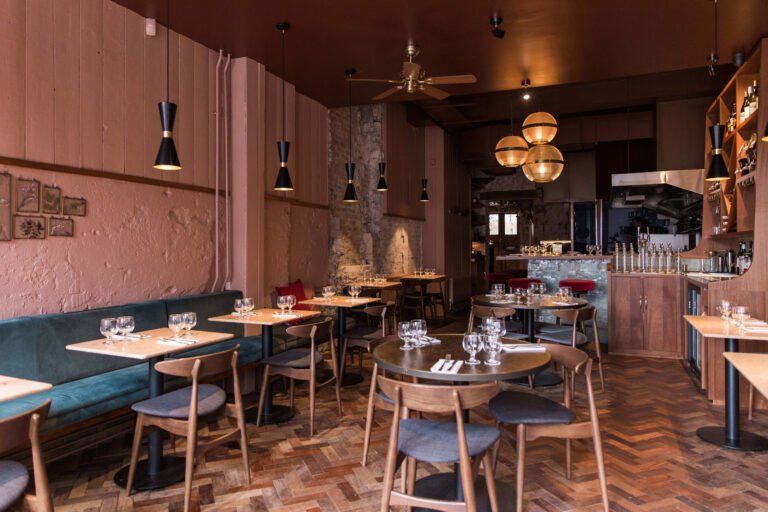 Kudu's won itself a legion of fans since opening in 2018, scoring a Michelin Bib Gourmand within a matter of months. In a rose-tinted, bare plaster-walled Peckham dining room, a former Paradise Garage chef plates up luxurious and beautiful South African-inspired dishes with foraged ingredients. Expect numbers like pig's head tortellini with mushroom and hay broth, and chicken parfait with leek ash cracker – plus Boerewors sausage with romesco for brunch.
Details: 119 Queens Road, SE15 2EZ
Our favourite bar nearby: Unusual wines at Peckham Cellars
–
Tower Bridge | Legare
A tiny little pastel-hued enclave tucked at the bottom of a Victorian spice warehouse. Legare is the product of a Barrafina General Manager and a Trullo sous-chef, and it shows – with fresh pasta made daily on site, a superb Italian wine list to wash it all down, and a Michelin Bib Gourmand for their troubles.
Details: Cardamom Building, 31G Shad Thames, SE1 2YB
Our favourite bar nearby: Nine Lives, a sustainably-minded cocktail den with low lighting and shuffleboard.
–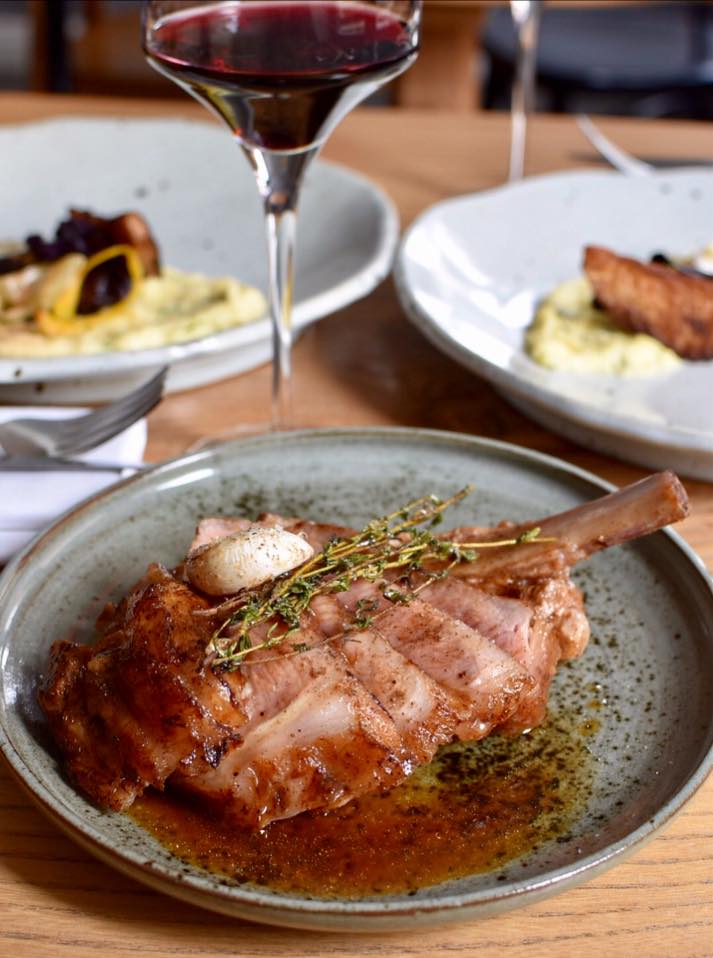 Yoann and Sujin met while working at the Michelin starred La Table de Joël Robuchon in Paris, and can now be found running their very own restaurant in Battersea. He puts together dishes that reference their links to French, Korean and British cuisine; she knocks it out the park with an exceptional wine list. And you can take it all in from a seat up at their oak dining counter, hand-carved by Yoann's father.
Details: 27 Battersea Rise, Battersea, SW11 1HG
Our favourite bar nearby: Humble Grape Battersea
–
Pimlico | La Poule Au Pot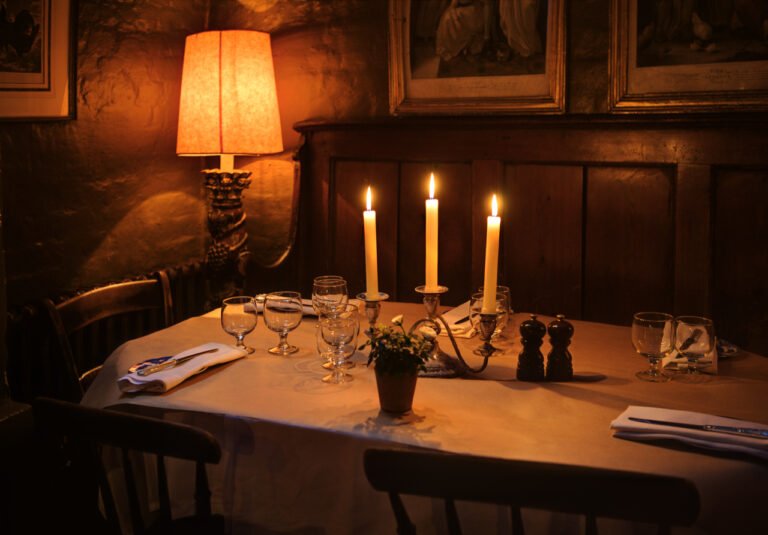 This little French restaurant makes the word 'quaint' seem like a quaint understatement. It's cosy, wood-filled, romantic, wicker-laden, and a tiny bit elegant to boot. And the food is, similarly, delightfully French with coq au vin, escargots, bouillabaisse, and poule au pot (chicken in a pot). It's glorious.
Details: 231 Ebury Street, SW1W 8UT
Our favourite bar nearby: No 11 Pimlico Road
–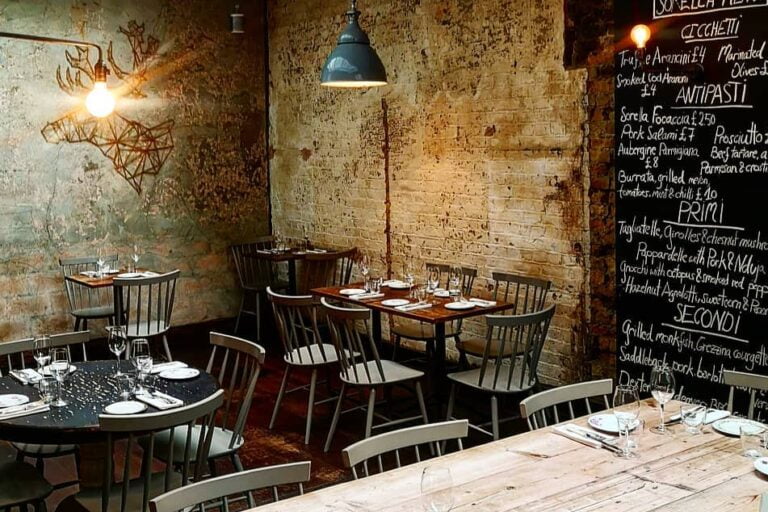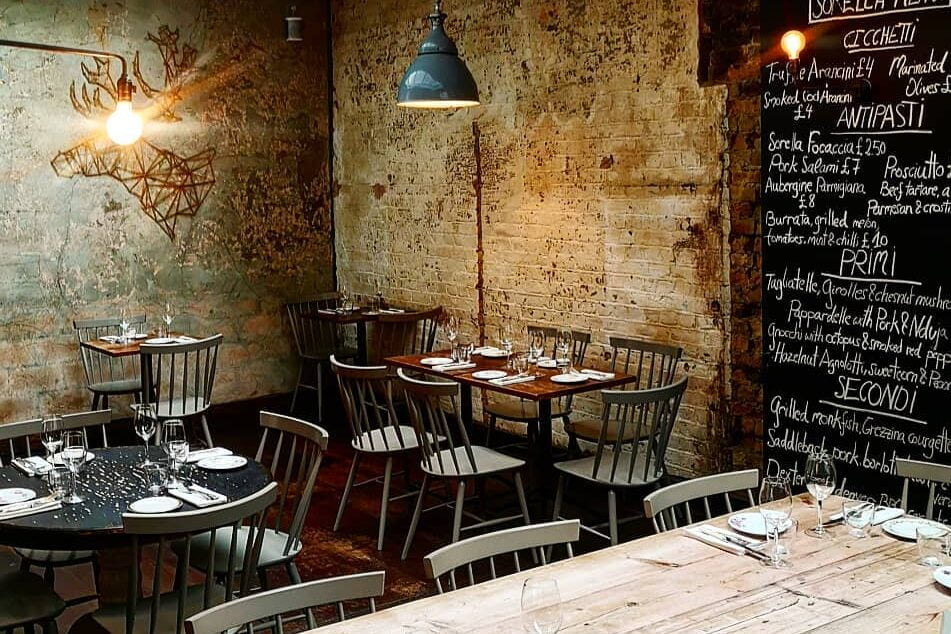 This Amalfi-inspired Italian comes to you from Robin Gill, the lauded chef behind Bermondsey Larder and Darby's. A few years ago he stripped out the interior of his previous restaurant, The Manor, and filled the kitchen with gelato makers, pasta machines and bread ovens to create a classic neighbourhood eatery… and we're very glad he did.
Details: 148 Clapham Manor Street, SW4 6BX
Our favourite bar nearby: WC, a wine & charcuterie bar in a former public convenience.
See all our favourite Clapham restaurants
–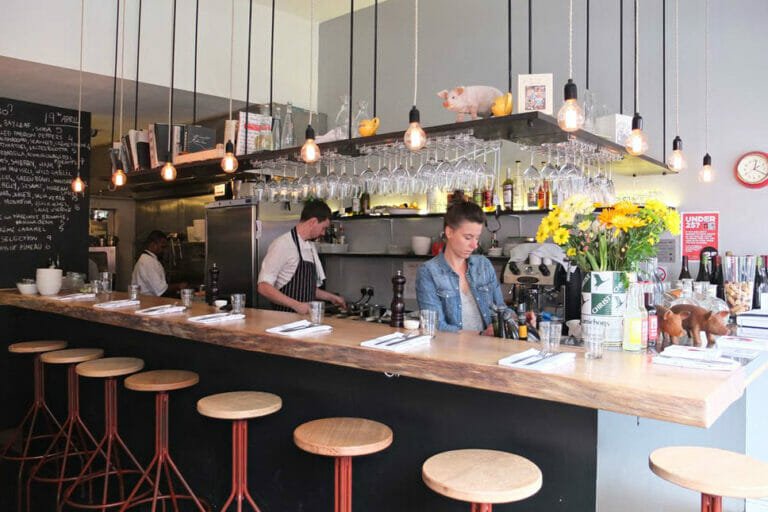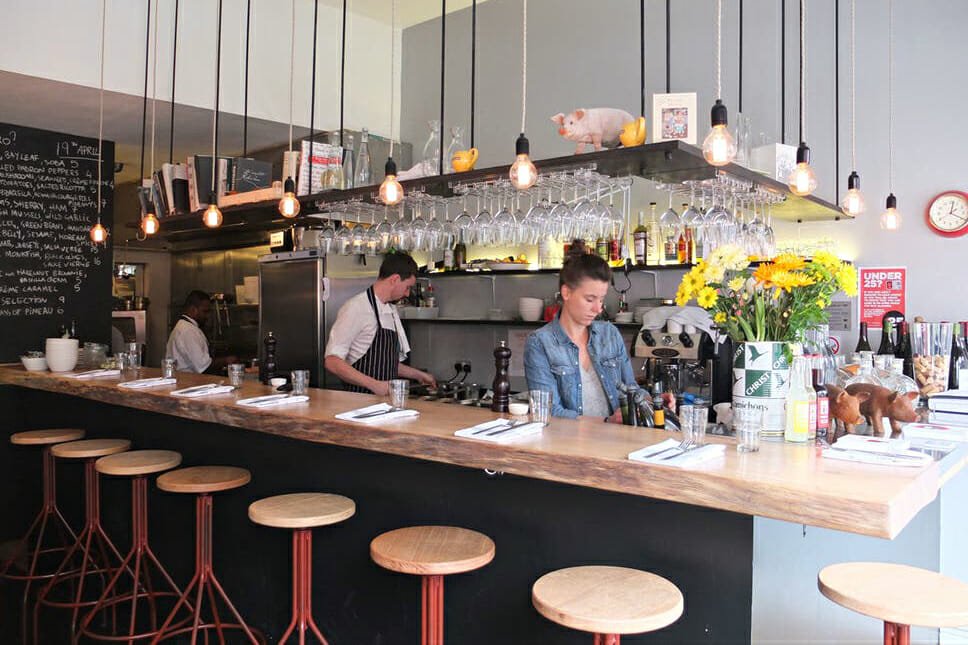 With relaxed counter dining, a menu scrawled on a blackboard and very little by way of décor beyond a couple of ornamental pigs, this unpretentious spot is a haven of (mostly) French small plates and good wine. Order a banquet of ham croquettes and smoked cod's roe with crackling before retreating to the candlelit cellar below with a bottle of red.
Details: 28 Brixton Water Lane, SW2 1PE
Our favourite bar nearby: Head back into Brixton's centre for a glass at Bottle + Rye
See all our favourite Brixton restaurants
–
Wimbledon | The Black Lamb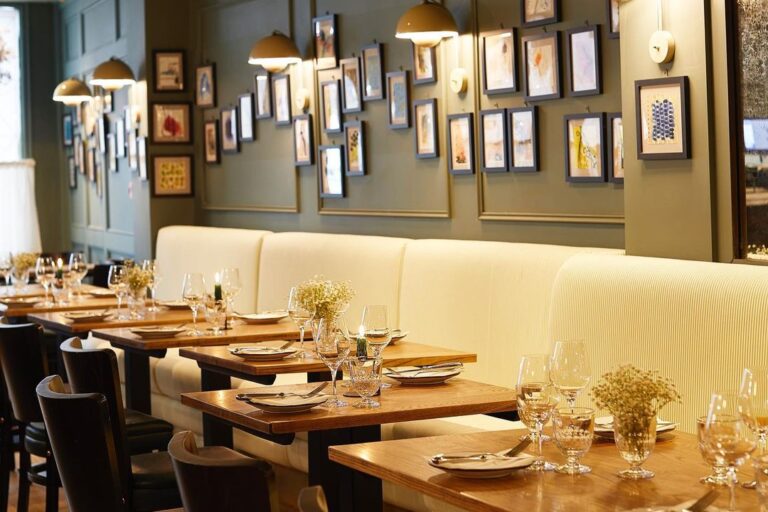 The Black Lamb is the sixth restaurant from the Gladwin Brothers – and no, it's not the black sheep of the family. Like its siblings, it's a relaxed modern bistro that draws ingredients fresh from the family farm in Sussex, and whips them into dishes like mushroom marmite eclairs with confit egg, and pork belly with black pudding and marjoram salsa. It's everything you could want from a neighbourhood restaurant, and more.
Details: 67 High St, London SW19 5EE
Our favourite bar nearby: It's right next to two of our favourite Wimbledon pubs.
–
Vauxhall | Brunswick House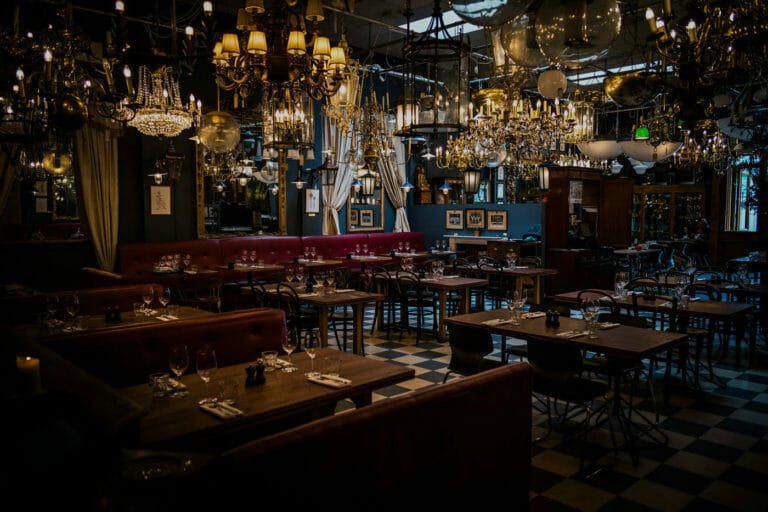 Despite being one of the city's most beautiful restaurants, Brunswick House shouldn't just be reserved for special occasions. The elegant modern British menu put together by Orasay's Jackson Boxer is the stuff dreams are made of: grilled potato bread with green garlic butter to start; raw dexter beef with smoked bone marrow for mains and spiced pumpkin parfait with treacle to finish. There's a gorgeous, leafy terrace out the front for good days, and a cellar bar below (often with live music) for even better nights. And if you are visiting for a special occasion, well, the antique-stuffed private dining rooms upstairs provide the perfect setting for that, too.
Details: 30 Wandsworth Rd, London SW8 2LG
Our favourite bar nearby: Irish hospitality meets high-end mixology at Homeboy Battersea.
–
Balham | Milk
This bright, breezy, brilliant little cafe space is famous across the city for its all-day brunches. Head down for crispy sweetcorn fritters with kasundi and avo; baked eggs with roasted butternut squash or panko fried red snapper sandwiched between shokupan milk bread, and be prepared to queue.
Details: 18-20 Bedford Hill, SW12 9RG
Our favourite bar nearby: Balham Bowls Club, an artfully dilapidated club house-turned-pub.
–
Deptford | Marcella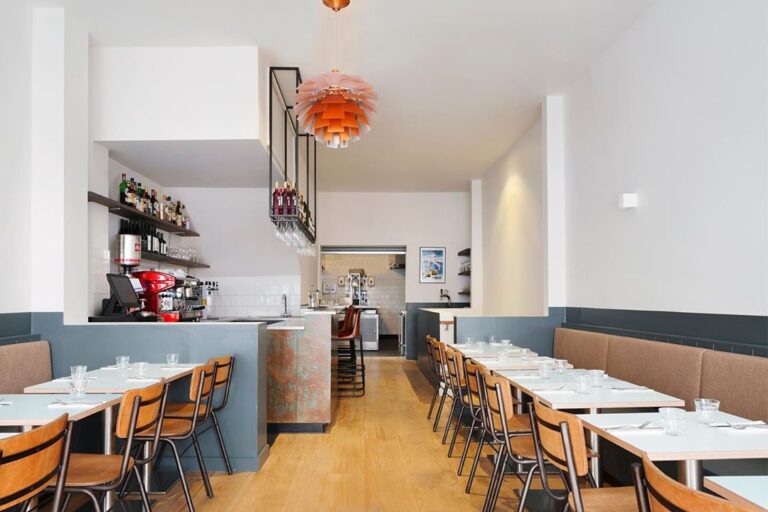 Cousin to the equally amazing Artusi in Peckham, Marcella offers simple Italian food done really, really well. Seasonal ingredients lead the direction of the menu, forming their signature fried artichoke with aioli; fresh pasta; hearty mains such as grilled squid with Iberico tomato and courgette; and elegant desserts like apple and gin sorbet.
Details: 165a Deptford High Street, London SE8 3NU
Our favourite bar nearby: Stockton, whose seasonal cocktails are £6 a pop on Thursdays.
––
Elephant & Castle | Paladar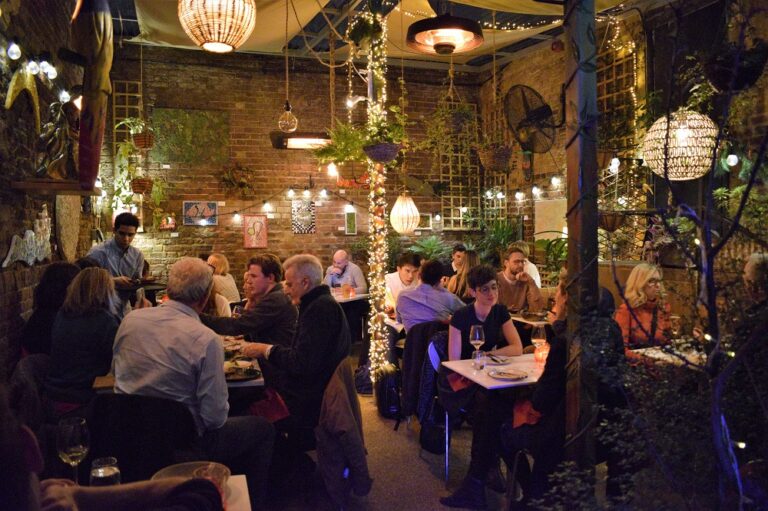 A hit with critics and locals alike, Paladar is a Latin American restaurant run by a passionate team who are enthusiastic about what they do, and will take you along for the ride. Chef Jose Rubio-Guevara puts together a menu of dishes like Nikkei salmon ceviche, grilled ox tongue on blue corn tortillas, and an exemplary cochinita pibil – and you can enjoy it all as a great value set lunch or a fancy, wine-paired tasting menu depending on how far away payday is.
Details: 4-5 London Rd, London SE1 6JZ
Our favourite bar nearby: Diogenes The Dog, home to hundreds of little-known wines

THE BEST RESTAURANTS IN WEST LONDON
Shepherd's Bush | Endo at the Rotunda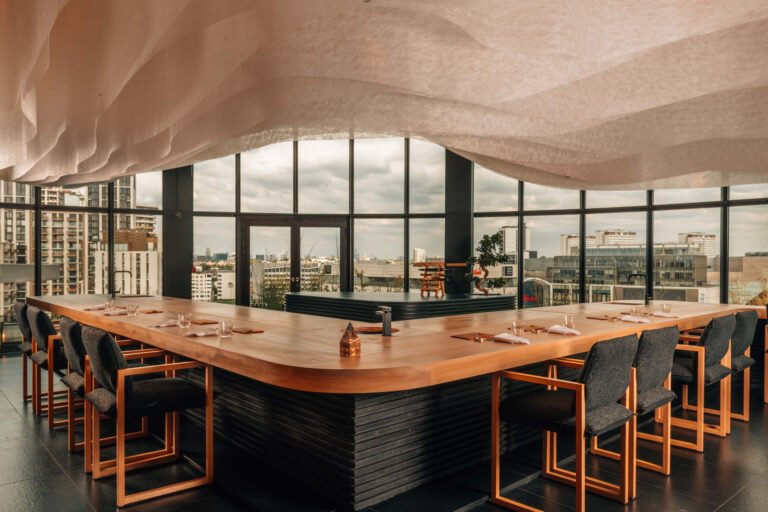 The redevelopment of the old BBC Television Centre was the dining equivalent of Westfield opening in Shepherd's Bush, bringing a rush of new restaurants to the area. On the ground floor, Kricket White City offers up a mash-up menu of British and Indian that's a hit any night of the week, but the absolute stand-out is Endo at the Rotunda. Brought to you by third-generation sushi master Endo Kazutoshi, both the decor and 8th floor views give you the impression of dining in the clouds. And as one of London's best sushi restaurants, the exquisite Michelin-starred tasting menus are, fittingly, heavenly.
Details: 8th Floor, The Helios, Television Centre, 101 Wood Lane, London W12 7FR
Our favourite bar nearby: The rooftop bar at The Broadcaster really elevates pub drinking.
–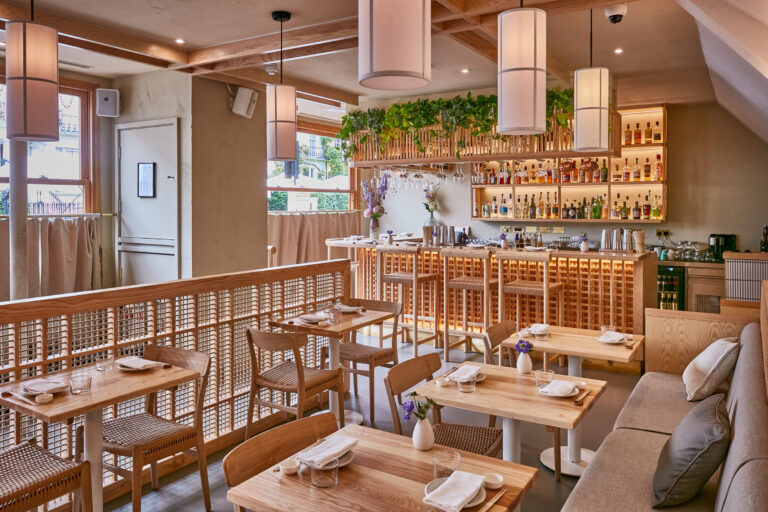 All the charm and prowess of Endo at the Rotunda is distilled into Kazutoshi's more casual, neighbourhood restaurant SUMI in Notting Hill – with more wallet-friendly pricing to match. Sushi and sashimi are the stars here, but there are also flame-kissed dishes tossed onto the robata grill and hearty gohan rice bowls – as well as that mainstay of Japanese bakeries, matcha mille crepe cake.
Details: 157 Westbourne Grove, W11 2RS
Our favourite bar nearby: Trailer Happiness, a subterranean Tiki den dedicated to fun
See all our favourite Notting Hill restaurants
ANOTHER AMAZING RESTAURANT IN NOTTING HILL – Core by Clare Smyth, the debut solo restaurant from the magnificent chef who maintained Restaurant Gordon Ramsay's three Michelin stars for almost a decade. Unsurprisingly, Core's scored a slew of awards (including three Michelin stars) for itself – if you're looking for somewhere special to celebrate, this is it.
–
Hammersmith | The River Cafe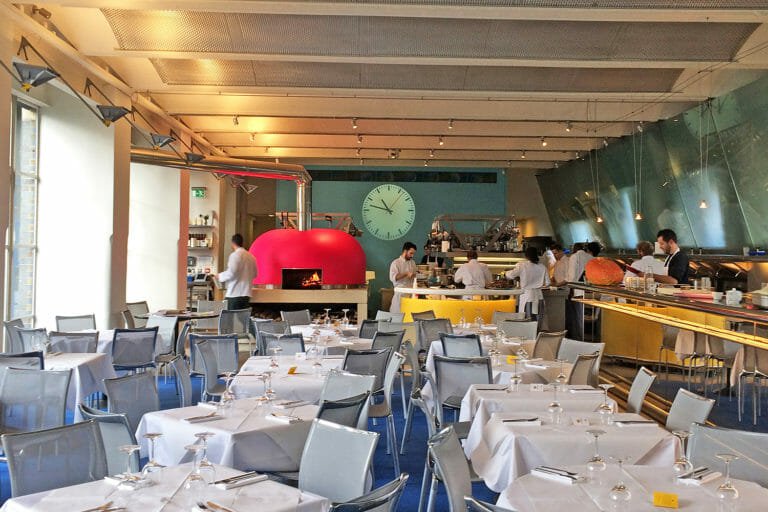 Now open for decades, The River Café has become mainstream for a reason. Focussing on serving just really, really great Italian food, they've so far earned a Michelin Star, snagged an MBE for co-founder Ruth Rogers, and incubated future greats like Jamie Oliver, Theo Randall and Hugh Fearnley-Whittingstall. And like a fine wine, it's aged very well.
Details: Thames Wharf, Rainville Road, W6 9HA
Our favourite bar nearby: The Dove, or any of these other excellent Hammersmith pubs
–
Knightsbridge | Dinner by Heston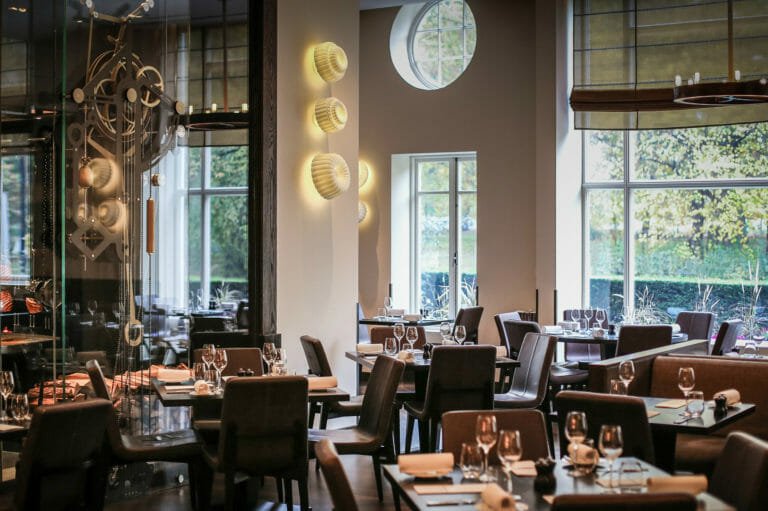 Joining forces with historians from the British Library and Hampton Court, Heston Blumenthal has managed to create the only restaurant in the UK which can boast two Michelin stars and a dish called 'meat fruit'. A time-travelling menu, anachronistically suave interiors and a historically accurate pineapple roasting pulley all combine to make one of the most unusual and exquisite dining experiences in town.
Details: Mandarin Oriental Hyde Park, 66 Knightsbridge, SW1X 7LA
Our favourite bar nearby: The rooftop bar at Pantechnicon
ANOTHER AMAZING RESTAURANT IN KNIGHTSBRIDGE – If you're not about to hit up a Michelin star restaurant on a Tuesday night, try Hawksmoor Knightsbridge.
_
Chiswick | High Road Brasserie
Your go-to, one-size-fits-all, Really Nice Restaurant that'll cover you from breakfast and brunch through to late night cocktails. It's a part of the Soho House empire but is open to everyone, and as such the interiors are suitably plush, mingling dusky blue wall panelling with soft vintage lighting and even softer velvet banquettes. What's on the plates is equally delightful, from steak frites to the 'fromage du jour'.
Details: 162-170 Chiswick High Road, W4 1PR
Our favourite bar nearby: No 197 Chiswick Fire Station
See all our favourite Chiswick restaurants
–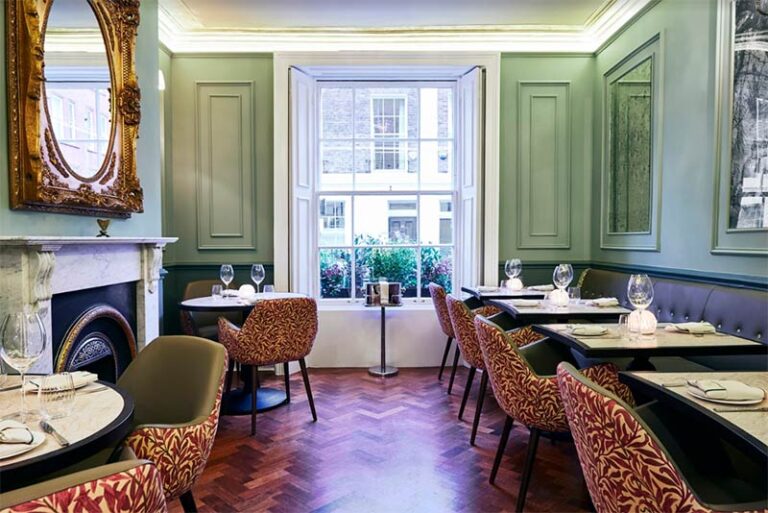 Former Gymkhana chef Rohit Ghai struck out on his own with Kutir, an impeccable Indian restaurant in an elegant Chelsea townhouse. Dine on dishes like guinea fowl biryani, truffled quail naan and cardamom-laced lamb shank with purple potato, while sipping signature cocktails like the Bagh, with tequila, fresh mango and chamomile foam.
Details: 10 Lincoln Street, Chelsea, SW3 2TS
Our favourite bar nearby: Barts for retro cocktails & eccentric decor.
–
Richmond | Petersham Nurseries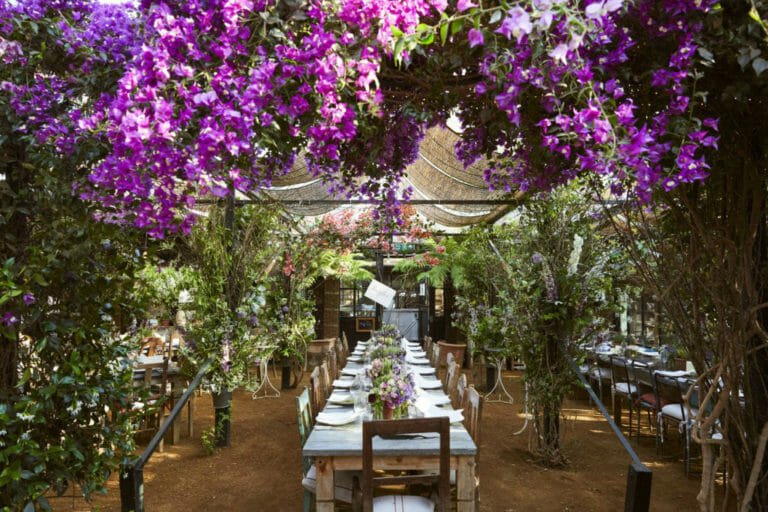 The Petersham Nurseries Café – which isn't a café at all, but a restaurant – is one that used to have a Michelin Star. They famously hated it, because of the heightened expectations that diners now had, hoping for fine dining in what is, essentially, a greenhouse. Which ironically is precisely what makes it so good; you're eating food a few yards away from where it was grown. As long as you go into it expecting something simple, rustic, and homely, you'll love it.
Details: Church Lane, Petersham Road, TW10 7AB
Our favourite bar nearby: Nearby is pushing it, but take a look at these Richmond pubs.
–
Putney | Yum Sa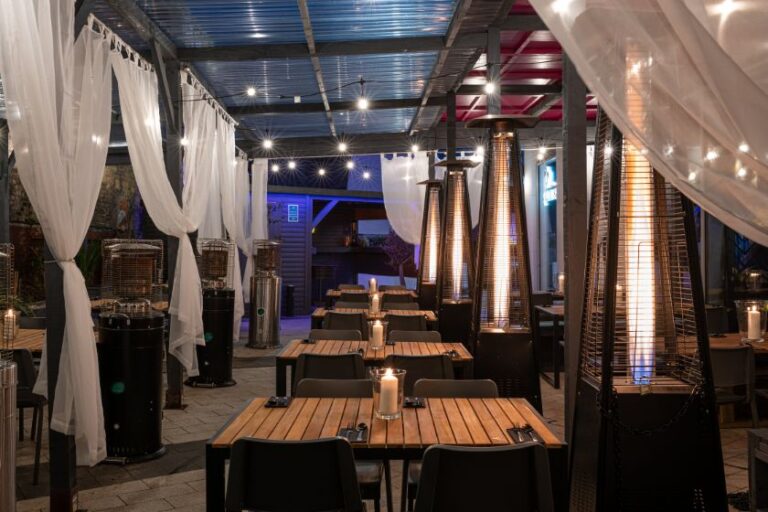 Putney's go-to restaurant for modern Thai cuisine, where you'll find classic curries sitting alongside Lobster Tail Thai'midor (which introduces coconut, mushroom, and Thai chilli to the concoction). And their all-you-can-eat brunch is a breakfast experience unlike many others…
Details: 3 Plaza Gardens, 88 Upper Richmond Rd, SW15 2DT
Our favourite bar nearby: The Spotted Horse
See all our favourite Putney restaurants
–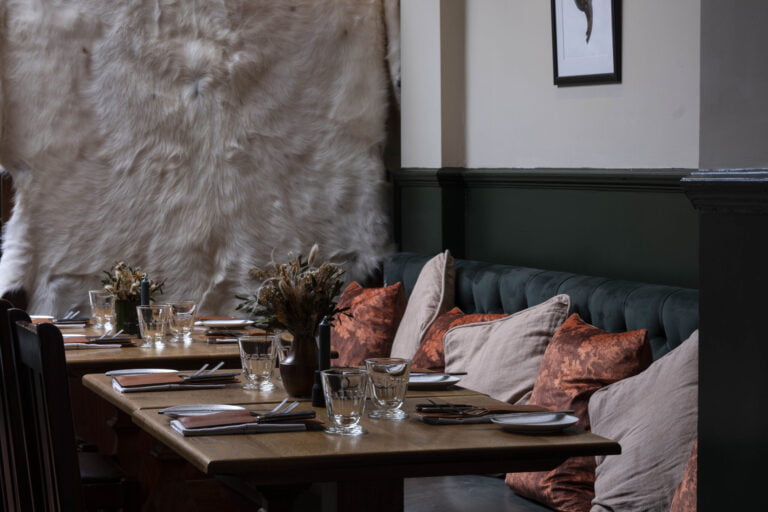 The Harwood has taken the gastropub ball, run with it, and scored a try – it's not a pub with a great menu, it's a (Michelin starred) restaurant with a great bar. The food is extremely British (venison scotch eggs, slow-cooked lamb, treacle tart, etc.) and cooked impeccably by former Ledbury head chef Jake Leach. And you can just pop in for a beer if you fancy.
Details: Walham Grove, SW6 1QP
Our favourite bar nearby: The Little Blue Door 
THE BEST RESTAURANTS IN NORTH LONDON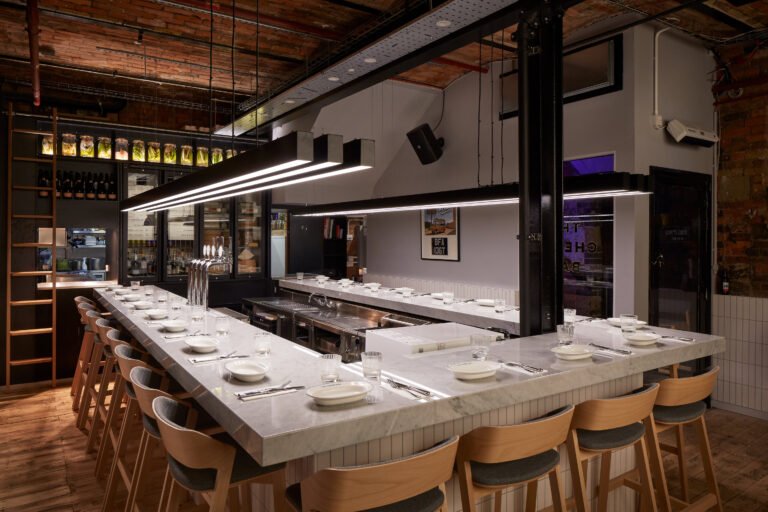 A permanent bricks-and-mortar upgrade from The Cheese Truck that's been roaming the UK for many years selling on-point toasties and other oozy goodness, this is a restaurant dedicated to cheese.
Details: Camden Stable Market, NW1 8AH
Our favourite bar nearby: Take a bottle of your choosing to BYOC Camden
ANOTHER AMAZING RESTAURANT IN CAMDEN – Head to Mr Ji, which involves considerably less lactose.
–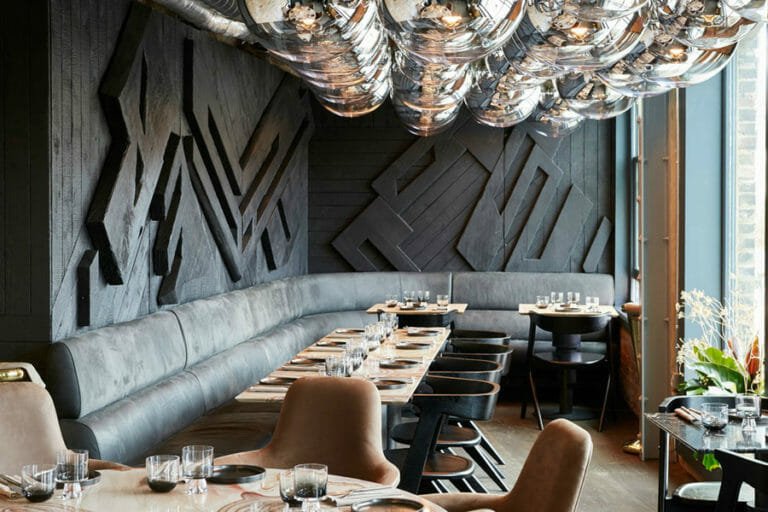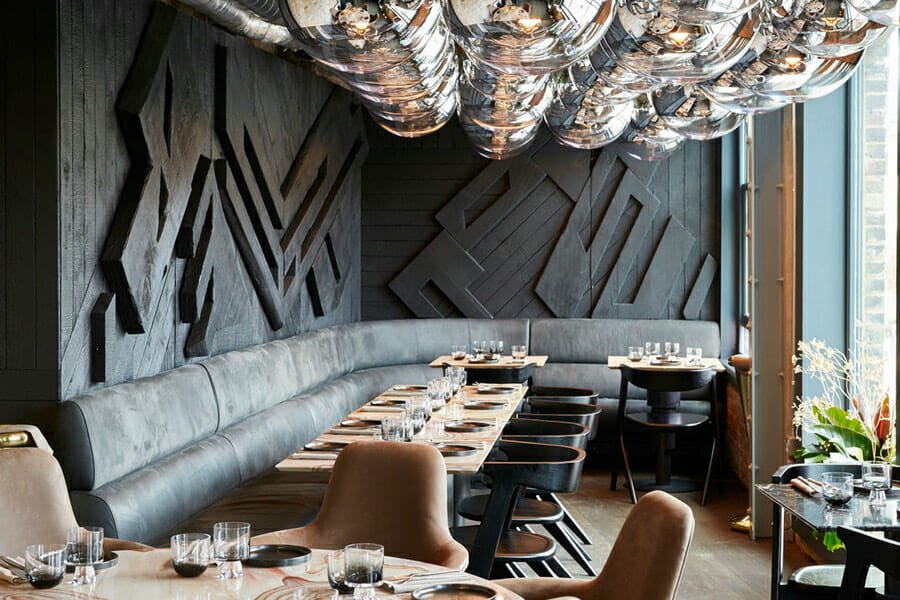 A restaurant from legendary chef Assaf Granit, the man behind The Palomar and The Barbary, who's created a typically inventive Middle Eastern menu featuring small plates like Kingfish sashimi with ginger vinaigrette, in-between plates like baked bone marrow shawarma, and big plates like beef fillet with black chickpea stew & poached egg. All served in a beautiful Tom Dixon-designed space.
Details: 2 Bagley Walk, Coal Drops Yard, N1C 4PQ
Our favourite bar nearby: Gothic Bar, for the interiors alone… but also for the cocktails.
ANOTHER AMAZING RESTAURANT IN KING'S CROSS – Supawan, where the Thai team on the pans are serving up some of the less well-known dishes of the cuisine, and make some hella punchy curry pastes in-house. Don't leave without trying the tamarind sorbet – it's nothing short of remarkable.
–
Kentish Town | Anima e Cuore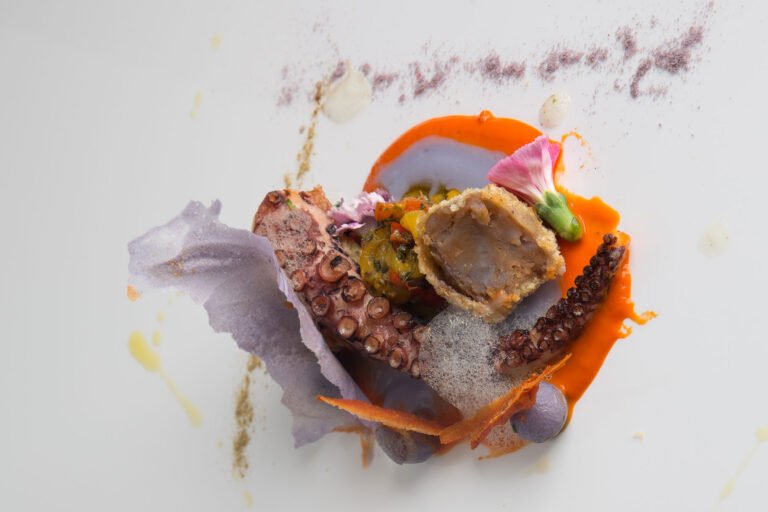 On the one hand, it's hard to miss Anima e Cuore, thanks to its vivid lilac frontage. But on the other hand, it would be easy to assume this gelateria didn't have an incredible – yet totally unassuming – Italian fine dining spot tucked away at the back of the store. But we all know what assuming does…
Details: 129 Kentish Town Road, NW1 8PB
Our favourite bar nearby: Knowhere Special, which is just being modest.
–
Queen's Park | Carmel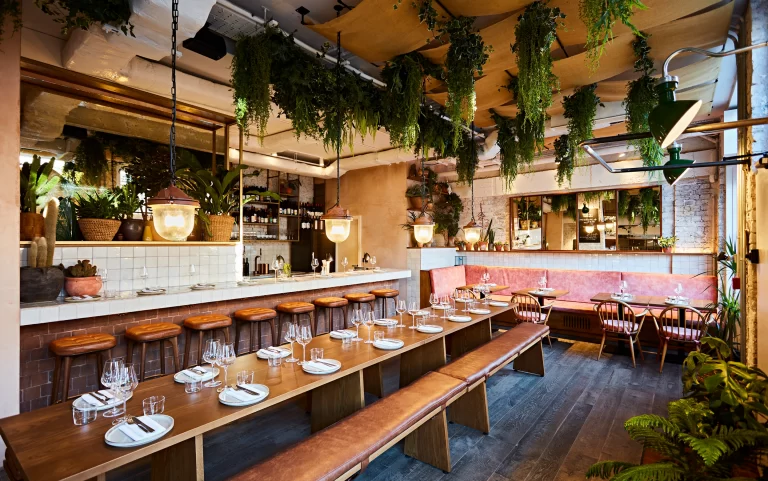 A warm and buzzy spot from Berber & Q's Josh Katz, who was so determined to find the perfect neighbourhood restaurant in his own locale, he's just gone and made it himself. You'll find Middle Eastern dishes building on a foundation of perfectly scorched flatbreads, with chocolate tahini tarts to finish…
Details: 23-25 Lonsdale Road, NW6 6RR
Our favourite bar nearby: Milk Beach for a little wine on the cobbles
–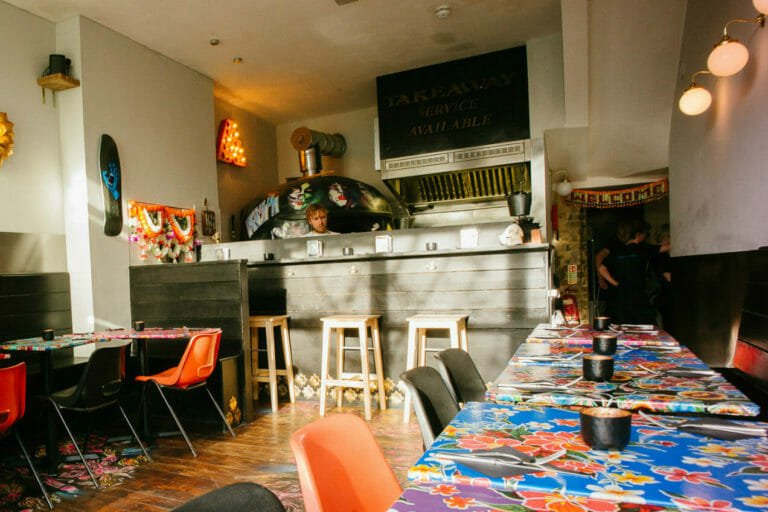 The home of glitter-dusted squid ink buns, of Hawaiian-shirted tables and inappropriate flooring (you'll see what we mean), the restaurant formerly known as Black Axe Mangal is full heavy-metal. And in the most heavy metal move post-covid, chef Lee Tiernan has switched to offering a ~£50 set menu each week, take it or leave it. Rock on.
Details: 156 Canonbury Road, N1 2UP
Our favourite bar nearby: Yield N1 for natural wines in a chilled setting, or walk down to The Bar with No Name
See all our favourite restaurants in Islington
–
Tottenham | Chuku's
Chop, chat, chill is the motto of this buzzy joint by Seven Sisters station. It's run by siblings Ifeyinwa & Emeka Frederick, who have brought the nous of running four years of hugely popular supperclubs to their own permanent spot. Here you'll get their take on Nigerian 'tapas', like dodo (cinnamon-sugar dusted fried plantain); fluffy yam dumplings served with three stews; and smoked mackerel croquettes with scotch bonnet jam…
Details: 274 High Road, Tottenham, N15 4AJ
Our Favourite Bar Nearby: The High Cross, possibly the tiniest pub in London.
–
Highbury | Farang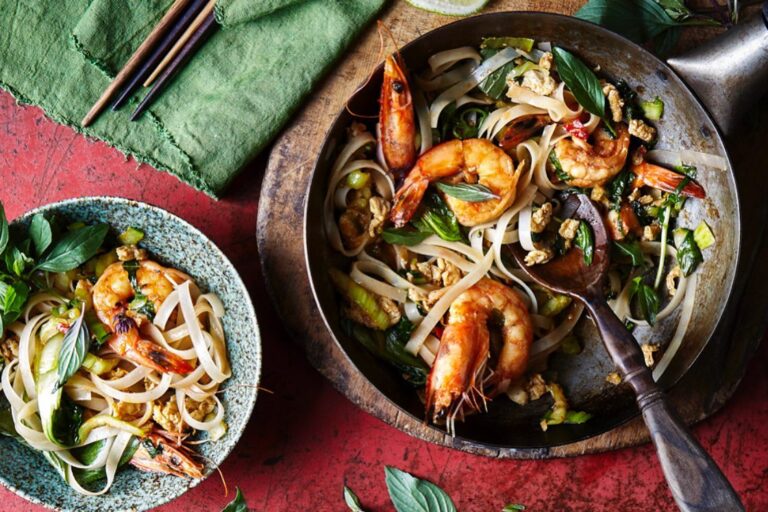 From young uberchef Seb Holmes – who earned his Thai stripes at The Begging Bowl and Smoking Goat – everything at Farang is served in both small and larger plate portions, so you can mix & match fragrant stews like Cornish mussels in a coconut-scented green curry broth; spicy meat dishes like flat iron-grilled beef steak with roasted chilli jaew (a kind of dipping sauce); and fresh veggie options like aromatic crispy wontons and dipping vegetables.
Details: 72 Highbury Park, N5 2XE
Our favourite bar nearby: Highbury Library, a bar as passionate about craft beers and natural wines as it is Arsenal
–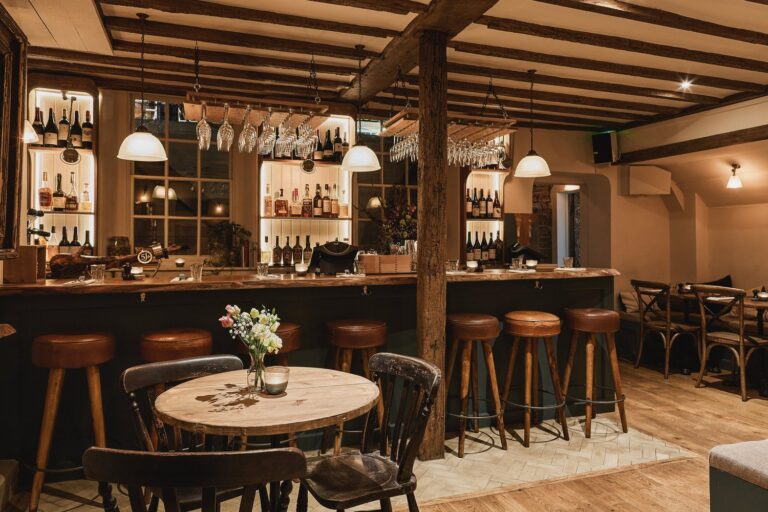 Tucked away in the basement of a beautiful Georgian townhouse in Hampstead, 28 Church Row feels like one of those Michelin-starred eateries in a Cotswolds village thanks to the beaten up bentwood chairs and exposed beams running across the ceiling. Oh, and the Spanish-Italian dishes that would be well worthy of a nod from the guide.
Details: 28 Church Row, NW3 6UP
Our favourite bar nearby: The Duke of Hamilton, a stylish pub with a jazz bar in the cellars.
---
Now that you're well acquainted with London's best eateries… may we introduce you to these restaurants for a special occasion?