Locally-brewed, small-batch beer, natural wine, and Michelin-trained prodigy in the kitchen….
The best you can get at some boozers is an out-of-date bag of scampi fries.
But not here. Below we've pulled together a list of all of the best pubs in Shoreditch, which not only includes all of the above, it also offers up not one but two rooftop gardens, with the occasional view of Saturn…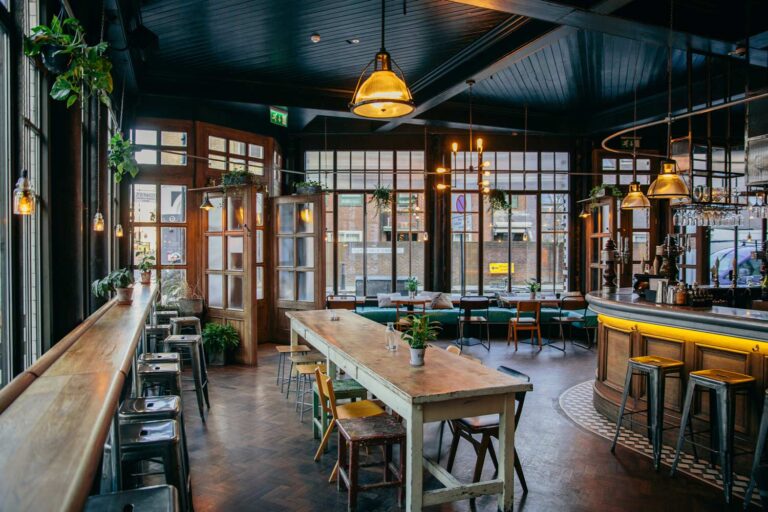 Pub, restaurant, hotel and rooftop. People have been known to visit The Culpepper and not come out for days. Ok, not really. But they could. Focusing in on the pub part, the phrase devilishly handsome comes to mind. The walls are basically floor-to-ceiling windows; there's lots of dark wood; and a beautifully-lit horseshoe bar. As for the food and drink, they're both equally as fine. Pub lunches here mix smoked cod's roe, tapenade, pickled cucumber and radishes with Yorkshire pork chop, crushed Jersey royals, bobby beans and mojo verde, eased down by a mix of cocktails, continental and locally-brewed beers, and some seriously delicious natural and biodynamic wines. 
Note: it's not quite the pub but The Culpepper offers a regular rotating programme of events up on their rooftop including hella-romantic star-gazing, with cocktails, blankets and more.
Address: 40 Commercial Street, Spitalfields, E1 6LP | Sunday roast? yes | For more information, or to book, visit their website here.
The Well & Bucket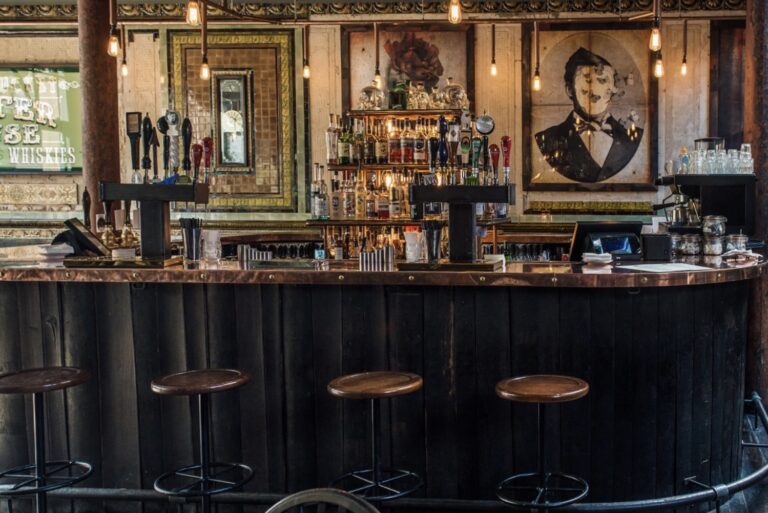 Another Shoreditch boozer making a splash is the Well & Bucket, known for its stunning central bar dressed up in copper and stacked bottles back-lit in gold; it's beer garden; rock oysters; double patty smash burgers; and well-priced booze. 
Address: 143 Bethnal Green Rd, London E2 7DG | Sunday roast? yes | For more information, or to book, visit their website here.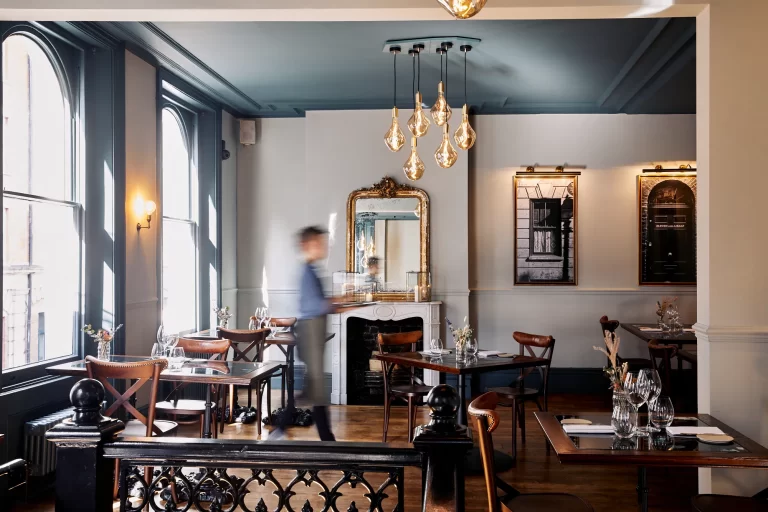 Her name? Ruth Hanson. Or, at least, she's the princess of The Princess of Shoreditch. And the pubs biggest draw. Sure the space is nice – located on the corner of Paul and Willow – and the drinks do the job too. However, thanks to Ruth – a 25 year old rising star, with experience working at both The Boundary and Michelin-starred The Ritz – the food is first-class. Downstairs you'll find riffs on pub classics, things like south coast cod, warm tartare, pea, lemon and scraps (fish & chips' much more beautiful and sophisticated older cousin), whereas upstairs things become even more serious with either a five or eight course tasting menu and paired wines. On Sundays both floors are full with people tucking in to what is one of the best roasts in London – Yorkshire Dales sirloin of Beef; Salt aged Pork belly; Stuffed Norfolk Black Chicken; and more, with the likes of pistachio frangipane tart, lemon curd, and créme fraiche for dessert…
Address: 76-78 Paul Street, Shoreditch, EC2A 4NE | Sunday roast: yes | For more information, or to book, visit their website here
The Owl And The Pussycat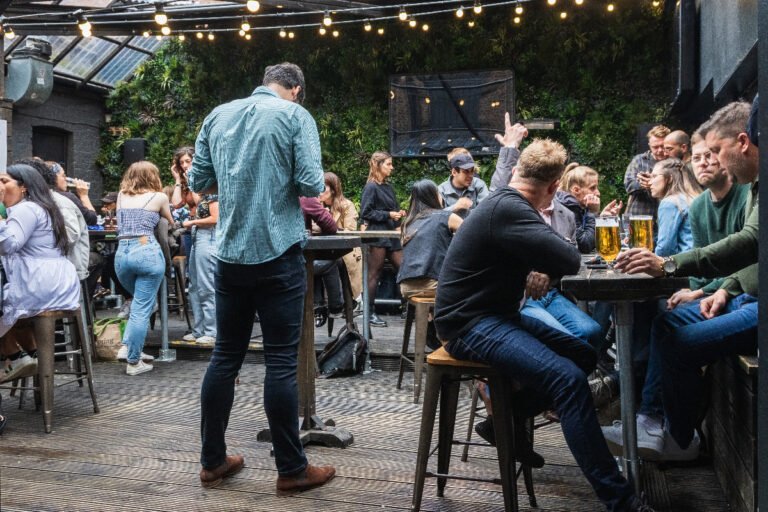 The beer garden is what earns this boozer a spot on our list of the best pubs in Shoreditch – the official fairy-lit one at the back and the not so official one at the front, which is basically just a quiet part of Redchurch street where the pub's spill-over stands on busier days. Food wise, it's pretty standard stuff – burgers, sausage and mash, fish & chips etc. Although their Sunday Roast has been known to light some fires. They also host the occasional bottomless brunch, as well as live music nights – menu and women on guitars in true Owl & Pussycat style, helping you dance to the light of the moon. 
Address: 34 Redchurch Street, London, E2 7DP | Sunday roast? yes | For more information, or to book, visit their website here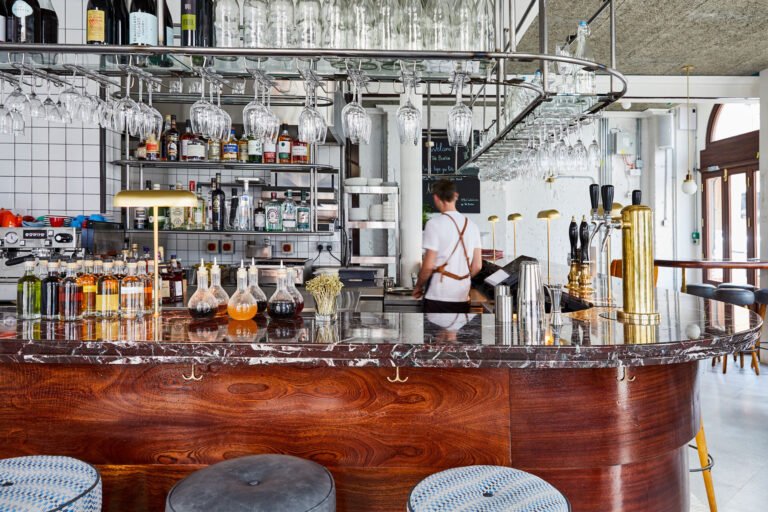 Younger sister to The Culpepper above, The Buxton is a similarly styled pub, topped with a restaurant, topped with a hotel, topped with a rooftop garden and greenhouse. It's a real looker – runs in the family apparently. They're also real big on sustainability, which means it not only looks good but it feels good too. They source their meat from  Swaledale in North Yorkshire and their fish comes from the south coast, with menus changing depending in what's been caught. The veg too is all locally-sourced, with a lot of it grown on the rooftop. Cuisine wise it's Modern European – think marinated sardines with lemon and sourdough or outlet with charred hispi cabbage and pink fir potatoes. On Saturdays they also do brunch and on Sundays a Sunday lunch. All of which – considering the quality – gets you some serious bang for your Bux…
Address: 42 Osborn Street, London, E1 6TD | Sunday roast? yes | For more information, or to book, visit their website here
Wenlock Arms
If you've ever doubted that the Wenlock Arms is one of the best pubs in Shoreditch, you should have been around back in 2010 when a group of it's most passionate punters protested to stop its redevelopment.  Fortunately Hackney Council listened and the folks from nearby Red Lion & Sun stepped in to take the reins. The 19th Century Ale House was saved. Huzzah! Saving its regularly rotating list of cask ales, real ciders and keg beers with it. 
Address: 26 Wenlock Rd, London, N1 7TA | Sundays roast? No | No bookings
Commercial Tavern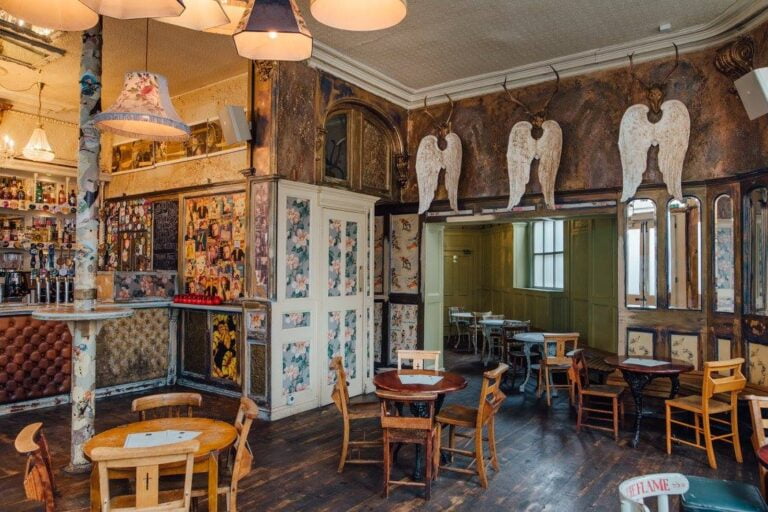 Located on the Edge of Commercial Street and Wheler Street (the partly tunnelled back-alley that Shoreditch High Street Station is on), Commercial Tavern is where the artsy types go. It's basically one big room with a bar at the back and yet somehow it manages to give off Victorian boozer, country manor house and your eccentric nan's house all at once. There's multiple chandeliers, mirrors on the ceiling, angel wings on the walls, and about twenty different wallpapers all in varying degrees of decay. But that's the appeal. Well, that it's lengthy drinks list, filled with all the usual suspects, as well as some of the more voguish stuff (Magic Rock Salty Kiss Gose anyone?). Plus the pizzas. They do some pretty mean sourdough numbers if kneaded….
Address: 142-144 Commercial Street, London, E1 6NU | Sunday roast? No | No bookings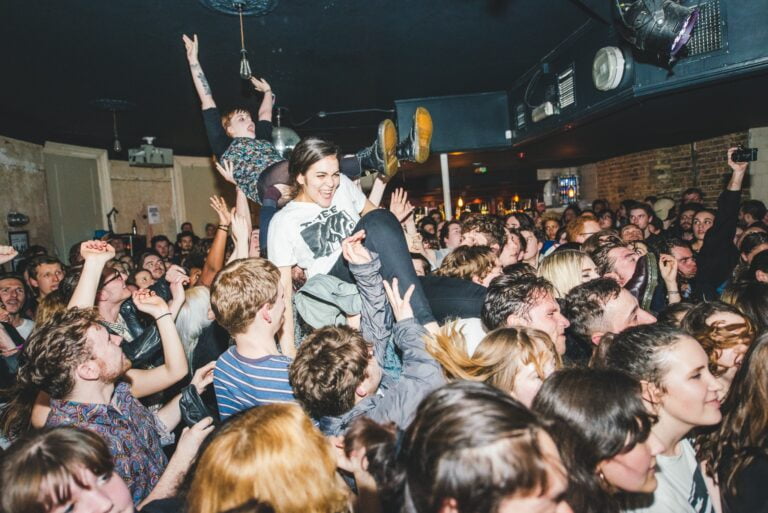 With a varied history that includes the Arctic Monkeys, a brothel and some guy called Shakespeare, The Old Blue Last is a no-frills boozer on the corner of Great Eastern Street, best known for its varied live music nights,
Address: 38 Great Eastern Street, Shoreditch, EC2A 3ES | Sunday roast? no | For more information, or to book yourself in for a gig, visit their website here
---
Looking for something fun to do before the pub? Our guide to the best things to do in Shoreditch is your friend.