London's Secret Gardens | Blissful Pockets of Nature in the City
You've covered every inch of Hampstead Heath. You've chartered the moors of the Walthamstow Wetlands. You've been in each and every one of the major parks in London.
It's time to turn over a new leaf.
And you can do so at one of the smaller London gardens and parks that are a little more off the beaten track. We're talking secret gardens, rooftop retreats and community patches, all of which are free to visit and completely delightful… if you know where to find them.
And luckily, you're in exactly the right place to find out…
–

CENTRAL LONDON GARDENS
Queen Elizabeth Roof Garden | Southbank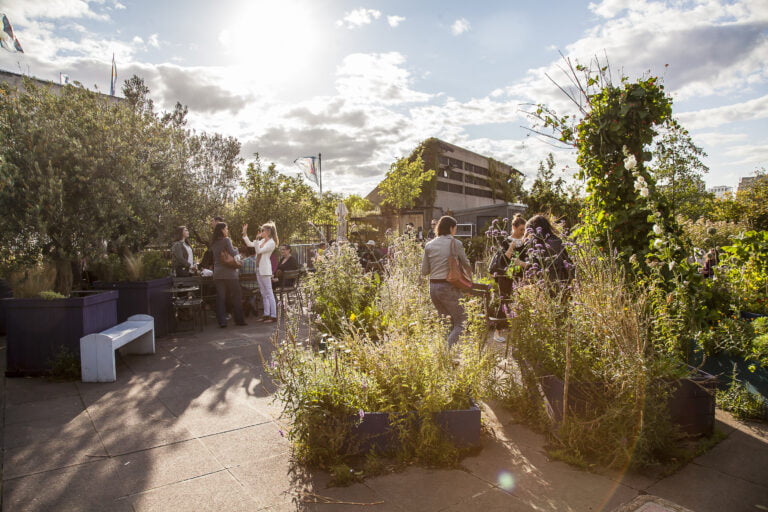 A somewhat unexpected hidden garden amidst the brutalist architecture of London's cultural strip, the oasis atop the Queen Elizabeth Hall was built, and is now maintained by a group affected by homelessness and addiction. And like all good rooftop gardens, it boasts picture-perfect views of the Thames, the London Eye and St. Paul's, plus a well-stocked bar.
Details: Open daily in the warmer months | Southbank Centre, Belvedere Road, SE1 8XX
–

The Phoenix Garden | Covent Garden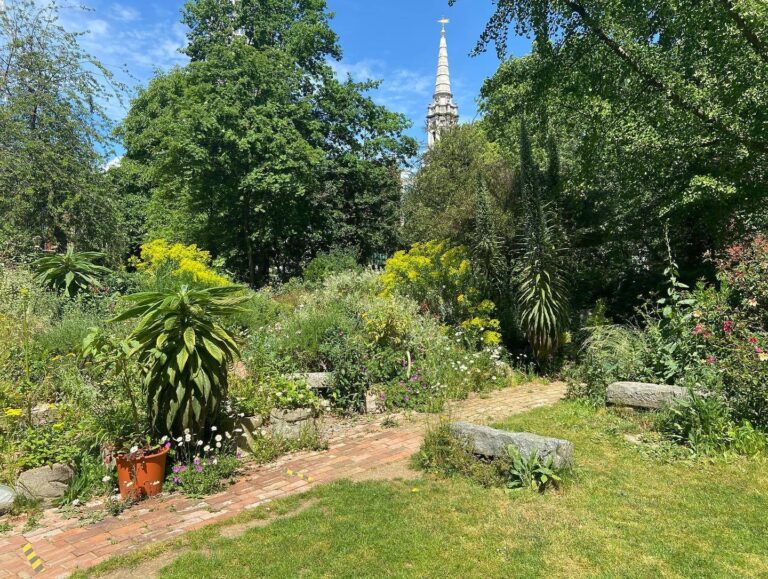 To anyone who was disappointed to realise Covent Garden is no longer an actual garden, we present this verdant, community-managed refuge – home to birds, bees, and the West End's only frogs. The plants here are left to grow as wild as they like, creating all sorts of shaded nooks and secret hideaways to sit with a good book.
Details: Open daily, dawn-dusk | 21 Stacey Street, WC2H 8DG
–
Postman's Park | St. Paul's
Postman's Park may be London's worst-kept secret garden.
But trust us, it still delivers.
A quiet spot just north of St. Paul's Cathedral, it's known for The Memorial to Heroic Self Sacrifice – a sprawling wall of glazed tiles, each devoted to everyday heroes from the Victorian era onwards who died trying to save someone else.
Details: Open daily 8am-dusk (closed Christmas, Boxing & New Year's Day) | Postman's Park, St Martin's Le-Grand, EC1A
–

Inner Temple Garden | Temple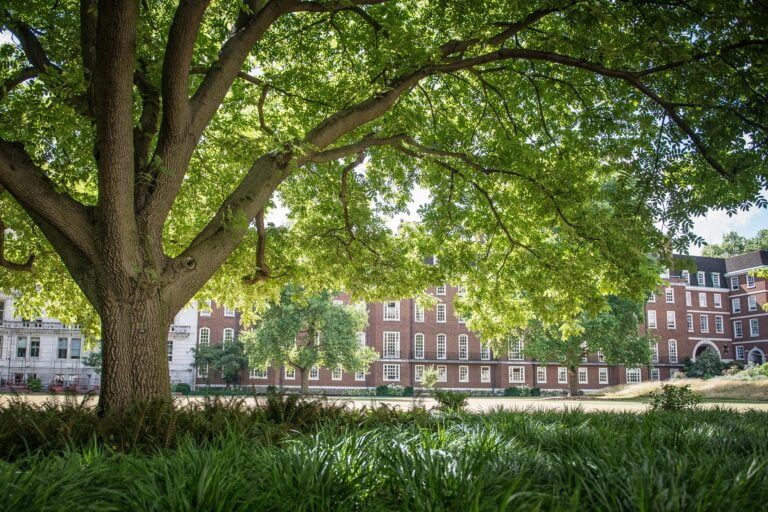 Finding your inner temple is easier than you think.
Simply head along to the backstreets by Fleet Street, and make your way into the Oxbridge-styled complex that houses the Inner Temple barristers' chambers. Not only is it home to palatial buildings and the 12th century church of the knights templar, there's also a set of huge, but totally secluded, gardens sporting colourful flowerbeds, almost luminously green lawns, and riverside views.
Details: Open weekdays 12.30-3.00pm | Crown Office Row, EC4Y 7HL
–

St James's Park | St James's
What St James's Park lacks in hiding skills, it makes up for with unexpected treats – including a native scoop of pelicans; picturesque lakes; and a ridiculously adorable duck-keeper's cottage pulled straight out of a fairytale.
Details: Open year round, 5am-midnight | St James's Park, SW1A 2BJ
–

St. George's Garden | Bloomsbury
St. George's Garden was the site of the first convicted grave robbing back in 1777, when two men were spotted hauling a sack away from the grounds. When police stopped them and found a former Mrs. Sainsbury inside, the offenders were sentenced to a "severe whipping" between Holborn and Seven Dials. Luckily, the gardens are a lot more peaceful these days, and provide a solid bet for a good sandwich spot.
Details: Open 7.30am – 8.30pm | 62 Marchmont Street, WC1N 6BN
NORTH LONDON
OmVed Gardens | Highgate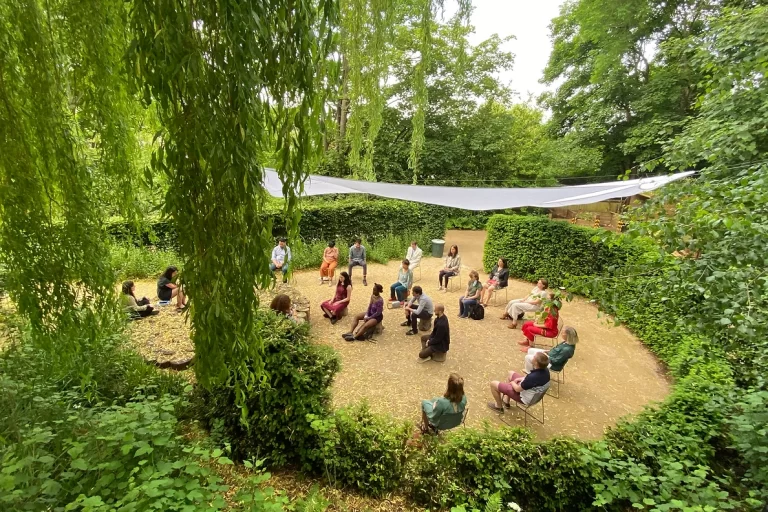 What was formerly a tarmac-covered hilltop has been converted into a lush rural escape in the middle of Highgate (just across from Waterlow Park). It's a space that's been designed to allow humans and nature to commune, so as well as being a lovely hidden green space to explore, the gardens also host mindfulness workshops, growing classes, sustainable supperclubs and more.
Details: Currently open for events only – see what's on here | Townsend Yard, London N6 5JF
–
Culpeper Community Garden | Angel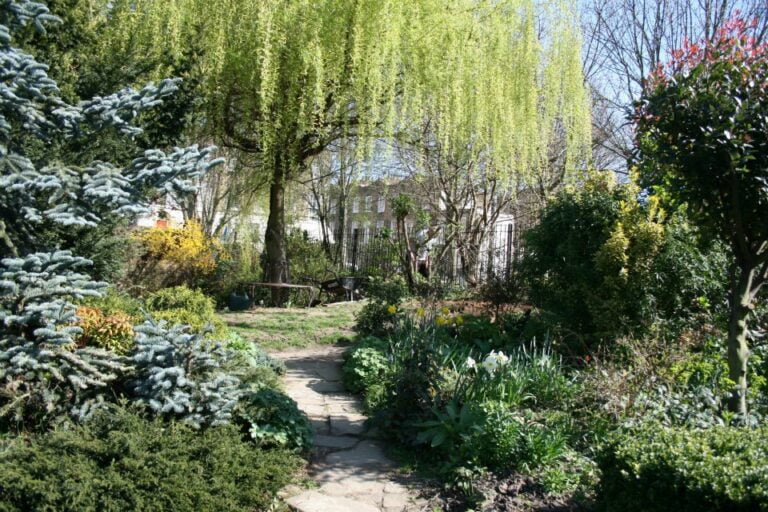 The Culpeper helps to sow seeds of community spirit thanks to its 50+ plots tended by locals who don't have their own garden at home. The result is a beautiful mish-mash of ornamental flower beds, vegetable plots, and flowering pergolas.
Details: Open daily 8am-7pm | 1 Cloudesley Road, N1 0EG
–

Hampstead Pergola | Hampstead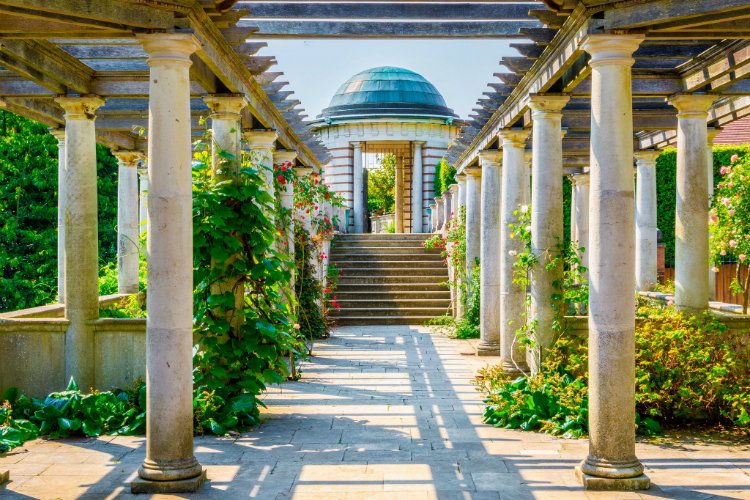 This century-old walkway overlooking Hampstead Heath was niftily created by piling up the rubble displaced by nearby Northern Line extension work. And the result is much, much prettier than that sounds.
Details: Open daily from 8.30am | The Pergola, Inverforth Close, NW3 7EX
–
Fenton House | Hampstead
The walled garden at 17th century mansion Fenton House is over 300 years old, and is filled with perfectly trimmed hedges, a fragrant kitchen garden, and its very own apple orchard boasting 32 different types of apple trees. And that's not just a granny's myth.
Details: Open Fri-Sun, 11am-4pm, £7 admission fee | Fenton House, Hampstead Grove, NW3 6SP
–

Burgh House | Hampstead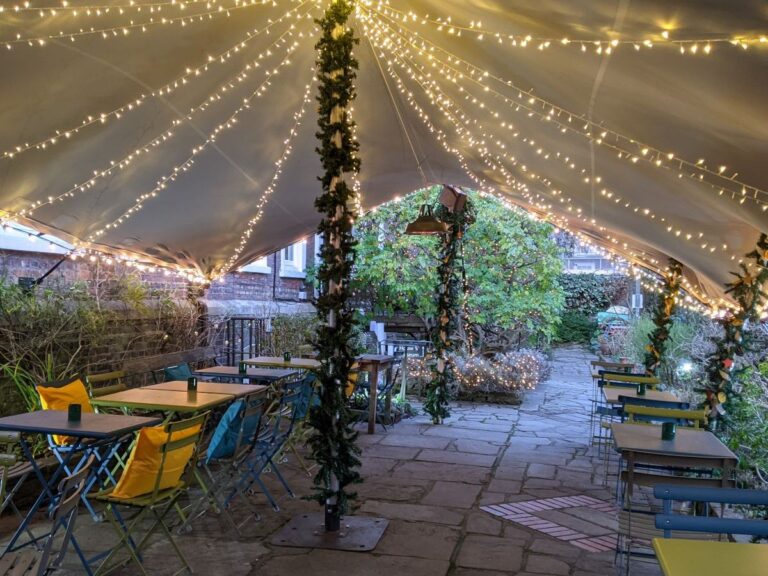 You know how it is with 300-year old Hampstead mansions with beautiful gardens – you wait centuries for one… Burgh House has the added bonuses of being free to visit, home to over 5,000 works of art and local artefacts (as the official Hampstead Museum), and boasting a covered, twinkly, café garden that's a lovely hidden gem.
Details: Open Wed-Sun, 10am-5pm (9.30am-5.30pm weekends) | Burgh House, New End Square, London, NW3 1LT 
EAST LONDON
Dalston Eastern Curve Garden | Dalston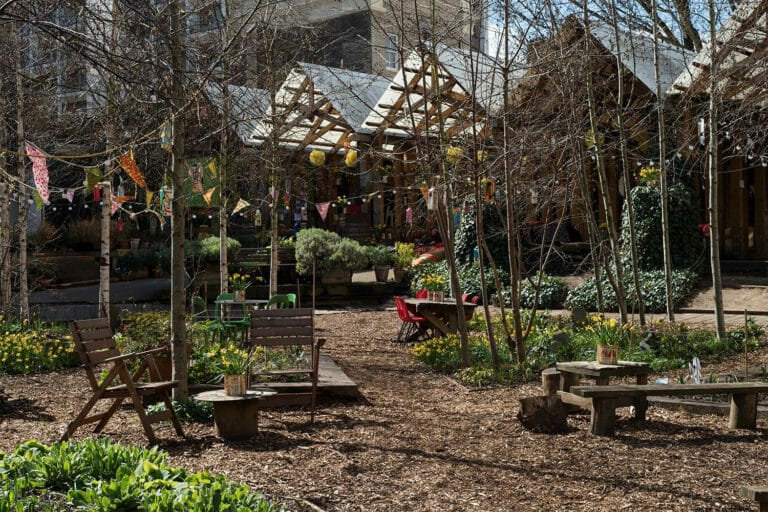 As you'd expect from Dalston, this High Line-rivalling community garden built on a former railway track doesn't just look great (especially during December, when they adorn the garden with hand-crafted lanterns), there's also plenty of – ahem – grassroots community-focussed events, from visiting choirs to gardening workshops, al fresco film screenings and more.
Details: Opening times vary, check ahead here | 13 Dalston Lane, E8 3DF
–
St. Mary's Secret Garden | Hoxton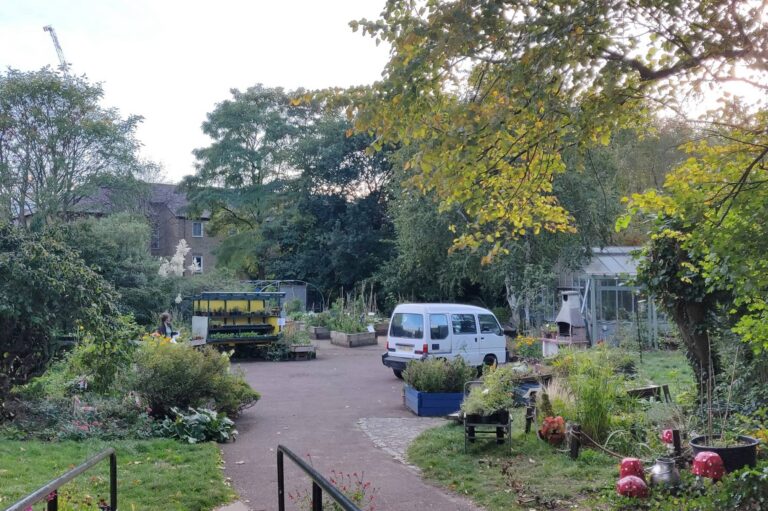 This pretty little community garden is filled with upcycled planters, abundant veg plots, and ponds teeming with wildlife. They also run the occasional workshop, too, like simple Christmas wreath making.
If you find yourself going round in circles, you're probably doing it right.
Details: Open weekdays 9am-5pm | 50 Pearson Street, E2 8EL
–

St Dunstan-in-the-East | Farringdon
It's probably the best of London's WW2 bombed out, Christopher Wren-designed chapels overtaken by twisting trees and overgrown tangles of leaves. Best enjoyed with some stellar noods while following our City of London monument crawl…
Details: Open daily from 8am-dusk (closed Christmas, Boxing and New Year's Day) | St Dunstan's Hill, EC3R 5DD
–

Barbican Conservatory | Barbican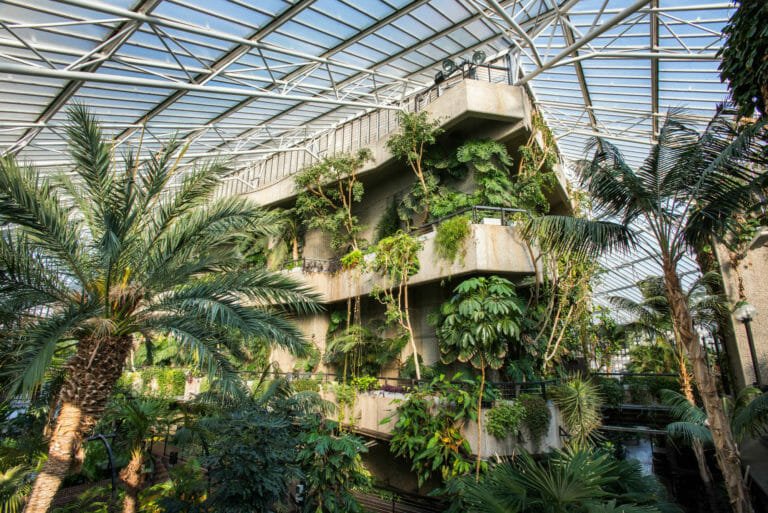 Concrete is hard to beat. And it's just one of the things that makes the Barbican Conservatory such an unusual oasis. It's a literal concrete jungle, filled with giant leafy palms, sculptural cacti, and antisocial terrapins.
Details: Open selected Sundays and public holidays, book ahead | Barbican Centre, Silk Street, EC2Y 8DS
–
Crossrail Place Roof Garden | Canary Wharf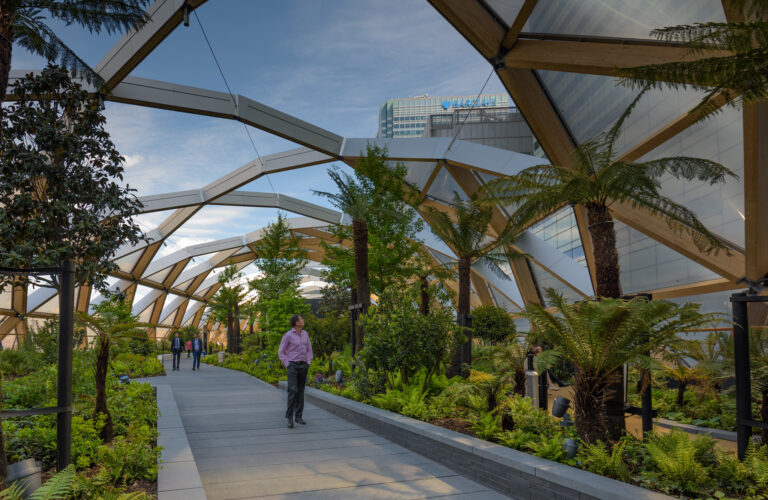 Step inside a futuristic conservatory, perched on the roof of the architecturally striking Crossrail Place in Canary Wharf. Almost perfectly straddling the meridian, plants hail from the East and the West and are planted either side accordingly. Plus, in summer the 80 seater amphitheatre here plays host to live music, performances and more – and it's all right next to Pergola on the Wharf if you fancy a little refreshment after.
Details: Open daily until 9pm/sunset in summer | Crossrail Place, London E14 5AB
SOUTH LONDON GARDENS
Vauxhall Park | Vauxhall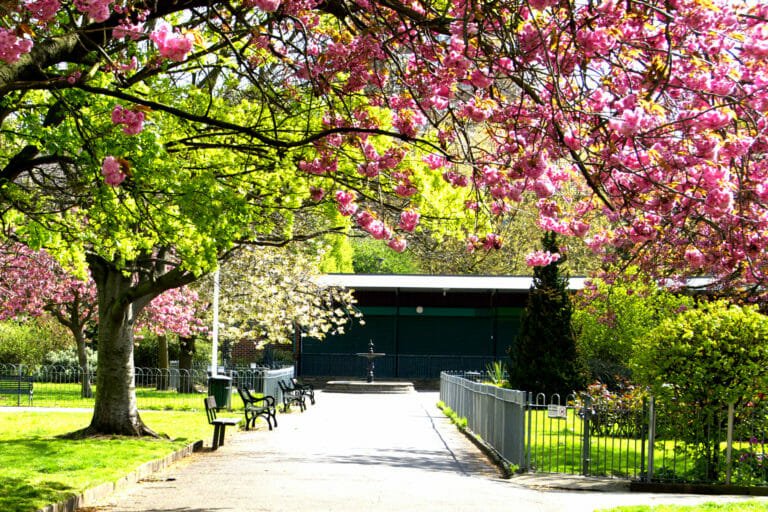 Vauxhall Park takes your standard park components, and does one better. A picturesque rose bush? Have a full, rose-laden arbour walkway. Pretty flowers? They've got an entire field of lavender, which you can help harvest. A couple of nice benches? Eh, they made a mock-Tudor model village instead.
Details: Open 7.30am-dusk | 12 Lawn Lane, SW8 1UA
–

Horniman Museum Gardens | Forest Hill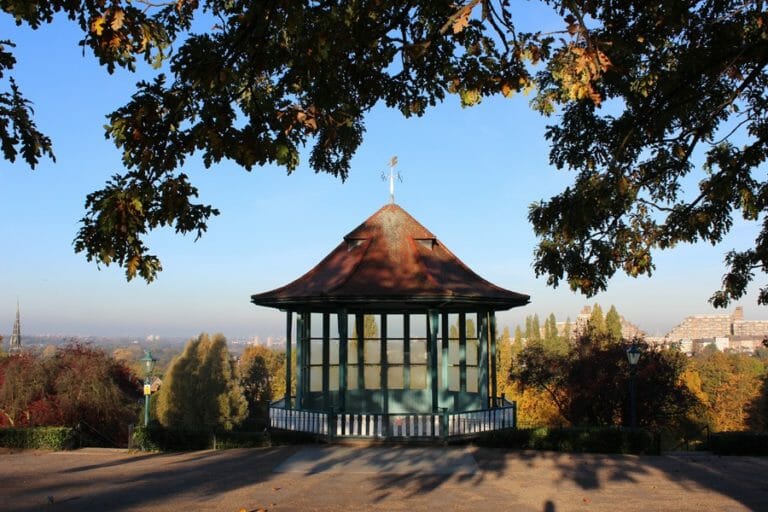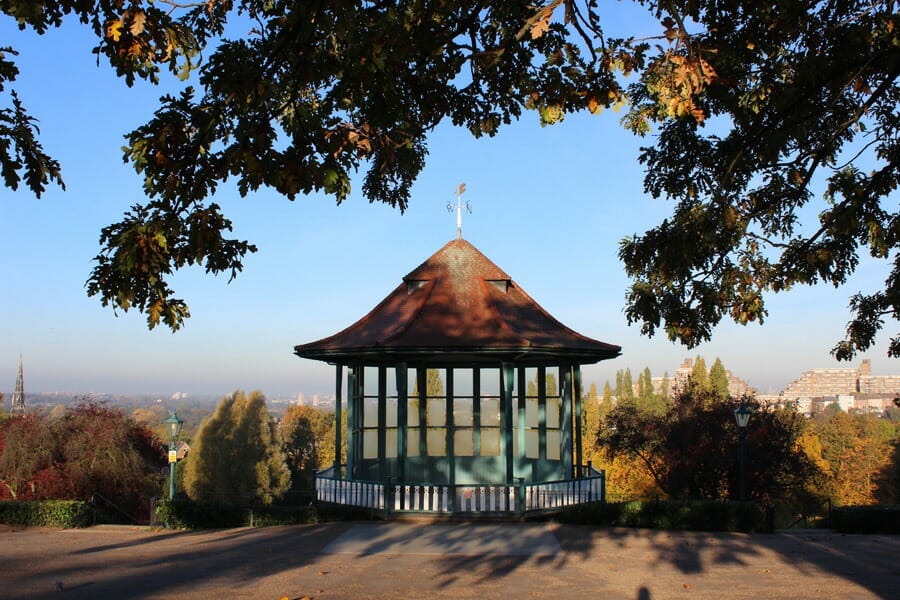 Not only is the Horniman a) home to a giant overstuffed walrus and b) still the museum with the funniest name in London, it also happens to be perched atop a whopping 16 acres of green space, which is broken up with the odd attraction like the bandstand (still in use), botanical displays, a butterfly house, a Grade II listed conservatory, a Dutch barn, giant outdoor musical instruments, a totem pole, and a herd of alpacas.
Details: Daily from 8am – 5.30pm (closed Christmas Day) | 100 London Road, SE23 3PQ
–

Red Cross Garden | Southwark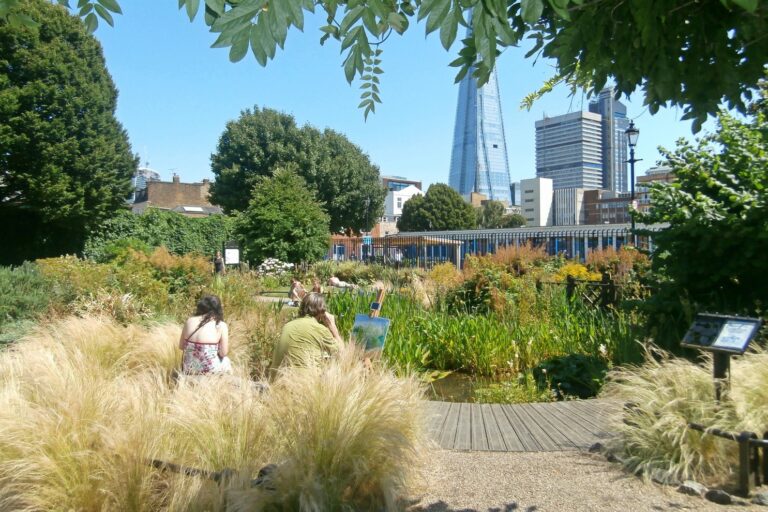 The Red Cross Garden was set up in 1886 by Octavia Hill (founder of the National Trust, and not, confusingly, the Red Cross), and was recently restored to its original Victorian layout by local volunteers; comprising beds of exotic shrubs, a wildlife pond and a rockery garden.
Details: Open 9am-dusk | 50 Redcross Way, SE1 1HA
–

Eltham Palace Gardens | Greenwich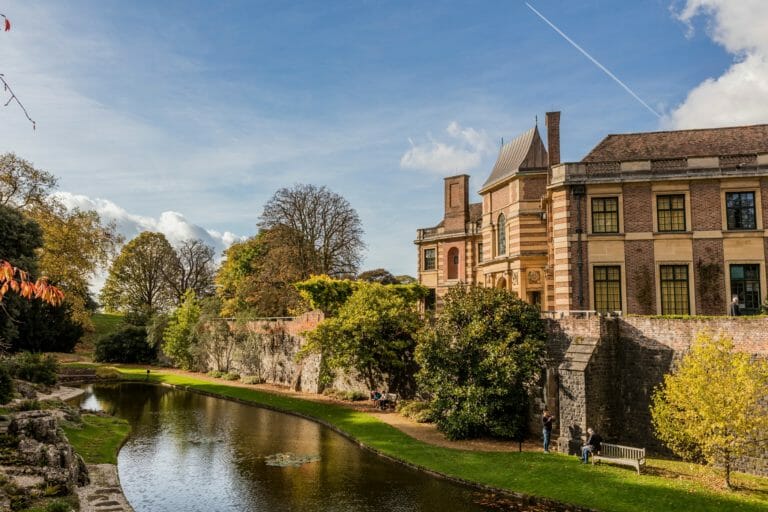 Built by a couple of millionaires back in the '30s, Eltham Palace is an art deco mansion built within medieval castle remains – which can only bode well for the 19 acres of garden, in which you'll find a moat, a sunken rose garden, and London's oldest working bridge. Hopefully.
Details: Open Wed-Sun 10-4pm, £17.60 admission fee | Court Yard, SE9 5QE
WEST LONDON
Chelsea Physic Garden | Chelsea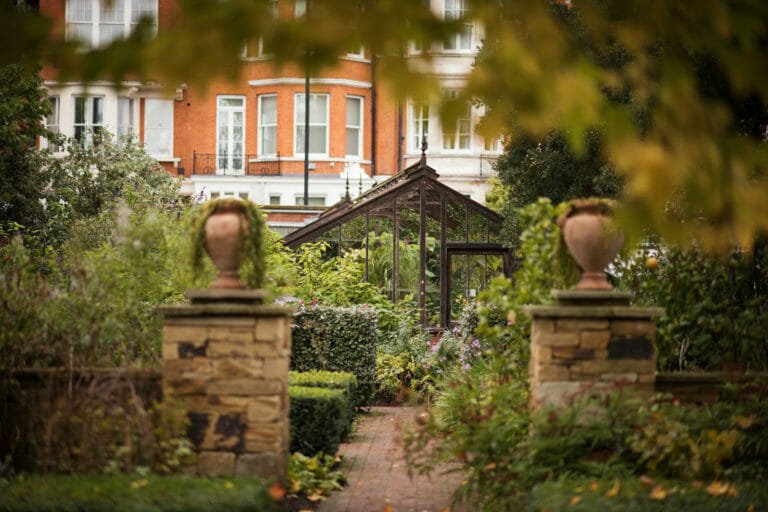 Originally built as an apothecary's garden, CPG houses over 5,000 useful and medicinal plants. Nowadays, it runs gardening courses, evening supper talks, and workshops on everything from nature photography to traditional Japanese ink painting.
Details: Open Sunday-Friday, 11-4pm, £10.50 admission fee | 66 Royal Hospital Road, SW3 4HS
–

Rembrandt Gardens | Little Venice
Appropriately for a canal-side park, the secluded Warwick Avenue Gardens were renamed in 1975 to commemorate Dutch painter Rembrandt – who'd no doubt heartily approve of the picturesque view of Little Venice, the well-manicured lawn and ornamental flowerbeds.
Details: Open daily, 8am-dusk | 6 Warwick Avenue, W2 1XB
–

Kyoto Garden | Holland Park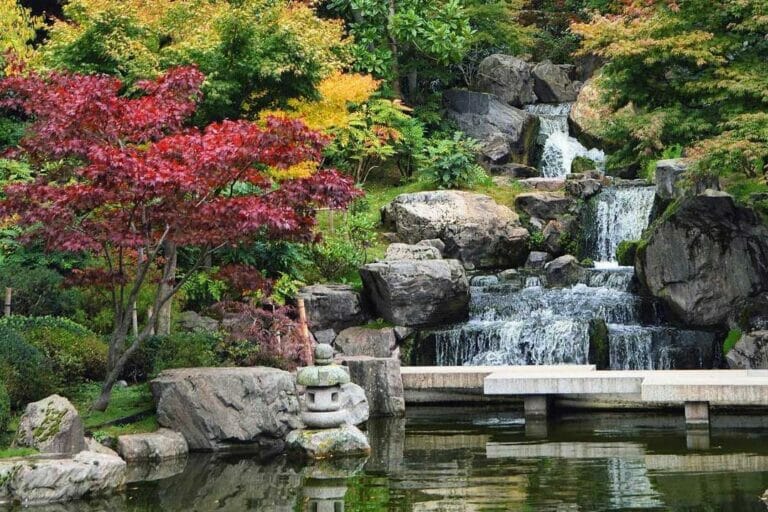 Slap bang in the centre of Holland Park's 22 acres of greenery is a little pocket of Japanese turf… and rocks… and waterfalls. The Kyoto Garden was gifted by the eponymous city back in the 90s, and is designed in the traditional kaiyushiki 'stroll garden' style. That means babbling streams, ornamental lanterns, and even a couple of peacocks strutting around…
Details: Open daily, 7.30am-dusk | Holland Park, Holland Park Avenue, Kensington, W11 4UA
–
Isabella Plantation | Richmond
Head to this hidden Victorian woodland garden in the midst of Richmond Park, and you'll be rewarded with mirror-like lakes, mysterious winding paths, and – if you visit in April/May – this ridiculously romantic display of Japanese azaleas.
Details: Open daily | Richmond Park, KT2 7NA
–

Fulham Palace Garden | Fulham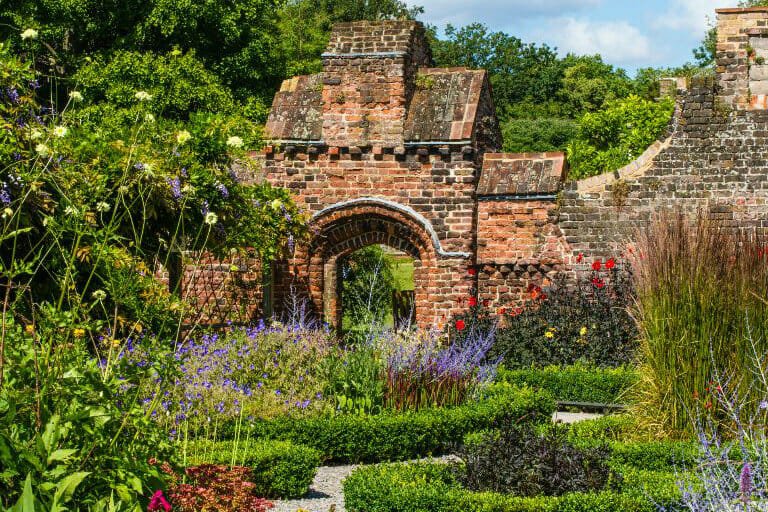 Home to London's bishops for over 1200 years, the various residents of Fulham Palace once had full run of the 39 acre grounds – including, apparently, first dibs on any whales which swam up the Thames. Nowadays the gardens are open to the public, and comprise a restored walled garden, a 500 year old oak, and a 'tree of bishops'.
Details: Open daily from dawn-dusk, free admission | Bishop's Avenue, SW6 6EA
–

Meanwhile Gardens | Westbourne Park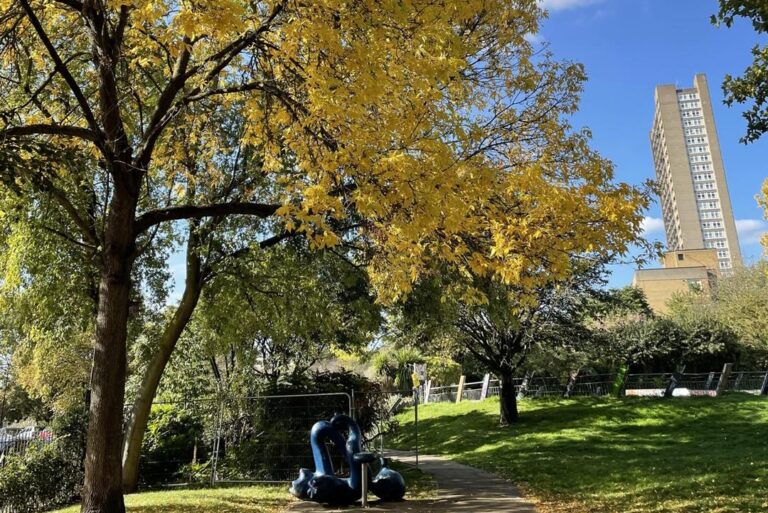 The Meanwhile Gardens were originally created as a temporary fix for derelict land – but the name stuck, and so did the gardens. The four-acre stretch of green space now boasts a BMX park, peaceful ponds, and elegant Moroccan tiled fountains.
Details: Open 24 hours | 156-158 Kensal Road, W10 5BN
---
Like scenic settings? Head up to the best viewpoints in London