The Insiders' Guide To Bloomberg Arcade | Partner Content
Last Updated: 4th April 2019
Bloomberg Arcade may be built on top of an ancient, buried river…
… but it's still current.
That's because the sleek sandstone building between Cannon Street station and Bank Underground isn't just home to Bloomberg's new European headquarters. Down its centre runs the City's newest dining boulevard, built along the path of an old Roman street and packed with (thankfully, much newer) restaurants and bars. Take a stroll around the handsome complex, and you'll spot eateries running the gamut from Chinese to Nordic cuisine, from breakfast spots through to late night whiskies. What might be less immediately obvious, of course, is the two-storey cherry blossom tree inside that Chinese restaurant, or the fact that those late night whiskies can be found inside a vending machine in a private billiards room which also boasts a pour-your-own beer dispenser that fills glasses from the bottom up.
Which, of course, is where we come in – we've done a recce of the whole area to bring you the low-down on every restaurant, bar, and unexpected piece of foliage in Bloomberg Arcade, plus the best things to do nearby. It's your ultimate insiders' guide.
Header Image Credit: Aaron Hargreaves
---
JUMP TO: Restaurants & Bars | Things To Do Near Bloomberg Arcade | Visit The Website
---
BLOOMBERG ARCADE RESTAURANTS & BARS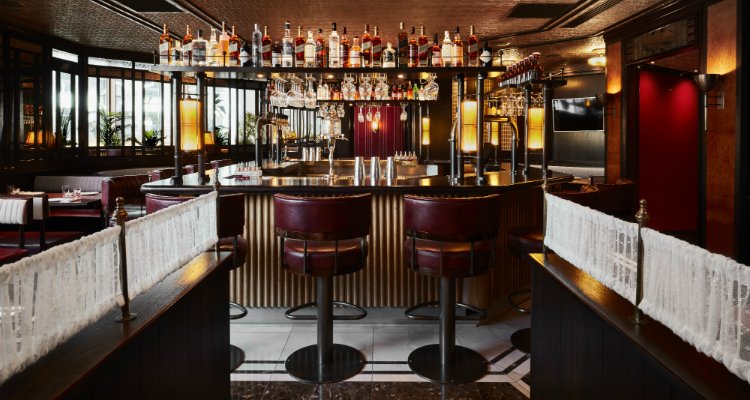 A sprawling Indian BBQ restaurant from the team behind Michelin starred Trishna and Gymkhana, Brigadiers is known for its grand Sunday feasts, comprising an entire wood roasted Goan suckling pig; plate after plate of bhajias, samosas and masala chicken skin; and freely flowing house-brewed lager. That, and everything it offers every other day of the week; namely, private dining rooms with their own personal croupiers; pool tables; whisky vending machines; beer taps; booze trolleys; soft serve ice creams; espresso martinis on tap; and a terrace. And, you know, critically acclaimed Indian food. READ MORE
Details: 1-5 Bloomberg Arcade, EC4N 8AR | Open daily from noon, for lunch and dinner | Book now
–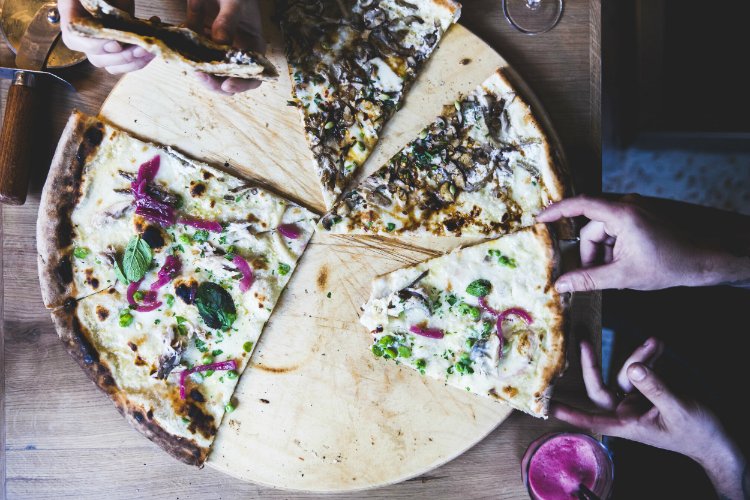 Homeslice has taken pizza slices to the cutting edge. Head into its retro-industrial home within Bloomberg Arcade, and you'll find huge, NYC-style slices to mix and match alongside 20″ pizzas heaving with unusual, seasonal toppings. Choose between the likes of BBQ beef brisket with pickled carrots; cauliflower cheese; or spiced lamb with savoy cabbage and sumac yoghurt – or go half and half (they are, after all, designed 'to share'). To cap it off, there's house wines starting at £4 a glass, a guest craft beer on rotation, and cocktails like the pina colada martini – which will leave you feeling both shaken and stirred.
Details: 69-71 Queen Street, EC4R 1EE | Open weekdays 11am-11pm, Sat 12-11pm, Sun 12-10pm | See more
–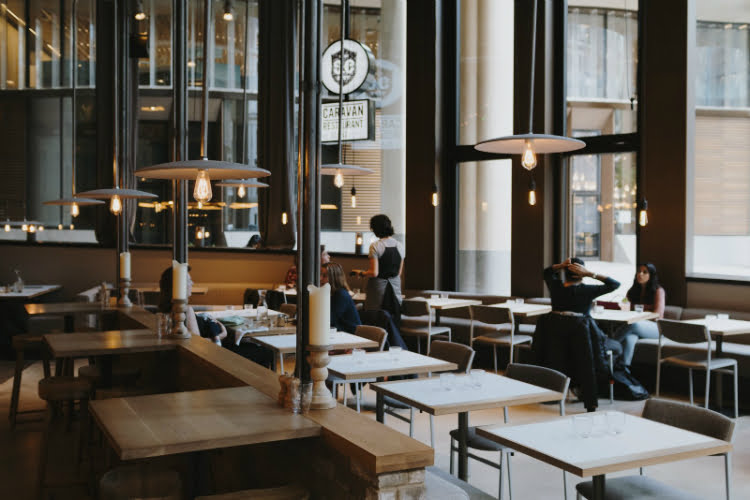 Caravan is, fittingly, the perfect place to set up camp for the day. An airy, minimalist spot that's great for working in, it's a sibling to the popular spots in King's Cross and Bankside, and serves up their signature blend of all-day dining as well as their (literal) signature blend of house-roasted coffee. If you're after a different kind of buzz, there's a hefty wine list, beers on tap, and a cocktail menu that includes coffee-infused negronis and daiquiris – all of which you can bolster with dishes like cod dumpling with crispy shallots; pork schnitzel with fried duck egg and pickles; and 'broken' lamb meatballs with aubergine… READ MORE
Details: 22 Bloomberg Arcade, EC4N 8AR | Open daily for breakfast/weekend brunch, lunch and dinner (except Sunday evening) | Book now
–
Ekte is a Norwegian word meaning 'genuine'. However, when it comes to Bloomberg Arcade, it translates into breakfast smørrebrøds (rye bread topped with curried herring and boiled eggs or gravad laks); Danish meatballs with silky mash potatoes, pickled cucumbers and sweet and sour lingonberries for lunch; and dinners of smoked elk loin with pickled green strawberries and indulgent servings of cinnamon bun ice cream for dessert. All of which are cooked up by Gothenburg-born head chef Robin Freeman and his team, who you can watch close-up in action from a stool at the sprawling dining-room bar. Alternatively, if you're looking for something a little more intimate, or you're with a big group, you can grab a marble table, a few cocktails and 'snitter' (snacks), before the arrival of the main affair. 
Details: 2-8 Bloomberg Arcade, EC4N 8AR | Open weekdays 7am-10.30pm, Sat 10am-10.30pm, Sun 10am-4pm | Book now
–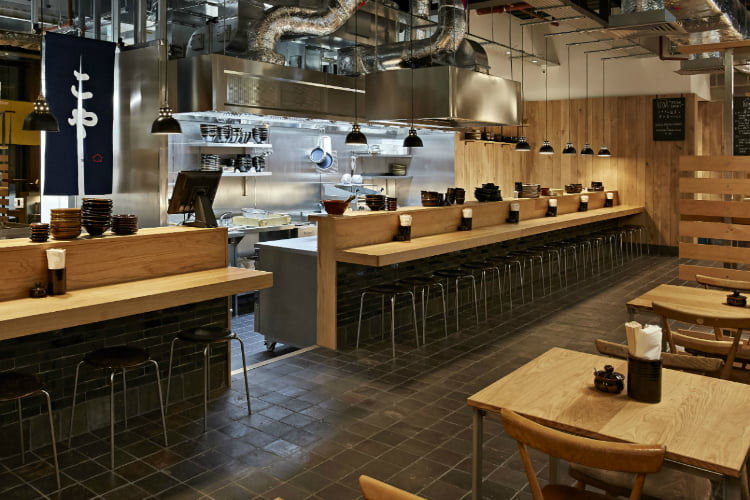 Following in the footsteps of its wildly successful Soho predecessor, Koya City has managed to expand without losing that intimate udon bar feel. Most of that, of course, is due to the steaming bowls of noodles floating out of the kitchen, peppered with slivers of duck; prawn and vegetable tempura; curry soup; walnut miso, sweet tofu or smoked mackerel. But it's also down to the elegant setting, with minimalist wooden seating, Japanese noren curtains and low countertops bordering the sake-heavy bar and open kitchen. READ MORE
Details: 10-12 Bloomberg Arcade, EC4N 8AR | Open weekdays 8am-10.30pm, Sat 10am-10.30pm and Sun 10am-6pm | Book now
–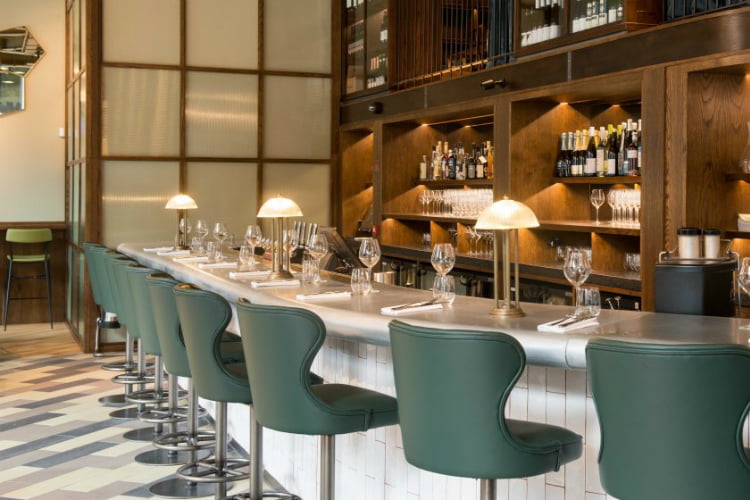 Somewhat paradoxically for a wine bar, Vinoteca City's a corker. Not only do they serve a staggering 200 bottles of wine – which you can also purchase to take away, from their on-site bottle shop – there's a further 25 available by the glass, and it's all broken down by country and region to make them more approachable. It's not just a drinking den, though – there's brunch on weekends, Sunday roasts, and small plates at all hours of the day, from chargrilled Cornish squid, chorizo iberico, rocket & lemon oil to barbequed crispy duck… READ MORE
Details: 21 Bloomberg Arcade, EC4N 8AR | Open weekdays 7.30am-11pm, Sat 10am-11pm, Sun 10am-4pm | Book now
–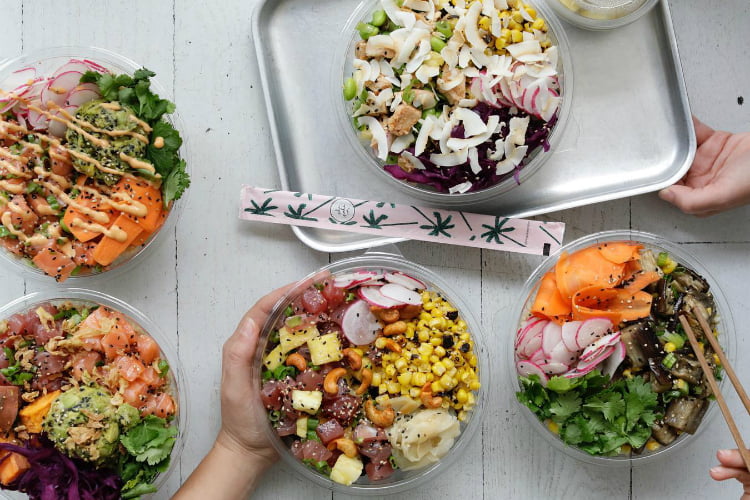 Poke from Hawaii is hard to top. But Ahi Poké top their take on the dish with a range of colourful, unconventional ingredients, from kimchee cucumber and sweet potato to confit ginger, cashews, crispy onions, and miso tofu. Choose from one of their four signature bowls, or construct your own – you can even choose quinoa, black rice, or kale over the traditional rice base, and douse the bowl in Korean BBQ sauce, miso mustard, or sriracha mayo. The result: a vibrant mash-up of global cuisines that also happens to be good for you.
Details: 14 Bloomberg Arcade, EC4N 8AR | Open daily 11am-9pm (6pm Sundays) | See more
–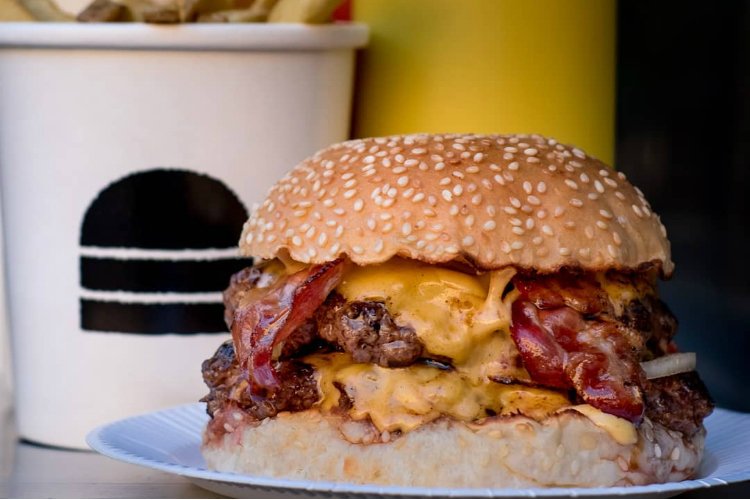 In 2012, a New York lawyer upped sticks, moved to London, and started cooking burgers in a truck. In 2014, those burgers won the Burger Bash. And in 2017, Bleecker scored themselves a 30-seater bricks-and-mortar eatery in Bloomberg Arcade. The burgers are all made with rare-breed, pasture-fed, dry-aged beef from small English farms, combined with melted American cheese, bacon, blue cheese, or – for the vegetarians – fried tofu with hot sauce. Pair them with one of the five types of fries, an oreo milkshake or American craft beer; pull up a pew in their airy diner or on their al fresco terrace; and enjoy.
Details: 16 Bloomberg Arcade, EC4N 8AR | Open daily 11am-11pm | See more
THINGS TO DO NEAR BLOOMBERG ARCADE
London Mithraeum | 2 minute walk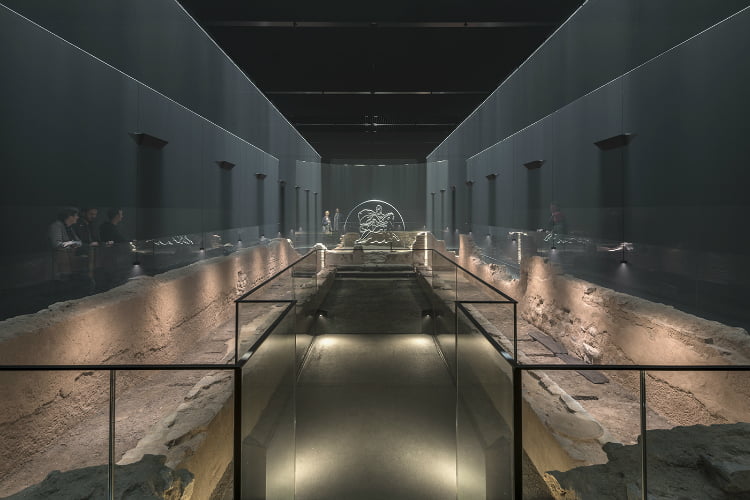 Mithras was an ancient Roman god who was born from a rock, killed a bull in a cave while a scorpion attached nether regions, and proceeded to feast on the entrails. His followers were a mysterious bunch who feasted in sunken temples and conducted elaborate initiation rituals by candlelight. All in all, it was pretty cool. And when the site now home to Bloomberg Arcade was excavated after the Blitz, they found the ruins of a Temple of Mithras buried under centuries of rubble… and went on to move it round the corner. Finally, it's been returned to its home 7m underground (street level in Roman London) and is atmospherically surrounded by light and haze that condenses to show you where the walls would once have been. It's beautiful, and totally free to visit – plus, an exhibition space upstairs, Bloomberg SPACE, plays host to regular contemporary art installations.
Details: 12 Walbrook, EC4N 8AR | Open Tues-Sat 10am-6pm and Sun 12-5pm, with late openings (till 8pm) on the first Thursday of the month | Free entry, just turn up or pre-register HERE
–
Monument | 4 minute walk
As will soon become obvious, this deceptively modern-looking patch of London has a lot of history beneath it. The towering pillar overlooking the Thames is the Monument to the Great Fire of London, which started nearby and burnt down pretty much everything in the vicinity. Built by Sir Christopher Wren, it's since been used for scientific experiments, apparently unironic firework launches, and a sailor who attempted to fly off it in 1732. You can still climb your way up to the top, where you'll be rewarded with incredible views across the City (though it is now, understandably, fenced around).
Details: Fish Street Hill, EC3R 8AH | Open daily 9.30am-5pm (5.30pm in Summer) | £4.50 on the door, cash only
–
St. Paul's Cathedral | 6 minute walk
One of London's most iconic buildings, St. Paul's is in fact the fifth incarnation of a cathedral that's been on the site since 604 AD. In between rebuilding 50 other City of London churches destroyed by the Great Fire and the monument commemorating it, Wren found time to put together this colossal site (which remained the tallest building in London until 1967). You can head in any day of the week to crane your neck at its stunning, gilded interiors; the mosaic ceilings; the vast chequered marble floor; the subterranean crypt and the famous whispering gallery circling the dome, where a quirk in acoustics means you can whisper messages into the wall to be heard on the other side. Entry is the best part of £20, but there's also half-hour organ concerts every Sunday afternoon from 4.45pm, which are free to attend and make for a pretty atmospheric visit. And for the best view of the cathedral itself, head up to the free rooftop viewing point on the top of One New Change.
Details: St. Paul's Churchyard, EC4M 8AD | Open daily 8.30am-4.30pm | £20 on the door, or £17 if you book ahead here
–
Leadenhall Market | 9 minute walk
Shopping arcades don't come much more picturesque than this. An elegant Victorian market with cobbled streets, vaulted glass ceilings and ornate colonnades, Leadenhall makes for a good stopping point en route to Swingers, or to stock up on essentials like wine, cigars, and antique pocket watches. READ MORE
Details: Leadenhall Market, Gracechurch Street, EC3V 1LT | Open daily | Free entry
–
St. Dunstan in the East | 10 minute walk
Like pretty much everything in the area, St. Dunstan's – which was already 550 years old – was burnt down in the Great Fire of London, and partially rebuilt by Christopher Wren (again). The whole building got hit again in the Blitz, and without a Wren type floating around, they instead left the ruins in the hands of nature. Now, it's an utterly magical, secluded garden, with cherry blossoms hanging over flower beds and creepers winding round the gothic stone window frames.
Details: St. Dunstan's Hill, EC3R 5DD | Open daily 8am-dusk | Free entry
–
Postman's Park | 11 minute walk
There can be a lot of hype around London's parks… but this one delivers. Taking its name from the postmen who used to take their lunch here, it's a peaceful, pint-sized patch of greenery famous for the Watts Memorial – a wall of tiles commemorating 'ordinary' Victorian men and women who risked their lives in heroic acts to save others. The perfect spot to take your Bleecker Burger when the sun's shining.
Details: King Edward Street, EC1A 7BT | Open daily 8am-dusk | Free entry
–
Swingers | 12 minute walk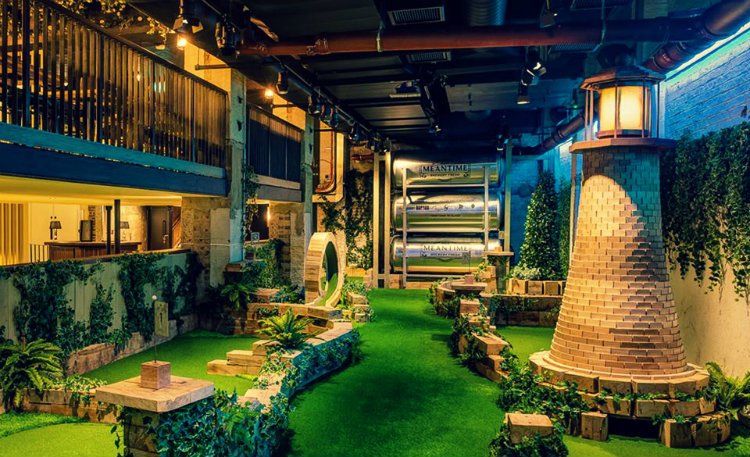 If you prefer your greenery with holes in it, head to Swingers – a vast temple to fun cramming two nine-hole crazy golf courses, a lighthouse, a windmill, three street food vendors, three tanks of beer and five – yes, five – bars into a former warehouse at the base of the Gherkin. Accompanied by a soundtrack of funk and soul, you'll putt balls round loop-the-loops and over ramps, obstacles and sand traps, with caddies on hand to give you tips and/or cocktails. Which, on balance, should leave you with a pretty decent technique. READ MORE
Details: 8 Brown's Buildings, EC3A 8AL | Open daily noon-late (from 10.30am Saturdays) | £10/13pp (off-peak/peak), book here
–
Shakespeare's Globe | 12 minute walk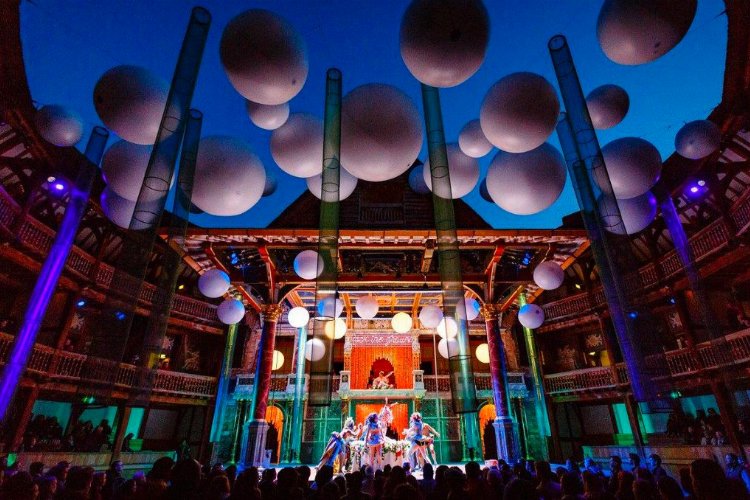 All the world's a stage. And this stage is, fittingly, The Globe – a full-scale replica of the Elizabethan-era theatre that Shakespeare and his fellow performers built by hand in 1599. That one burnt down in 1613, was rebuilt a year later, only to be closed again as part of a strict theatre ban which hoped to reduce the excess of 'mirth and levity' going around London at the time. Just over 20 years ago, the Globe was painstakingly recreated, and now plays host to both traditional and contemporary productions of the bard's plays under a canopy of stars. Much like the olden days, the priciest seats are those in the covered gallery around the stage, but for a fiver you can stand in the yard, sip wine, and listen to some of the loveliest writing in the English language.
Details: Globe Theatre, 21 New Globe Walk, Bankside, SE1 9DT | Open daily 9.30am-5pm, plus performances most evenings | Tickets from £5, book here
–
Museum of London | 13 minute walk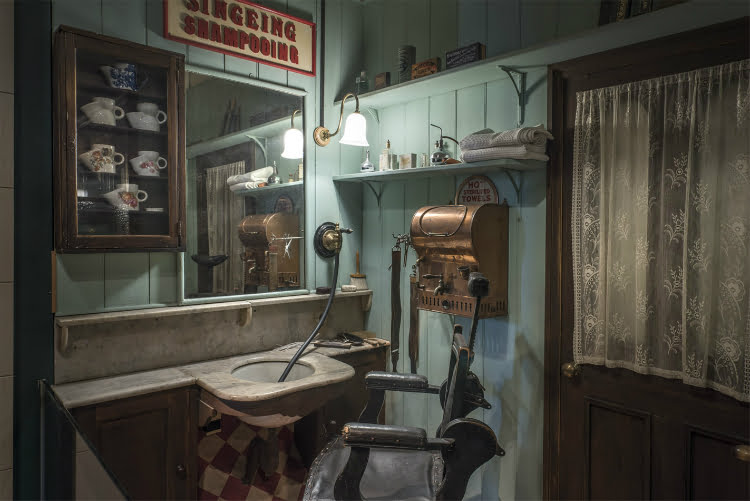 The Museum of London covers pretty much everything that happened here between 450,000 BC and today. So if you're interested in literally anything, there'll be something here to grab your attention. There's sketches, artefacts, clothing, and even entire rooms on display, including a street of recreated Victorian shops filled with antique goods and furnishings. One of their most recent acquisitions was the fatberg recently uncovered in Whitechapel's sewers, but it's so grim they've literally had to put it into quarantine. Thankfully, they're live-streaming it so you can keep an eye on whatever starts growing on it next.
Details: Museum of London, 150 London Wall, EC2Y 5HN | Open daily 10am-6pm | Free entry
–
Tate Modern | 17 minute walk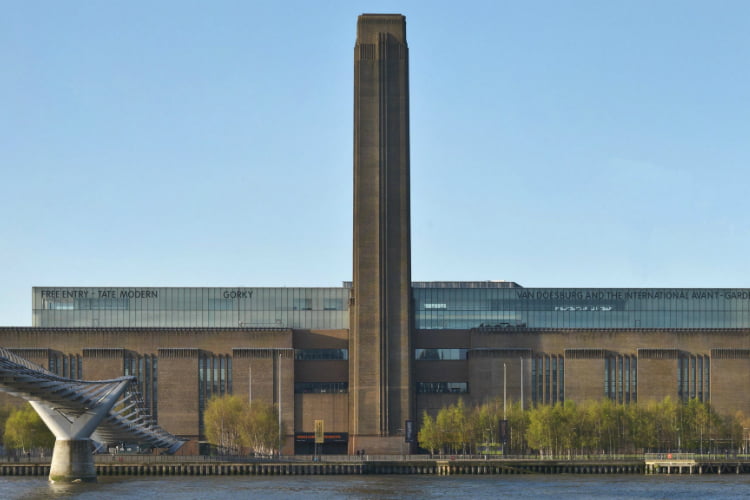 Housed in a former power station, the Tate Modern is now a powerhouse of contemporary art, showcasing both British and international artists active since 1900. The vast Turbine Hall usually plays host to large-scale, show-stopping installations, from enormous slides to heat sensitive artwork that only appears when enough visitors lie down on the floor. The permanent collection of over 78,000 artworks set over four floors (and in the newly unveiled Switch House), is totally free to peruse, and includes pieces by Dalí, Picasso and Ai Weiwei, as well as Duchamp's famously provocative urinal. And beyond all that, there's usually two or three temporary exhibitions to see, too – they'll cost you, but often bring together artwork from around the world for rare, comprehensive retrospectives. READ MORE
Details: Tate Modern, Bankside, SE1 9TG | Open daily 10am-6pm (10pm Fri & Sat) | Free Entry/Exhibitions from £18
–
---
Want more? Check out the Bloomberg Arcade website HERE.