There's been a lot to digest over the past year.
And we mean that in all possible senses. London has proven once again why it's one of the epicentres of global culinary culture, a title it's taken years to earn, but one it's gripping all the more tightly with each new opening. And over the past 12 months, we've seen a lot, and they've all been of a broadly  high standard. So picking the ten best amongst them wasn't easy.
It's been a painfully ruthless process to whittle it down to just these, but we've done it. So without further ado, we present the 10 best new restaurants of 2022…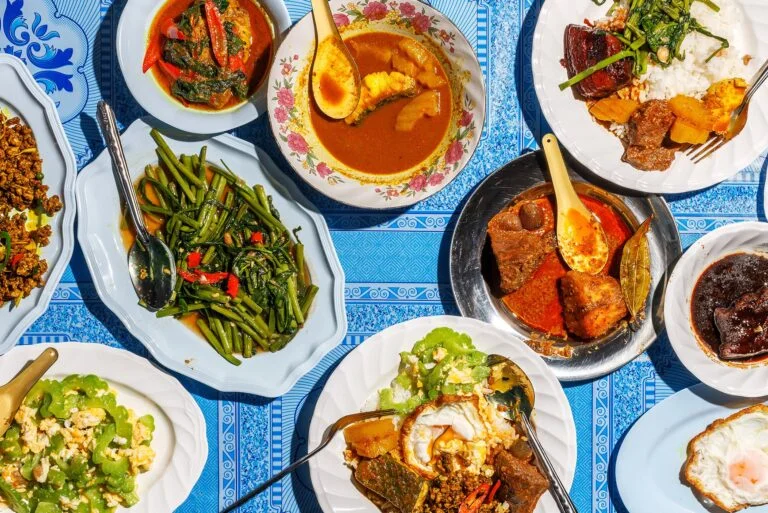 To be clear right from the outset, Plaza Khao Gaeng is not a date spot. Unless your date is the kind of person who wants to be transported into the backstreets of a town somewhere in Thailand, and lavished with the kind of intense, vibrant, zingy flavours that seem like you couldn't find anywhere else. In that case, it is a date spot. But only then, because the space itself (sitting proudly on top of the Arcade Food Hall) has a throughly hole-in-the-wall vibe bought out by fluorescent lighting, plastic tablecloths clipped to the tables, and simple wooden furnishings.
But you're not here for the decor. You're here for Luke Farrell's food. You see, he's a chef who is obsessive about his ingredients. He sources everything he can from Thailand. And anything he can't get, perhaps because it's too perishable to travel, or too expensive to be practical, he grows himself. Here. He has a huge greenhouse in Dorset (he calls it a "living library") complete with wildlife, tropical rain showers, native Thai butterflies for pollination, and dozens of herbs, spices, fruits, and vegetables. It's like a mini rainforest down on the south coast.
The result? You'll be rewarded with a parade of Southern Thailand's thick, blazing curries, fresh seafood, and fragrant salads. You'll get gin & snakefruit cocktails, ice cold beers, and house-fermented pineapple sodas. And you'll be planning your second visit before you even leave.
Details: Above Arcade Food Hall, 101-103 New Oxford Street, WC1A 1DD
–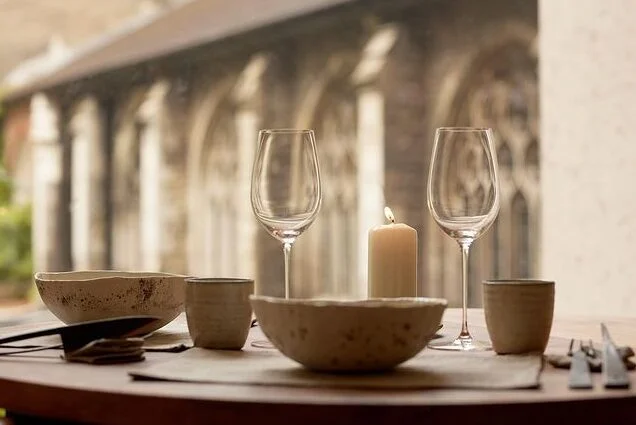 Dinner at St. Barts is, for want of a better word, a saintly experience. And it comes with a unique twist, too. Sit down in their candlelit bar area, and the waiter will give you both a cocktail, and sealed brown envelope containing the menu, leaving it to you as to whether you decide to look or not. This is where your evening will start, and where the first seven courses – yes seven – of your tasting menu will come, before you're moved onto the dining room for the slightly larger half of the menu. The dishes are inventive, packed with flavour, and extremely well executed.
Details: 63 Bartholomew Close, EC1A 7BG | £££
–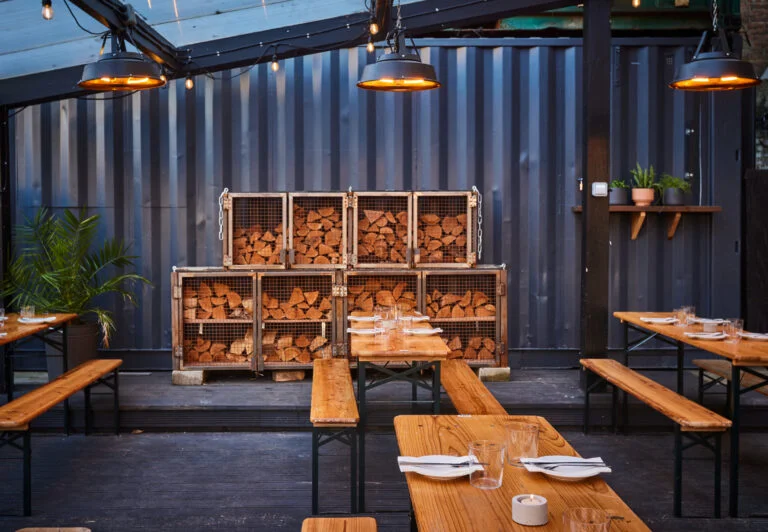 ACME takes two of the most welcome trending food movements and combines them into one wonderful package: live fire cooking & zero waste kitchens. And they do both so, so well. Led by chefs Andrew Clarke (Brunswick House, St Leonards) and Daniel Watkins (also St Leonards) you'll find it opposite the 40ft Brewery in Dalston. The idea is pretty simple: the brewery and the restaurant share ideas & ingredients, overlapping wherever possible to create complimentary flavours right from the outset. Beer by-products like yeast & grain go into ferments and hot sauces, while leftover spices (like ancho chillies, for instance) are incorporated into the drinks. Everywhere possible, dishes are scorched over an open flame, and doused in suds. The end result is both ingeniously creative, and almost entirely waste-free.
Details: Abbot Street Car Park, E8 3DP | ££
–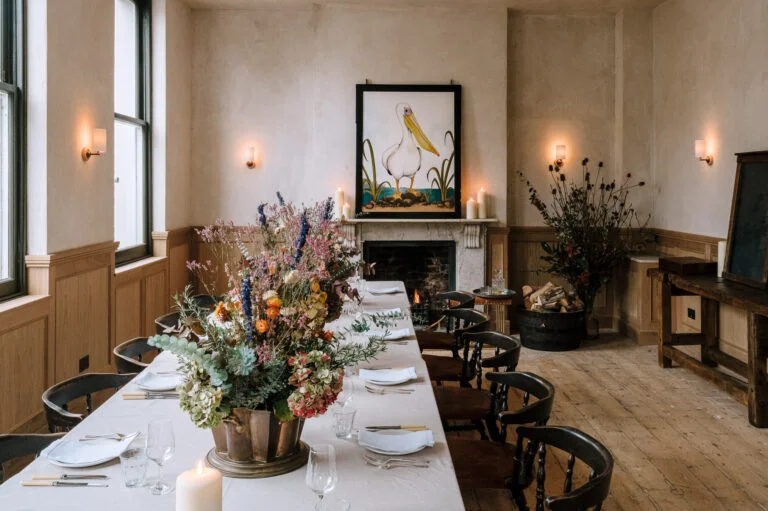 Technically, The Pelican isn't new. It's a pub just off Portobello that's been revived with all new staff & management. But the difference is night and day – isn't just a great neighbourhood boozer now, it's also serving up some exceptional food, too. Head chef Owen Kenworthy (Sketch, Brawn, Angelina) has produced a fantastic menu of ever-changing nose-to-tail dishes with everything from spit roast celeriac, to game sausage rolls, to monkfish pie with lobster head gravy. And you can pop in for a pint, too.
Details: 45 All Saints Road, London, W11 1HE | ££
–
Alex Dilling at the Hotel Cafe Royal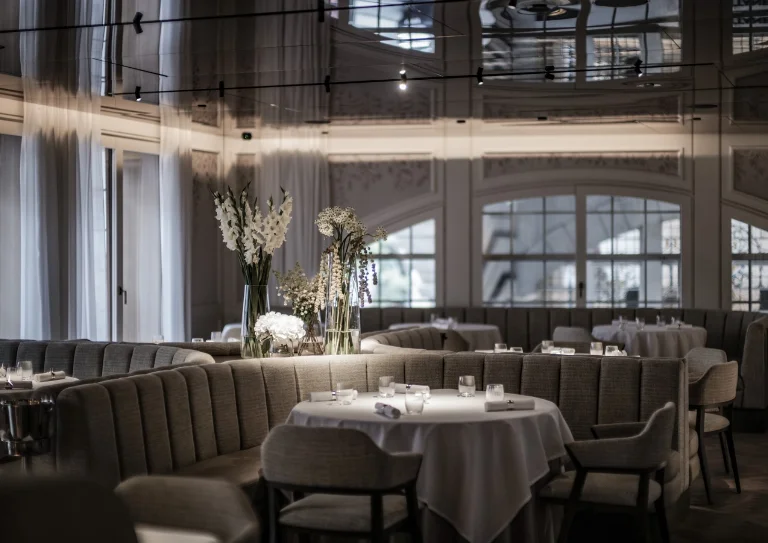 Alex Dilling is a man in search of perfection. After taking on The Greenhouse and keeping its two Michelin Stars, he's opened his own restaurant in the iconic Hotel Cafe Royal. And here, every single dish and every single detail seems to have been thought through completely. You'll get delicate little canapés clasping bracing layers of flavour together in pearl-shaped packages. You'll have tender, poached quail cooked with powerfully earthy truffles; creamy foie gras atop ultra-thin toast; salty aged caviar married with subtly smoked sour cream; perfect quenelles of herbal lemon balm sorbet dressed in fruity olive oil; and creamy pinecones of vanilla cream wrapped around a core of rich hazelnut. It's not molecular gastronomy, it's just old fashioned French cooking pushed to the limits of elegance.
Details: 68 Regent St, Soho, London W1B 4DY| ££££
–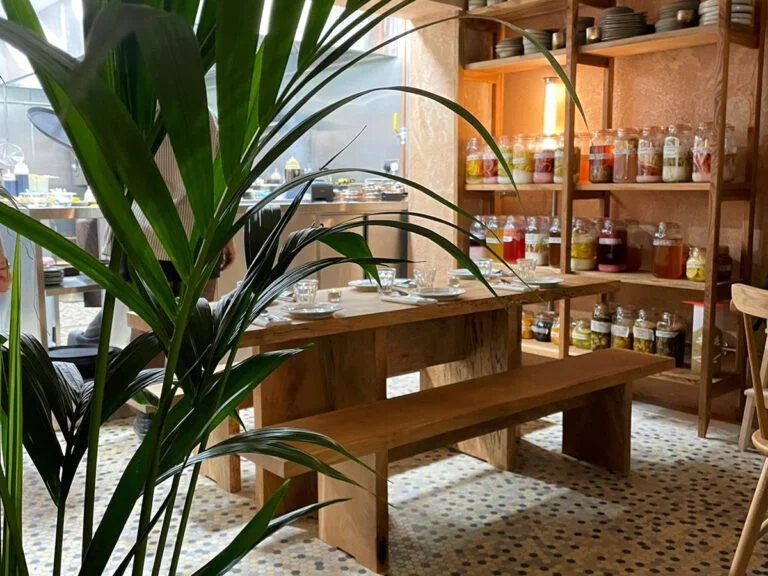 Fluffy, delicate flatbreads. Silky, burnt butter hummus. Glossy, fried aubergines lavished with date syrup & zhoug. If you've been to Bubala, you've had all of these. And the place made such a stir, that their log awaited central London location has become one of the hottest restaurants in town, and for good reason. And the fact that it's vegetarian is neither here nor there – it's entirely possible you wouldn't even notice if you weren't told, thanks to the parade of inventive & delicious dishes served up by Executive Chef Helen Graham (the former head chef at The Palomar)…
Details: 15 Poland Street, W1F 8PR | ££
–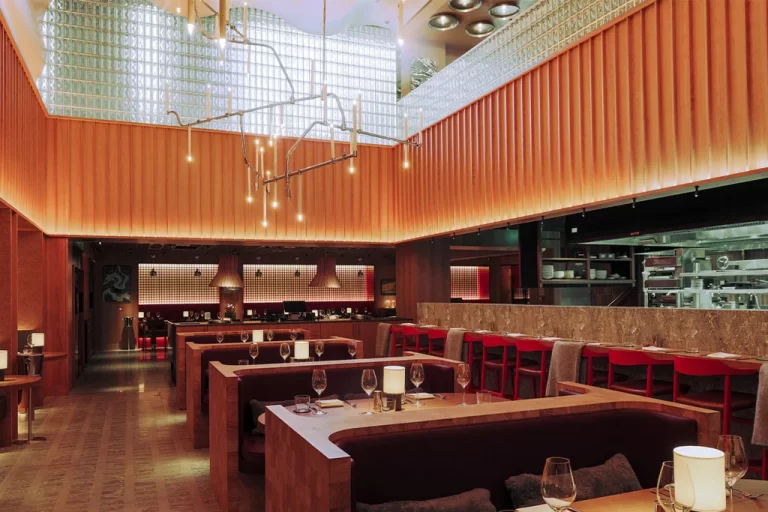 Frankly, if Studio Frantzén wasn't on this list, then it would have required a rather spectacular f**k up on the part of the chef. After all, the chef in question is Björn Frantzén, and his restaurant in Singapore has three Michelin Stars, and his restaurant in Stockholm also has three Michelin Stars. So he'd need to unlearn how to cook pretty quickly to screw this one up. And thankfully, he didn't. Even accounting for the aggressive gliziness of its surroundings (it's on the 5th floor of Harrods) it still comes off as relaxed, forgoing the fancy tasting menus for a more casual a la carte. And the end result is sensationally good.
Details: 87-135 Brompton Rd, SW1X 7XL | £££
–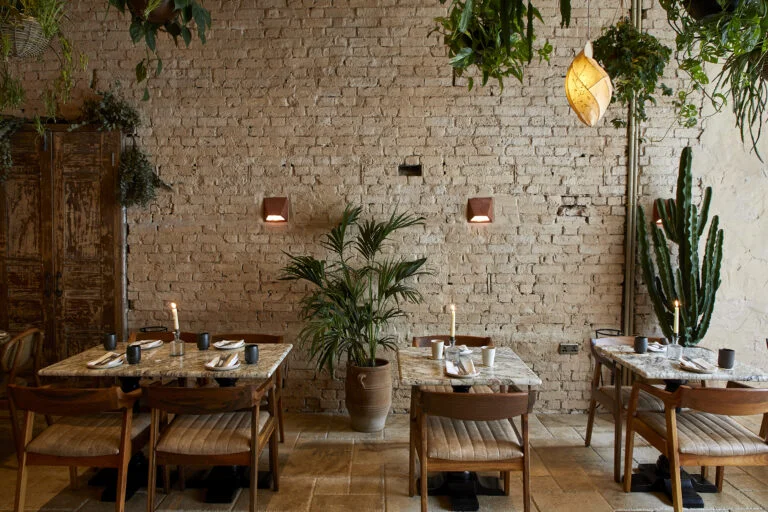 Cavita is the work of Adriana Cavita, a chef who despite being born & raised in Mexico City, and despite having trained in Mexico City's best restaurant (Pujol), elected to open her first restaurant in London. And we should count ourselves lucky indeed, because she's bought some wonderfully fragrant, punchy, zesty, earthy, and deeply authentic Mexican flavours to our fair shores, in a space that may as well have been plucked from the back streets of her hometown.
Details: 60 Wigmore Street, Marylebone, W1U 2RZ | £££
–
The Tent at the End of the Universe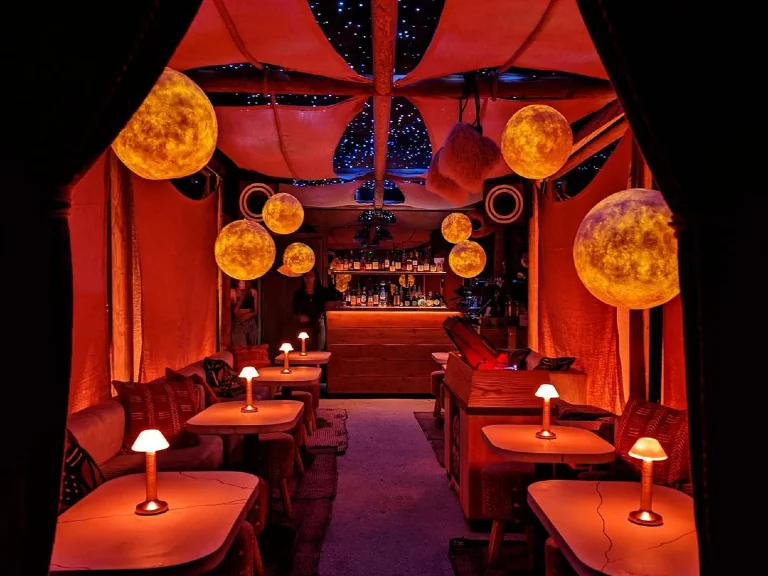 If you think the name 'The Tent at the End of the Universe' makes the place sound a little bit trippy, then rest assured, it is a little bit trippy. Maybe even a lot. As soon as you walk in, it feels special, hushed, and exclusive. It's as moody as a saké bar in a Tokyo back alley, yet as slick as a hyped pop-up restaurant in Brooklyn. The space is decorated like a Bedouin tent with a starry sky above. Floating moons and orange mushrooms give the room its ambient glow, while a DJ sits and plays beats out the cutting-edge German Martion-Audiosysteme at a perfect decibel level. And the food? While it could stand to be a little more consistent, it has some absolute gems on the menu: melted Saganaki cheese draped in pomegranate molasses & sprinkled with pistachios, and a succulent schnitzel on a bed of katsuobushi mayo are both standouts.
Details: 17 Little Portland Street, W1W 8BP | £££
–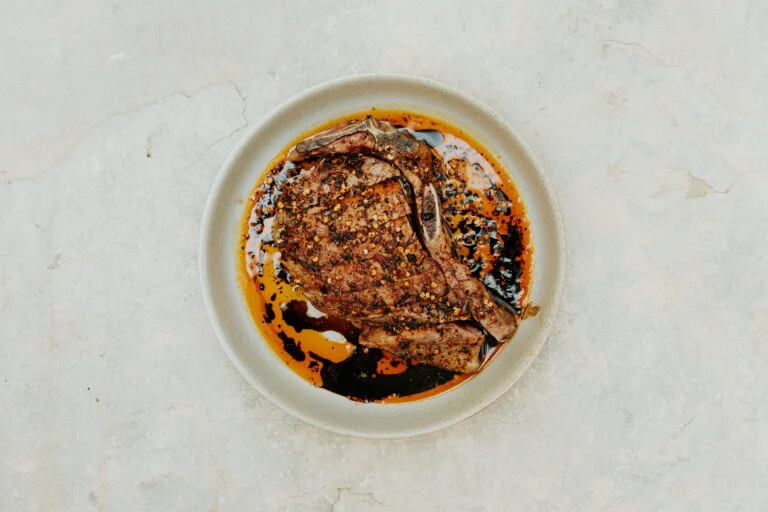 Kuro Eatery actually comes to us from a coffee shop (called Kuro Coffee, if you can believe it) in Notting Hill. But for a restaurant that seems like an adjunct to a cafe, it's absolutely superb. The space is simple & relaxed, and the menu is a wonderful joyride of perfectly blended Mediterranean and Japanese flavours. You'll find beetroots with walnut sugar, port, and cashew cream; pork chops bathed in fiery chilli pork fat & aged soy sauce; and an eye-popping eclair made with layers of coffee jelly, marscapone cream, and chocolate – it's called a Tiramichoux.
Details: 5 Hillgate St, London W8 7SP | ££
–
Amethyst | *Please note Amethyst sadly closed*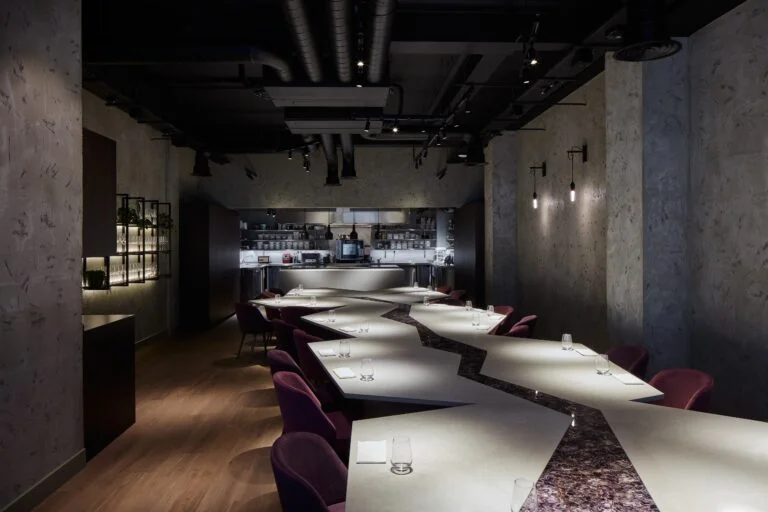 Amethyst is one of those 'special occasion' restaurants. It sits on a small, inconspicuous space on Sackville Street, just off Piccadilly. The windows, clouded over with white paint, offer no clues as to what's inside. So it's a pretty spectacular sight that greets you when you walk in: a 10-metre long, jagged chef's table shot through with rivers of real amethyst & quartz stone. This is not a casual dinner spot. And the food (tasting menu only, naturally) is a parade of creativity from the immensely talented chef Carlo Scotto…
Details: 6 Sackville Street, London W1S 3DD | ££££
–
---
Want something to drink with that? Check out the best bars of 2022…