Being knocked about by tourists, comedians, thespians, barbers, stylists, and drag queens while longing for a refreshing beer can be stressful.
So, being in Soho, one might be forgiven for wanting a drink. Of course, you don't want just any watering hole. You want the freshest Czech pilsner served alongside elevated Chinese food; the finest premium lagers housed alongside a hyped pop-up restaurant; a wild variety of beers; or, a buzzy place to read Tolstoy. 
From the archetypal to the unconventional, these are the best pubs in Soho…
–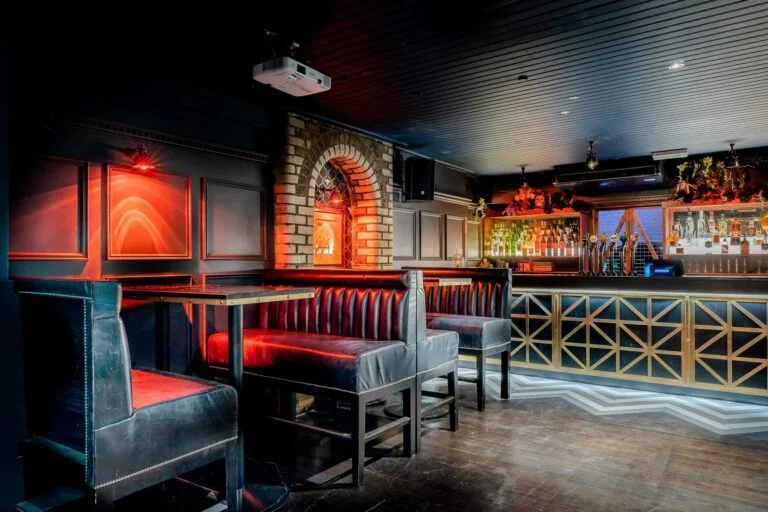 Time will pleasantly slip away in this pristine boozer. This might have something to do with the historic name referencing Soho's Swiss watchmakers as the thirteenth canton (county) of Switzerland.
In recent years, the pub has become known for giving over its kitchen space to exciting new pop-up restaurants. Previous tenants included Sambal Shiok, specialising in Malaysian Laksa, and the tour de force of Asma Khan's Darjeeling Express. Currently, the pub hosts the Nepalese cuisine of Rajiv's Kitchen; the marinated pork ribs and pomegranate molasses are particularly incredible.
Details: 21 Great Pulteney Street, Soho, W1F 9NG | For more information, visit their website here
–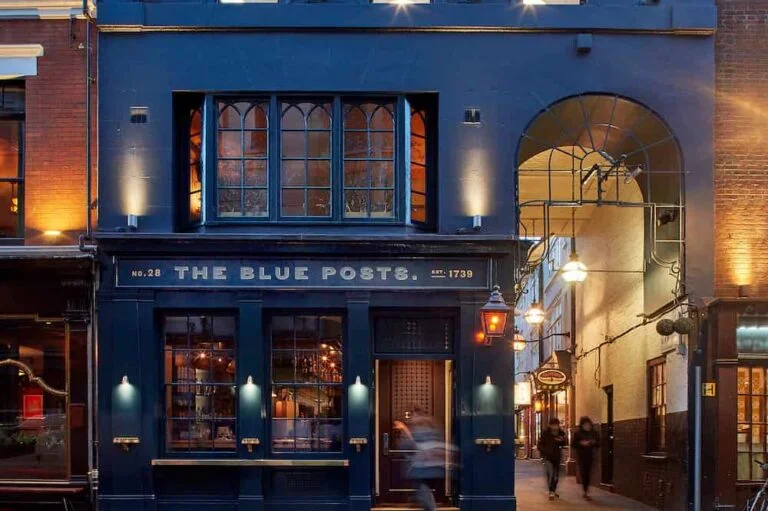 There were only 16 Michelin-starred pubs across the UK, and only one in London (The Harwood Arms in Fulham)… That was until Evelyn's Table beneath this Soho pub rolled up and achieved the glorious accolade in 2022. Luke Shelby fronts an intimate, 12-seater chef's table experience layering British, Japanese, and French cuisine, amalgamated from his cooking past at Le Manoir and the three-Michelin starred Nihonryori Ryugin in Tokyo, among others.
Only dropping in for a drink? On the ground floor you'll find the pub, established in 1739 and now beautifully decorated in blue tones. That polished vibe extends to the drinks – if you're after proper ales you'll be disappointed, but there's a selection of the usual culprits from the craft brewing world on tap. And upstairs, you'll find a refined wine bar called The Mulwray.
Details: 28 Rupert Street, W1D 6DJ |For more information, visit their website here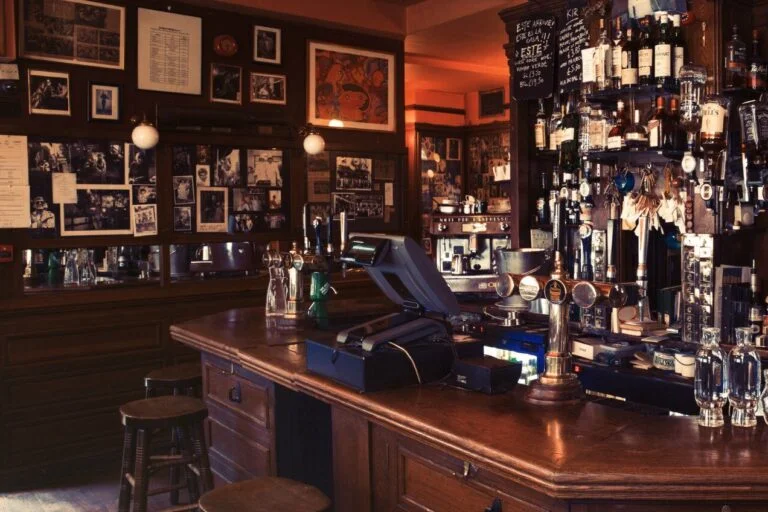 What a gorgeous culture-smattering this institution is. Hand-written menus boast oysters; steak tartare; duck rillettes; pork chop; rabbit leg; steak; and confit garlic. All the good French food but without having to leap across the channel, thanks to Neil Borthwick, who serves up hearty fare in the crisp tableclothed dining room upstairs. 
As for watering, there are thirty champagnes and wines by the glass, and ONLY half pints available (except on 1st April when Suggs traditionally pulls the first pint of the day). Most of the regulars can be found nursing Breton cidre while people-watching through the large open windows. This is a strictly no music, no machines, no phones zone; a long-standing bastion of Old Soho.
Details: 49 Dean Street, Soho, W1D 5BG | For more information, visit their website here
–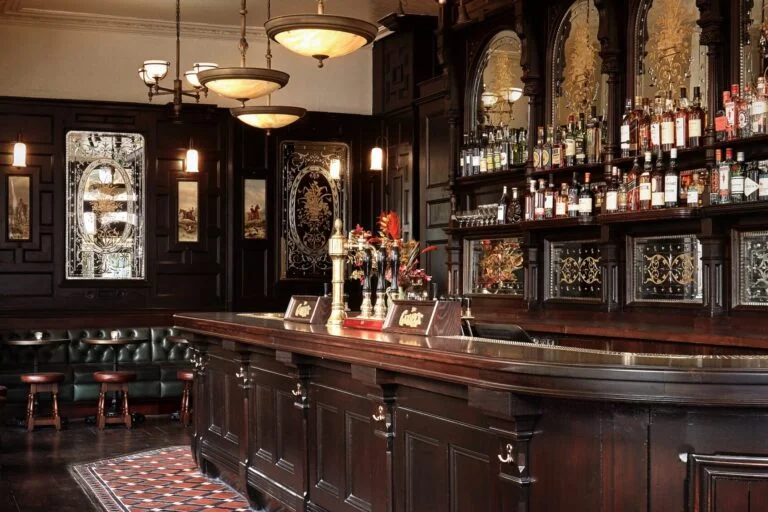 The George or "The Glue Pot" as its nickname goes (because people have always found it so hard to leave) intersects Great Portland Street and Mortimer Street. So, while it isn't technically a Soho pub, it's worth the hop across Oxford Street. 
The three-story, Grade-II listed building was lovingly restored to its former 18th century glory by JKS Group (Gymkhana, BiBi, Lyle's, BAO) and Dominic Jacobs of The Cadogan Arms. Across two floors this upmarket take on a traditional pub serves craft beers from DEYA and Gipsy Hill, an all-English wine list, plus a considerable whiskey collection. Meanwhile James Knappett of the two Michelin-starred Kitchen Table brings flair to the food menu with dishes like pheasant and pistachio terrine; Juniper steelhead smoked trout; and langoustine scampi and chips. Good luck trying to leave.
Details: 55 Great Portland Street, Fitzrovia, W1W 7LQ | For more information, visit their website here
–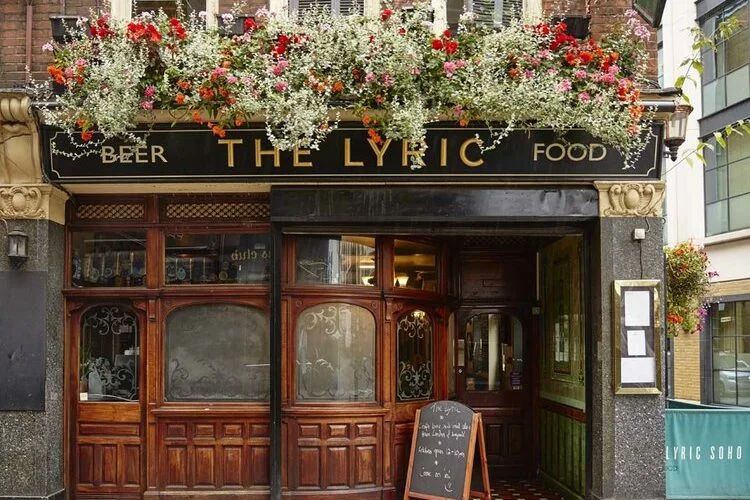 Don't expect to be greeted by the usual old beers on tap. Expect a leap of faith. Expect real cask ales, and expect a small army of bottled beers. The ceiling of the Victorian, wood-panelled interior of this long-standing Soho pub is plastered with beer tap cards, making it a kind of Mecca for beer. The atmosphere is relaxed and the staff are lovely. Generic "olden times" London photos hang on the wall and indie rock'n'roll streams over the airwaves overhead. It's a jovial place to sheer a beer and a chat, just don't expect to get a seat come 6pm.
Details: 37 Great Windmill St, London W1D 7LT | For more information, visit their website here
–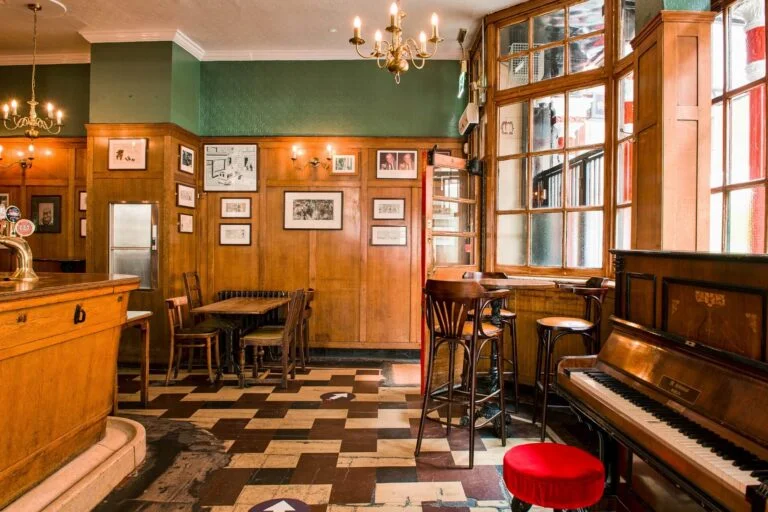 The Coach & Horses is famously associated with Norman Balon, known as London's rudest landlord, and the legendary degenerate journalist Jeffrey Bernard (who's celebrated in numerous Private Eye sketches dotted around the walls). Other regulars over the years have included The Beatles, Francis Bacon and John Hurt.
Inside, the place has barely changed. The Grade II listed interiors feature cosy wood panelling, retro signs advertising old beers from Double Diamond and Ind Coope, and of course a stone spitoon curving around the base of the bar. At least, that's what we think, and hope, it is.
There's also a piano in the corner, which on Saturday nights is frequently assailed by a glamorous lady in sequins who gets the whole pub involved in a singalong.
Details: 29 Greek Street, Soho, London, W1D 5DH | For more information, visit their website here
–
–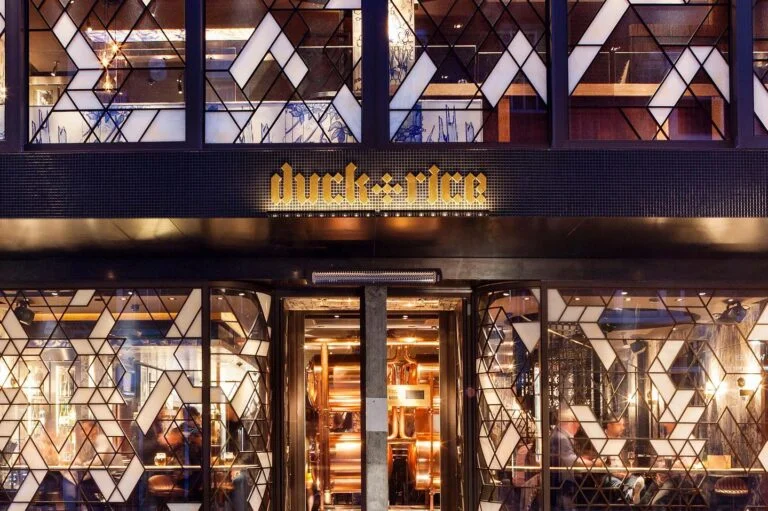 If John Snow is one of the best traditional pubs in Soho, The Duck and Rice is one of the best pubs in Soho where the word is used loose and fast. Its pub credentials stem mainly from the fact it is one of only two "Tankovna" pubs in London with Pilsner Urquell tanks. The vacuum stored beer has 48 hours to be delivered from Pilsen (in Czechia) to London after brewing. It is then stored in copper tanks, which once opened, must be drunk within 5-7 days. Hence, one of the freshest pints in Soho. The Duck and Rice also produces high-quality Chinese food which has been a success with the critics.
Details: 90 Berwick St, London W1F 0QB | For more information, visit their website here
John Snow 
John Snow is a Soho institution, named after a local 19th century doctor who worked out that everyone in the area was getting cholera because of the water from the street's pump (still standing, no longer dispensing Victorian diseases).
As a part of the Sam Smith's brewery pub chain, this means no-nonsense beers, ales, and stouts from their 250 year-old brewery that are delicious and affordable (as pubs in Soho go). The way you have to duck and dive through the saloon's partition adds to the pint-clutching drama. Meanwhile, upstairs one can relax into a riveting, silly, preposterous and engrossing conversation. Just don't expect much from the food offerings… a proper Soho pub then.
Details: 39 Broadwick Street, Carnaby, London W1F 9QJ | No website. Just drop in
---
Making a night of it? Check out the best restaurants in Soho