Camden's got a lot more going for it than just a nice market.
It's actually got six nice markets.
But the fun doesn't stop at thumbing through retro clothes and playing spot the mohawk. For starters, Camden has a rich musical heritage with an almost unfair amount of iconic live music venues that host rowdy gigs on all seven nights of the week. There's also a wonderful hill nearby, a royal park with a world-class zoo, and some great pubs. Lots of great pubs…
The clutter of cultural activity means the area's foot traffic is an eclectic mix of tourists, subversive students and older people still trapped in their punk phase. No matter what category you fall into, this collection of the best things to do in Camden should have something for you.
Hit the Jazz Cafe Camden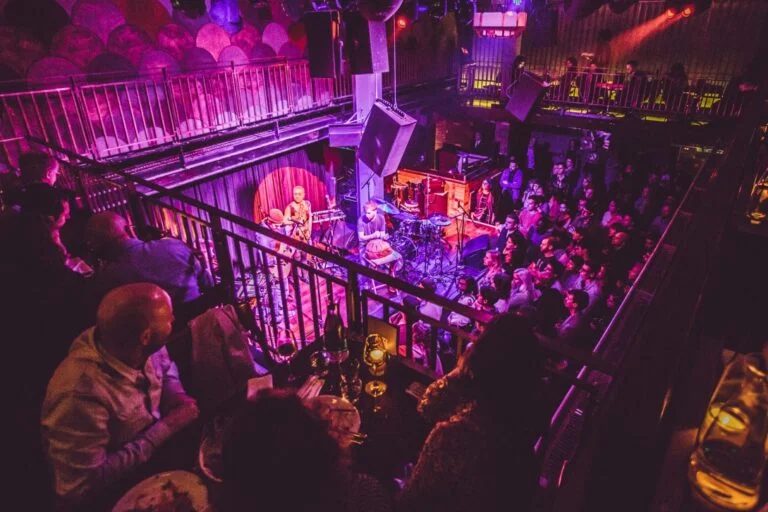 Once a Barclays Bank, in 1990 this legendary two-level venue swapped the pound notes for musical notes and never looked back. From slow jams to smooth sax, the Jazz Cafe has played host to every admired jazz, funk and soul act you can think of – Adele, Jamiroquai, Amy Winehouse – name 'em and there's a 99% chance they've stretched their vocal cords here. They have live performances every night of the week and there's also a mezzanine restaurant where you're able to nibble on snacks while watching the bopping bodies on the dance floor below.
Rock a new look at Camden Market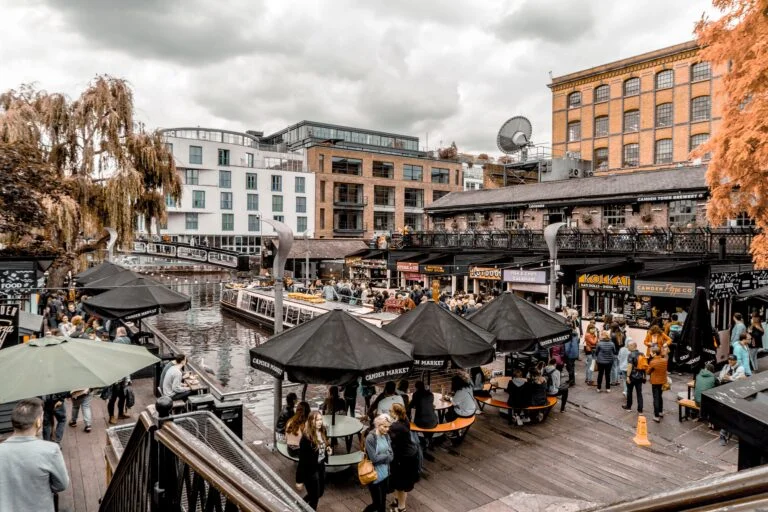 Image: Javier Martinez
Although part of it used to serve as a hospital for horses, Camden Market doesn't have the most stable history: it's overseen music movements, terrible fires and all sorts of vendors and venues have come and gone. Although its grungy cloak is gradually wearing off, the market's mazy passages are still the place to score band merch, Dr. Martens boots, vintage threads, records and edgy arts and crafts.
Fill up on international eats at Camden Market West Yard
Skip breakfast. You won't be needing that if you plan on hitting Camden Market's West Yard, one of the best food markets in London. The cobbled square is a sight for sore eyes (and empty stomachs) with stalls including Yorkshire Burrito, Dutch Pancakes, Tongue 'N' Cheek Burgers, The Mac Factory, Arepazo Bros and much much more. It can easily be a lunch and early dinner thing if you spend enough time in the market to return for round two.
Throw Shapes at The Roundhouse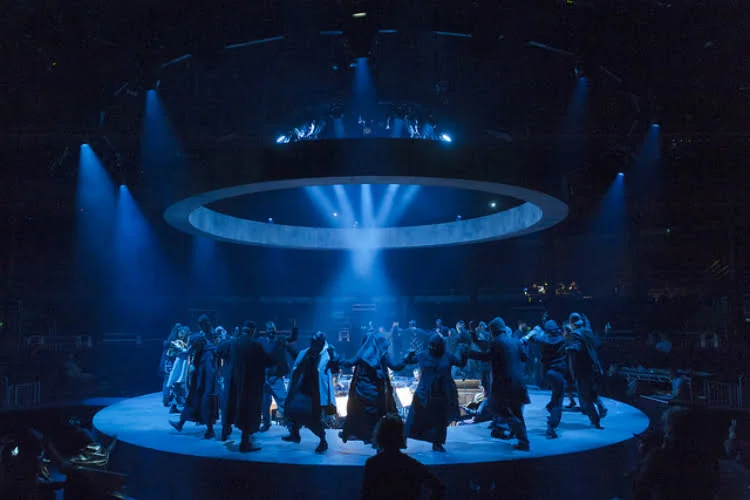 Circular by name, cutting-edge by nature, going to gig at this iconic performing arts venue is a London rite of passage. Initially intended as a railway engine repair shed, it made its name in the '60s with ear-splitting rock concerts where the likes of Jimmy Hendrix, The Ramones and The Who would wow the crowds and stagger the building's brick walls, though in time its versatility has advanced with age: poetry comps, theatre, fashion shows and high-flying acrobats all help to power the programming these days.
Stretch your legs at Regent's Park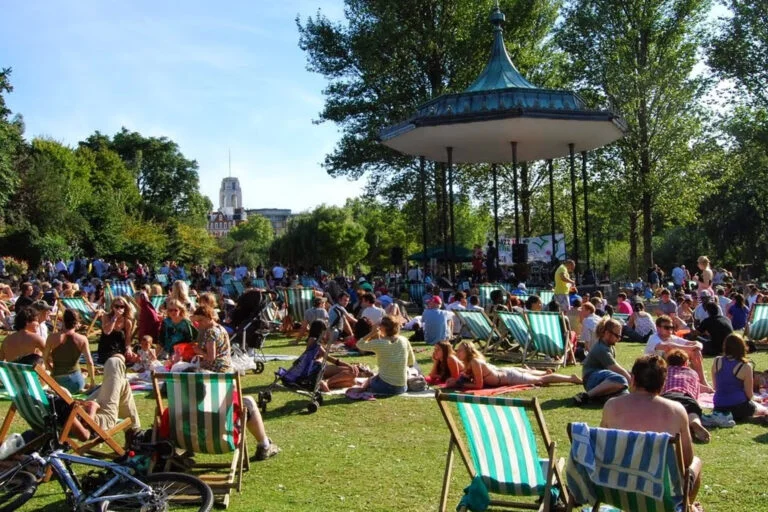 In terms of things to do in Camden, Regent's Park covers a lot of ground (along with its size, apparently 410 acres). There's a boating lake, open-air theatre, thousands of roses to smell and playgrounds aplenty. Its large and open landscape makes the park a paradise for dog walkers, though don't be alarmed when your pup's barks are met with the cheeky pant-hoot of a chimpanzee. The ZSL London Zoo is also here…
Fall in love with London's skyline again from the top of Primrose Hill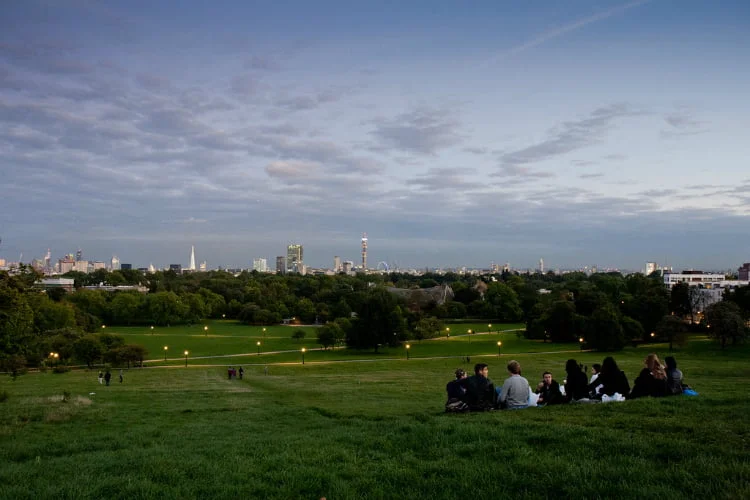 Without fail from around 7pm on every summer's night, you'll spot hordes of folks slowly trudging up this hilltop. Obviously it's all for a good cause: to nab the best possible position on this lofty London viewpoint to snap a pic from. And to be fair, it really is a photo opp of epic proportions – a panorama of the BT Tower, the Shard and other eye-catching London attractions. Picnics go hard here too, and you can fill your baskets with wines, bakes and cheeses from the boutique cafes that occupy the high street next door.
Live Music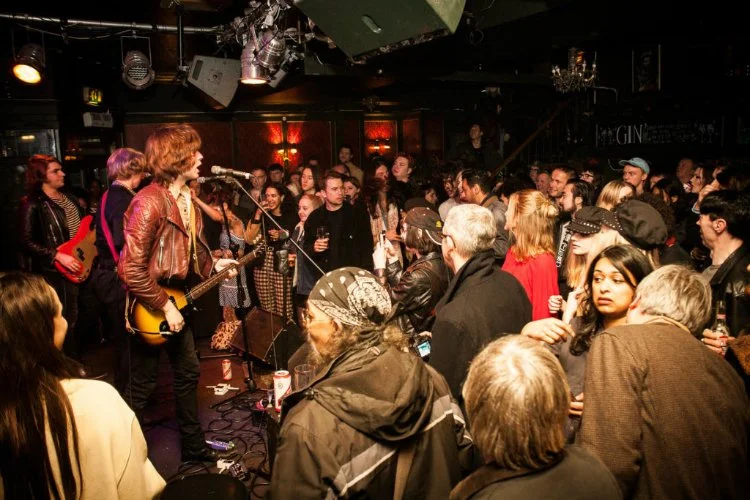 Live music has been part of Camden for over 50 years, whether it's in the vast circular arena of the Roundhouse or the crammed confines of a cosy pub. If you're after something less formal than a ticketed gig, these pubs are perfect for catching some upcoming talent in a relaxed setting. You can find pretty much anything in Camden – from heavy metal at The Devonshire Arms or up-and-coming rock bands at The Monarch, to acoustic jazz improv and folk at vegetarian café Green Note. For bigger crowds, check out Dingwalls – a Camden institution nestled in the midst of the market, or KOKO, a huge club and gig venue set in a beautiful old theatre.
Shopping in Camden Town
Eat liquid nitrogen ice cream at Chin Chin Labs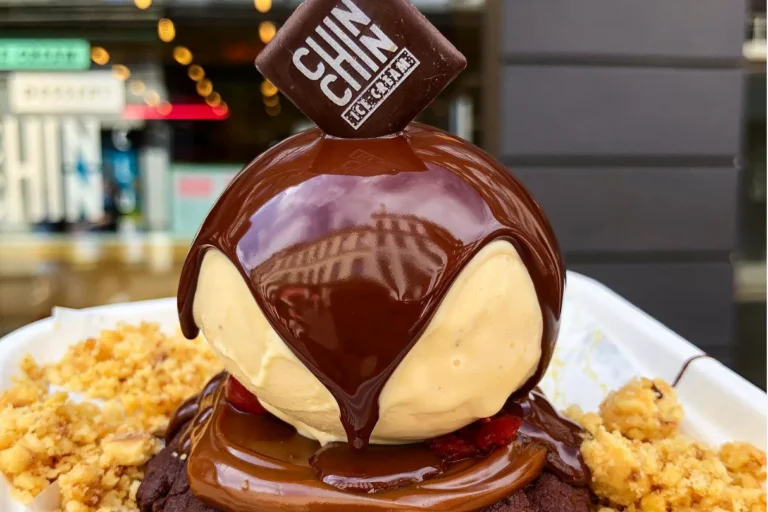 The scoops at Chin Chin achieve their famed crystal-free smoothness via a surprisingly straightforward procedure: left-field flavour mixes like burnt butter caramel and vegan banana pudding are blasted for less than 60 seconds with freezing liquid nitrogen. You can view the full steamy science set up they've got going on behind the counter. And the experimentation doesn't merely end with the ice cream – tinker with your own topping combinations including bee pollen honeycomb and grilled white chocolate.
See the lions & tigers from a safe distance at ZSL London Zoo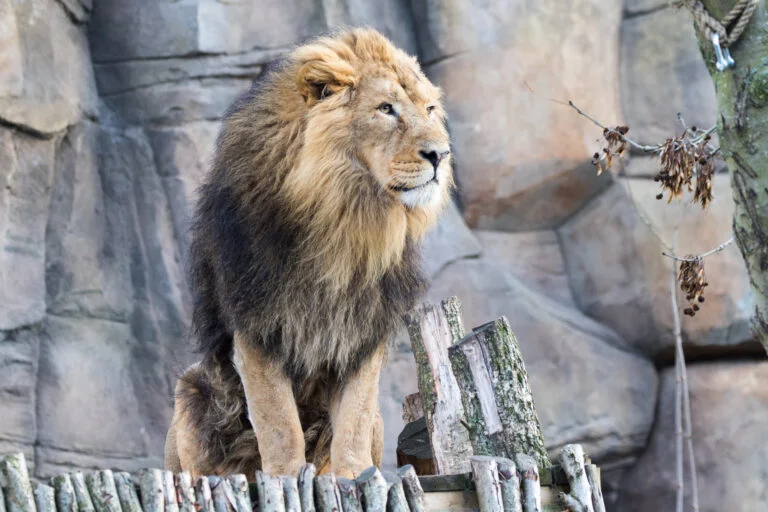 The star attraction in Regent's Park, there's nearly 700 different kinds of creatures and critters from the animal kingdom who call ZSL home. Daily events see meet and greet sessions with some of the locals: the gorillas, meerkats and penguins are all more than happy to say hi (and get fed). For those who really want to live on the wild side, there's the potential to lodge overnight close to the lion pride (but not too close, obviously). That even comes with a private tour of the enclosures, meaning you can skip the shoulder battles with kids for peak viewing positions…
Show your age at Babylon Park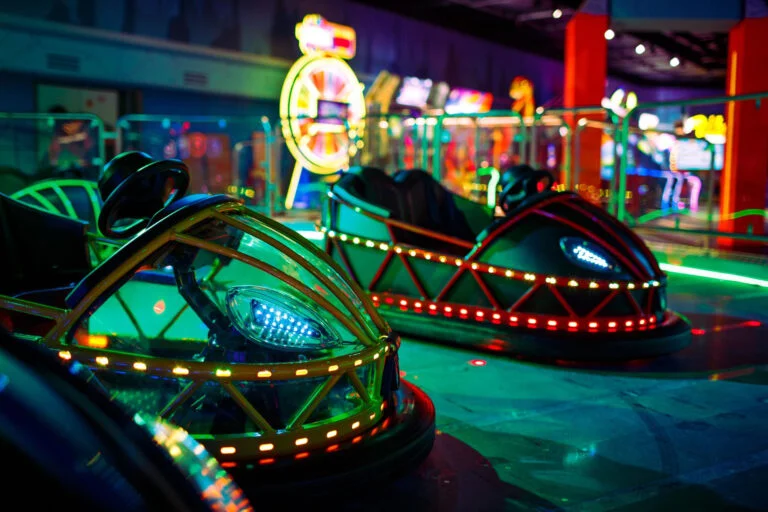 The target audience may be kids needing to meet minimum height requirements to go on rides, but that isn't stopping any young-at-heart adults from amusing themselves here. It's an extraterrestrial-themed underground arcade and fairground with a mini roller coaster that wraps around the whole venue (that doesn't quite travel at speed of light…),  a drop-tower, bumper cars and air hockey tables. It's definitely one of the stranger things to do in Camden.
Raise a stein at Camden Beer Hall
Camden Town Brewery took a page out of Munich's book last year and gave the arches beneath Kentish Town West Station a bit of Bavarian makeover. Crafty move, because the beer hall's 35 tables are always packed out with pint-seeking punters. There's 24 brews on tap including fan faves (the pale ale and Hells Lager) and one-off collabs with London restaurants (like the tropical Camden x Hoppers Lager). Beer buffs and beginners are also welcome to join the 'beer school' brewery tour that lets you sample beers straight from the tanks and talk with the brewers themselves.
Spy on criminals for the Shelby clan at Peaky Blinders: The Rise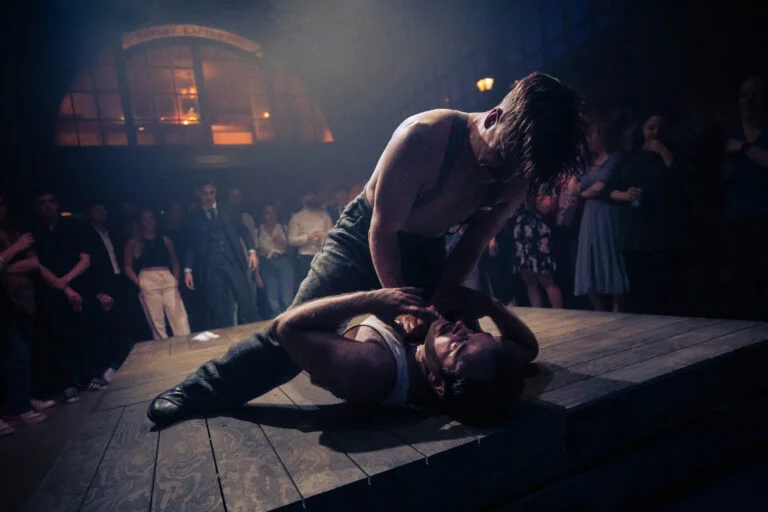 If you've ever watched Steven Knight's hit show and thought you'd make a good Brummie gangster, here's your cue. Immersive Everywhere (the production company behind the Great Gatsby) have whipped the warehouses in Camden Market into a set resembling the underbelly of the 1920s, where you can play out all your Peaky Blinders fantasies (haircuts optional). You'll be put in the middle of dodgy dealings, fights between rival factions and be able to sip on a cocktail in the cabaret bar if all goes south.
Tickle your funny bone at the Camden Comedy Club
On most nights of the week, the Camden Head pub is a barrel of laughs. That's because the intimate room upstairs is reserved for comedy. The club – now a permanent part of the venue's furniture – puts on a mix of everything: improv, sketches, workshops and stand up from circuit mainstays trying out new material. The shows also fall under a tenner, so the jokes really are good-value…
Go to the pub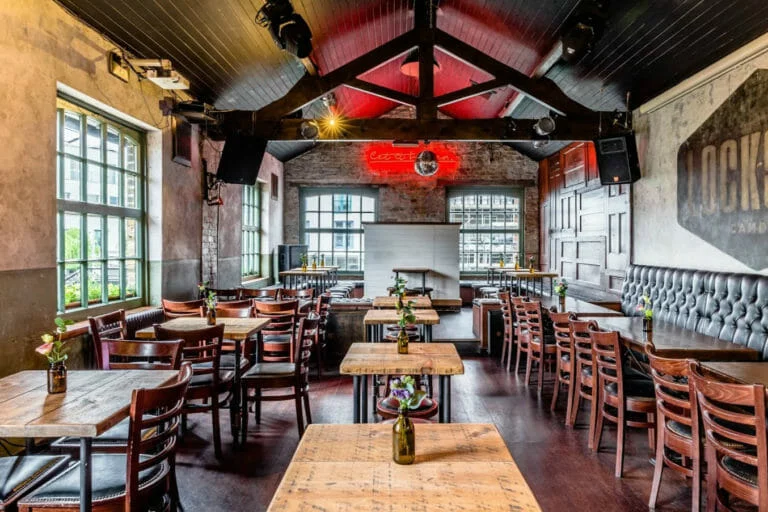 When in doubt, this is the obvious thing to do in Camden. Pub drinks are deeply ingrained in the culture here and there's always a weathered but welcoming boozer within radius: each one coming with a million stories to tell and a well-earned 'institution' tag. Honestly, pub life in Camden probably deserves its own guide. So whaddaya know… here's a guide to the best pubs in Camden.
Take an idyllic stroll along the canals
If you're feeling the guilt from succumbing to your second Yorkshire Burrito, break away from the madness that is the market and duck down to the canal below for one of London's most scenic walking routes. Passing barges and birds, the waterway takes you either up to King's Cross, or through Camden Lock, the area around Primrose Hill, and Regent's Park, winding up at Little Venice. And, coincidentally, there are also lots of things to do in Little Venice…
Go to gin school at Half Hitch Gin
Small batch gin brand Half Hitch has taken up the mantle in upholding Camden's long history with the spirit (the neighbourhood used to be gin town in the 19th century and there's even a street here called Juniper Crescent). They give gin masterclasses in their Camden Market distillery, where you'll first be educated on gin-making fundamentals and then taught how to create a botanical blend yourself, using whichever special ingredient you fancy bringing with you. Homework to bring back for study? Your own 100ml bespoke bottle…
Dive into the Jewish Museum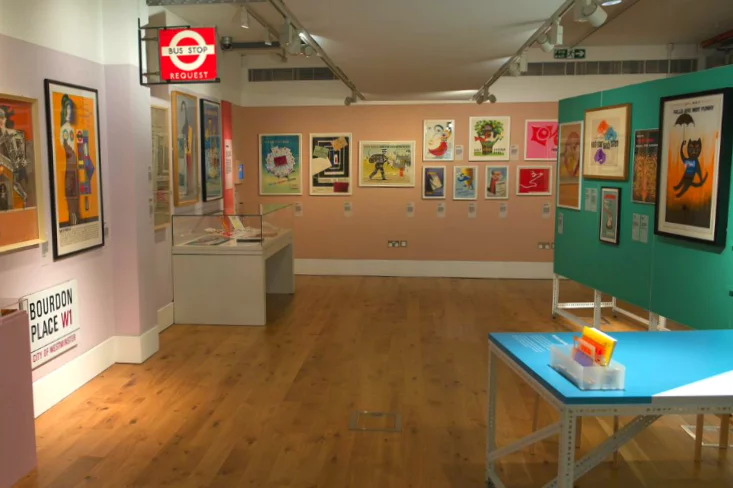 This place offers an absorbing insight into the lives of Britain's Jewish community, holding a substantial collection of personal items, ceremonial artefacts and a recreation of a Jewish East End street – and there's loads of interactive opportunities, like Yiddish theatre karaoke. More soberingly, The Holocaust section – told through the testimony of a survivor, Leon Greenman OBE – is one of the more powerful things to do in Camden.
---
Like broadening your horizons? Check out the best museums in London