If you're fondue of Swiss cuisine, we've got good news:
Heritage has arrived in Soho.
It's a high-end restaurant that seeks to blow the cobwebs out of the slightly antiquated view of Swiss cuisine by taking the nation's traditional dishes and turning them into updated, fresh, extremely well-executed versions of themselves – then serving them in a moody, sleek space.
The menu has been put together by Aarik Persaud, a chef who was born in Canada, opened an acclaim restaurant in Hong Kong (The Butchers Club), and has worked across Australia & the UK. He's making, among other things, three types of rosti (with cheese, salmon, and bacon); three types of raclette, carved off the cheese tableside onto the likes of Jersey Royals, heritage tomatoes, or Cobble Lane charcuterie; and three types of fondue – there's veg, meat, and a particularly decadent seafood option with lobster, red prawns, and smoked salmon fillet.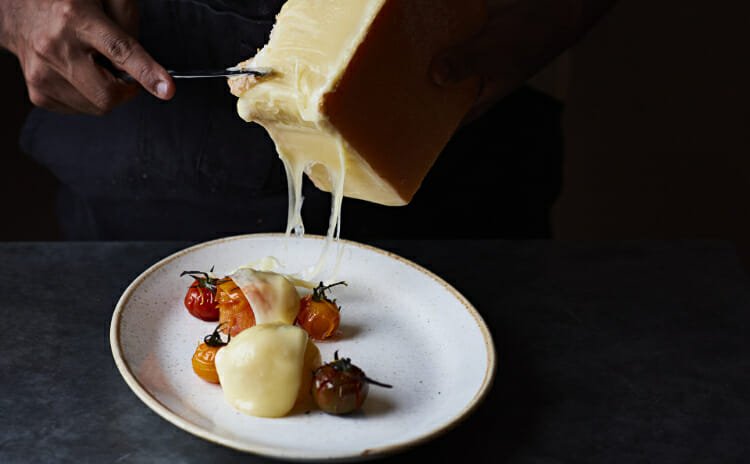 And beyond that, then there's the stuff from the charcoal powered grill (trout, fillet steak, etc) and if you fancy, you can even get your own grill delivered to your table in the form of a traditional Charbonnade, complete with pork belly, beef, or seafood to scorch on it.
The place has its own standalone, cocktail-fuelled bar, and the wine list includes a few varietals from the Alpine region alongside more familiar numbers from the Old & New Worlds.
Looks like it'll be tough to remain neutral about it.
NOTE: Heritage is open now. You can book a table, and find out more at their website right HERE.
Heritage | 18-20 Rupert Street, W1D 6DE
---
Like raclette? Take a hike over to Alpes…