Welcome to Hicce Hart, the gastropub sibling to Hicce.
Now, we know what you're thinking. Hick? Hickey? Hi-chee? Well, for those wondering, apparently Hicce is actually pronounced "ee-chay". It's a Latin word that means 'of the moment', and let's face it, restaurants with cool Latin names are very hicce right now.
For those who don't already know it, the original Hicce is in Coal Drops Yard, where it serves up a kind of Anglo-Japanese-Nordic menu cooked over a wood-fired grill. This sequel, however, is a gastropub through-and-through, and you'll find it guarding the gates of Islington's Chapel Market, in the building that used to be the Day & Night pub. The difference between that pub and this new one however isn't exactly night and day, as they've wisely decided to keep its rather handsome glazed brick exterior, as well as much of its classic Georgian alehouse interior.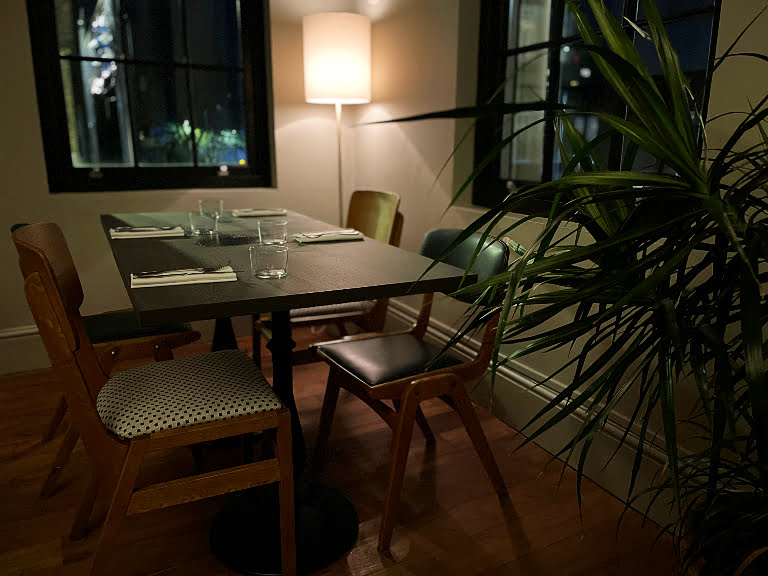 Step inside, and you can either mingle at the downstairs bar and grab a drink, or head up to the more intimate upstairs dining room, with stained glass double doors, a wood-burning fireplace, and a small bar of its own. But bar or not, this part feels very much more like a restaurant.
The menu here comes courtesy of chef Charlotte Harris, who is fresh from a stint at the excellent Fallow – and she's clearly taken in some of the lessons in sustainability that place has to offer, because her dishes start strong with some beef spare ribs that she rescued from the fate of the butcher's bin. The toughness that puts so many off, she has turned into a benefit, giving them a meaty satisfaction that's rounded off with a brining in malt vinegar.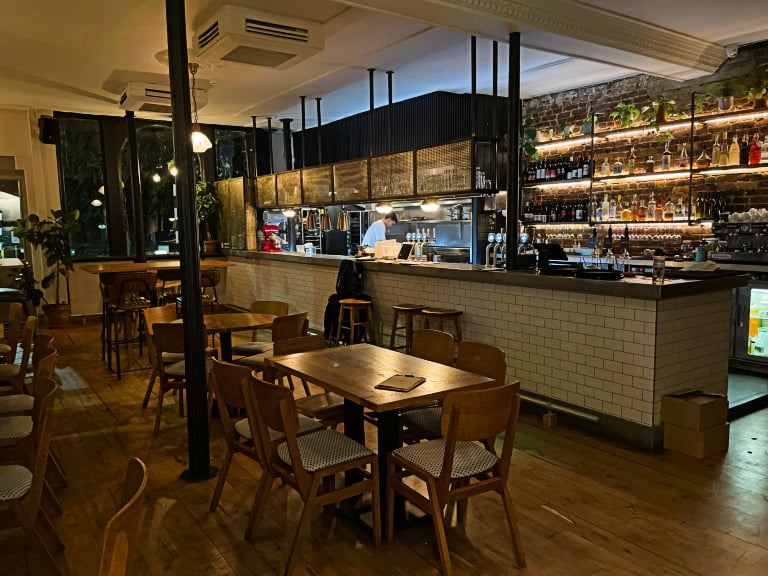 If that's not your thing, then there's Basque sausage, some beautifully fluffy profiterole-like cheese gougeres with date jam, and a bowl of brightly flavoured sprout tops with anchovy dressing. The larger offerings, meanwhile, include a buttery soft beef cheek with a crispy shin croquette, a fillet of hake with mussels and green sauce, and a hefty pork chop with a celeriac remoulade and some hazelnuts.
And to drink? Well, the 'pub' part of this gastropub is being taken care of by fellow North Londoners Goodness Brewery, who've created a Hicce IPA, as well as lager, stout, and a low-alcohol number. But you'll also find taps pouring a house Negroni too, with a few other cocktails and wines backing that up.
All told, it has a nice comforting vibe, and a menu with a lot of potential – and it's a welcome addition to the Islington restaurant scene…
…so hopefully it lasts a little longer than merely being of the moment.
NOTE: Hicce Hart is open now, Tuesday-Sunday. You can find out more and make a booking at their website right here.
Hicce Hart | 58 Penton Street, N1 9PZ
---
Stomping around North London? Check out these other excellent Islington pubs