The folks behind The Palomar and The Barbary have had a flash of divine inspiration.
Because they've just opened their new joint, Jacob the Angel, and we're 99% certain it's the result of an angelic visitation that went something along these lines:
Angelic Messenger: "Let there be a coffee shop in Covent Garden. But let it not be on the main drag, nay, but secreted away in the colourful, bohemian enclave that is Neal's Yard. Let it seat but 10 people for unprecedented levels of intimacy, and let it host a further 3 outside on al fresco seating. Ooh, and let there be lots of those little cakes with cream in the middle."
Layo & Zoë Paskin: "Ok."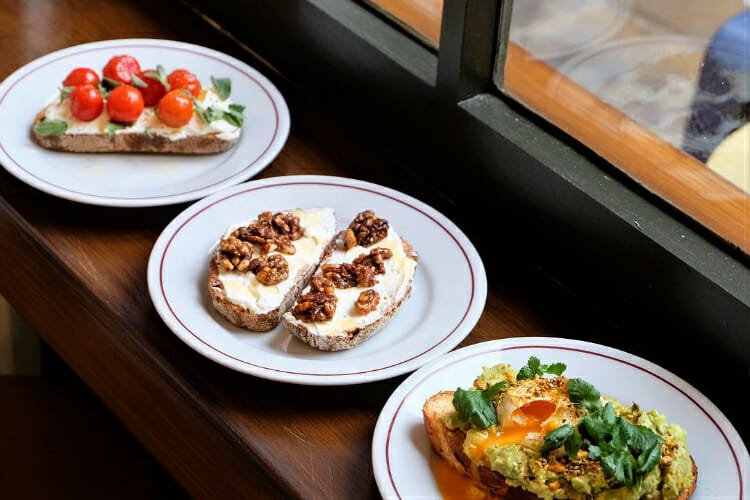 And so the siblings have duly gone forth and created such a place. It's a dinky space, mainly offering a takeaway service from their daily changing menu. That menu's all in the capable hands of head chef Daniela Gattengno (sous chef at The Barbary and previously at Ottolenghi, Moro and Morito), who sources all the ingredients from artisanal suppliers – so expect English charcuterie from Cannon & Cannon, and cheese from their neighbours at Neal's Yard Dairy.
She whips these all together to create light breakfasts like chia, turmeric and medjool date bircher; and whipped feta, honey and walnuts on sourdough toast, while for lunch, you'll find dishes like butternut squash, sweet onion and sage quiche – as well as fresh sandwiches and cakes, from tahini madeleines to individual coconut cream pies.
It's just heavenly.
NOTE: Jacob the Angel is open weekdays 8-5pm, and weekends 9-5pm. You can find out more on their website HERE.
---
16½ Neal's Yard, WC2H 9DP