For those who didn't have the pleasure, The Dairy first opened in Clapham in 2012 (on the site of a former dairy – what a coincidence!). And for the following 8 years anyone adventurous enough to travel/live south of the river was rewarded with some absolutely delicious Anglo-Nordic small plates made from local, fresh produce. They even had a garden on the roof.
Unfortunately, the pandemic then came along and hit chef-owners Robin & Sarah Gill with its restaurant-shaped sledgehammer, and were left scrambling to keep the site afloat. But when one door closes, another opens. Literally in this case, as they were able to move their entire enterprise (staff included) to Bermondsey courtesy of a thoroughly agreeable landlord, all within the space of a couple of weeks. Which is nothing short of a miracle these days.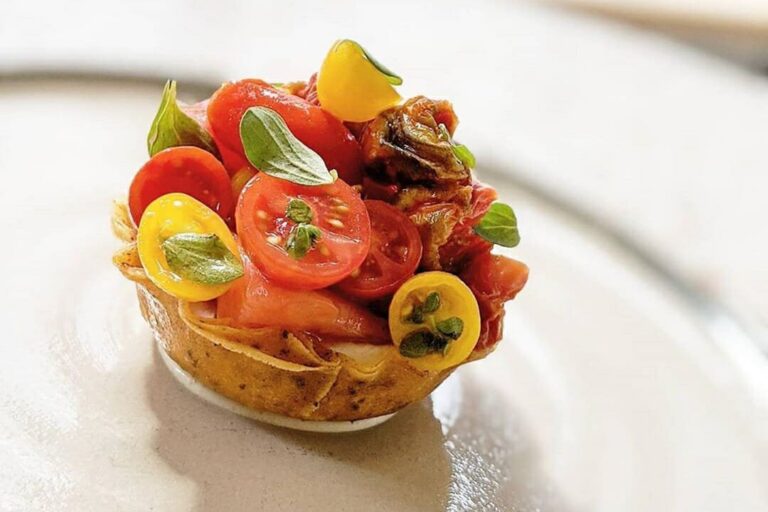 What to expect from their new digs? Well, if the first bite is with the eye then the new space is a refreshingly chilled cleanser. It all feels very clean and simple, without dipping too far into the minimalist toolbox. White & grey tones are warmed up with wood & leather furnishings to give it all a Southern Californian vibe, underscored by a decent scattering of cacti & desert appropriate planters.
Pull up a pew and you'll be presented with a menu of top-shelf sharing dishes. Standouts include a tartlet of smoked cods roe topped with a small hill of vibrantly flavourful Vesuvius tomatoes, all held together in a delicate pastry case so thin & brittle it seems impossible; then there's the grilled radicchio offset with some creamy broad bean puree; a delicately flavoured skate wing with fennel kimchi; and their famed wood-roasted lamb with charred lettuce and "hayonnaise", which is exactly what it sounds like – wonderful hay-smoked mayo.
There's a well-curated wine list to go with it all, and of course a few cocktails to boot. If you like a good barrel aged negroni, then you should definitely order their barrel-aged negroni. And if you're feeling frisky, then get a ginger marg, too. It's fiery.
Hopefully the Dairy – sorry, Bermondsey Larder – will be in its new home for a while to come. And if not, then at its current rate of moving 4 miles north every 8 years, it'll end up in Scotland…
…by the year 2596.
NOTE: Bermondsey Larder is open now. You can find out more, see the full menu, and make a booking at their website right HERE.
The Dairy | Bermond Locke, 153-157 Tower Bridge Rd, SE1 3LW
---
Looking for other great restaurants in South London? We've got a list of them here.