"Within these four walls, you're home", is the mantra of this restaurant and bar in Notting Hill.
Prepare to settle in, because once you've tried the food you might not leave the house again.
The Residency has nested in the space formerly occupied by GBK at 50 Westbourne Grove. In an area teeming with restaurants and bars it could be hard to stand out, but The Residency promises to deliver a unique offering combining music, drinks and dining.
And it certainly looks the part. If you're partial to a bit of wood – and who isn't – you'll love the interior. The walls are panelled floor to ceiling, and with the warm lighting the place literally glows, giving you the feeling of being in a cosy wooden cocoon. It's got a recording studio vibe: those walls make you feel soundproofed, which fits nicely with the fact that music, as well as food and drink, is at the heart of this place.
The Residency's mission is to give a home to local creatives, and it's partnered with artist-run music agency AAA to showcase emerging talent. For starters, from Thursday-Saturday the venue will host DJs, with curation and headline sets from Hugo
Heathcote.
Sounds good. Tastes good too.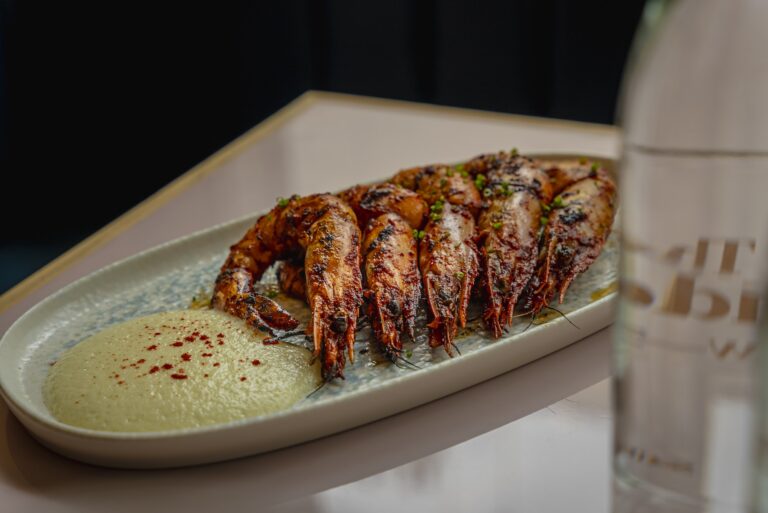 Head Chef Carniel Francis (previously of Bentley's and Berner's Tavern) has created a mouth-watering Euro-Caribbean menu that celebrates Notting Hill's diverse cultural heritage.
First on the menu are the ackee & saltfish arancini, which are a must-try. Instead of the usual carby cannonballs served as a starter that inevitably blows up your main, these arancini are small and numerous so you can share if you like: perfectly formed marbles packed with risotto cooked in fish broth, with salted cod and ackee fruit. Another firm favourite on the starter list is the melt-in-the-mouth burrata, served with a cherry tomato jam that packs a lot of flavour but somehow doesn't overpower the cheese.
On the mains front, the pan-seared sea bream is a sea dream – perfectly seasoned and bathed lightly in truffle butter and parsley. There's loads of delicious veggie options too, like the Jerusalem artichoke fondant and the cabbage cake. The service is attentive but relaxed – ask for recommendations on the wine and you won't be disappointed. Not into vino? The drinks list is extensive, so you won't go thirsty. Don't forget, this is a bar too.
From the atmosphere to the staff get-up, everything about this place is casual but most definitely considered; ideal for the community it wants to invite and harbour. The Residency is open for brunch and dinner seven days a week, so make yourself at home.
Until closing time, anyway.
NOTE: The Residency is open for brunch and dinner daily. You can find out more about The Residency, and make a regular booking, HERE.
The Residency | 50 Westbourne Grove, London, W2 5SH
---
Looking for a nightcap spot? Check out the best bars in Notting Hill.