Sometimes you want an elegant, low-key supper à deux in a quiet, romantic restaurant.
But other times you want to wake up the next morning with patchy memories of singing karaoke in the basement of a noodle bar; a receipt for smoked python carpaccio in your pocket; and a mysterious playing card in your wallet that can only have come from a poker game you ended up playing after pulling your own pints.
This is about those times…
–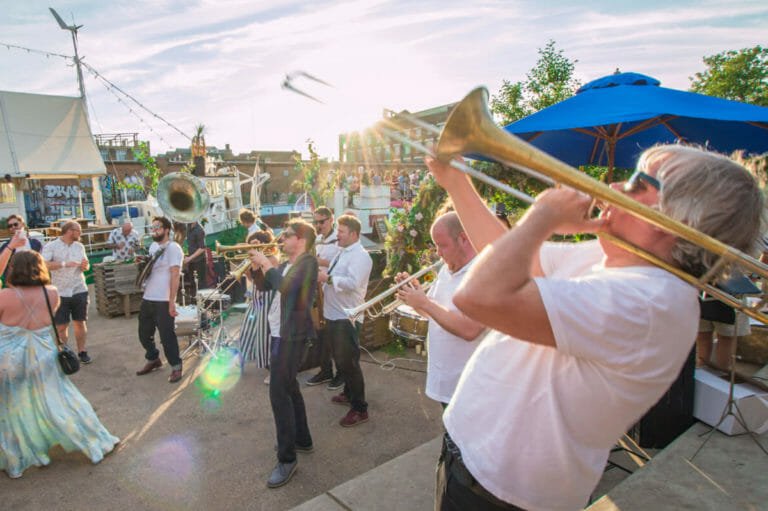 Moored up with a view of Hackney's canals and the Olympic stadium, Barge East is – without a doubt – London's best historic Dutch cargo barge for barnstorming below-deck banquets; cocktails; local beers; sun-drenched terraces; and private captain's cabins with a direct phone-line to the bar. 
Details: River Lee Sweetwater Mooring, White Post Lane, E9 5EN
–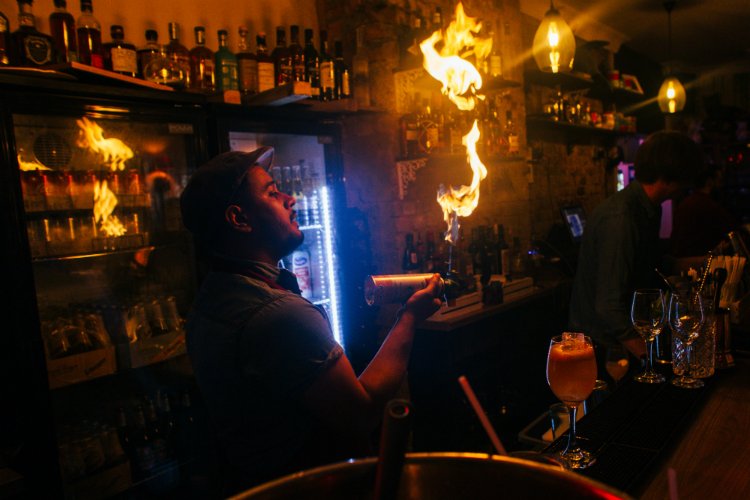 A night at The Little Blue Door is like going to your best friends' house party. Except with resident DJs, piano-bolstered singalongs, frozen cocktail stations, party games, emoji menus, retro gaming aaand three-course dinner parties. And healthier houseplants.
Details: 871-873 Fulham Road, SW6 5HP
–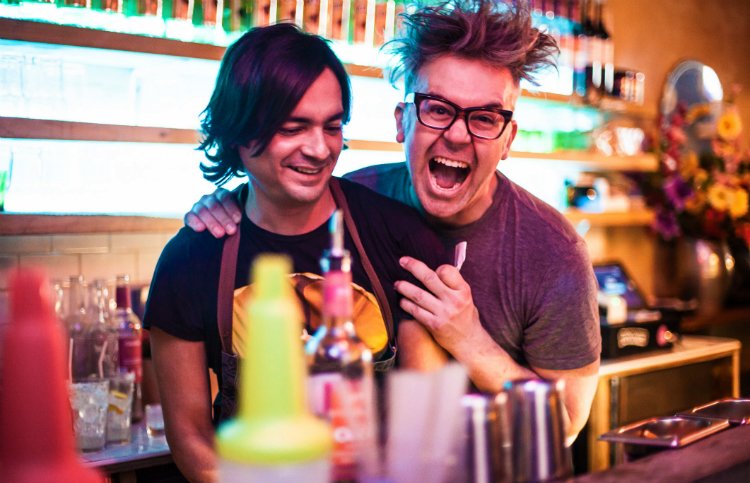 A tequila-drenched neighbourhood taco joint, with tick-box menus; daily happy hours; live DJs and two founders behind the bar, who will probably be louder than your entire group.
Details: 129 Kingsland High Street, E8 2PB
–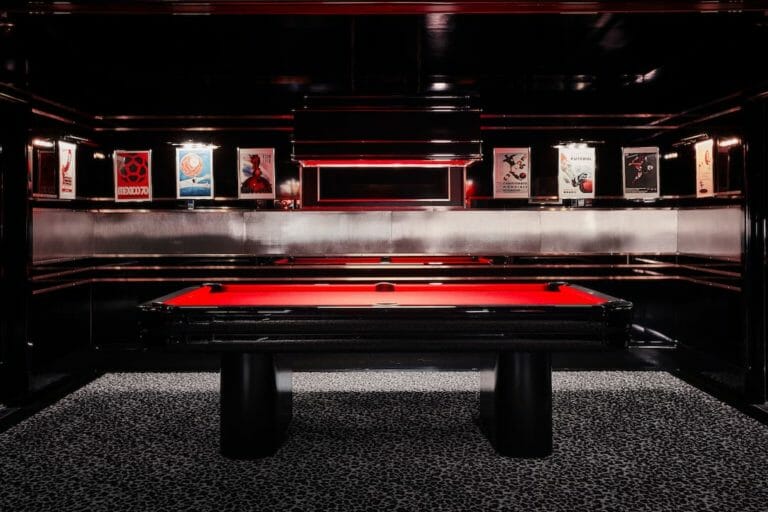 The third Indian restaurant from the team behind Michelin-starred Trishna and Gymkhana, these Brigadiers are armed with 4-pint growlers of beer and cocktails on tap; whisky vending machines; pour-your-own beers; whole roast suckling pig; wine-paired seven-dish Sunday feasts; pool tables; card tables; and even a personal croupier who'll join you in your private dining room for post-dinner poker.
Details: 1-5 Bloomberg Arcade, EC4N 8AR
–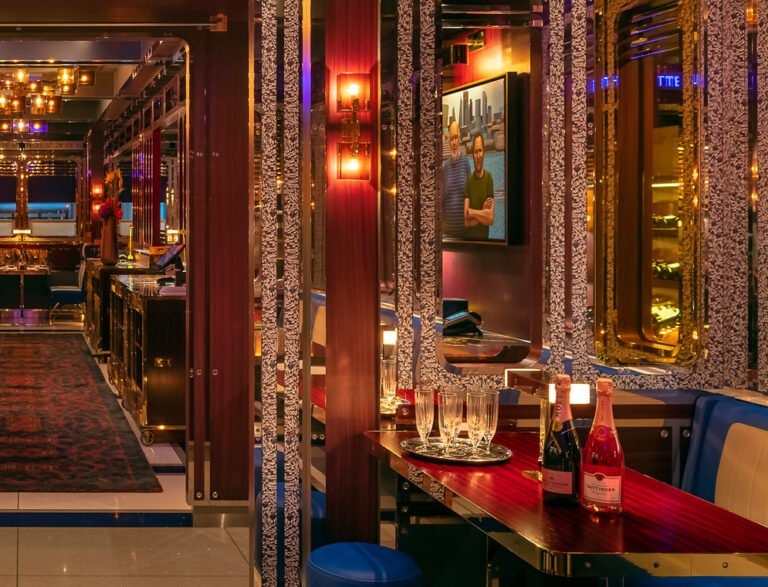 This place is really fun if you've just won the lottery. If that's you, then you should absolutely go to town on the Press for Champagne buttons (summoning Jeroboams and Methusalehs from the Champagne cabin); order the caviar tasting menu; and hire out the Royal Yacht-inspired private dining room for you and all your friends. For everyone else, you can have all the fun of pushing the buttons and feeling outrageously decadent, safe in the knowledge that you can pay £12.50 for one glass and then immediately move onto tap water.
Details: 122 Leadenhall Street, The City, EC3V 4QT
–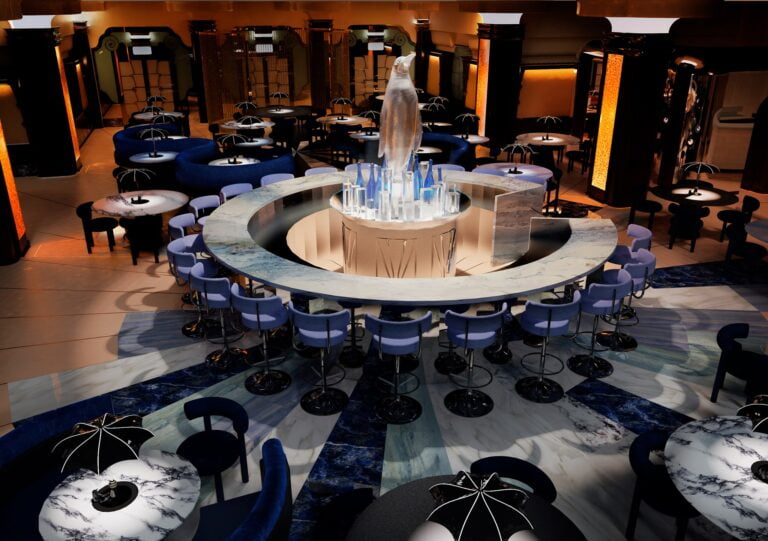 A restaurant themed around the dark, heady world of Gotham City, except instead of men with pants over their tights serving you drinks (although that too would be a fun restaurant), it has a tasting menu theatre with 360º projection mapping, a giant iceberg lounge with a frozen penguin and live 30s music, two top chefs, a 'mental magician' and edible balloon desserts.
Details: 77 Brewer Street, W1F 9ZN
–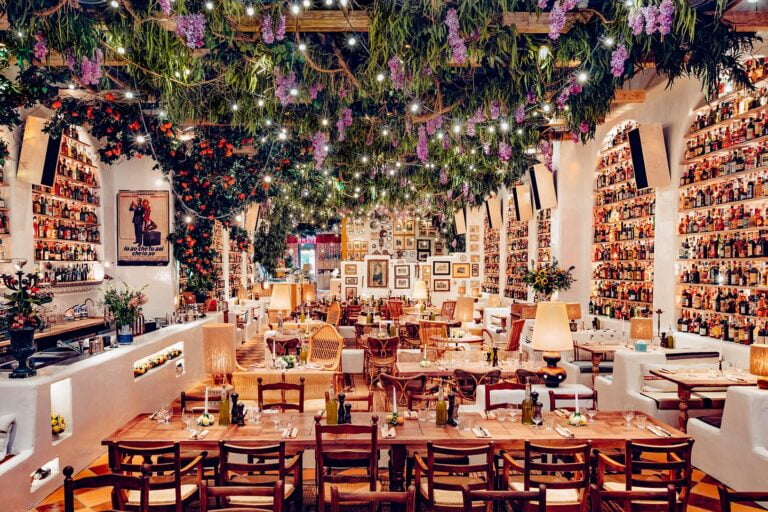 Welcome to Circolo Popolare, the restaurant freakshow which has done the impossible by being fun, well-designed, buzzy, permanently overflowing with guests, easy to get into (for those willing to queue), affordably priced and critically acclaimed.
Details: 40 Rathbone Place, Fitzrovia, W1T 1HX
–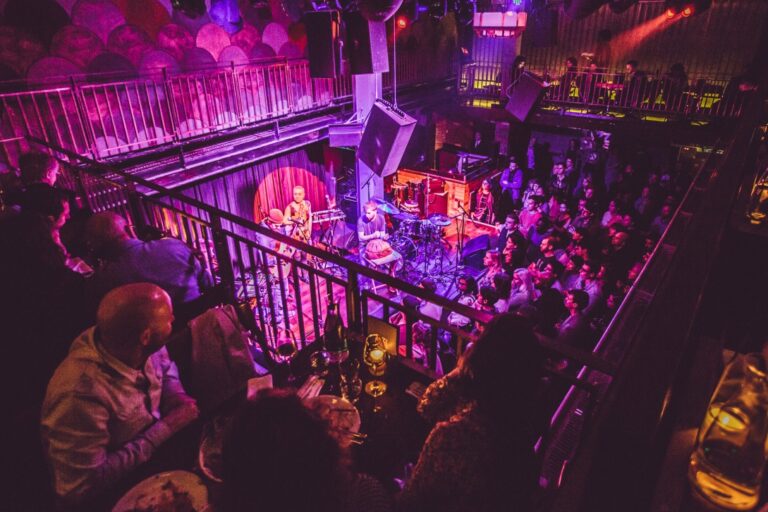 Once a Barclay's Bank, nowadays you'll find a spacious yet intimate live music venue, fitted with a mezzanine restaurant overlooking the stage and dancefloor – and the place is hopping every night.
Details: 5 Parkway, Camden, NW1 7PG
–

Just getting inside this place involves finding a Soho sex shop and asking the man inside for a little help. Then, once you're in, you'll find an aromatic, candlelit cavern serving tequila-based cocktails and a gorgeous Mexican menu.
Details: 9 Old Compton Street, W1D 5JF
–

When the group's getting peckish and the night's in imminent danger of ending, hasten to Voodoo Ray's for the elbow-jostling buzz and enormous slices of NYC-style pizza pies that you'll never regret the morning after.
Details: 95 Kingsland High Street, E8 2PB
–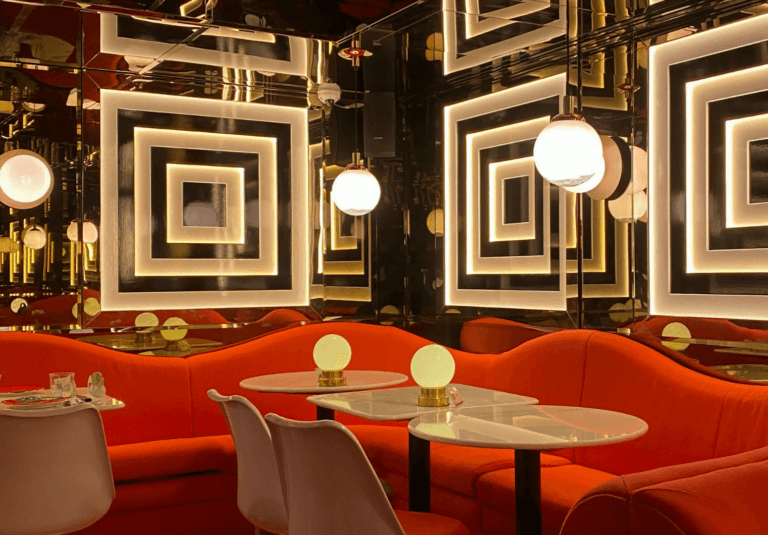 The Big Mamma group are locked in a kind of evolutionary arms race with themselves: after the barnstorming success of maximalist restaurants Gloria and Circolo Popolare, how do you top the places that already have everything? Well, by adding more of everything, of course: so new opening Ave Mario is duly kitted out with giant cocktails, dazzling monochrome striped walls, and a 60cm-tall stracciatella ice cream cake.
Details: 15 Henrietta Street, WC2E 8QG
–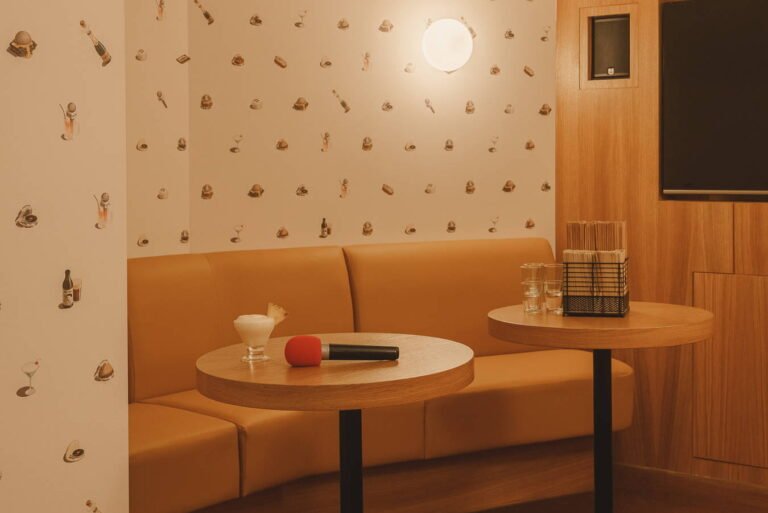 Letting their eponymous steamed buns step aside for a moment, BAO's latest venture is a Taiwanese noodle shop in Shoreditch. Which is fun. But even more fun is the basement 'entertainment' room (wallpapered with 8-bit renditions of their dishes) where you can enjoy shaved ice cocktails, Sweet Potato Sours… and karaoke.
Details: 1 Redchurch Street, Shoreditch, E2 7DJ
–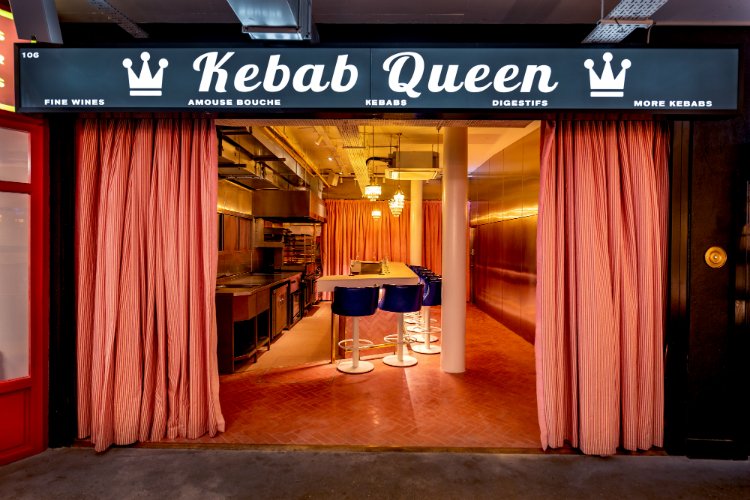 It's a secret restaurant hidden within another restaurant. There is, for the most part, no plates, and no cutlery. Instead, you'll get a wine-paired kebab tasting menu served directly onto the counter in front of you…
Details: Downstairs at Maison Bab, Mercer's Walk, WC2H 9QE
–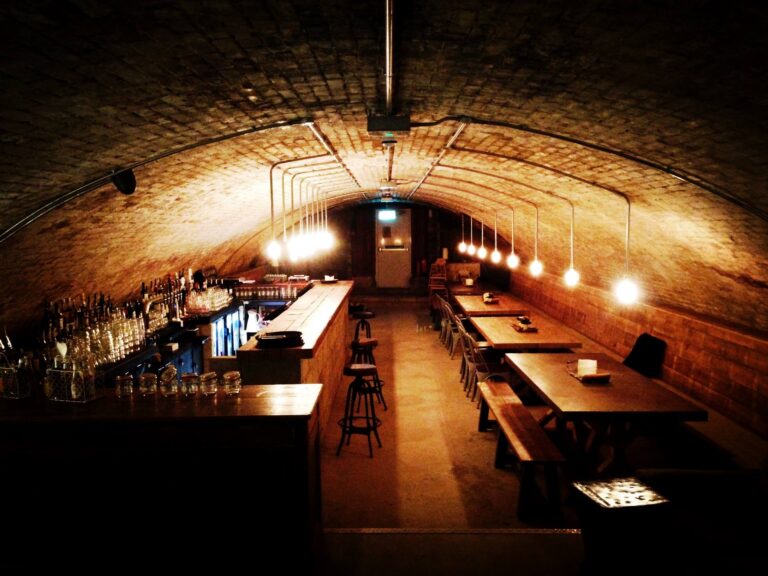 Merely a humble pie shop serving bangers and mash by day… and bangers by night in the basement, where the tables are pushed back and DJs and live musicians play to a roomful of revellers spilling out onto the riverside terrace beyond.
Details: 2 Putney High Street, Putney SW15 1SL
–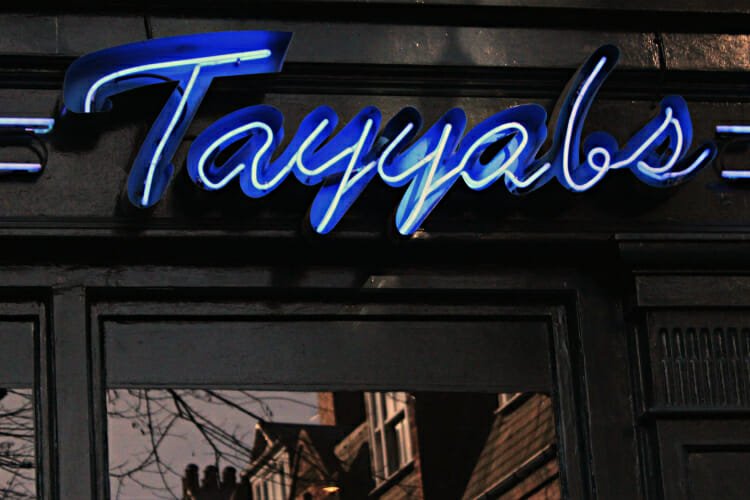 Est. 1972, Tayyabs is a revered London institution of insanely delicious (and well-priced) Punjabi-Pakistani food; dashes to the corner shop for BYOB reinforcements; and raucous dinner parties drawing crowds from across London and beyond. It's noisy, rammed – and completely perfect.
Details: 83-89 Fieldgate Street, E1 1JU
–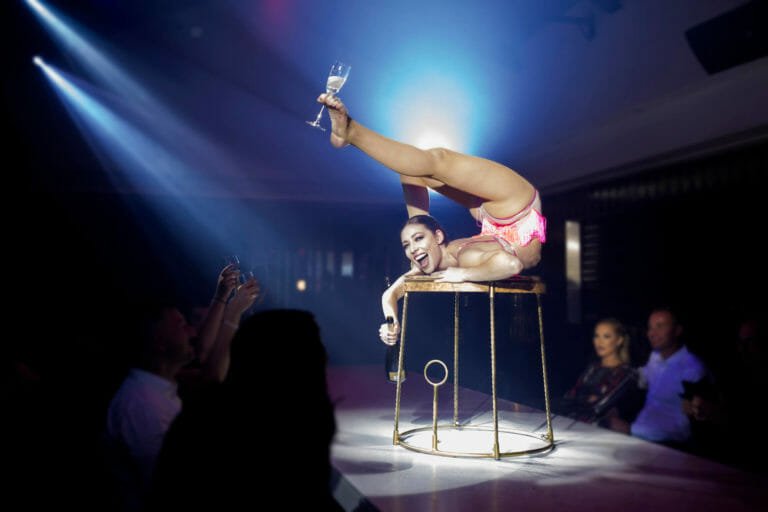 A restaurant where dancing on the tables is, if anything, encouraged – because that's about the least dramatic thing you'll see happening on them. Book yourself onto the long dining table in the centre of the restaurant and watch as acrobats, fire-breathers and contortionists turn the whole thing into a stage…
Details: 27-29 Endell Street, WC2H 9BA
–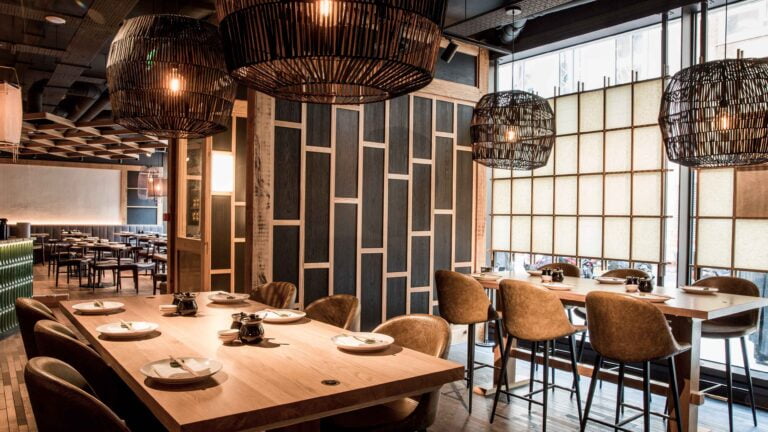 Flesh and buns serves delicate, fluffy steamed bao with banquets of toppings (some 'flesh', some veggie) for you to load 'em up with. But what's extra fun about their sprawling Fitzrovia branch is the pisco sour button they've placed on every table, for you to summon a bartender who'll wheel a drinks trolley up to your table and make the cocktail before your eyes.
Details: 32 Berners Street, W1T 3LR
–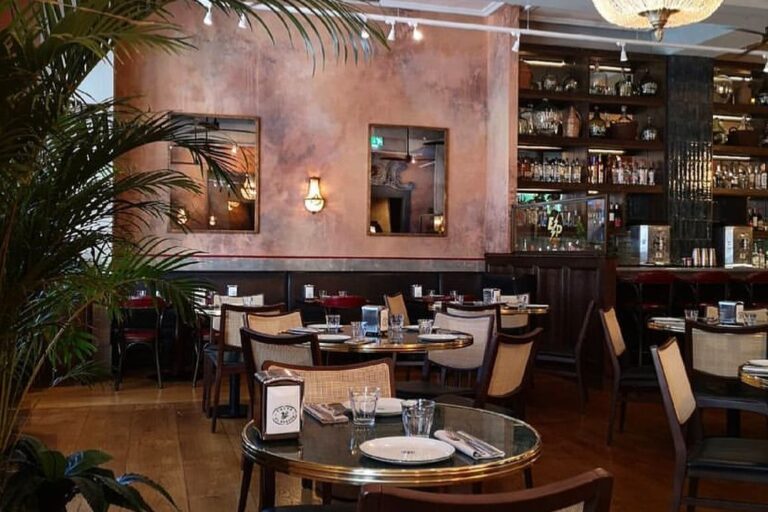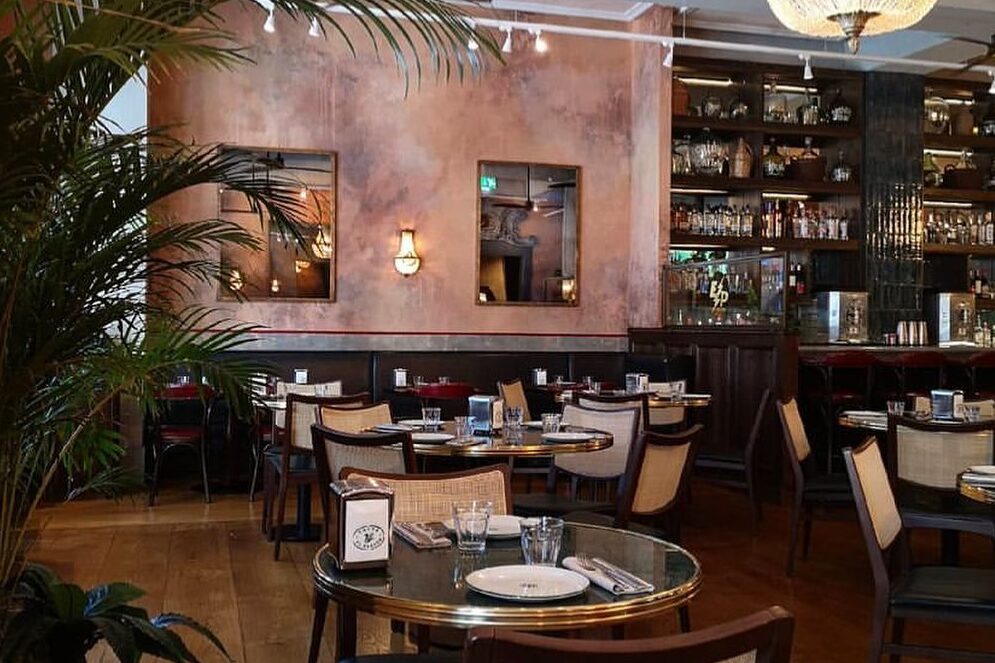 With suave interiors evocative of the faded grandeur of Mexico City's architecture, El Pastor's latest Soho branch is equally evocative of Mexico City's vibrant nightlife. The owners spent a decade running the city's cult nightclub El Colmillo before returning to London, where they've poured all their expertise (and mezcal) into this fine taqueria and basement bar with DJs and margaritas.
Details: 66-70 Brewer Street, W1F 9UP
–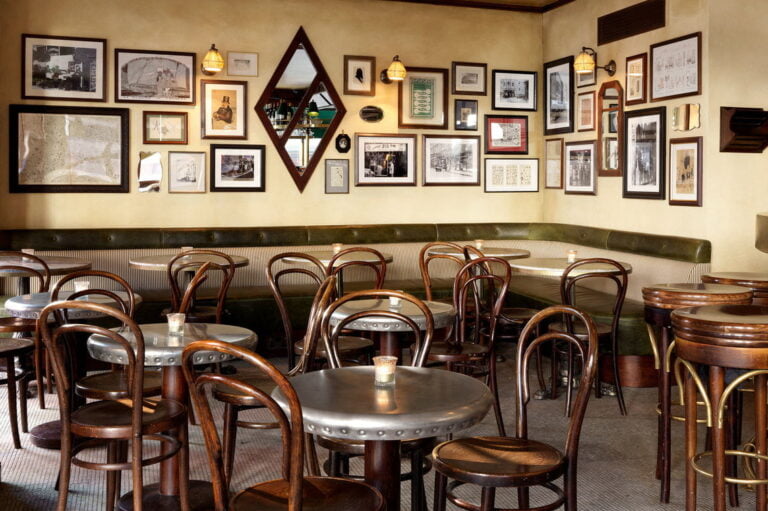 It's underneath Soho House (and owned by the same people), it's open until 3am, and there's live music every night. In fact, it's positively bohemian.
Details: 13 Old Compton Street, Soho, W1D 5JQ
–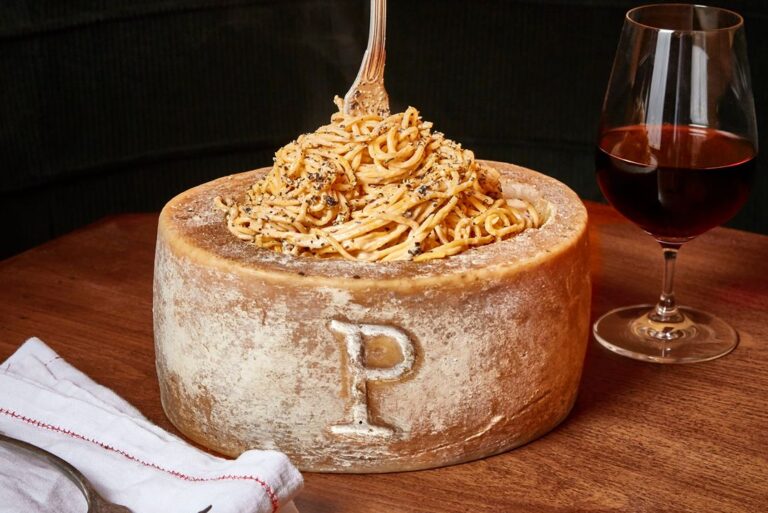 A maximalist Italian Trattoria serving ten-layer lasagne and carbonara mixed before your eyes in a wheel of pecorino cheese, alongside outlandishly creative cocktails, available until 2am.
Details: 54-56 Great Eastern Street, Shoreditch, EC2A 3QR
–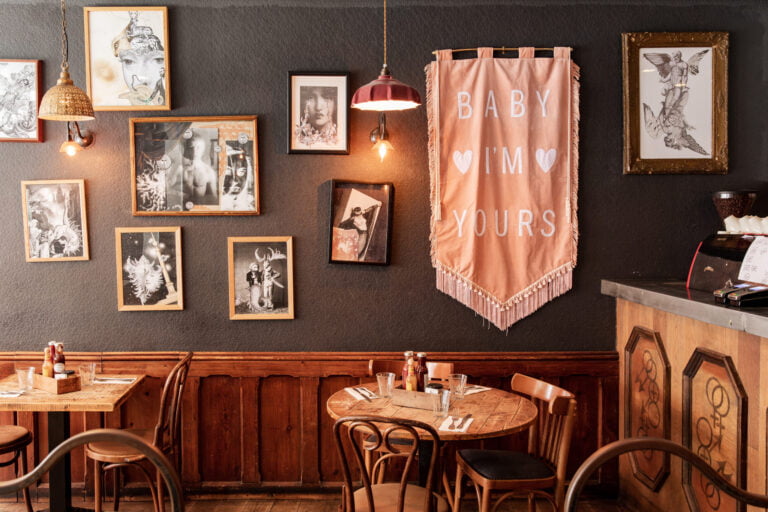 An almost 24-hour, late-license, constantly buzzing dining room, that looks a little like a cross between an industrial Brooklyn diner and an opulent Georgian brothel (in the best way), and where you can also score Lobster Benedict, steak and eggs, club sandwiches, burgers and Full Englishes until 5am. With an absinthe fountain. In the best way.
Details: 60 – 62 Old Compton Street, W1D 4UG
–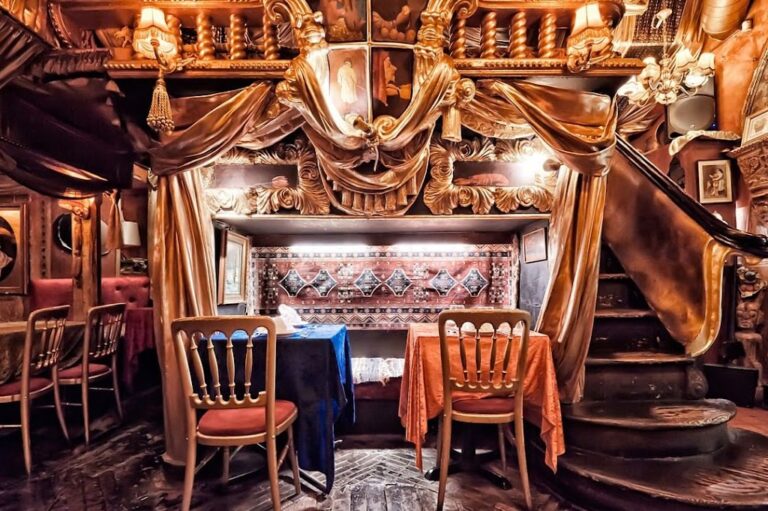 An opera-themed, Mediterranean / Turkish restaurant on Drury Lane that offers actual operatic performances by both professional singers and staff alike. If you were to go, it would be for the theatre of it all (and to experience what it feels like to be in a restaurant that's managed to fit twice as much stuff inside as should be physically possible).
Details: 126 Drury Lane, WC2B 5SU
–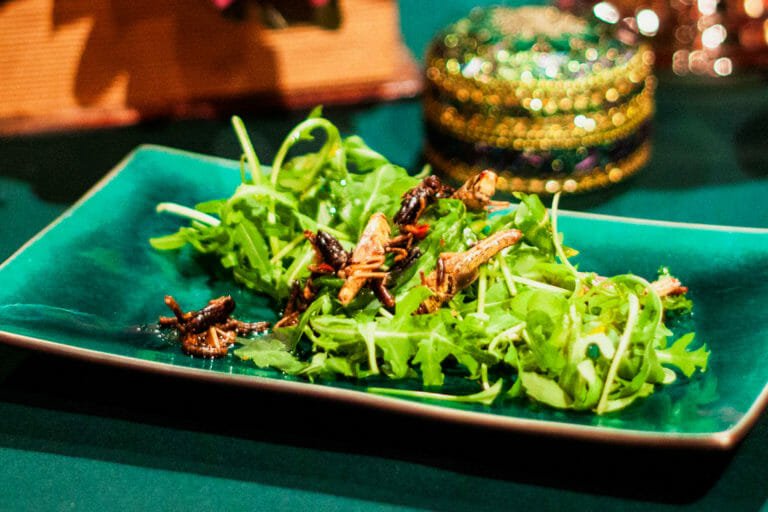 What do you get when you suggest a restaurant that specialises in unusual, exotic meats? Crickets… But you really shouldn't, because the menu at Archipelago is a thrilling, multi-sensory jaunt, where the starters alone include crocodile, zebra jerky and smoked python carpaccio…
Details: 53 Cleveland Street, London W1T 4JJ
–
The Blues Kitchen | Camden, Brixton & Shoreditch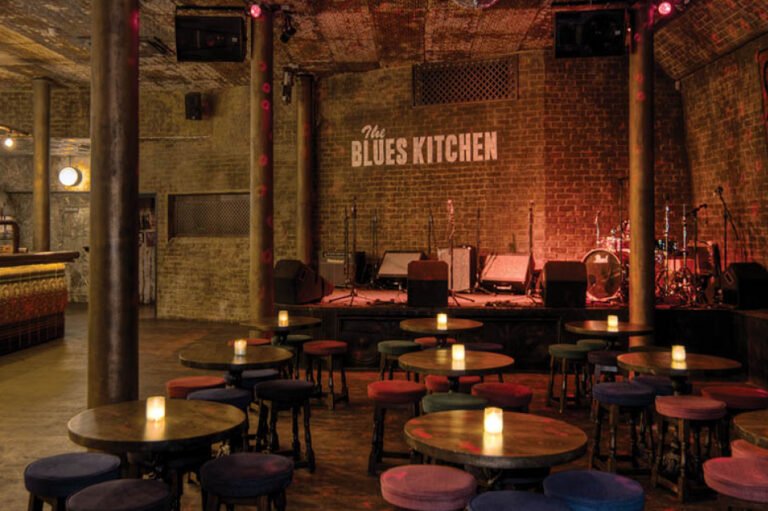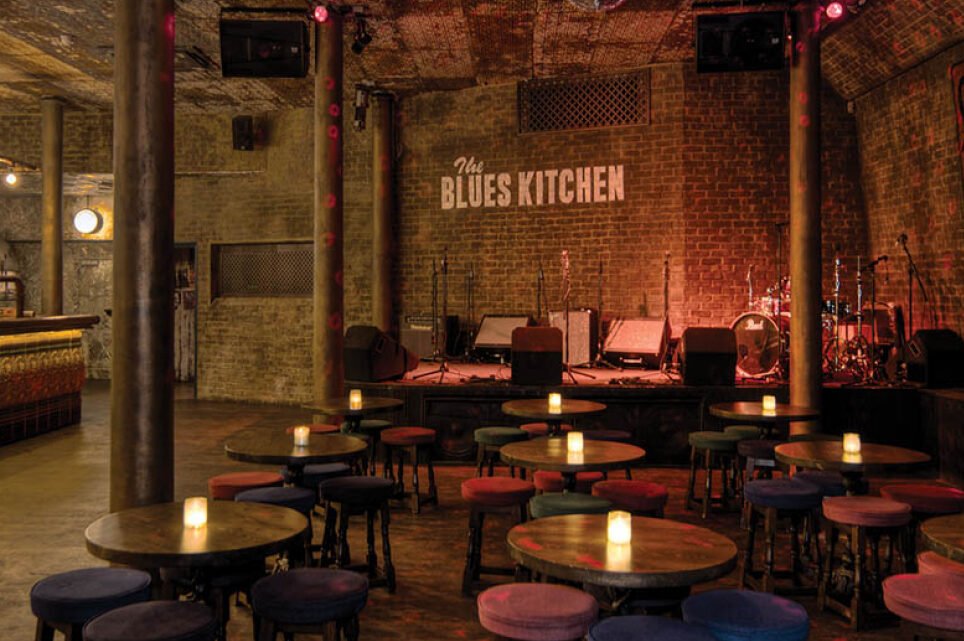 Part restaurant, part bar, part club, The Blues Kitchens specialise in finger-licking American BBQ (Buffalo wings, Southern Fried Chicken, and pan-fried catfish with cornbread); stock over 80 bourbons behind the bar; and offer live Motown, funk, and soul seven days a week.
Details: 111-113 Camden High Street, Camden, NW1 7JN
---
Looking for more inspiration? Check out the Best Restaurant in Every London Neighbourhood