We don't often visit art galleries.
They always tell us off for taking pictures.
Nevertheless, London is awash with art – and so we've put together a running list of all the major (and quite a few independent) art galleries in London, complete with opening hours and the run-down on the exhibitions to see now:
---
JUMP TO: CENTRAL | NORTH | SOUTH | EAST | WEST
---
CENTRAL LONDON ART GALLERIES
Set in the concrete subterranean labyrinth of an iconic Brutalist building, 180 Studios is building a name for itself as the home for innovative, large-scale, tech-infused audio-visual art installations.
WHAT'S ON
UVA: Synchronicity | Until 31st December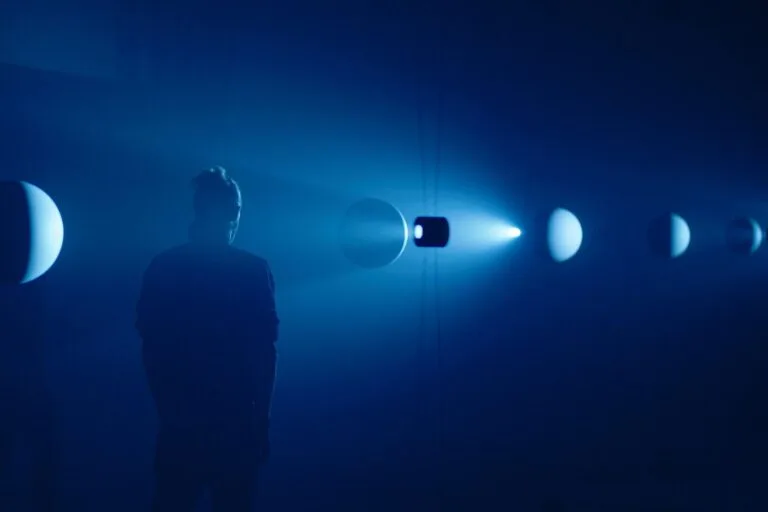 United Visual Artists return with their largest show yet: a collection of eight massive walk-through artworks combining sculpture, light, sound, and custom-made 'kinetic instruments'.
Gucci Cosmos | Until 31st December
Guccio Gucci found inspiration for his first luggage designs working as a porter at The Savoy in the 1890s. It's safe to say things took off for him after that, and this immersive retrospective brings dozens of designs and items out of the Gucci archives to celebrate 102 years of the iconic fashion house.
Address: 180 Studios, 180 The Strand, WC2R 1EA | Opening Hours: Daily, 10am-7pm | Entry: Exhibitions ticketed individually, from £10-25
–
Centre for British Photography | St James's
This new gallery is pretty flash – sitting on Jermyn Street, it's the first art gallery in London to focus entirely on British photography (which seems kind of surprising). The exhibitions here are always populated from the Centre's own archives, and set out to explore the vast range of photographic art produced across the nation since 1900.
WHAT'S ON
The CFBP is running six exhibitions over autumn (all running 5th October – 17th December), including photographs of African Caribbean funerals from the past half-century; snaps of London's street markets; the striking studio portraits of Grace Lau; and a collection of shots from 1973, when Daniel Meadows set out across the country driving, living, and developing film in a repurposed double-decker bus.
Address: 49 Jermyn Street, SW1Y 6LX | Opening Hours: Wed-Fri, 11am-6pm, weekends 11am-4pm | Entry: Free
–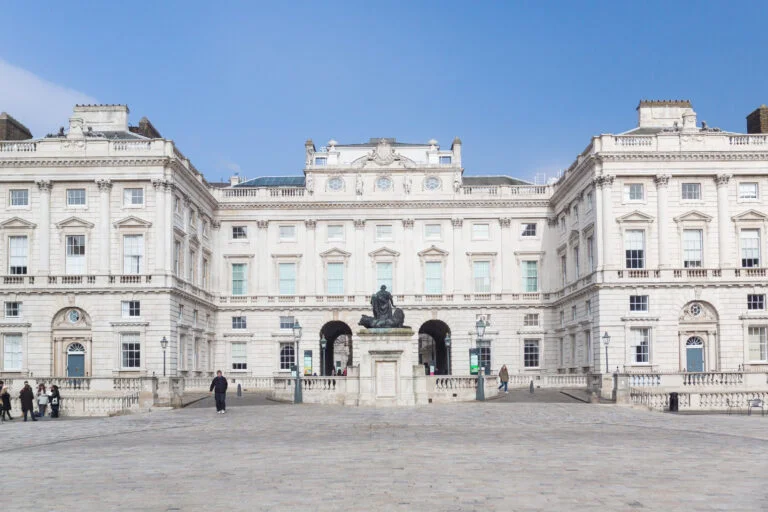 Back open after the biggest refurbishment in its history, the Courtauld has an incredible collection of art particularly known for its trove of Impressionist paintings including Manet's A Bar at the Folies Bergère and Van Gogh's Self-Portrait with Bandaged Ear. The permanent collection could keep you occupied for hours, but the gallery often plays host to visiting exhibitions, too.
WHAT'S ON
Claudette Johnson: Presence (until 14th January) – Widely considered one of the most influential figurative artists of her generation, Claudette Johnson was at the forefront of the Black British Artist Movement. This exhibition showcases some of her most intimate, powerful portraits.
Address: Somerset House, Strand, London WC2R 0RN | Opening Hours: Daily 10am-6pm (last entry 5.15pm) | Entry: Permanent collection £12, exhibitions £13+
–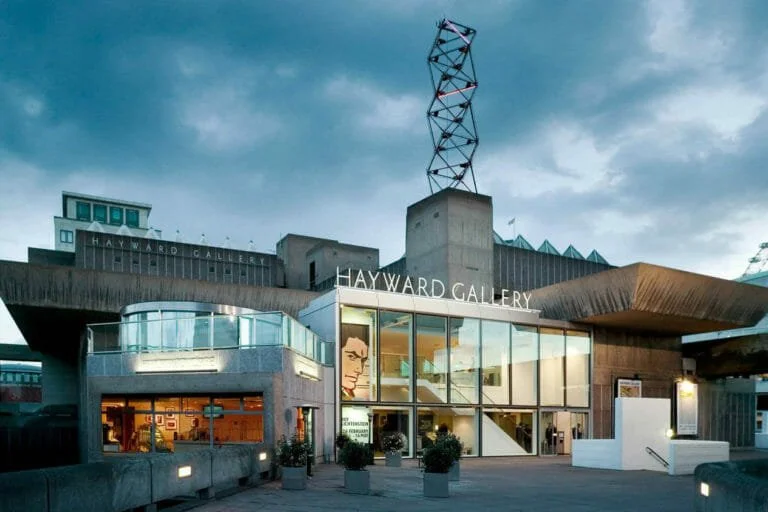 A Brutalist and, quite frankly, brutal concrete metropolis is home to the Hayward Gallery; an exhibition space designed to receive touring work and host major modern collections. Sat within the cultural playground that is the Southbank Centre, it normally holds three to four temporary exhibitions a year and due to the sheer size of the space, they're often huge installations that allow for lots of audience interaction. Retrospectives are also popular, with German photographer Andreas Gursky and our very own Bridget Riley showing off their illustrious careers here.
WHAT'S ON
Hiroshi Sugimoto (until 7th January 2024) – a long-awaited major survey for the Tokyo and NYC-based photographer, whose monochromatic shots have an enigmatic, otherworldly quality.
Address: Southbank Centre, 337-338 Belvedere Road, SE1 8XX | Opening Hours: Wed-Fri 10am-6pm, Sat 10am-8pm, Sundays 10am-6pm | Entry: £18+
–

ICA 

| St James
The errant, wayward child of the RA, the ICA was established as a space for artists and scientists to discuss ideas freely and without limitation. An avid promoter of the avant-garde, it's been an epicentre of experimental work ever since. With galleries, a theatre, and two cinemas you're bound to find something, in some medium, that suits your fancy.
WHAT'S ON
Gray Wielebinski: The Red Sun is High, the Blue Low (until 23rd December) – time to embrace the new apocalyptic precariousness we all live in, with absurdist games and a revisionary approach to narrative inspired by science fiction.
Check out screenings, talks and more HERE
Address: The Mall, St James's, SW1Y 5AH | Opening Hours: Tue-Thurs 4-9pm, Fri-Sun 12pm-9pm | Entry: £5
–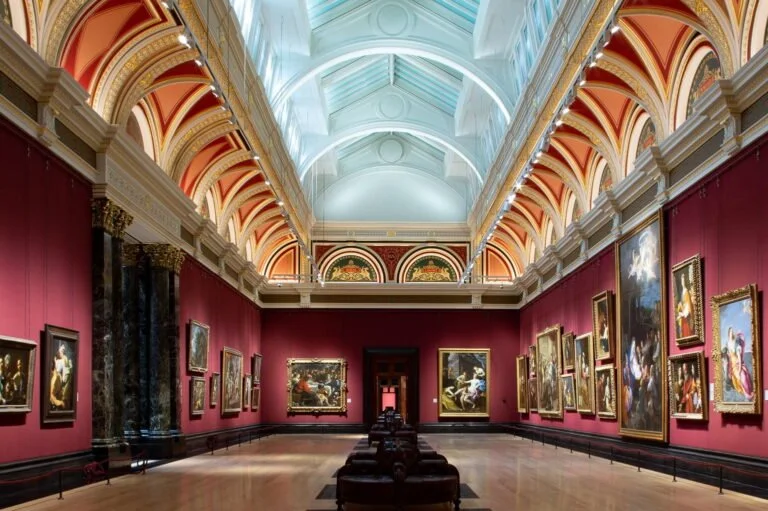 Pride of place in London's art scene, presiding over the four lions of Trafalgar Square, is the National Gallery. Amongst the most visited art museums in the world, the National Gallery has a premier league roll call of great works amongst the 2,300 paintings in its possession. Van Gogh's Sunflowers, Turner's The Fighting Temeraire and Da Vinci's The Virgin of the Rocks all adorn its walls. Most major Western artists are represented in some way or another here, making it an absolute mecca for Art History bingo.
WHAT'S ON
Frans Hals (until 21st January 2024) – meet a cast of 17th century portraits crackling with life, from the Dutch painter who captured his sitters' personalities better than perhaps any other Western artist.
Address: Trafalgar Square, WC2N 5DN | Opening Hours: Daily, 10am-6pm (9pm Fridays) | Entry: Free / Exhibitions from £20
–
The National Portrait Gallery is back and better than ever, which isn't too surprising considering the refurb cost £35 million and includes a new wing, a café and a late night cocktail bar. Of course in saying all that, the main attraction is still the portraits; showcasing famous Brits in painting, photo and sculpture form.
WHAT'S ON
David Hockney: Drawing from Life (until 21st January) – staged for just 20 days before the pandemic cut it short, this exhibition feels all the more joyful in a post-covid world: meet colourful figures from Harry Styles to neighbours in Brittany.
Taylor Wessing Photo Portrait Prize (until 25th February) – This annual photography competition returns to the NPG after three years, showcasing a diverse approach to portrait photography, with everyone from amateurs to professionals giving it their best shot.
Details: St Martin's Place, Charing Cross, WC2H 0HE | Opening hours: Daily 10.30am-6pm (open until 9pm Friday & Saturday) | Entry: Main collection free, exhibitions £22+
–
After snapping up a tea bar in Covent Garden, founder and director Sue Davies quickly developed the space into the UK's first dedicated space for photography and photographers. The gallery's now moved into an old textiles factory in Soho, but continues to act as a centre of excellence for, and research into the 20th century's iconic medium, with plenty of wonderful camera work to admire over its six floors. Check out the Soho Photography Quarter outside, an old alleyway that's been revamped as a kind of al fresco gallery space.
WHAT'S ON
Daido Moriyama: A Retrospective (until 11th February 2024) – the first UK survey for the experimental Japanese photographer known for his are, bure, boke ('grainy, blurry, out of focus') style.
Address: 16-18 Ramillies Street, W1F 7LW | Opening Hours: Mon-Wed 10am-6pm, Thurs-Fri 10am-8pm, Sat 10am-6pm, Sun 11am-6pm | Entry: £5 (entry to all exhibitions), free Fridays from 5pm
–
Once an exclusively royal affair but these days awash with the unwashed, the Queen's Gallery is the dictionary definition of a fine art gallery – "a place that houses work created primarily for aesthetic and intellectual purposes". The collection is, unsurprisingly, fit for a king and contains a revolving exhibit of works owned by the royals to ensure their protection for, and presumably from, the Great British public.
WHAT'S ON
Holbein at the Tudor Court (until 14th April) – You might have clocked Holbein's stately royal portraits before in the National Gallery, but this exhibition offers a rare glimpse of the artist's spellbinding sketches.
Address: Buckingham Palace, Buckingham Palace Road, SW1A 1AA | Opening Hours: Thurs-Mon, 10am-5.30pm | Entry: £19
–
Perhaps in a moment of his famed "madness", King George III dipped into his own pocket to establish the RA in order to raise the professional status of artists and foster a national school of art. Off his rocker or not, it proved a big success (alumni include Turner, Kauffman, Constable et al.), and the RA lives on to this day as a privately funded institution training, and promoting, artists and art appreciation. The gallery has moved with the ebbs and flows of artistic taste, and its annual open-call summer exhibition showcases the best new art on the scene.
WHAT'S ON
Marina Abramović (until 1st January 2024) – a retrospective about the work of the 76 year-old Serbian performance artist, whose work has variously seen her clean a skeleton, pass out from smoke inhalation, and live in a gallery for days on end.
Impressionists on Paper (until 10th March) – Marvel at rare works by the likes of Degas, Van Gogh and Lautrec sketched out on paper in pencil, pastel and gouache, in this fascinating insight into the movement's artistic experimentation.
Address: Burlington House, Piccadilly, Mayfair, W1J 0BD | Opening Hours: Tues-Sun, 10am-6pm (9pm Fri) | Entry: Free / Exhibitions from ~£15
–
Originally the Tudor crib to end all cribs, this imposing residence on the river Thames became a Stuart royal palace, a brief home of the Royal Academy, and now holds the offices of over a hundred creative organisations and artists, alongside numerous exhibition spaces for a range of different media. The Duke of Somerset, despite being executed before it was completed, would no doubt lose his head over how brilliant it's become.
WHAT'S ON
The Missing Thread (until 7th January 2024) – an exhibition that shines a light on the untold stories of Black British fashion; not just in the professional design world, but the way everyday style has influenced the catwalk in return.
Address: Strand, WC2R 1LA | Opening Hours: Daily 10am-6pm | Entry: Free/£15+ for exhibitions
–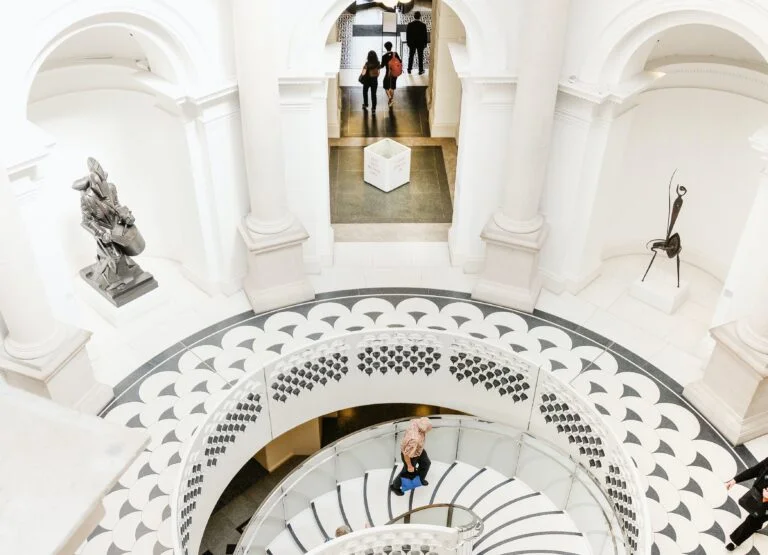 The epicurean, slightly dotty uncle of the Tate Modern is concerned with one thing only – old Blighty (and the artists who come from within it). A national treasure full of national treasures, expect to see all the big names from 1500 to the present day –Turner, Constable, Bacon, Blake, and Emin – and there's even a series of exhibitions titled Art Now that shines a light on our stars of tomorrow.
WHAT'S ON
Rhea Dillon: An Alterable Terrain (Until 1st January 2024) – Next up in the hot seat for the Tate Britain's free exhibition series Art Now is Rhea Dillon, who's exploring black women's labour and British-Caribbean identity through sculptural works.
Sarah Lucas: Happy Gas (until 14th January 2024) – a retrospective of the famous YBA whose provocative sculptures, paintings and photographs are among the most recognisable in the contemporary canon.
Women in Revolt! (until 7th April 2024) – This exhibition brings together the work of over 100 feminist artists, whose pioneering work responded to social issues of the 70s, 80s and 90s, and paved the way for women artists today.
Address: Millbank, SW1P 4RG | Opening Hours: Daily, 10am-6pm | Entry: Free / Exhibitions from £16
–
Some people think modern art is just a load of Pollocks. And they'd be right. But he's not the only artist you'll find in this behemoth of modern and contemporary works. Tate Modern holds the British collection of pieces from 1900 to the present day, and is one of the largest modern art museums in the world. Housed within the old Bankside power station, it has become an iconic landmark on the Thames' riverscape. Pieces from Picasso, Dali and Matisse lead the permanent line-up, while the old turbine hall dwarfs its visitors and holds specially commissioned, larger-than-life exhibits.
WHAT'S ON
World in Common: Contemporary African Photography (until 14th January 2024) – A triumphant showcase of photos of Africa, taken by African people. Much of the way we view the continent is a product of Western cameras, and this exhibition seeks to show a different side of the story.
Capturing the Moment (Until 28th January 2024) –  Since its invention, the camera has shaped the way we dress, eat, travel… even the way painters paint, apparently. That's what this exhibition is getting at; hanging a host of classic works – including David Hockney's pop-art pool painting 'a Portrait of an Artist (Pool with Two Figures)' – to illustrate photography's influence on art in the digital age.
Philip Guston (until 25th February 2024) – a huge retrospective of the Canadian-born, US-raised artist whose 50 year career saw him experiment with abstract, surrealist and bold, cartoon-like styles to explore political themes.
El Anatsui: Behind The Red Moon (until 14th April 2024) – the current commission hanging in the Turbine Hall is by Ghanaian artist El Anatsui, who's collected thousands of discarded bottle tops to create enormous, dramatic suspended sculptures.
Address: Bankside, SE1 9TG | Opening Hours: Daily 10am-6pm | Entry: Free / Exhibitions from £13
–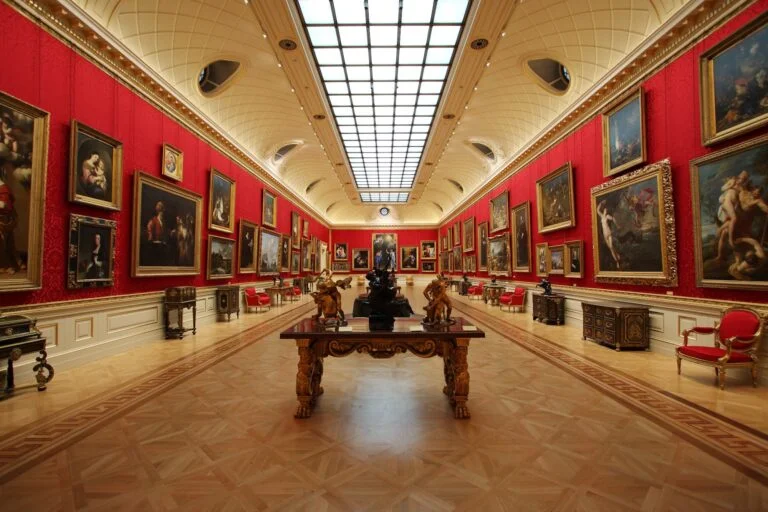 A collecting hobby that got a little out of hand is now a major collection of 18th and 19th century works collected by subsequent Marquesses of Hertford, and bequeathed to the public. Housed within an imposing regency townhouse, the Wallace is famed for its triumphant collection of French decorative arts; the grandest one outside of Gaul. It's a fancy family's fancy private collection, so expect gilded frames, suits of armour, and offensive levels of wealth to dominate your surroundings on your sojourn through the wings.
WHAT'S ON
Currently main collection only.
Address: Hertford House, Manchester Square, W1U 3BN | Opening Hours: Mon-Sun 10am-5pm | Entry: Free / £14 for exhibitions
–
NORTH LONDON ART GALLERIES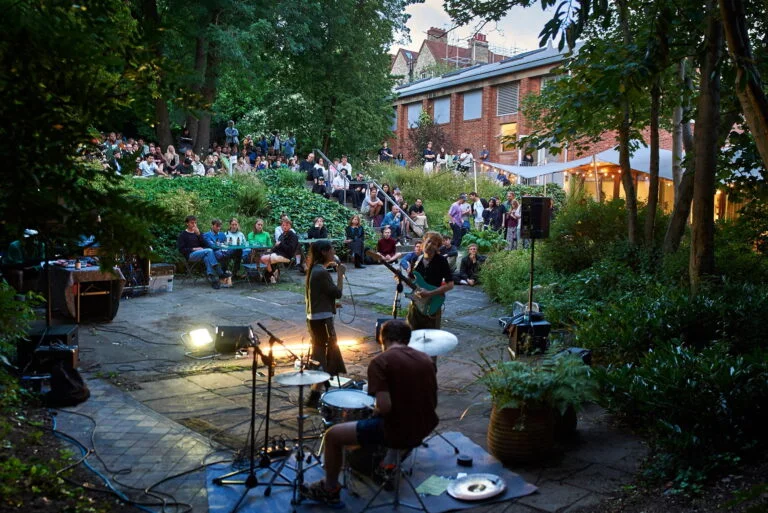 What began as a local Arts scheme providing the Hampstead community with classes in everything from painting to pottery, has grown, over the past 50 years, into an internationally acclaimed centre for the arts. Housed on the leafier side of Finchley this enclave of ever rotating, multi disciplinary artistry favours edgy, young contemporary artists and has a bookshop, cafe, and garden to boot.
WHAT'S ON
Tamara Henderson: Green in the Grooves | Until 31st December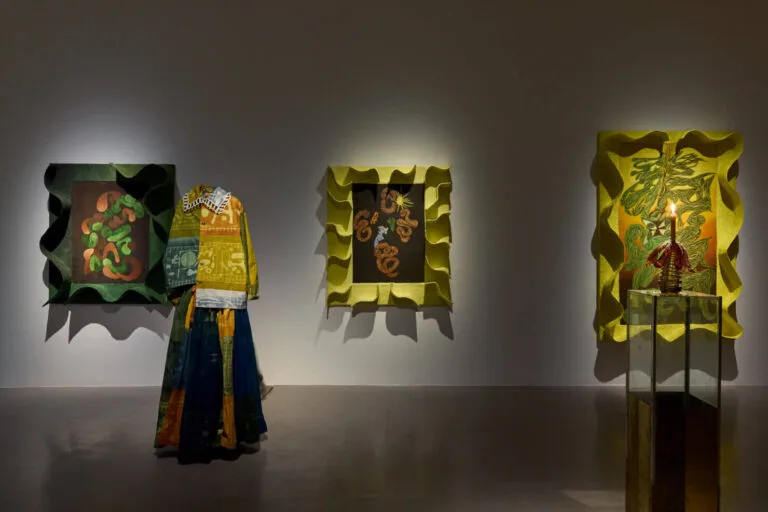 The Australian artist works with ceramics, paint, textiles, glass, bronze, sound and film to explore the world beneath our feet, inspired by earthworm ecology.
Marina Xenofontos (until 30th Dec) – The first solo exhibition in the UK for the Athens-based artist, featuring commissioned work that combines sculpture with 'architectural interventions'.
Address: Arkwright Road, London NW3 6DG | Opening Hours: Tues-Sun 11am-6pm, late opening Thursday until 9pm | Entry: Free
–
The frontage exudes the class and posture of Georgian England, but step inside and you'll tumble down into the kaleidoscopic world of Italian Futurist Art. Futurism was one of Italy's most significant contributions to the 20th century and this museum is Britain's only one dedicated to the movement. Expect sculptures, paintings, landscapes, and the downright bizarre – all from a young nation looking to find la dolce vita.
WHAT'S ON
Lisetta Carmi: Identities (until 17th December) – the UK's first exhibition for the late photographer, whose sensitive work documented marginalised trans and working-class communities in 1960s Italy and beyond.
Address: 39A Canonbury Square, N1 2AN | Opening Hours: Wed-Sat 11am-6pm (8pm Thurs), Sun 12pm-5pm | Entry: £7.50/£5.50 (Concession)
–
Representing 40 established and emerging artists, Victoria Miro is one of the largest commercial art galleries in London – and a great place to wile away the afternoon pretending you can afford to buy even one item. The Wharf Road gallery is a converted furniture factory and now houses Grayson Perry's 15m Walthamstow Tapestry amongst numerous other works including the garden itself, landscaped specifically for the gallery.
WHAT'S ON
Stephen Willats: Time Tumbler (until 13th January) – colourful wall pieces from the 1970s are juxtaposed with more recent creations to celebrate the artist's 80th birthday.
LEDA and the SWAN (until 13th January) – sixteen artists create new work in response to the Ancient Greek myth, in media ranging from painting to dance.
Address: 16 Wharf Road, N1 7RW | Opening Hours: Tue-Sat 10am-6pm | Entry: Free
–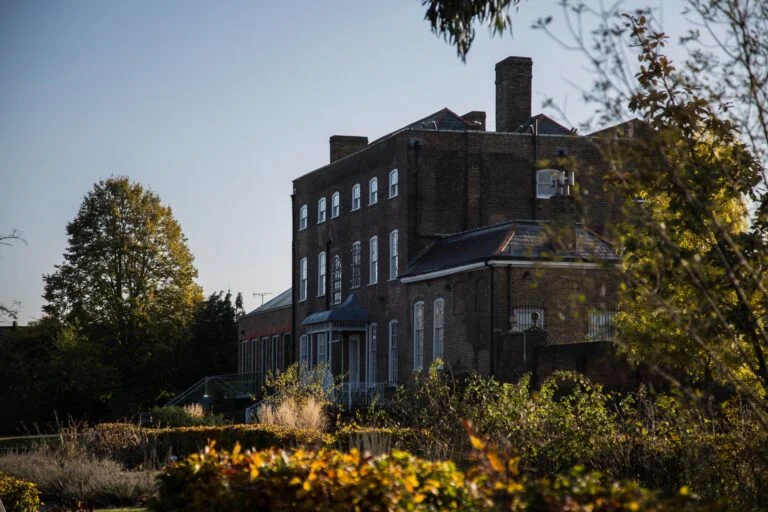 The original hipster, Morris eschewed Victorian trends in favour of more "retro" Medieval vibes – before going on to propagate the socialist movement in Britain and then sow the seeds of fantasy literature by translating Icelandic epic poetry. His life was as intricate and interconnected as his infamous wallpaper designs, and this delightful museum celebrates every facet of his fascinating existence.
WHAT'S ON
Radical Landscapes (until 18th February 2024) – a collaborative exhibition with Tate Liverpool that investigates how artists like JMW Turner, Derek Jarman, and Veronica Ryan have found inspiration in the natural landscape over the last 200 years.
Address: Lloyd Park, Forest Road, E17 4PP | Opening Hours: Tues-Sun 10am-5pm | Entry: Free
–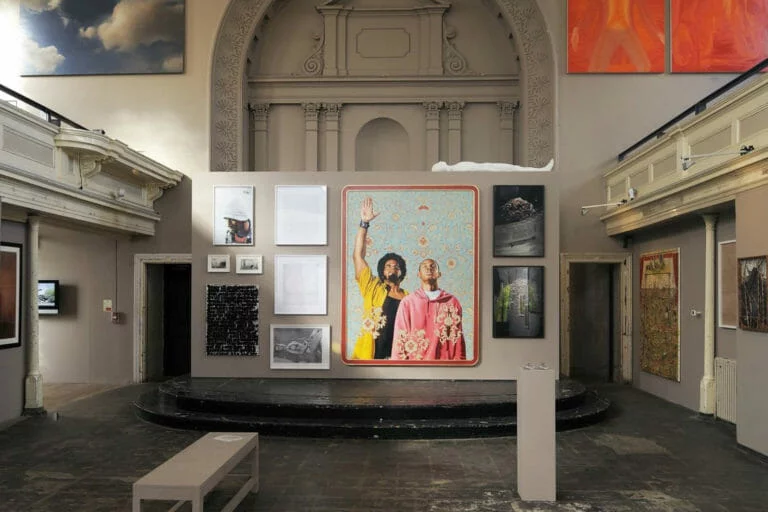 Housed in a Victorian Methodist chapel-turned drama school-turned exhibition space, the Zabludowicz Collection is one of North London's most varied contemporary art galleries. Driven by philanthropic endeavours, their aim is to bring emerging artists to a wide audience, and frequently commission works by rising talent around the globe. They're also the first London gallery with a dedicated room for 360° VR artwork.
WHAT'S ON
All Crescendo, No Reward (until 17th December) – if you've been pondering the formation and re-formation of subjecthood and objecthood, you're not alone – so have these twelve artists. It marks the beginning of the 30th anniversary celebrations for the Zabludowicz Collection, and brings together some of the gallery's most playful pieces, spanning neon sculpture and moving image installations.
Address: 176 Prince of Wales Road, NW5 3PT | Opening Hours: Thurs-Sun 12-6pm | Entry: Free
SOUTH LONDON ART GALLERIES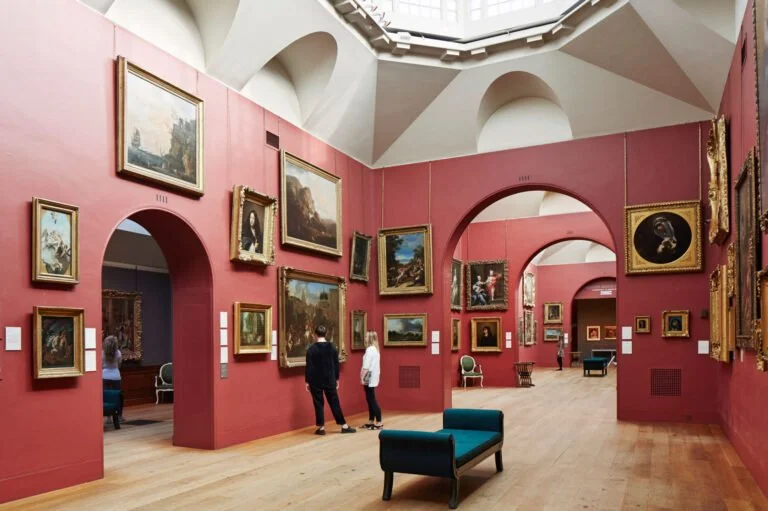 Do the names Rembrandt and Rubens get your blood racing? Does stroking your chin over classic art make you feel peckish? Then you're probably gonna like what's on offer at England's oldest public gallery. Expect Dutch paintings of cows on bridges, splendid nudity in reenactments of Greco Roman mythology, and a handful of Italian masters. There's also a variety of more modern-ish temporary exhibitions, if you've seen enough classical buttocks for one day. As for the food part: check out the alfresco cafe doing all-day brunch.
WHAT'S ON
Rubens & Women (until 28th January 2024) – Rubens painted more pictures of his own wives and children than almost any other major artist. This exhibition brings together 40+ paintings and drawings from his career, featuring women who – get this – weren't just Greek goddesses.
Address: Gallery Road, SE21 7AD | Opening Hours: Tues-Sun 10am-5pm | Entry: £16.50
–

A Bermondsey Street treasure specialising in contemporary fashion design, founded by the legendary Dame Zandra Rhodes. Rather than housing a permanent collection, they stage exhibitions on particular designers, printmakers, or fashion periods and trends, gathering items from around the globe.
WHAT'S ON
The Fabric of Democracy (until 3rd March 2024) – more than just a snappy exhibition title, this show seeks to demonstrate the surprising role of textiles in political propaganda, from the French Revolution to Brexit.
Address: 83 Bermondsey Street, London SE1 3XF | Opening Hours: Tues-Sat 11am-6pm | Entry: £12.65
–
Formaldehyde-bathed bovines and spin-painted pictures, sharks sliced in half, and a golden-hooved calf, mountains of artwork all tied up with string, these are a few of Damien Hirst's favourite things. As one of the richest living artists and most enthusiastic collectors, Hirst is no stranger to the contemporary scene and his personal collection, on show at the Newport Street Gallery, contains over 3,000 works from Bacon, Banksy, Emin and even Picasso.
WHAT'S ON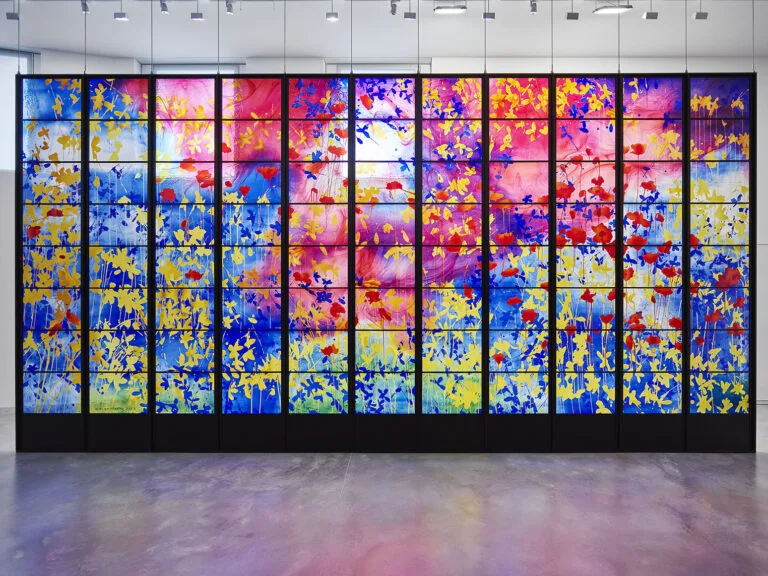 Brian Clarke: A Great Light (until 31st December) – For those who need a break from the usual suspects – sculptures, photography, paintings – Newport Street is going a little niche with an exhibition on stained-glass, from someone who's widely-considered the most prominent stained-glass artist working today, Brian Clarke.
Address: Newport Street, SE11 6AJ | Opening Hours: Tues-Sun 10am-6pm | Entry: Free
–

NOW Gallery is, unsurprisingly, all about cutting-edge, contemporary art; but it's also art that's accessible and unpretentious, often taking the form of large-scale, walk-through installations. Commissioned artists are often up-and-coming and from a blend of creative backgrounds – art, fashion and design – with the kinds of ideas that not only spark conversation but plenty of social media opps too.
WHAT'S ON
Greetings From Ireland (8th December – 25th February 2024) – Dublin menswear designer Robyn Lynch offers a walk-through of her design process, from research to the consumer community. You can virtually try on garments using motion sensor technology, and the whole thing's essentially contained in a giant bouncy castle.
Address: The Gateway Pavilions, Peninsula Square, London SE10 0SQ |  Opening Hours: Tues-Fri, 10am-7pm, Sat 10am-5pm, Sun 11am-4pm | Entry: Free
–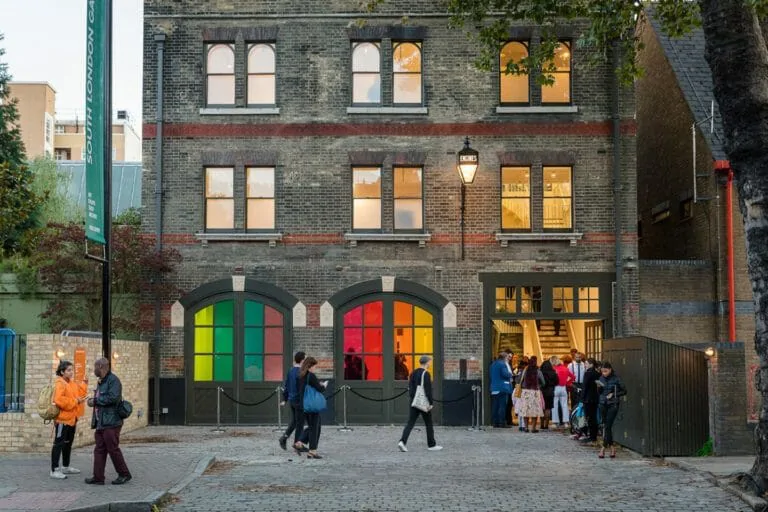 Camberwell's contemporary art gallery has always been at the forefront of the South London art scene. Originally the gallery of a local working men's college, it has always sought to celebrate current artists. That trend continued and, in 1995, it was the first venue to showcase Emin's infamous "tent". Now spread across two listed buildings, the SLG houses a number of permanent exhibits with revolving temporary installations.
WHAT'S ON
Pope.L: Hospital (until 11th February) – it's the first solo exhibition for the New Jersey-born artist, whose political and socially-conscious work came into prominence in the 70s. The centrepiece is the scenery for his performance piece Eating the Wall Street Journal – a precarious, towering structure – alongside other sculptures that explore loss and decay.
See talks, workshops and screenings HERE.
Address: 65-67 Peckham Road, SE5 8UH | Opening Hours: Tues-Sun 11am-6pm (9pm Weds) | Entry: Free
–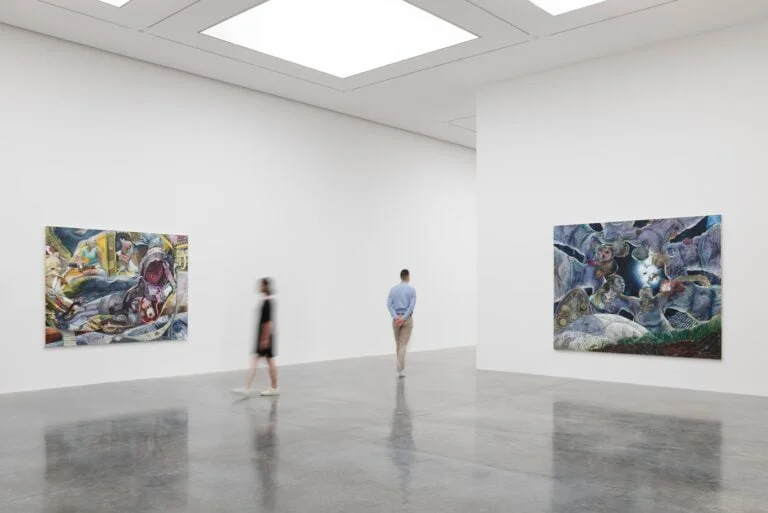 Europe's biggest commercial gallery has come under its fair share of criticism. Owned and run by an old Etonian and known for displaying works in a cold and clinical manner, it's easy to see why. But representing the likes of Tracey Emin and Damien Hirst, you can guarantee that the stars of British contemporary art will shine bright on any visit. The whitewashed walls, and strip lighting, can make it feel like a bit like a trip to the hospital, but this institution of the ever-fractious art scene is well worth a wander.
WHAT'S ON
Mason's Yard:
Christine Ay Tjoe: Lesser Numerator (until 13th January) – new paintings from the artist that explore the optimistic ways an individual's actions can affect society.
Bermondsey:
Antony Gormley: Body Politic (until 28th January) – more of the artist's famous body sculptures, arranged into unsettling, large-scale installations across the gallery.
Address: WCB: 144-152 Bermondsey Street, SE1 3TQ | WCMY: 25-26 Mason's Yard, SW1Y 6BU | Opening Hours: Tues-Sat 10am-6pm, Sun 12-6pm/MY closed | Entry: Free

EAST / THE CITY GALLERIES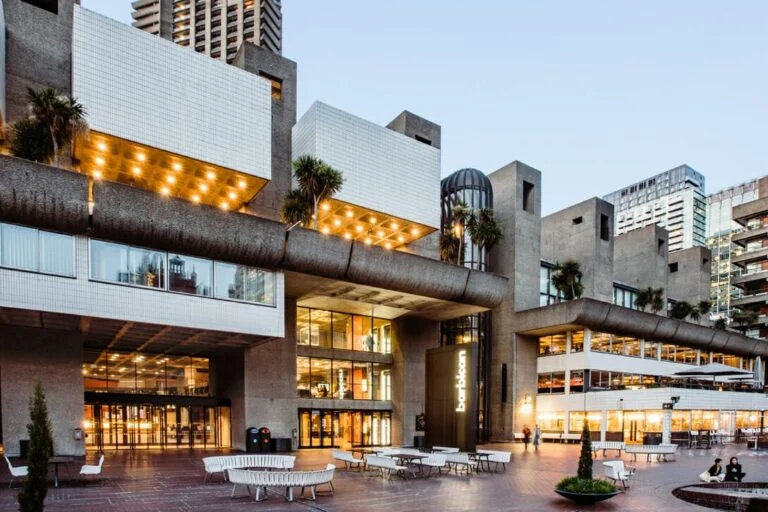 One of the city's Brutalist icons, the Barbican isn't just home to theatre, cinemas, concert halls (and an unexpected urban jungle, the Barbican Conservatory). It also boasts a two-storey gallery space that has hosted exhibitions on everything from AI to Japanese architecture, and a retrospective of the pioneering street artist Basquiat.
WHAT'S ON
Re/Sisters: A Lens on Gender and Ecology (until 14th January 2024) – an exhibition bringing together works by over 50 female and gender non-conforming artists in response to the climate disaster. Friday evenings (5-8pm) are pay what you can.
Address: Barbican Centre, Silk Street, London, EC2Y 8DS | Opening Hours: Sat-Wed 10am-6pm, Thurs-Fri 10am-8pm | Entry: Free/Exhibitions from £16
–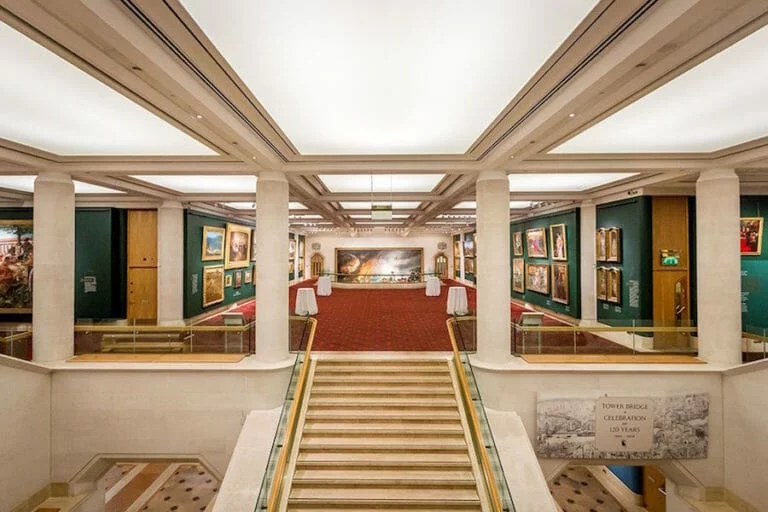 Established in 1886 as 'a collection of art treasures worthy of the capital city', the Guildhall Gallery is exactly that – a sumptuous assembly of art that you'd expect the captains of industry from centuries past to have amassed. Big sexy frames, portraits of gentlemen with enormous wigs, and an impressive number of Pre-Raphaelite masterpieces are the mainstay of their throng which seeks to show off in telling the story of London town.
WHAT'S ON
Treasures of Gold and Silver Wire (until 31st December) – Celebrating the 400th birthday of the Worshipful Company of Gold and Silver Wyre Drawers, this exhibition showcases garments made with gold and silver thread including Charles Dickens' court suit, a costume worn by David Tennant at the RSC, and the only surviving dress of Elizabeth I.
Folio 400 Shakespeare in Print and on Stage (until 30th January 2024) – coincidentally, it's also the 400th birthday of Shakespeare's first published folio, and you can see it here – alongside a rare signature of his – for free.
Address: Guildhall Yard, EC2V 5AE | Opening Hours: Daily 10.30am-4pm | Entry: Free/exhibitions from £10
–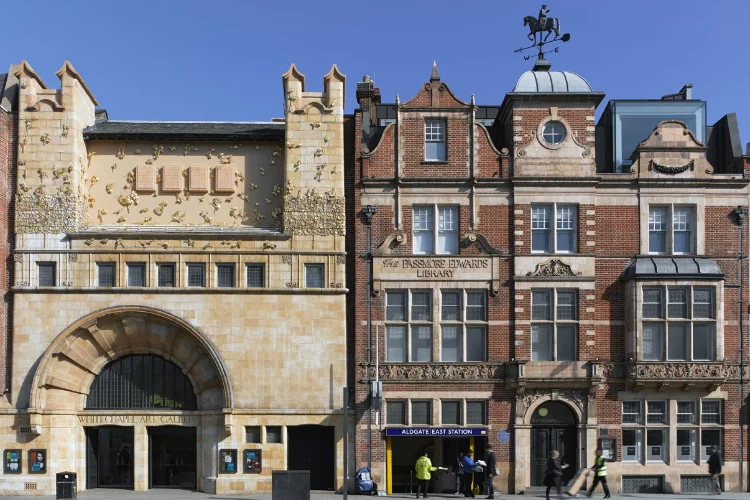 Founded in 1901, this gallery set out to give great art to the masses. Since then it's had some pretty impressive mates round for tea: Picasso's Guernica popped by; Pollock, Hockney, and Lucian Freud all logged stays. It hasn't lost any of its mojo from following expansion in 2009 where it doubled in size; Theaster Gates and Mark Dion are just a few of the famous to have dropped by in recent years. Come hungry – Townsend is well-worth a post-exhibition trip.
WHAT'S ON
Nicole Eisenman: What Happened (until 14th January 2024) – monumental paintings from the Brooklyn-based artist that are both critical and satirical in their interrogation of contemporary socio-political issues.
Johanna Billing: Each Moment Presents What Happens (until 14th January 2024) – a performance film inspired by American composer John Cage's Untitled Event of 1952, widely regarded as the first ever artistic 'happening'.
Anna Mendelssohn: Speak, Poetess (until 21st January 2024) – an archival exhibition of works on paper exploring how incarceration and injustice affects expression, curated by Eugene Yiu Nam Cheung, the 2023 Asymmetry Curatorial Fellow at Whitechapel Gallery.
It All Starts With a Thread (until 31st December) – a smaller exhibition tying together works by artists inspired by thread, and public submissions from past workshops on the theme.
Address: 77-82 Whitechapel High Street, E1 7QX | Opening Hours: Tue-Sun 11am-6pm, 9pm Thursdays | Entry: Free/ Exhibitions from £9.50
WEST LONDON ART GALLERIES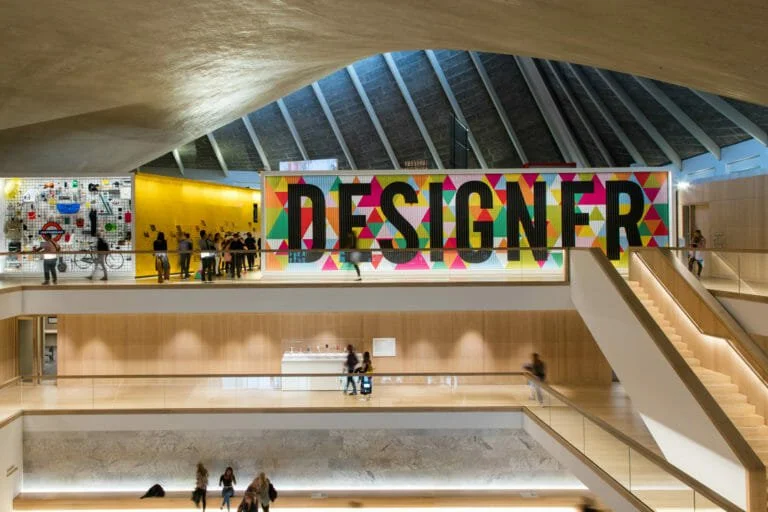 Nominated for European Museum of the Year in 2018, the Design Museum is, as you'd expect, very well put together. In the bustling cultural quarter of Kensington, its three floors and two basements serve up permanent exhibitions, learning centres, glass-walled design studios and temporary gallery spaces. The permanent gallery is the only one in the UK to be dedicated completely to contemporary design.
WHAT'S ON
REBEL: 30 Years of London Fashion (until 11th February 2024) – REBEL celebrates London's role as a fashion crucible through the work of designers who have been supported by the British Fashion Council's NEWGEN fund, founded 30 years ago. You'll get to marvel over iconic items worn by the likes of Rihanna and Harry Styles; see the work of household names like Alexander McQueen, Erdem and Sophia Webster up close; and meet the pioneers at fashion's cutting edge, who are making strides in sustainability, representation and body positivity.
Skateboard (until 2nd June 2024) – Since its first boom period in the 1950s, skateboarding has really kicked off. Here you'll see how boards have grown out of their homemade-in-the-garage early days to the high-tech performance models you get today, keeping pace with what's become a multibillion dollar industry and now a legitimate sport.
Address: 224-238 Kensington High Street, W8 6AG | Opening Hours: Mon-Thurs 10am-5pm, Fri-Sun 10am-6pm (9pm Sat) | Entry: Free/~£16 temporary exhibitions
–

Street art off the street is the focus of this gritty and urban gallery. Derived from the Italian to scratch, this ancient form of expression has taken on a new lease of life in our modern times. This collection gives you a vast overview of the city's strongest pieces – without ever making you step outside. Unless, of course, you want to try your hand at one of their graffiti workshops…
WHAT'S ON: Main collection only.
Address: 284 Portobello Road, W10 5TE | Opening Hours: Daily 11am-6pm | Entry: Free
–

When a noted painter and lord of the realm commissions you to design his house, you'd better bring your A-game. Well, George Aitchison did just that and his creation is now a Grade II listed building, widely revered for its Orientalist and aesthetic interiors – and the home of the Leighton House Museum. The permanent gallery, predictably, contains numerous works from Lord Leighton himself; so expect to cast your eye over lavish oil panoramas of Greek myths, lords and ladies, and ecclesiastical scenes.
WHAT'S ON
Maria Ahmed: Where Worlds Meet (until 3rd March 2024) – the first retrospective for the artist, who blends influences from Japanese painting traditions and Persian and Mughal manuscripts. It's also the first time that Leighton House has showcased works featuring AR.
Address: 12 Holland Park Road, W14 8LZ | Opening Hours: Wed-Mon 10am-5:30pm | Entry: £11
–
A controversial centre headed by a controversial curator, the Saatchi Gallery has always sought to challenge. Its guiding principle has always been to operate as the quirkier B-side to places like the Tate Modern – so expect to find new and unknown works from artists all hoping to be the Hockney of tomorrow.
WHAT'S ON
Moving Parts (until 7th January) – a free exhibition juxtaposing the colourful abstract canvases of Canadian painter Kathryn MacNaughton with the balloon-like sculptures of Serbian artist Misha Milovanovich.
Tomorrow I'll Be Perfect (until 7th January) – another free gallery display, this time dedicated to Canadian-British artist Andrew Salgado and his surreal, saturated portraiture.
Season of Sculpture (until 22nd January 2024) – Two headliner exhibitions: one focussing on the artistic practice of partners in life & work, Christo and Jeanne-Claude, and the other bringing together sculptural works from 29 remarkable female artists from the 1960s to today.
Address: Duke of York's HQ, Kings Road, SW3 4RY | Opening Hours: Daily 10am-6pm | Entry: Free/Exhibitions from £24.50
–
A gallery double-act tucked away in Kensington Gardens mainly dabbling in the modern, avant-garde side of art. Come here for the daring contemporary stuff and to marvel at the temporary outdoor pavilion, designed by a different world-renowned artist each summer.
WHAT'S ON
George Baselitz: Sculptures 2011-2015 (until 7th January 2024) – check out some never-before-seen raw timber sculptures by the artist who first rose to prominence as a painter in post-war Germany.
Address: Kensington Gardens, W2 3XA | Opening Hours: Tues-Sun 10am-6pm | Entry: Free
–
V&A
 | South Kensington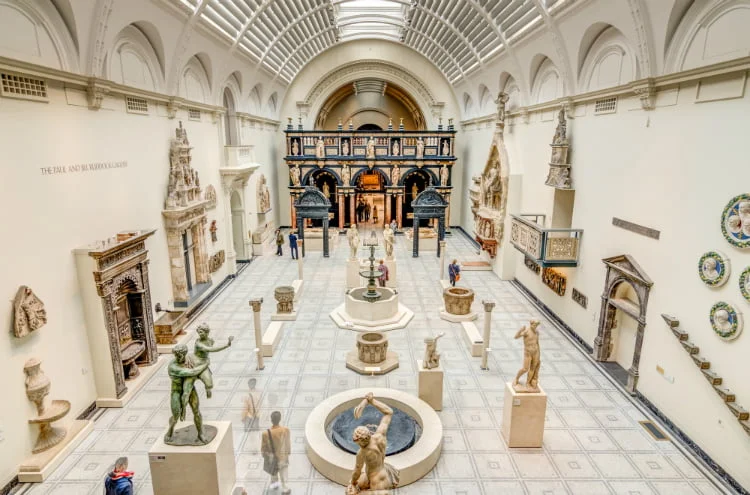 Like the Queen whose name it bears, the Victoria & Albert is imposing, vast, and spans decades. With 145 galleries and over 5,000 years of art in its free permanent collection, it really is an encyclopaedia of design. Since its inception in 1852, the museum has always adopted a policy of "wide art"; attempting to inspire, dazzle, and entertain with its eclectic collection. Today is no different and you can travel the world and back without ever leaving the building (except to look at the courtyard).
WHAT'S ON
Gabrielle Chanel: Fashion Manifesto (until 25th February 2024) – This truly is the Little Black Dress of exhibitions, and it's sold out its entire run already, but if you're a V&A Member, you can stroll right in like you own the place. So, worth considering.
Diva (until 7th April 2024) – The V&A is taking a good look at some of the world's boldest, most charismatic and powerful performers – aka divas – dating from the Victorian era up to the superstars taking over the charts today. Marilyn Monroe, Tina Turner and Mariah Carey all feature, with over 250 objects, including stage costumes and original photos, on show. 
Address: Cromwell Road, SW7 2RL | Opening Hours: Daily 10am-5.45pm (10pm Fridays) | Entry: Free / Exhibitions from £12
---
Looking for more inspiration? Take a peek at our 101 London Date Ideas