Some of the most unusual London bars are unique and quirky pop ups, which – assuming that they're good (and they often are) – are regularly featured in The Nudge's emails, and also found in our dedicated section on pop-up bars in London.
But what we've attempted here is to compile a list of permanently cool bars in London (that is, bars that are both permanent and cool, stylish and/or unusual). Bars which might, for example, see you sitting in a repurposed Victorian train carriage sipping smoking cocktails, or a low-lit basement where whisky flows out of a tree.
Enough said, these are they:
–
Glade Bar at Sketch | Mayfair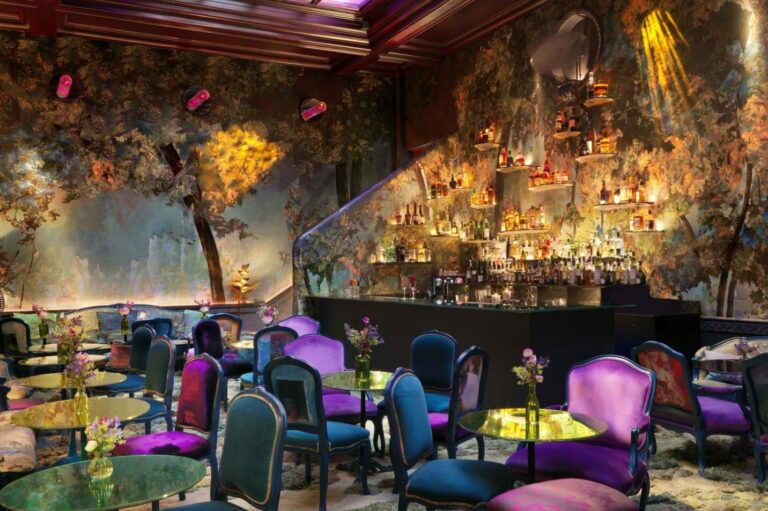 The Glade room at Sketch is more than just a pretty face. It's a pretty face with double-height ceilings and walls of hand-pasted decoupage wallpaper, a lush, forest-like carpet, exquisite cocktails… and a self-playing pink piano.
Details: 9 Conduit Street, W1S 2XG | No bookings
–
The Last Tuesday Society | Hackney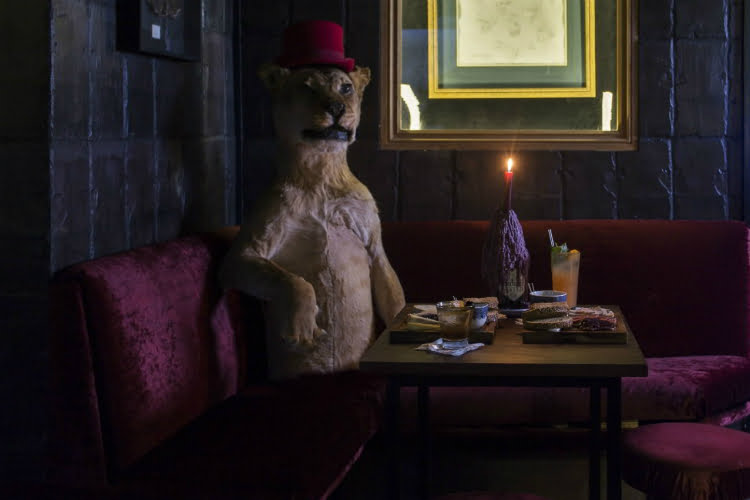 Of all the dark, occult-feeling bars where you can share a booth with a taxidermied lioness, sip absinthe cocktails and snack on platters of insects before descending into a bizarre basement Wunderkabinett filled with ancient voodoo dolls, two-headed sheep and Victorian sex toys… this is probably the best.
Details: 11 Mare Street, E8 4RP | Book here
–
Bar Crispin | Soho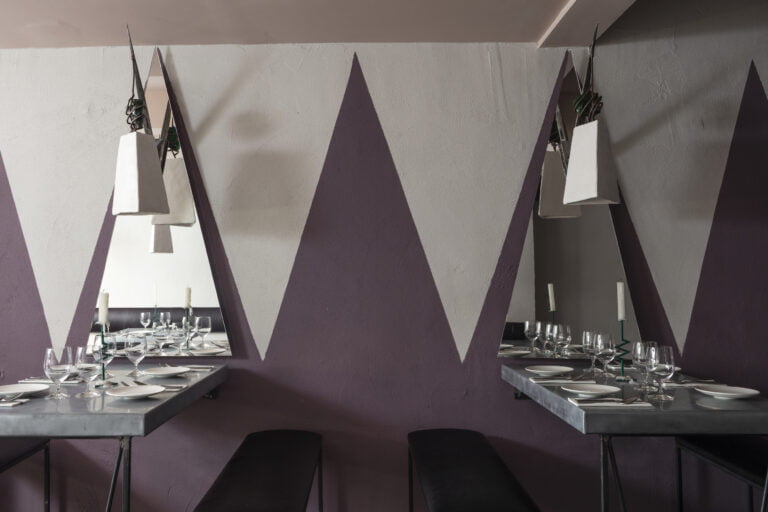 Nothing's edgier than zig-zags. And this place is full of 'em – as well as a neatly curated line-up of natural wines from sommelier Alex Price, and some particularly grape hooch-friendly small plates rustled up by ex-Frenchie chef Fabien Spagnolo.
Details: 9 Kingly St, W1B 5PY | Book here
–
Bar Termini | Soho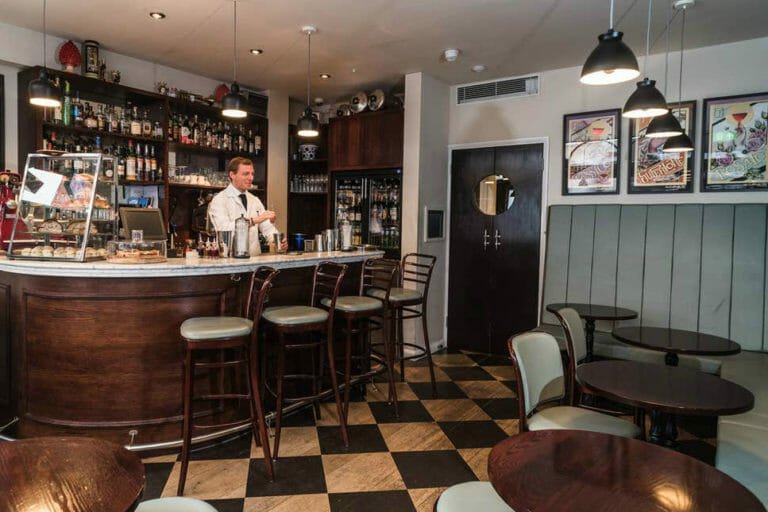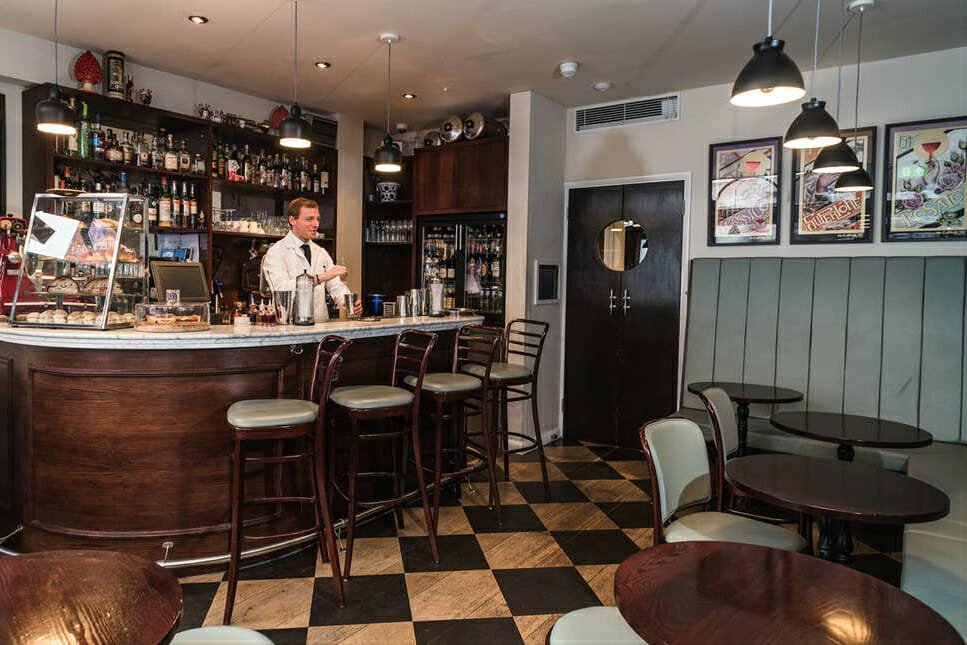 Bar Termini appears to have gotten waylaid on the way back to 1950s Rome. But in reality it's just a beautifully retro confection from Tony Conigliaro (of 69 Colebrooke Row), whose scientifically perfected negronis are poured here with jaw-dropping accuracy by white jacketed bar keeps.
Details: 7 Old Compton Street, W1D 5JE | Book here
–
Lost Property Office | Waterloo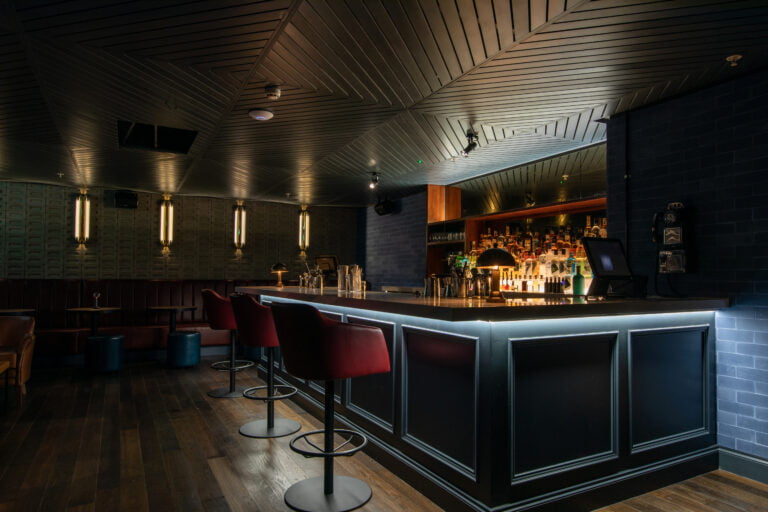 Seek and ye shall find… a tiny, clandestine speakeasy headed up by the enormously talented mixologist Rich Woods, hidden within – of all places – a bombastic two-storey Brewdog pub in the middle of Waterloo station.
Details: The Sidings, Waterloo Station, London SE1 7BH | No bookings
–
Beyond Stone Nest | Soho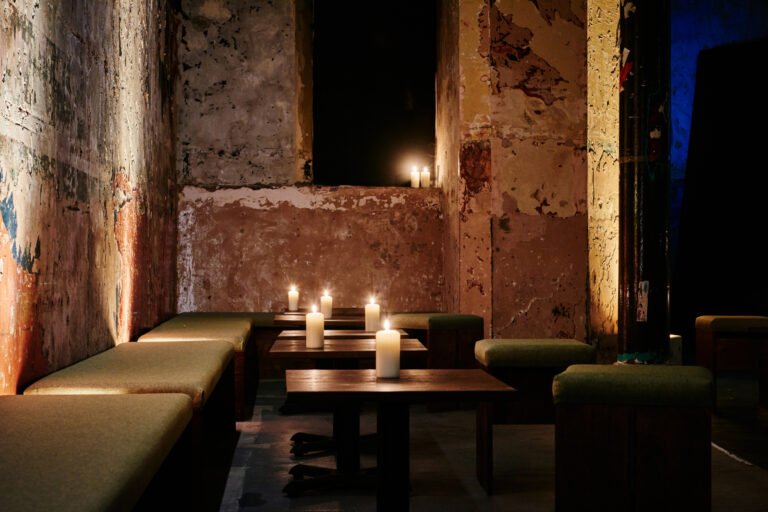 A seriously cool bar hidden right in the centre of town, with classic cocktails and quality DJ sets till late, that you'd never know was there… unless you make a habit of excavating beneath abandoned 18th century churches.
Details: 136 Shaftesbury Avenue, W1D 5EZ | No bookings
–
Bobby Fitzpatrick | West Hampstead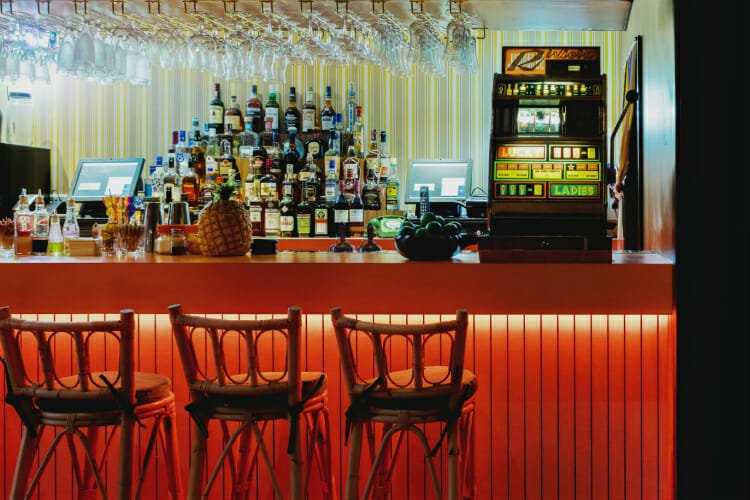 Prepare to travel back in time with a man you've never met. A night at Bobby Fitzpatrick's feels like a house party in a 1970s timewarp, with gloriously kitsch decor, retro cocktails, disco DJs and pizza for when you need a carb hit.
Details: 273 West End Lane, NW6 1QS | Book here
–
Doña | Stoke Newington
A subterranean agaveria that'll keep you in the pink with kitschy decor (the bar is wearing a feather boa, for starters) and a series of knock-out tequila & mezcal based cocktails, often accompanied by local DJs and live musicians.
Details: 92 Stoke Newington High St, Clapton, N16 7NY | Book here
–
Jumbi | Peckham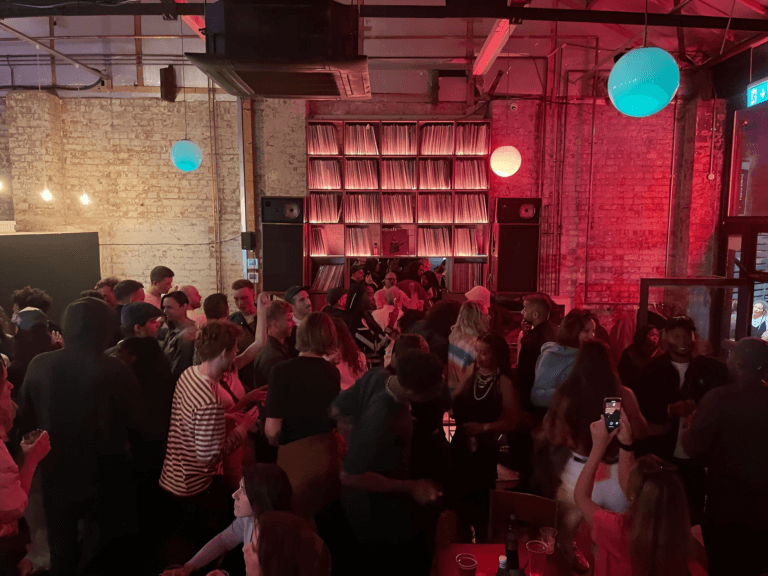 A vast warehouse-turned-church of music, with a double-height record library and a vintage sound system. The menu meanwhile brings together the culinary riches of the African diaspora, from rum cocktails to Fools Gold Fritters (with banana, peanut and bacon candy).
Details: Unit 4.1 Copeland Park, 133 Copeland Road, SE15 3SN | Book here
–
System | Newington Green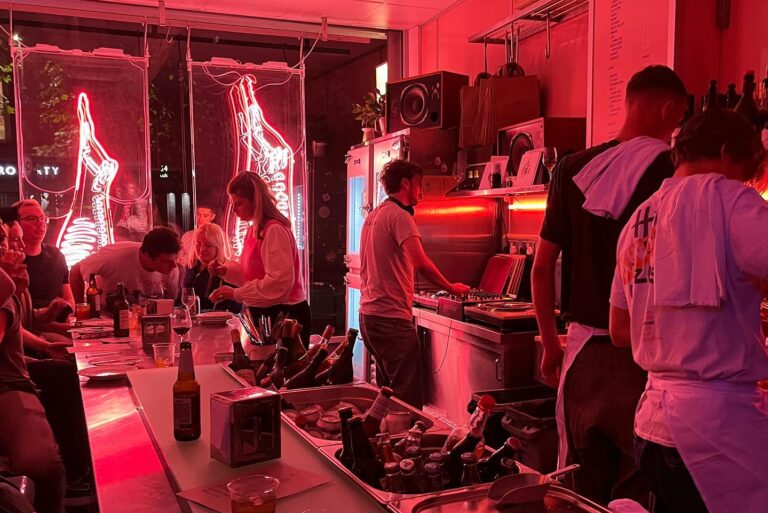 If you fancy a drink in an unusual setting, have a butcher's at this. Run by the team behind Hill & Szrok, meat-slingers Stella's swaps beef for beats at the weekend, when they wipe down the surfaces and set up the decks for vinyl DJ sets.
Details: 101 Newington Green Road, N1 4QY | No bookings
–
Control Room B | Battersea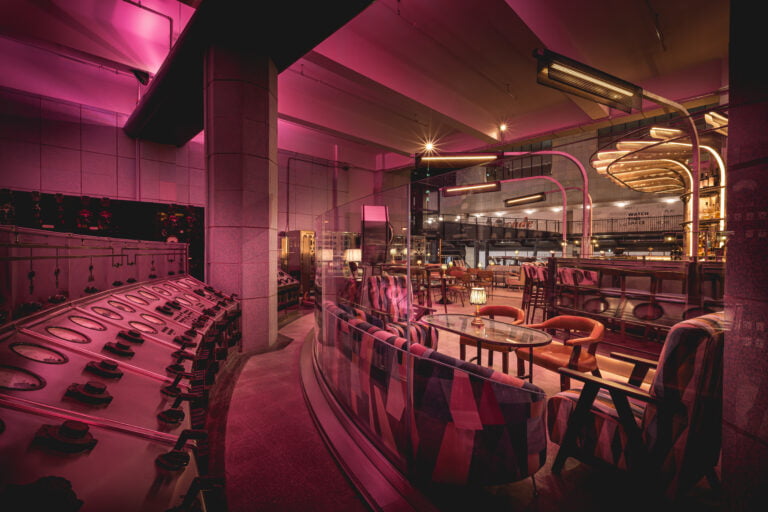 Control Room B has a powerful claim to being one of the most unusual bars in London – given that it's set within the former switch room of Battersea Power Station, and the original knobs, dials and buttons are all still in place orbiting the enormous central cocktail bar.
Details: Battersea Power Station, London SW8 5BN | Book here
–
City of London Distillery (COLD) | The City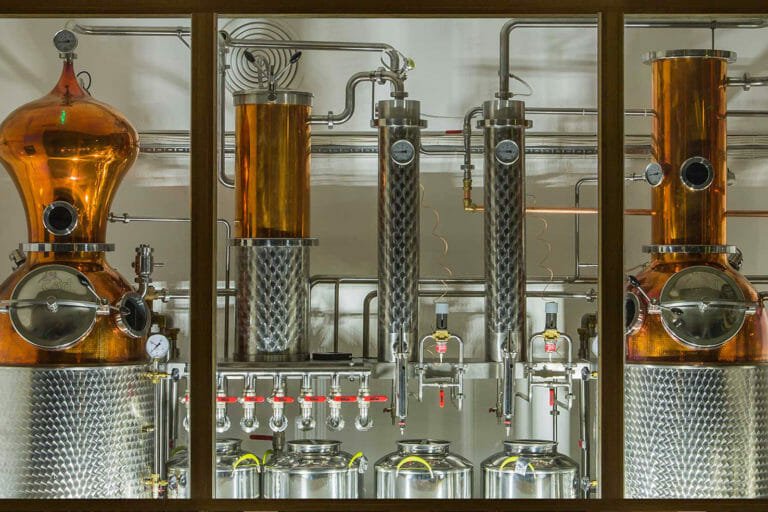 COLD is an extremely cool bar. Floor to ceiling windows reveal the in-house distillery, in which two copper stills (Jennifer and Clarissa) patiently age gin. The same gin that you can then order from the bar, or try straight from the vats if you book a distillery tour.
Details: 22-24 Bride Lane, EC4Y 8DT | Book here
–
Cahoots | Soho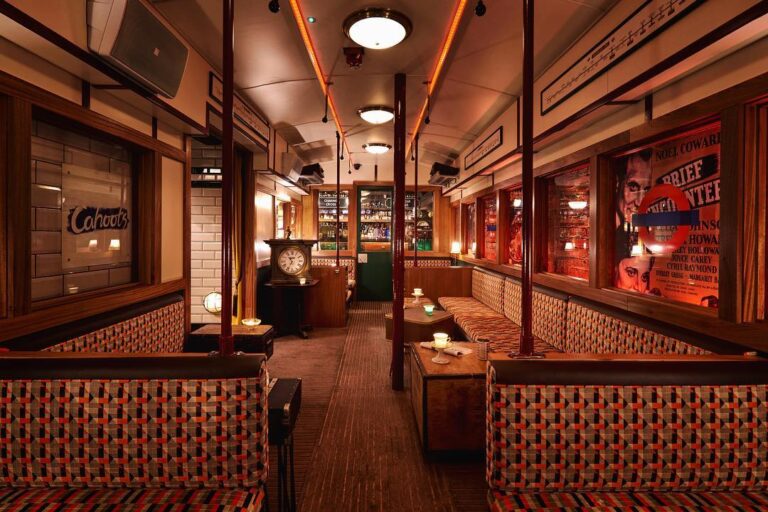 Cahoots had very little competition when it came to Blitz era cocktail bars hidden within forgotten tube stations, with skiffle bands, swing dancing, and 'Dig For Victory' cocktails. So they've opened another one right across the street, just to keep themselves on their toes.
Details: 13 Kingly Court, W1B 5PW | 5 Kingly Street, W1B 5PF | Book here
–
Bruno's | Islington
Hop aboard a low-lit barge moored on Regent's Canal, and drink like a sailor: Bruno's will happily furnish you with signature cocktails like the Below Deck (with blood orange & bourbon) to help you find your sea legs.
Details: 172 Shepherdess Walk, N1 7JL | Book here
–
Equal Parts | Hackney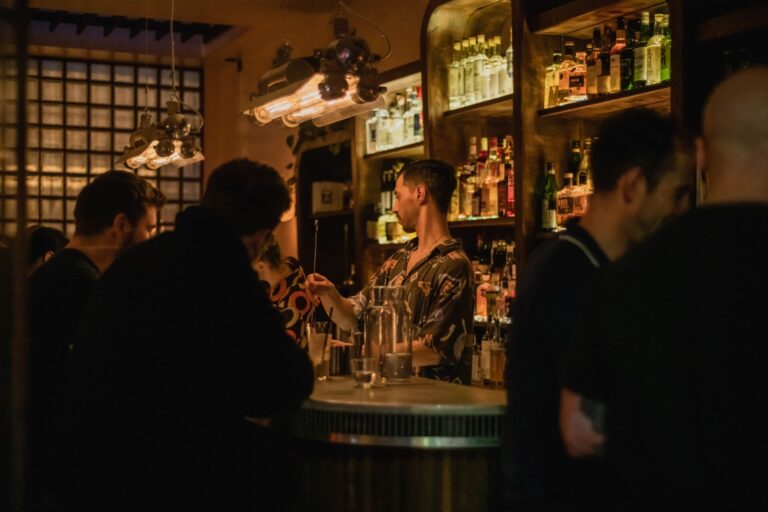 While the other bars on this list are unusual, quirky, or a little eccentric, Equal Parts is merely… cool. It's a laid-back corner spot from the Sager half of Sager + Wilde, and serves really, really good cocktails in a lazy, Havana-style setting with a retro vinyl soundtrack.
Details: 245 Hackney Road, E2 8NA | Book here
–
Evans & Peel Detective Agency | Earl's Court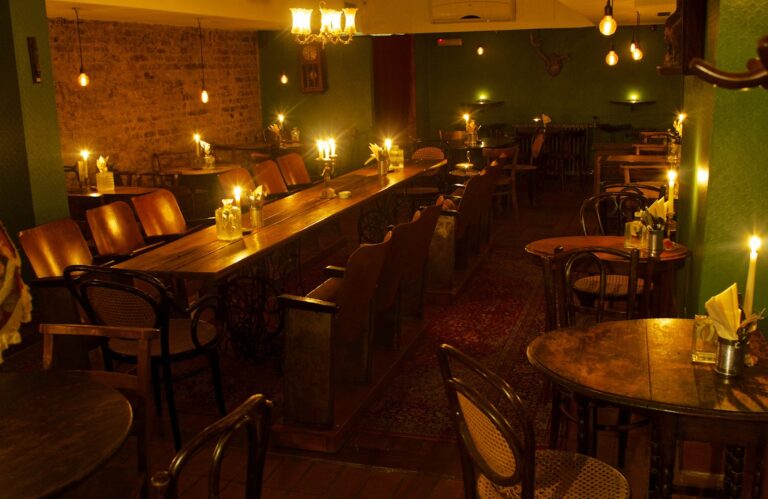 A secret West London speakeasy, where, after being led down to a softly-lit agency office, The Detective will usher you through a bookcase and into to a candlelit drinking den serving booze in brown paper bags.
Details: Earls Court Road, Earls Court, SW5 9BA | Book here
–
BYOC | Camden & The City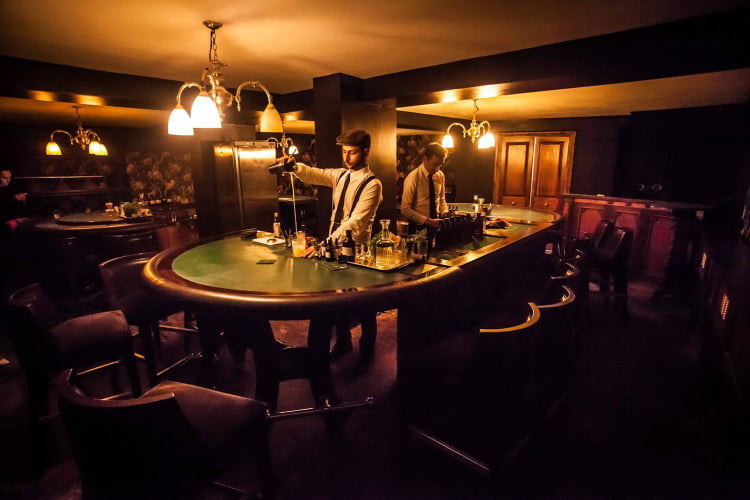 An illicit, subterranean drinking den that brings back the golden days of Prohibition… by not stocking any booze. Instead, you'll bring a bottle of your desired poison, and, over the next two hours, your personal barkeep will supplement your spirit with bitters, infusions and syrups to create unlimited, entirely bespoke cocktails…
Details: 11-13 Camden High Street, NW1 0JH | 59a Carter Lane, London, EC4V 5DY | Book here
–

The Midnight Apothecary | Rotherhithe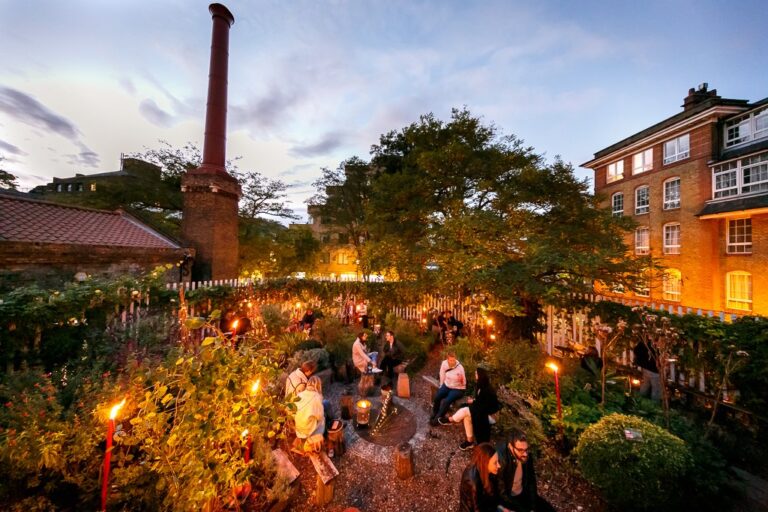 As well as being one of the only bars in Rotherhithe, The Midnight Apothecary also happens to be one of the coolest – it's set in a garden on top of a Victorian tunnel shaft, where Lottie Muir (a.k.a. The Cocktail Gardener) rustles up the growing produce into botanical-inspired cocktails, while you roast s'mores over the campfires.
Details: Brunel Museum Rooftop, Railway Avenue, Rotherhithe, SE16 4LF | Book here
–
Bloomsbury Club Bar | Bloomsbury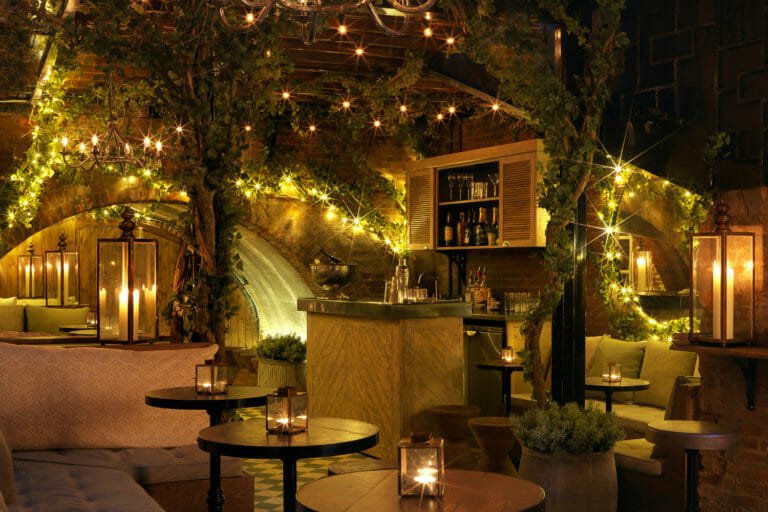 Concerned that an emotion-themed cocktail menu inspired by a deck of tarot cards from 1910 wasn't quirky enough, BCB doubles down on its unusual bar status by serving them in a vaulted terrace lit entirely by candles and hundreds of fairy-lights.
Details: The Bloomsbury Hotel, 16-22 Great Russell Street, WC1B 3NN | Book here
–
Disrepute | Soho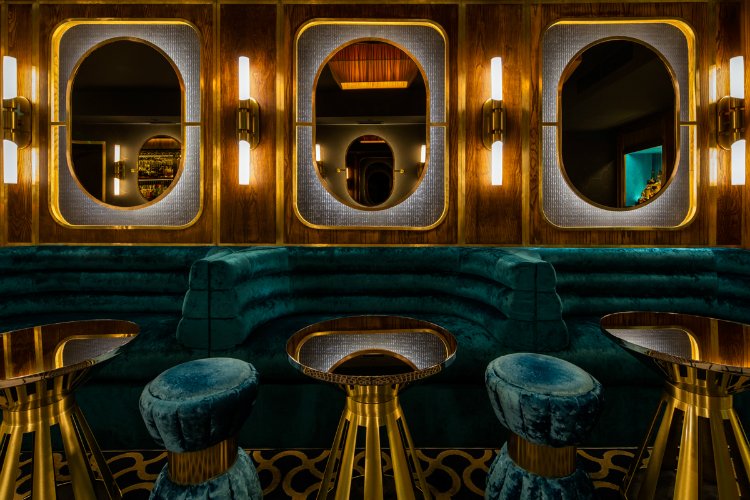 A subterranean sleeve of a space fitted with seductive, conspiratorial nooks; jewel-toned velvet seating; mirrors; brass; and a cocktail menu that's written entirely in the form of short stories.
Details: 4 Kingly Street, W1F 9BW | Book here
–
The Sun Tavern | Bethnal Green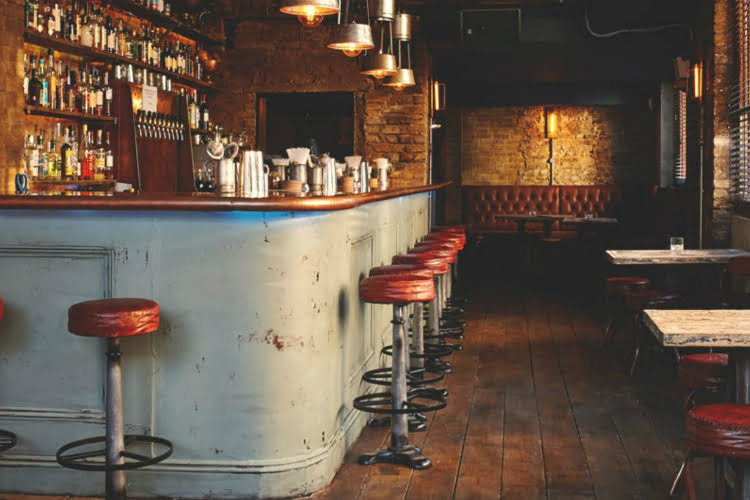 A sláinte-toasting, glass-clinking, Stones-playing drinking den that specialises in local brews, grown-up cocktails and the Irish spirit poitín – all housed in a brick-walled 1850s corner tavern, thanks to the team behind two other cool London bars, Discount Suit Company and Umbrella Workshop.
Details: 441 Bethnal Green Road, E2 0AN | Book here
–
Black Rock | Old Street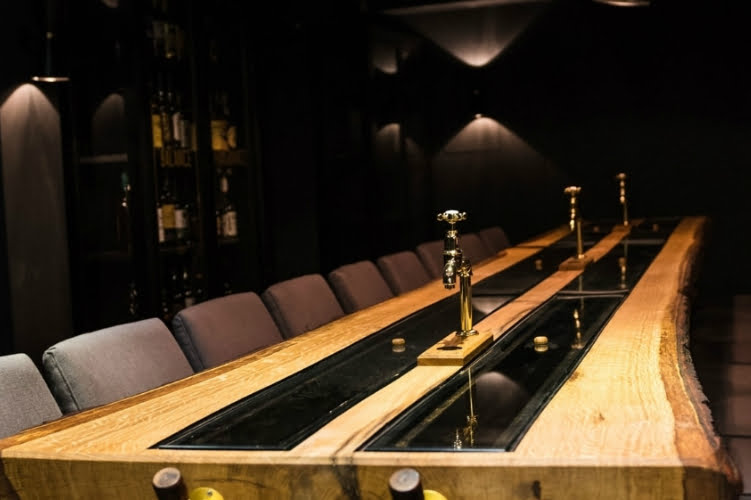 A basement bar with a whisky library arranged conveniently by flavour profile… and a house blend that pours out of a felled tree.
Details: 9 Christopher Street, EC2A 2BS | Book here
–
Mr Fogg's Society of Exploration | Charing Cross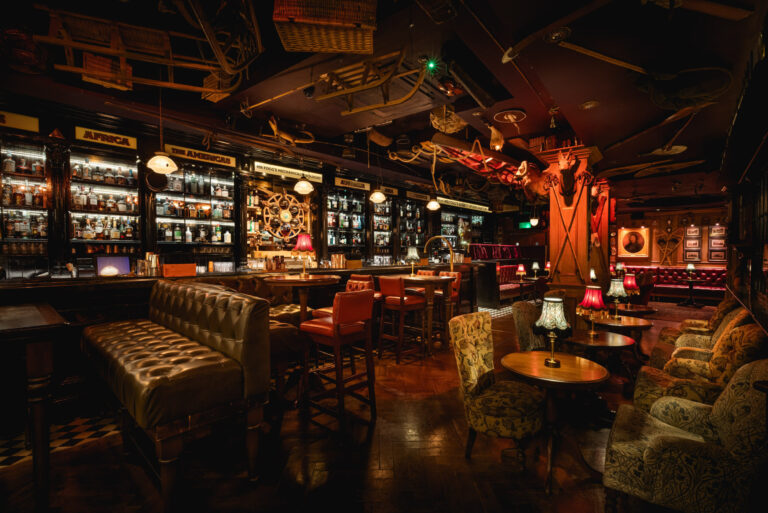 True to its namesake, the Mr. Fogg's bars have travelled across the city and can now be found in six locations. And just to make sure that they don't all start feeling 'samey' (as far as a cocktail bar filled with bric-a-brac and curiosities from around the world, based on a fictional eccentric Victorian traveller can be)… they've fitted this branch out with a dedicated maps room (where you can plan your next voyage); a steampunk mechanical cocktail maker; and an entire, Orient Express-style train carriage in the middle of it.
Details: 1a Bedford Street, WC2E 9HH | Book here

---
Still looking for inspiration? Check out the Nudge's guides to…
–
The Best London Cocktail Bars | The Best Hidden Bars | London Bars with Live Music | London's Top Activity Bars