Your London New Year's Eve Agenda | NYE 2023 – 2024
Going to a party, drinking champagne, and having an incredible time?
That's the last thing you'll want to do this year.
And to help make sure that's exactly what happens, we've lined up a comprehensive list of the most raucous, fun, mind-blowing, and bubbly-loaded NYE throw-downs taking place in the capital, and organised them into a bunch of handy categories.
Now get ready to inspire a few resolutions…
---
FANCY DINNERS  | RETRO PARTIES  |  COCKTAIL PARTIES  |  JUST WANT TO DANCE?  |  LIVE MUSIC  |  ROOFTOPS 
---
FANCY DINNERS

Disappearing Dining Club's NYE Dinner Dance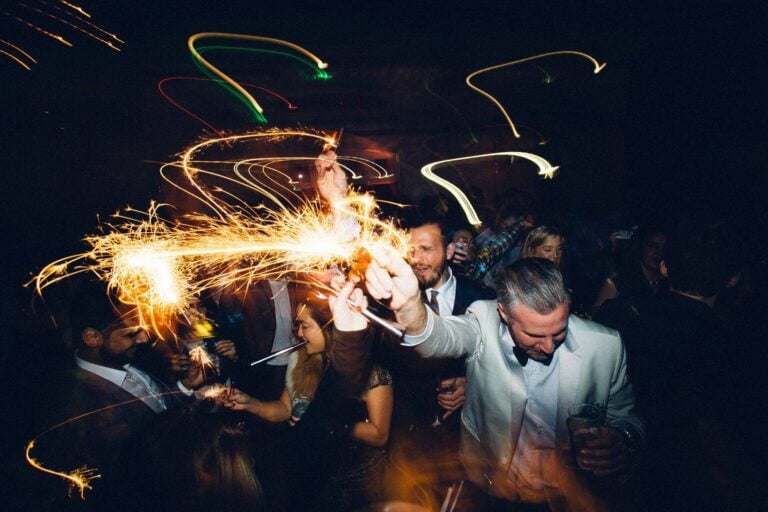 The dinner: a six-course extravaganza of indulgence featuring oyster velouté, lobster ravioli, Champagne granita and white coffee parfait. The dance: a late-night jam with sound selectors Itchysoul, Neil Thornton and Dave Rose spinning until 3am. The Disappearing Dining Club: the crème-de-la-crème of supperclub and party hosts, who have made their home in this ridiculously cosy North London pub.
Details: The Dartmouth Arms, 35 York Rise, NW5 1SP and 231 Long Lane, London SE1 4PR | Free-£95
–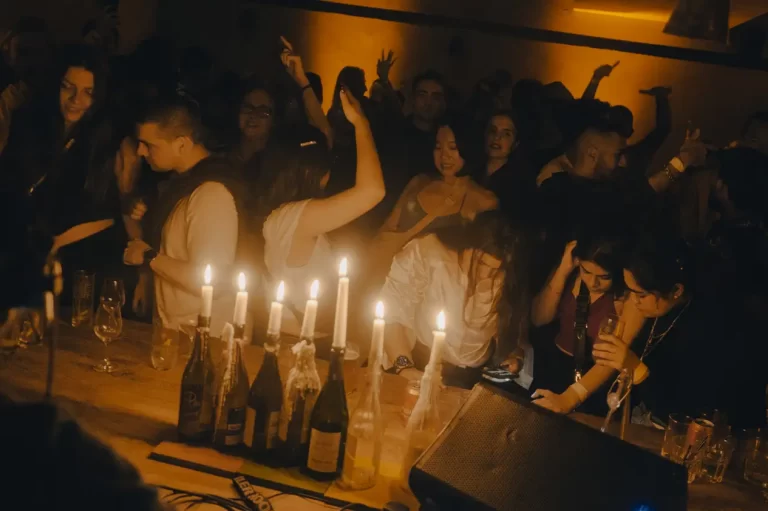 If you think that New Year's Eve should be mostly about great food and great music, then you'll be happy to know that this is an opinion shared by the people at both Carousel (a pop up incubator which produces great food) and AVA (an audiovisual festival which produces great music). And on NYE they'll be bringing their talents together for PAIRED, an evening in which an excellent chef is coupled up with a stellar DJ for an experience unique to that time & place. Head down on New Year's Eve, and you can expect to feast on a multi-course tasting menu from Sam Buckley (popping in from his Green Michelin Star-winning restaurant in Stockport, Where The Light Gets In), before dancing the night away with a little deck maestro known as Mr. Scruff…
Details: Carousel, 19-23 Charlotte Street, Fitzrovia, W1T 1RL | £30-£125
–
Bourne & Hollingsworth Buildings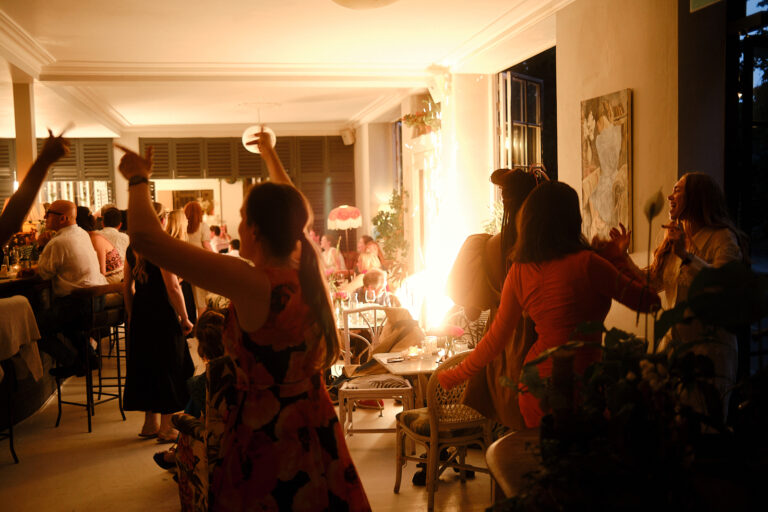 B&H's rambling townhouse provides the perfect backdrop to the kind of NYE dinner party you'd love to throw… if you lived in a Clerkenwell mansion with a personal chef. That chef, Matthew Harris, will be cooking up a multi-course banquet alongside live music and flights of cocktails, before you get up to dance to DJ sets across two floors until the wee hours. Oh, and don't worry about missing the riverside fireworks – because they've got some here too. Indoors.
Details: Bourne & Hollingsworth Buildings, 42 Northampton Road, Clerkenwell, EC1R 0HU | £95
–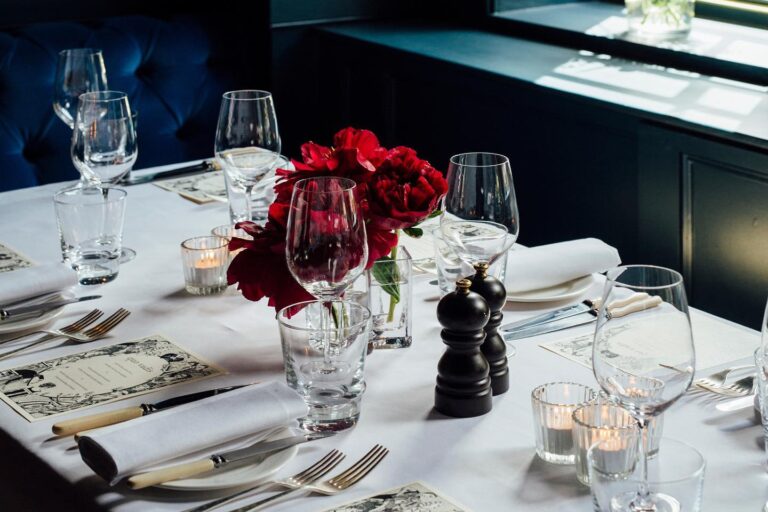 Quo Vadis has been ringing in the new year since 1926, so suffice to say they've got the formula down pat. This year you can settle in for a sumptuous three course meal with a glass of Champagne, before descending to the club lounge for dancing and DJs till the early hours. Just like the twenties.
Details: 26-29 Dean Street, London, W1D 3LL | £110
–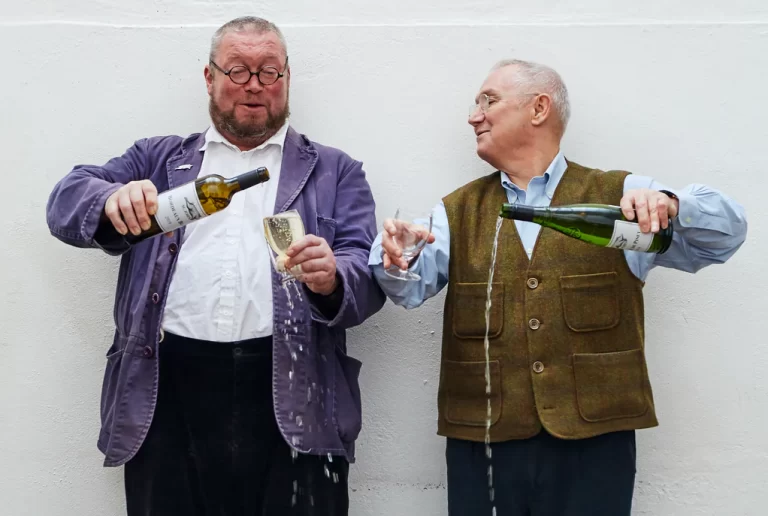 It's the first ever NYE celebration at St John Marylebone, which is throwing two dinner sittings for the occasion. Both will feature a roast goose as the dramatic centrepiece, as well as a welcome pour of St John Champagne. And if you're lucky, some of it might even go in your glass.
Details: 98 Marylebone Lane, London W1U 2QA | £145
–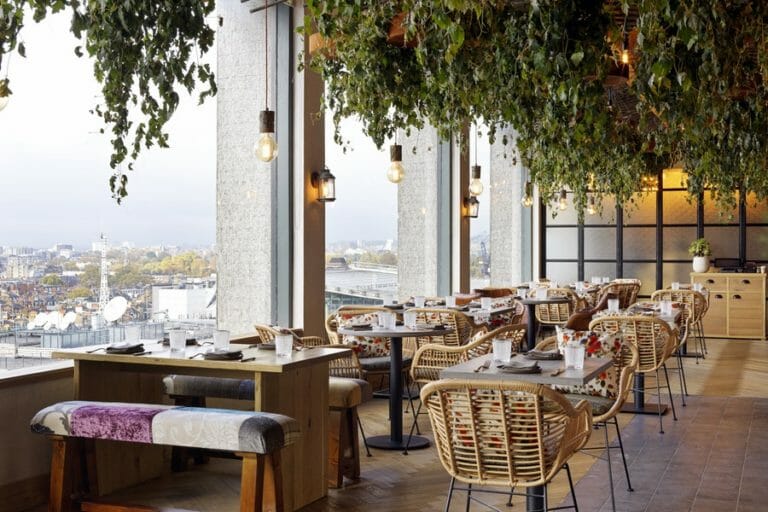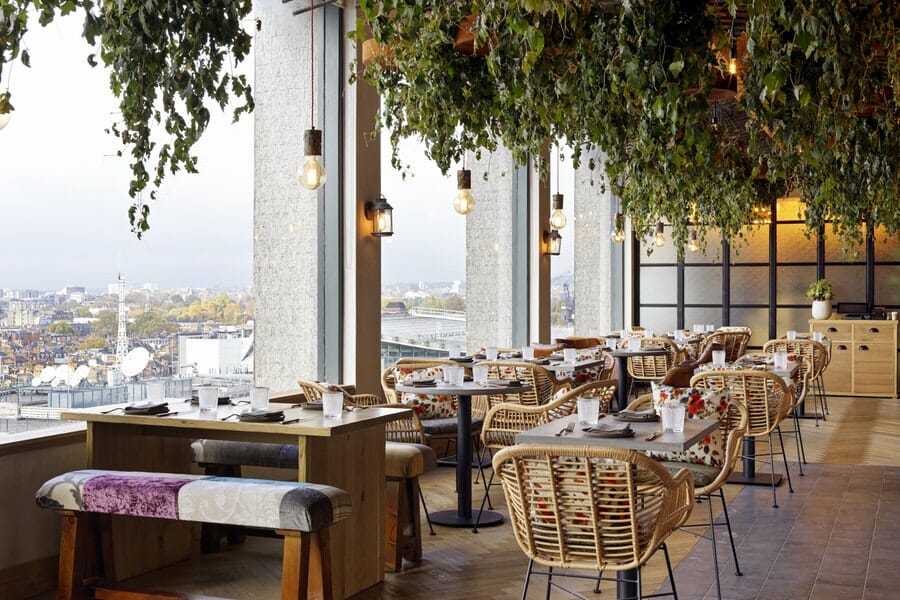 Frankly, rooftop restaurant Madera could have just let its views do the talking. But they're going all out for NYE, starting with a celebratory feast of inventive Californian-Mexican dishes (like octopus macha tostadas and sirloin steak sizzling on a hot lava stone), cocktails (like Champagne palomas and hibiscus spritzes), welcome Champers and a shedload of dazzling entertainment, from fire dancers & contortionists to DJ sets from guest spinner DJ Melech.
Details: 14-15 Langham Place, London W1B 2QS | £195pp
–
Ok, so this might not be a fancy dinner as such, but it will be extremely delicious. 40FT and Acme Fire Cult are getting together in their shared Dalston yard for a piss-up, er, outside a brewery. You'll get a glass of Moët on arrival, before settling in for a feast of grilled delights like lamb asador buns and scorched chapa potatoes with Alpine cheese, while sipping hot whisky cocktails and tank-fresh beers. And all the while, there'll be DJ sets from Arveene, Pam Hogg and Primal Scream's Simone Butler seeing you through to midnight and beyond.
Details: The Bootyard, Abbot St, London, E8 3DP | £10 advance (inc. welcome Champagne), or just chance it on the night
RETRO PARTIES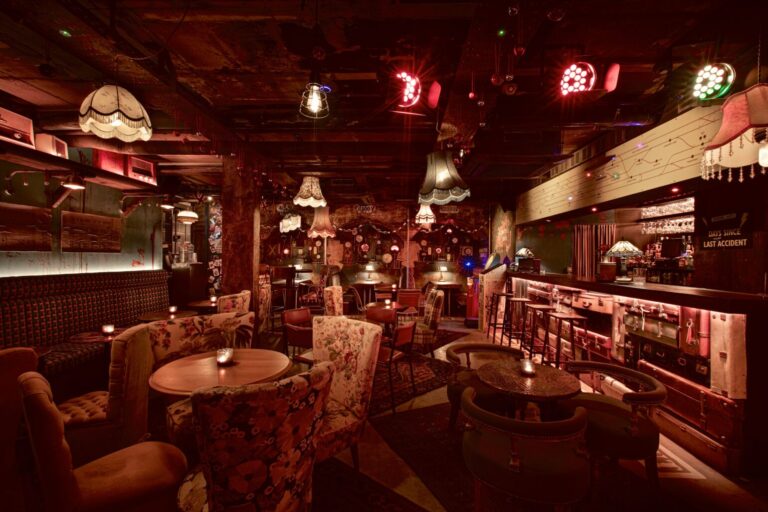 Set in the subterranean Signal Station at Cahoots, this thoroughly old-fashioned knees up will feature some riotously fun live music, DJ sets to take you to midnight, Champagne toasts, and bacon sandwiches at 1am. Plus the option to go bottomless on your cocktails…
Details: 5 Kingly Street, Soho, W1B 5PF | £80-160
–
Scoundrels' Underground NYE Party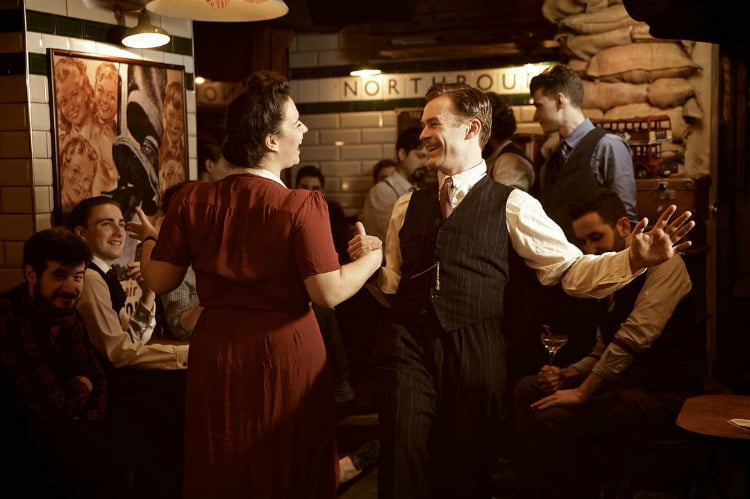 This part is also run by the people at Cahoots. Which means that, gloriously, both parties actually are in cahoots. This one is over at Cahoots Underground, and will involve bottomless cocktails, plus live entertainment, those bacon sarnies, and retro DJ sets until the wee hours.
Details: 13 Kingly Court, Carnaby, London W1B 5PW | £80-160
–
Frank's, the bar slung beneath the effortlessly stylish Maison Francois, is throwing a 'Champagne Punk' NYE knees-up that's part Studio 54, part punk. Compered by Miss Hap and Slash, the party promises a one-off menu of Champagne cocktails and bubbles by the glass; oysters & loaded fries to fuel the dancing (with a croque-en-bouche centrepiece unveiled at midnight); a soundtrack of vogue ballroom and disco bangers; and more safety pins than a crap halloween mummy costume.
Details: 34 Duke Street, London, SW1Y 6DF | £35
–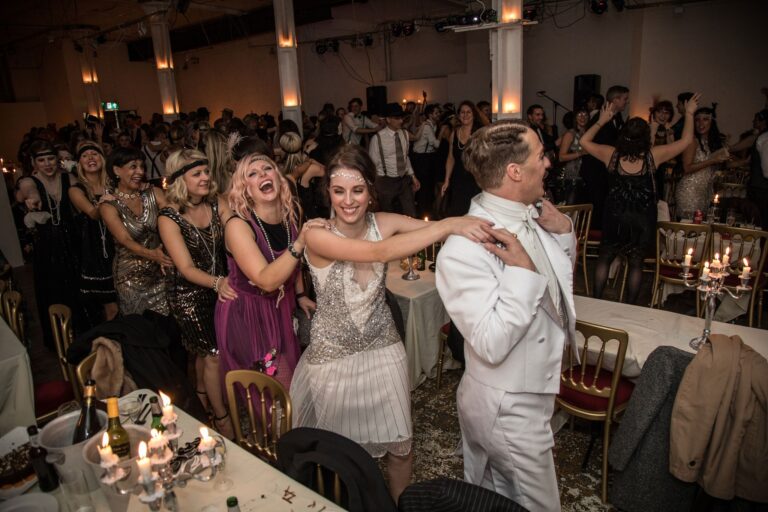 The Candlelight Club will be throwing one of their famously decadent, 1920's-styled soirées in a secret, candle-lit London location with live music from Elise Roth and the High Standards, cabaret with your host Champagne Charlie, Charleston dancing with the Gatsby Girls, fortune tellers, absinthe, and gramophone DJs.
Details: A Secret London Location | From £60
–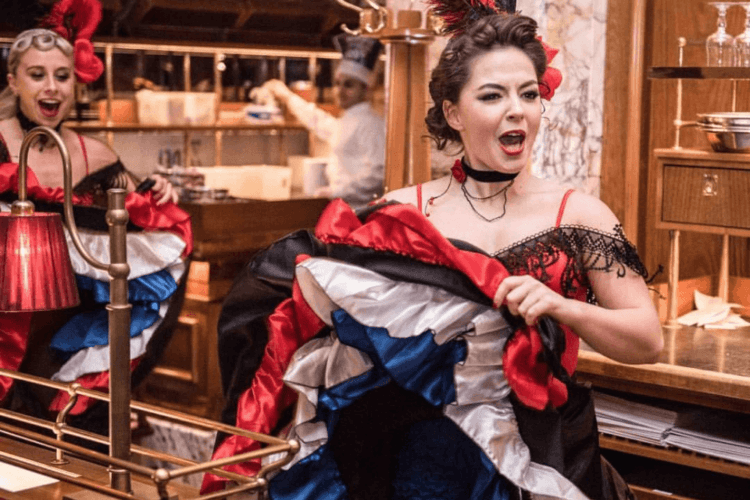 Can, can you do the can-can? Well, you'll probably feel like it after a slap-up French meal and a couple of cocktails at Brasserie Zédel, which is transforming its gilded dining room into the Folies Bergères for NYE with cabaret artists, foot-stomping live jazz, acrobats, magicians, performers channelling Marlene Dietrich and Josephine Baker, and can-can dancers at midnight.
Details: 20 Sherwood Street, London, W1F 7ED | £80 for post-dinner entertainment

COCKTAIL PARTIES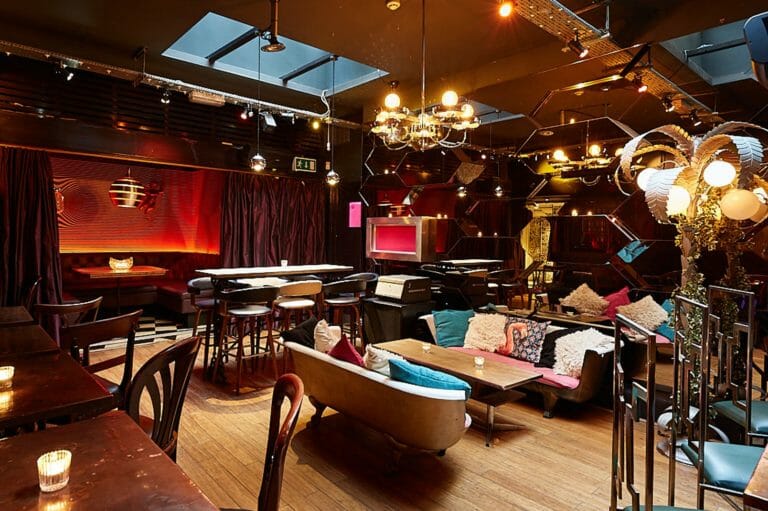 If you're going to pick anywhere to have bottomless cocktails (and canapés, and bubbles) all night long, it may as well be the multi award-winning Callooh Callay, a Shoreditch bar drenched in eccentric, retro glamour.
Details: 65 Rivington Street, EC2A 3AY | £100-£130
–
A Star-Cross'd NYE at Thin White Duke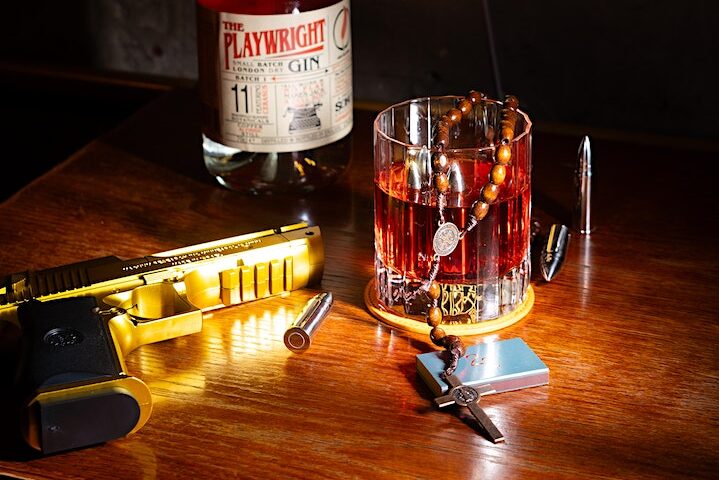 Just as you'd expect from a cocktail bar inspired by David Bowie, the Thin White Duke is theming their New Year's Eve party around… Baz Luhrmann's Romeo + Juliet. They're dressing the place up as Juliet's funeral bower (we expect a lot of neon crosses to be involved), and inviting you to come suitably dressed up for the occasion. And once inside, you'll get to take your chances at Russian shot roulette, feast on dim sum, dance to a live DJ set and sip glittering gin cocktails.
Details: 22B Great Windmill St, London W1D 7LD | £50
–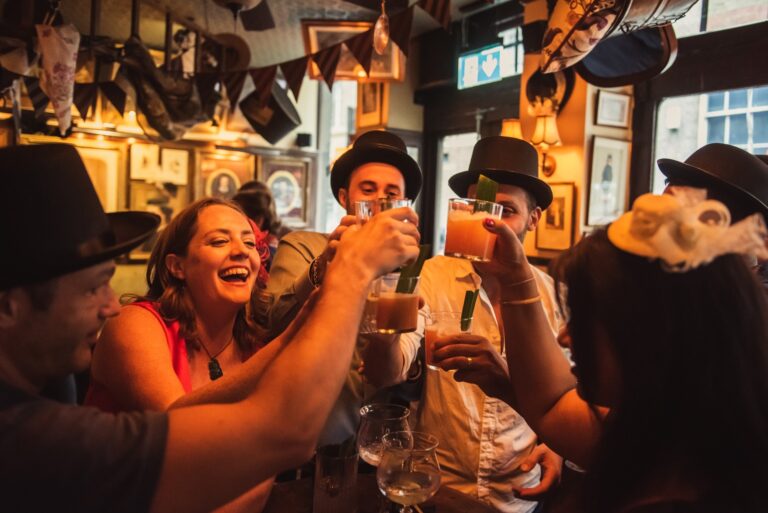 There are now several Mr. Fogg's bars across London, and each has something to commend them for NYE this year. There's the 'hat-filled fun' promised at Mr. Fogg's Hat Tavern (genuinely, every guest gets a hat plopped onto their head on arrival); the Victorian drag king hosting proceedings at Mr. Fogg's Pawnbrokers; five solid hours of DJ sets at Mr. Fogg's Apothecary, and much more besides.
Details: Across London | From £20
–
It seems that Battersea Power Station will be keeping the lights on once more… until 2am on New Year's Eve. Cocktail bar Control Room B will be throwing a party to see out 1955, with a live orchestra band, Champagne, 50s & 60s DJs till the wee hours, and a black tie dress code. And at midnight, you'll get to stand outside the iconic building to watch the fireworks over the river.
Details: Battersea Power Station, Circus Rd West, Nine Elms, SW8 5BN | £40-100
JUST WANT TO DANCE?

New Year's Eve at Amazing Grace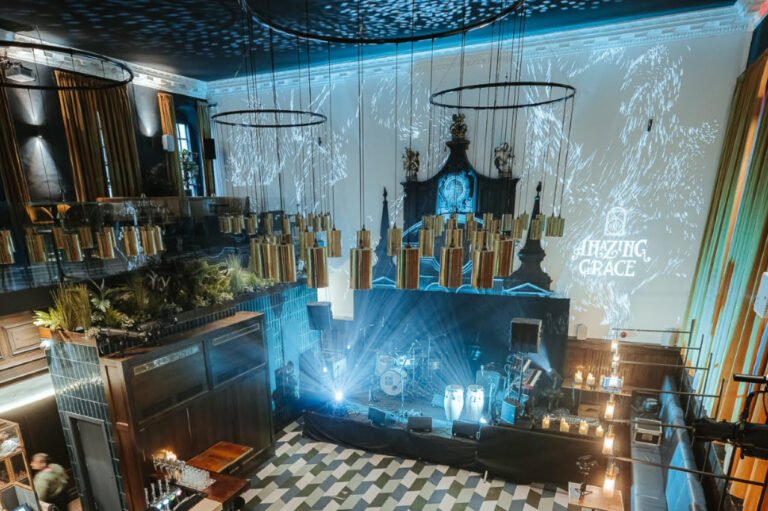 If you told the vicar at St Thomas's Church, back when it was first built just under a thousand years ago, that one day it would become a bar called Amazing Grace, and that that bar would host a New Year's Eve party with live bands, DJs till 3am, dancing, Japanese fried chicken, and bottomless drinks… he probably would have been happy that people were still having a religiously good time there. As well as being confused about what Japanese fried chicken was.
Details: Amazing Grace, 9a St Thomas St, SE1 9RY | From £20
–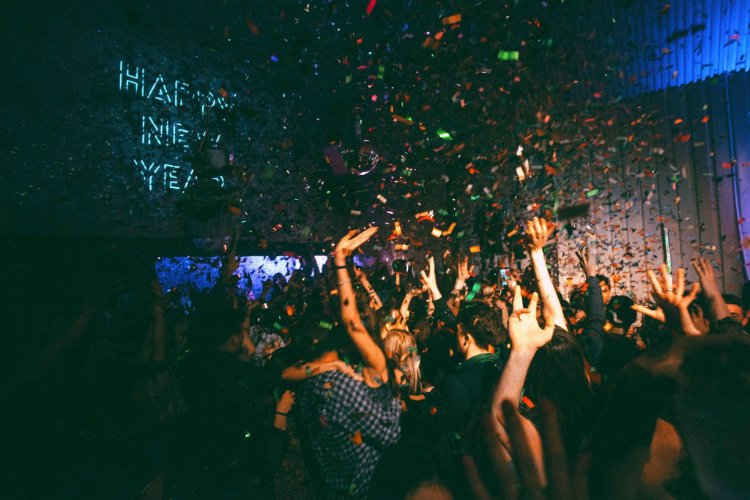 Taking over an inconspicuous warehouse for the night, Love Come Down will be spinning '70s soul & disco tracks with modern edits until 5am. Nothing less, nothing more – and especially no pretentiousness.
Details: Low Profile Studios, 94 Vale Road, Harringay Warehouse District, London N4 1PT | £11.50+
–
STEREO's giving you a 360º experience for NYE – the subterranean bar is transforming to a Studio 54-styled disco for the night, with the option to kick off your evening with dinner before the live band and DJs take over till the small hours.
Details: 35 The Piazza, WC2E 8BE | £20-40
–
Little Blue Door NYE House Party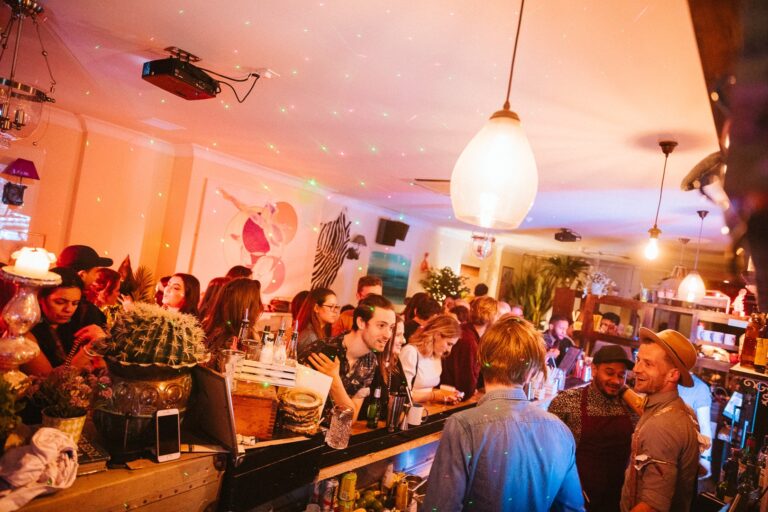 If you and your friends are tossing round the idea of hosting this year's NYE house party like a hot potato, the solution is thus: you should all go to the Little Blue Door in Fulham, where you can enjoy a raucous 3-course dinner party, cocktails, and dancing to DJs in what is essentially a giant living room… without any of the clearing up.
Details: 871-873 Fulham Road, SW6 5HP | From £25
–
Fiddle Paradiddle's Hogmanay Hootenanny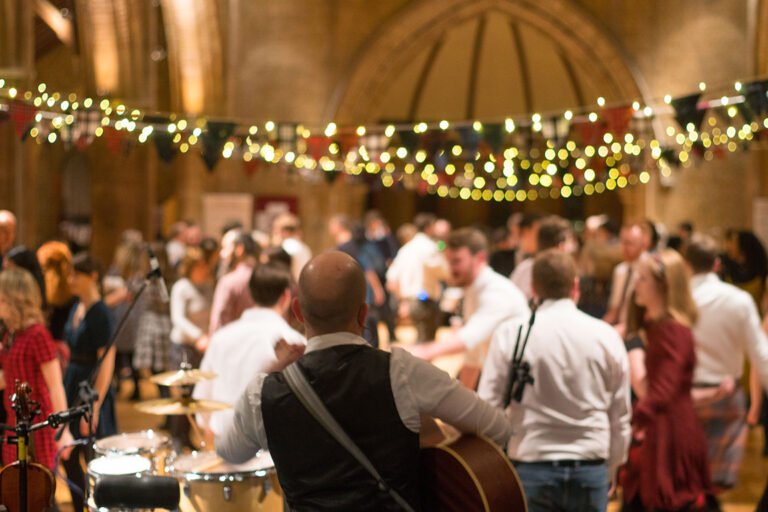 If you're keen to get some ceilidh practice in before Burns Night in January, head down to St. Thomas' Church in Balham on NYE, where there'll be a thunderous night of Scottish dancing going down. Aside from being very difficult to say out loud, Fiddle Paradiddle's Hogmanay Hootenanny promises a well-stocked bar, some welcome bubbly, a free sweetie station, a big singalong of Auld Lang Syne at midnight, and plenty of dancing with a live band and callers to tell you the steps.
Details: St Thomas' Church, Telford Avenue, London, SW2 4XW | £50-60
–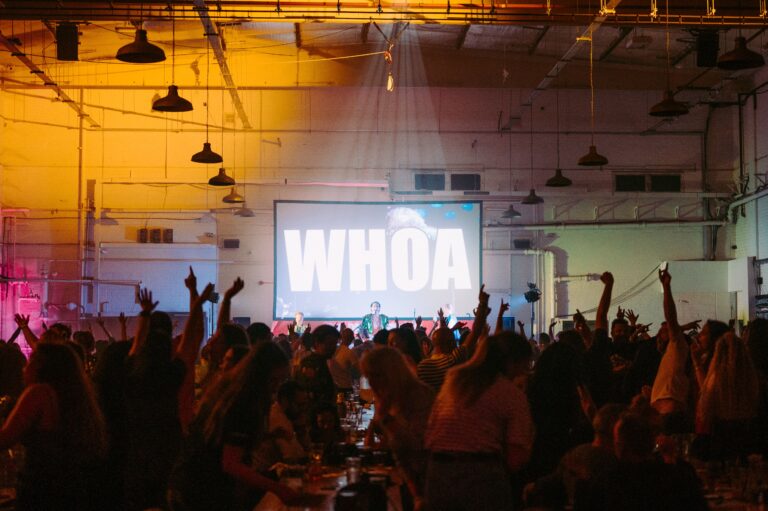 Believe it or not, the UK's biggest beer hall is not going to be closed on NYE. Instead, Big Penny Social's going to be throwing a 1993-themed party to celebrate the 30th anniversary of East 17's debut album Walthamstow. How, you ask? By getting East 17 to play a massive gig, followed by 90s DJs, glitter makeover stations, and retro video games.
Details: 1 Priestley Way, E17 6AL | £10-30

LIVE MUSIC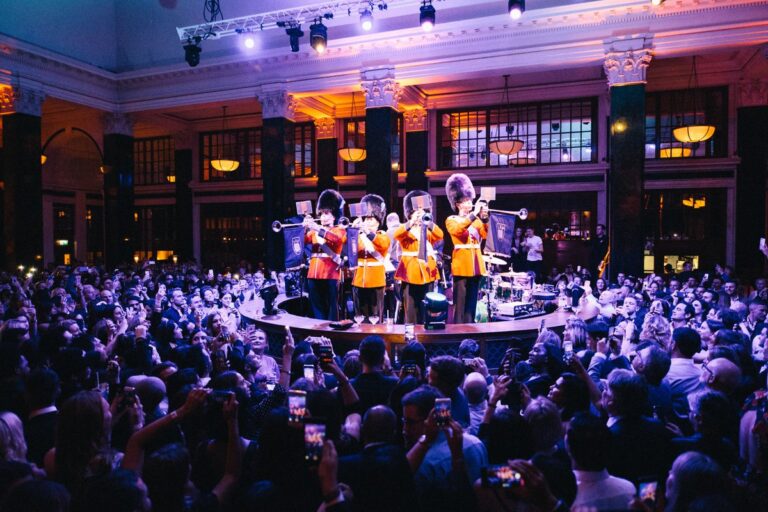 Ring in the New Year in an old marble-clad banking hall (that's now a glamorous hotel and clubhouse from the Soho House team), with free-flowing cocktails, aerial displays, cabaret, live bands, and DJs, plus as many lobsters as you can physically eat.
Details: The Ned, 27 Poultry, EC2R 8AJ | £350
–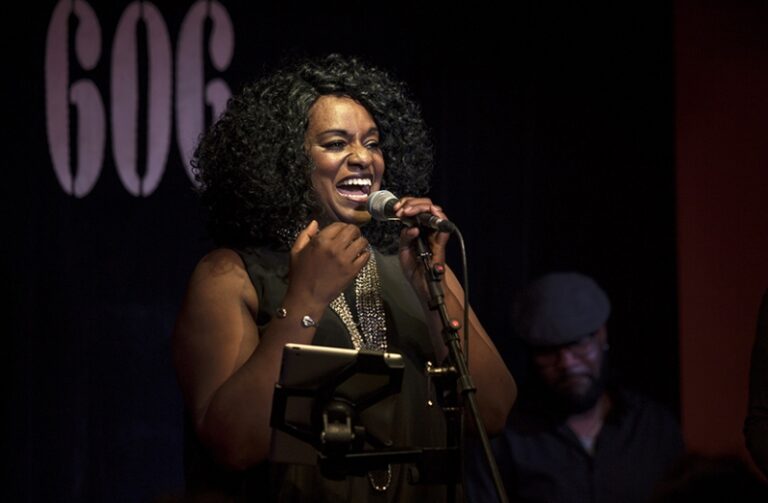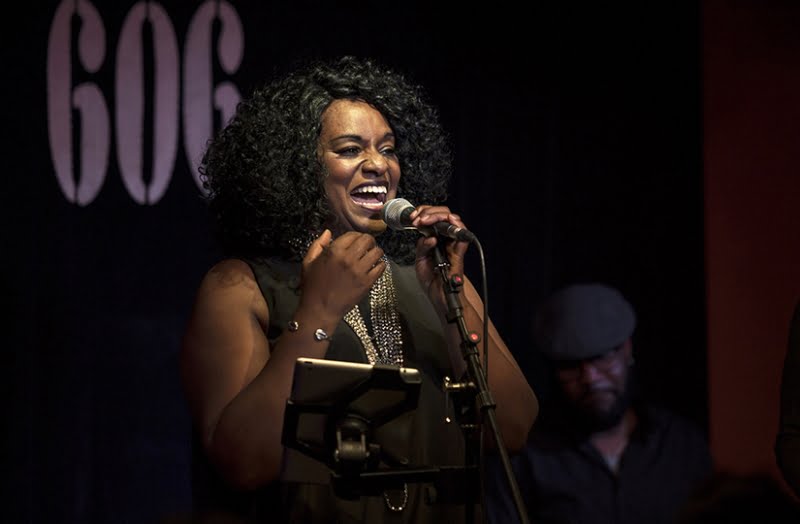 Surprisingly for a jazz bar, 606 Club won't be improvising on New Year's Eve. They've enlisted the help of superlative jazz pianist Neil Angilley and his trio to play you through a three course dinner, before an eight-strong band joins forces with special guest Imaani for "compulsory grooving" on the dancefloor until 2am.
Details: 90 Lots Road, SW10 0QD | £150
–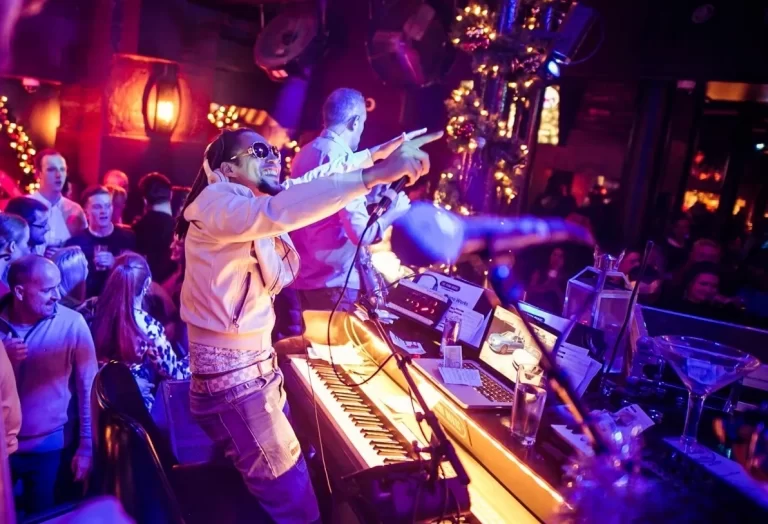 The Piano Works' two bars aren't doing anything unusual for New Year's Eve. But then, 'usual' for them means bussing in a energetic band of musical prodigies for a joyously uplifting gig where they exclusively play requests from the crowd, all night long. So this NYE, they're doing exactly that… with a black tie dress code.
Details: The Piano Works, 113-117 Farringdon Road, EC1R 3BX | £15-65
–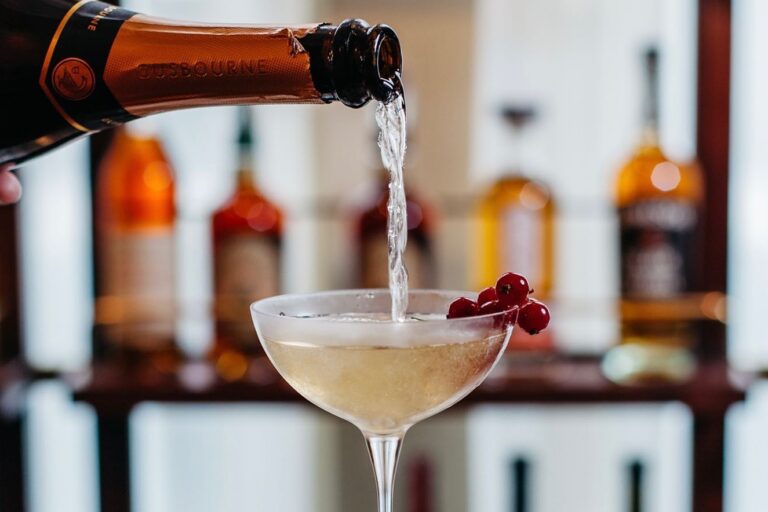 By a strange quirk of physics, 2024 arrives in Ireland at exactly the same time as it does England. So it's fitting that The George will have live Irish music playing in the new year (till 1.30am!) with the option to start your night with a three course dinner (and a little fizz on arrival).
Details: 55 Great Portland Street, Fitzrovia, W1W 7LQ | £10-100
–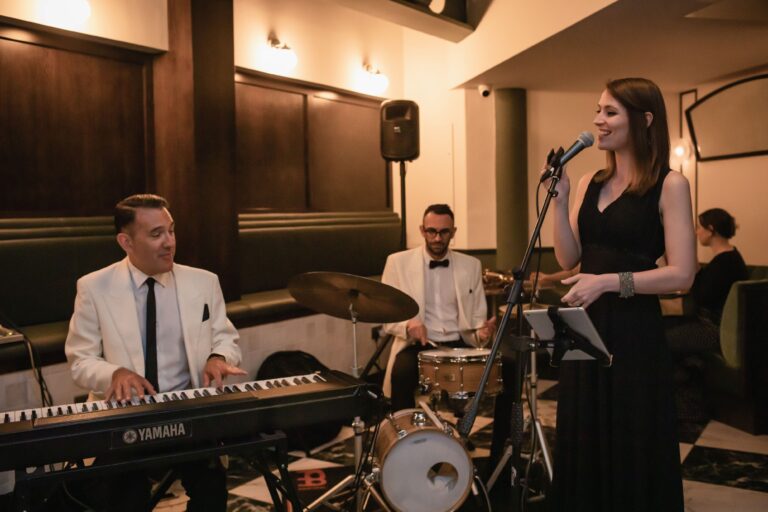 To celebrate the pasta year, the Lina Stores restaurants in Marylebone and King's Cross are hosting five-course blow-out banquets of 30 egg yolk tagliolini & black truffle; burrata; sirloin steak and more, all to a soundtrack of mood-setting live music, and bookended with glasses of Prosecco. Then as the evening wears on, you'll be serenaded by DJs playing Italian tracks, plus there's a tombola (it's Italian!) with some truly delicious prizes up for grabs…
Details: 13-15 Marylebone Lane, W1U 2NE | 20 Stable Street, N1C 4DR | £100+
–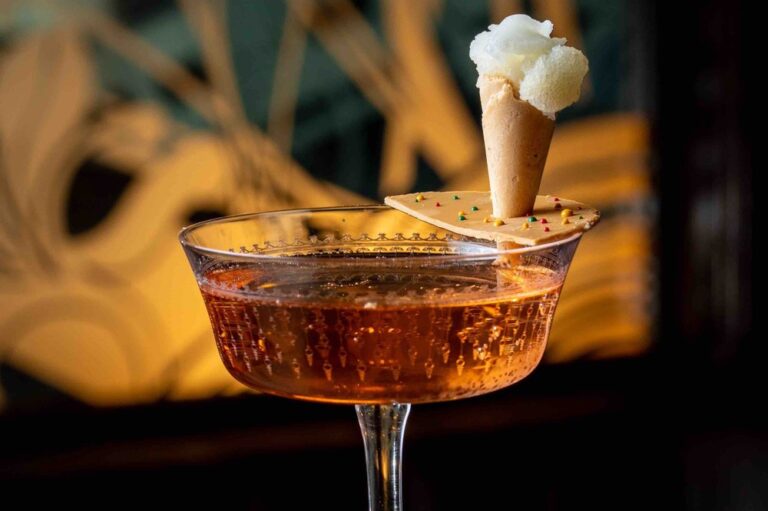 Nightjar Shoreditch is seeing out 2023 the way everyone should: welcome Champagne cocktails with a teeny, tiny tiny little ice cream on the side. And it only gets better from there – you'll get to enjoy a cheese or charcuterie board while the Miss Jones trio serenade you with live blues & vintage swing.
Details: 129 City Road, London, EC1V 1JB | £90

ROOFTOPS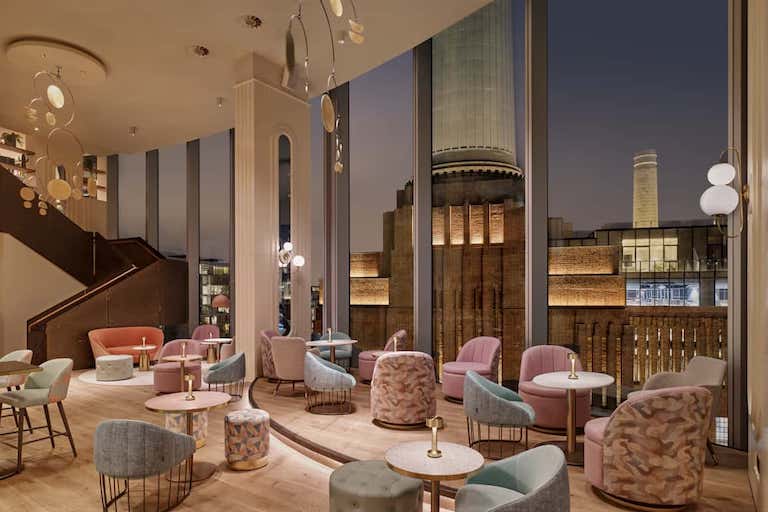 Do you want to tell your grandchildren about the time you didn't spend NYE on a rooftop bar right next to Battersea Power Station, sipping Champagne as the fireworks went off? Didn't think so.
Details: art'otel London Battersea Power Station, 15th Floor, 1 Electric Boulevard, London SW11 8BJ | £150+
–
New Years Eve Celebration at The Nest
Perched at the top of the Treehouse Hotel in Marylebone is The Nest, which has some of the most dazzling views in London. You'll be handed a glass of Moët & Chandon on arrival, before spending the rest of the night bopping to guest DJ Max Menaged (fresh from spinning at KOKO and for Louis Vuitton), while soaking up the glittering 360º panorama.
Details: 14-15 Langham Place, London W1B 2QS | Min. spend £100pp
–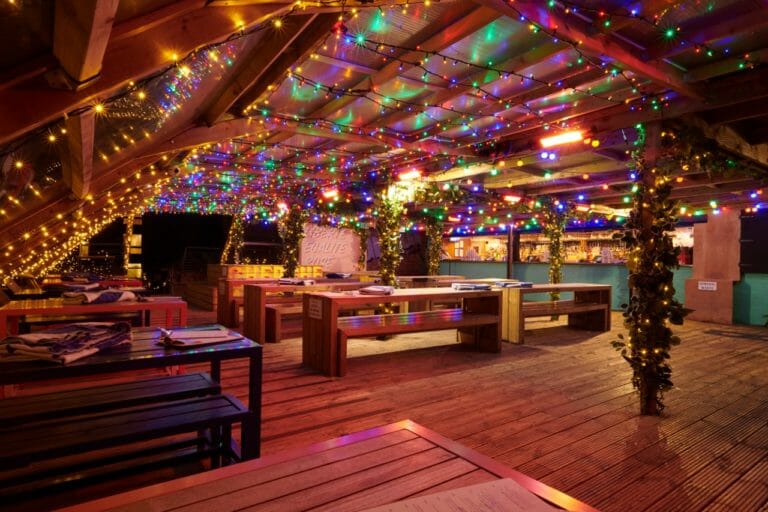 Being on a rooftop in Waterloo on NYE has the advantage of giving you a great view of the annual fireworks display that lights up the river – and being on this particular Waterloo rooftop has the additional benefits of unlimited drinks, a live band, and canapés too.
Details: Rooftop of Mercury House, 109-117 Waterloo Road, London, SE1 8UL | £167
–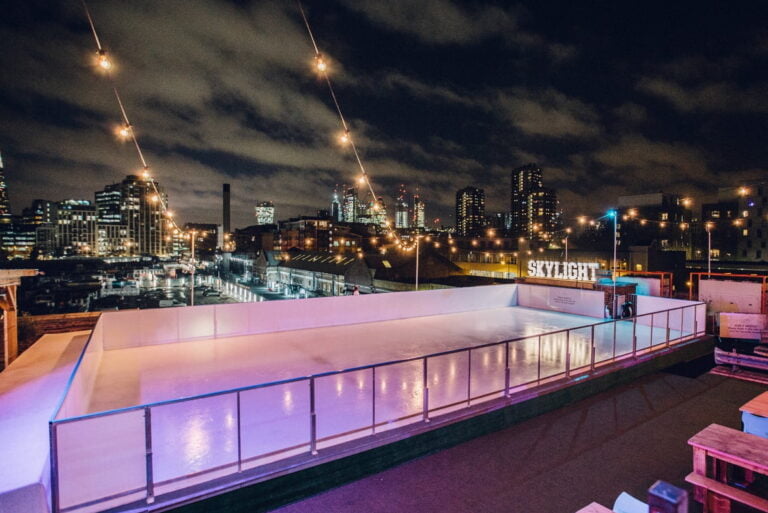 Skylight surveys a large panoramic sweep of the City skyline, and packs enough space for roughly 600 vertigo-immune punters, across both indoor and outdoor spaces – and that makes for a pretty great atmosphere for an NYE party. Particularly when you include the raclette, the rooftop ice skating, the photobooth, the DJ, and the Champagne.
Details: Tobacco Dock, London E1W 2SF | £45 or £799+ for a heated igloo for the night
NOTE: The London New Year's Day Parade starts at a respectable 12pm on the 1st of January, and will feature an incredible line-up of over 10k performers from across the globe. Might do something for that hangover, too.
---
Fancy bar-hopping on NYE? Check out the best bars in Central London…