Brick Lane | Where To Eat, Drink & Be Merry On This Iconic London Street
It's hard to believe that in the 16th century, Brick Lane was but a humble country path bordered by brick-firing workshops.
It's really built up over the years.
Historically, this Spitalfields street was in one of the most deprived areas on the outskirts of London, with huge families crammed into tiny terraced houses. But it was also one of the most spirited, with a thriving philanthropic movement establishing everything from free schools and libraries to soup kitchens feeding 6,000 mouths a day. And in the 18th century it began weaving its unique tapestry of migrant cultures, with the arrival of Huguenot refugees (French Protestants who literally were weavers), followed by hundreds of Irish people driven over by the Potato Famine of the 19th century; Jewish families escaping persecution in the early 20th century; and finally growing into the cultural hub of London's Bangladeshi community.
It's this rich, multicultural heritage that gives Brick Lane or 'Banglatown' its vibrant character today, and a walk down the narrow, cobbled street will take you past some of the capital's finest curry houses interspersed with Jewish beigel shops, street food markets, vintage stores and cafés.
The closest tube stops to Brick Lane are Aldgate East (District, Hammersmith & City lines) and Shoreditch High Street (Overground). You can generally follow your nose (quite literally), but if you're after a little guidance, here's our pick of the best places to eat & drink and things to do in Brick Lane.
---
Jump to: BRICK LANE BARS | THINGS TO DO | BRICK LANE MARKETS
---
WHERE TO EAT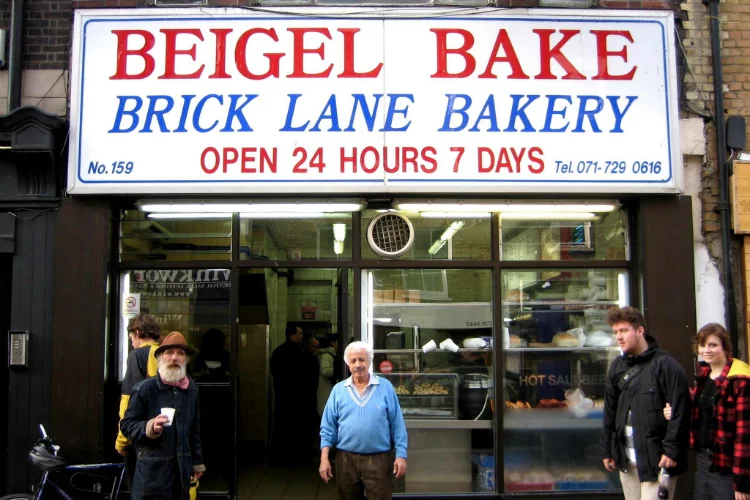 You don't need us to tell you that beigels are delicious – and this is where to get them. Serving up salt beef or salmon and cream cheese sandwiched between freshly baked dough, and all with change from a fiver, this classic bakery has been a local favourite since 1976. And they've stayed open pretty much continuously since – it's open 24 hours a day, 7 days a week, making it one of the best late night restaurants in London for a post-clubbing in Shoreditch feed.
Details: 159 Brick Lane, E1 6SB | Open 24/7 | More cheap eats in London
–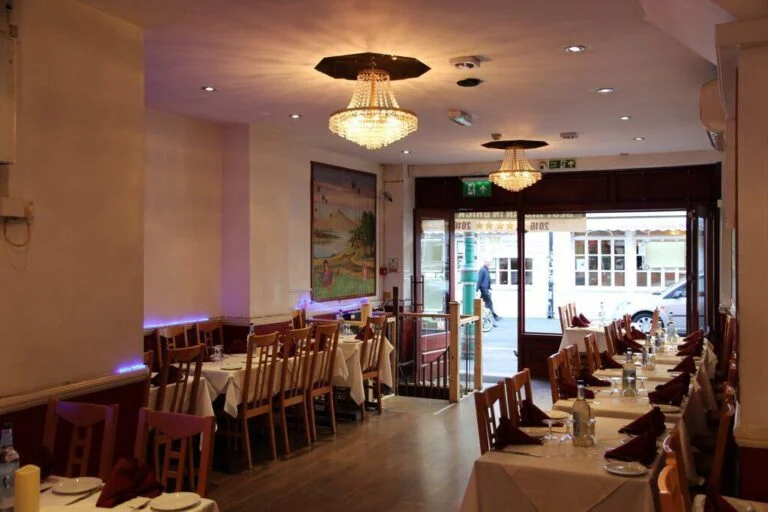 If its fame hasn't quite reached you yet, rest assured that TFCB lives up to its name – cheery staff and good value meals are the order of the day at this classic Brick Lane curry house. Book online for BYO with no corkage (Mon-Wed), or plump for their set menu, which will net you a starter, main and naan for under £20 – it's all lip-smacking, delicious grub.
Details: 77 Brick Lane, E1 6QL| Book here
–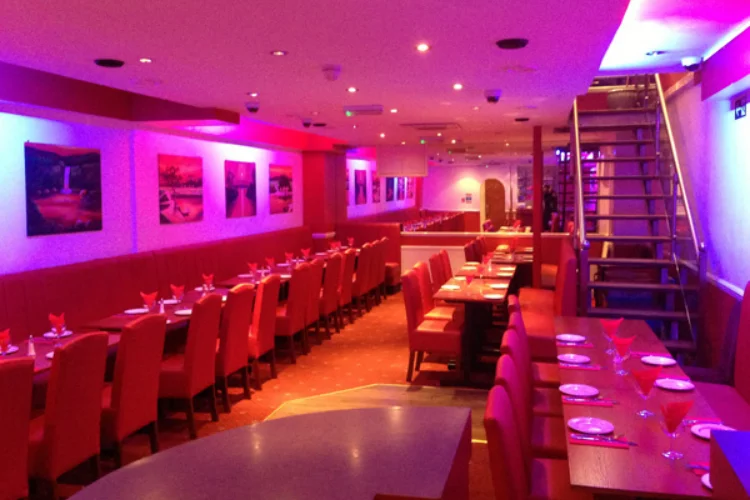 Prepare to have all your wishes granted at this long-standing curry house, so long as those dreams involve smashed, spiced potato coated in breadcrumbs and fried; flaky, buttery roti; flavoursome tandoori chicken; and four floors of neon-pink lit dining. And frankly, why wouldn't they. You can also enjoy free corkage, and a 20% discount if you book online.
Details: 132 Brick Lane, E1 6RU | Book here
–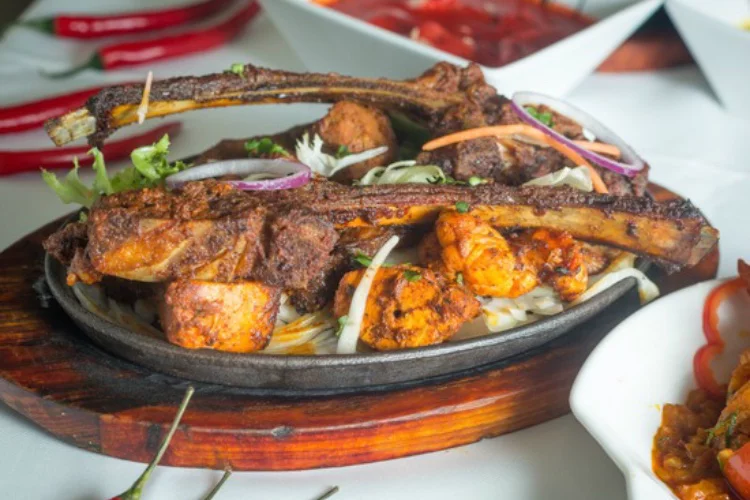 Bengal Village is a favourite of the broadsheet restaurant critics, and for good reason – top dishes here include tender slow-cooked garka lamb, scorched seekh kebabs and the Bangladeshi fish specialities. Smart, spacious dining rooms and long tables make it a perfect spot for groups.
Details: 75 Brick Lane, E1 6QL | Book here
–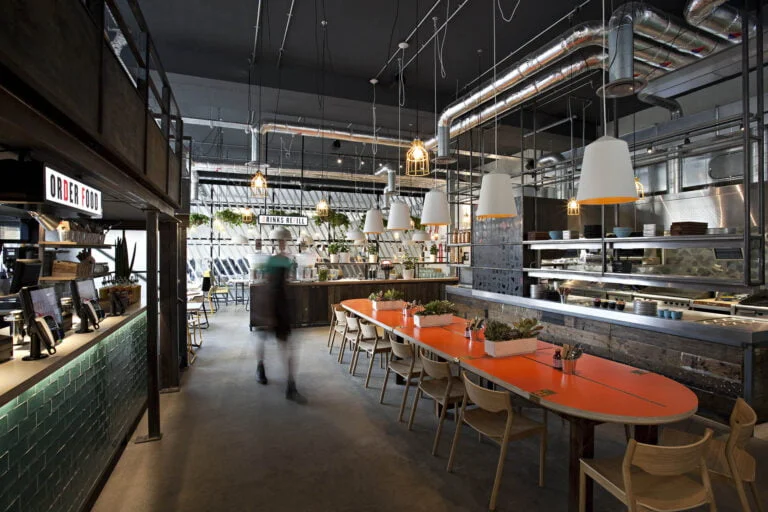 Sure, Mexican food might not be the first thing you think of when you think Brick Lane, but this casual spot from the Wahaca founders offers just enough intrigue to tease you away from a traditional curry. Taking over a brutish, industrial part of the Old Truman Brewery site, it serves Mexican-via-California dishes like buttermilk chicken tacos; burger-styled 'tortas' filled with shredded pork and pink pickled onions; creamy feta sweetcorn; and more.
Details: The Old Truman Brewery, 91 Brick Lane, E1 6QL | Book here
–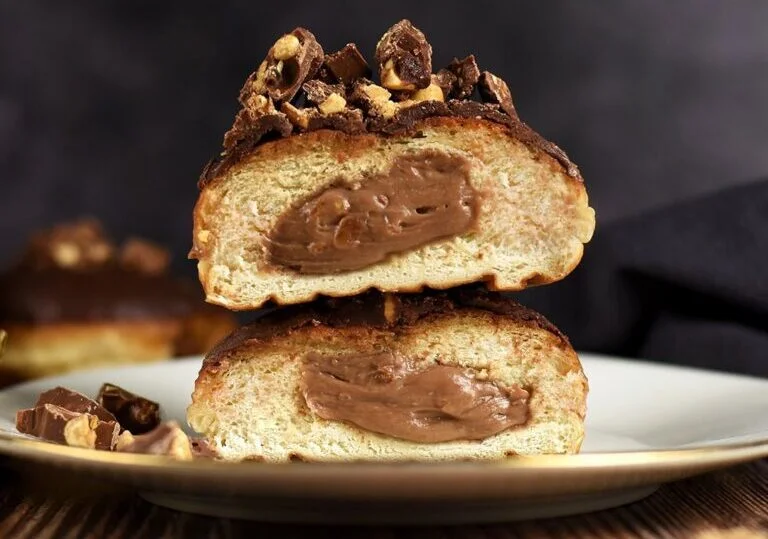 Sandwiched between the two beigel shops, Crosstown is filling the other carb-shaped hole on Brick Lane: doughnuts. These are made with sourdough and feature fillings that span from the tried-and-tested classics (homemade raspberry jam and Sri Lankan cinnamon sugar) to more left-field options like pandan and blood orange. Look out for seasonal specials (like pumpkin cake stuffed with dulce de leche during Autumn), and if limits don't exist in regards to your sugar intake, they do their own ice cream, cookies and chocolate too.

Details: 157 Brick Ln, London E1 6SB
–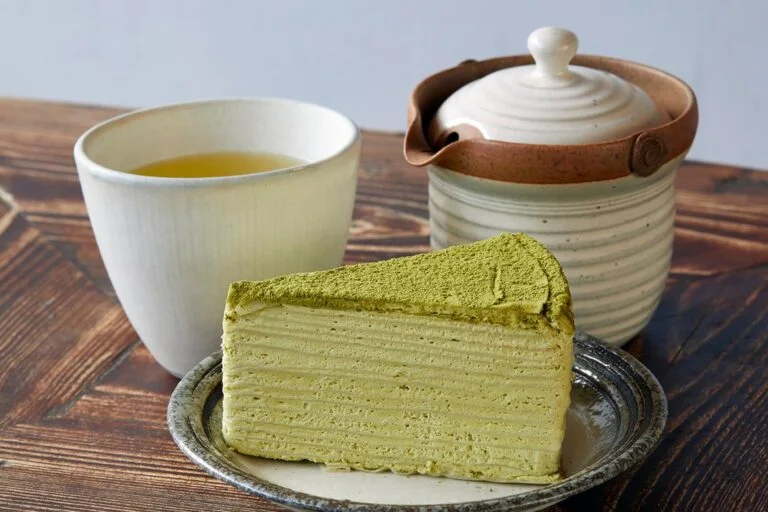 A completely charming Japanese tearoom, from the founders of Katsute100 in Islington. This café serves amazing loose leaf teas imported directly from Japan (try the one with mountain grape) and elegant patisserie (like this matcha mille-feuille crepe cake), which you can even enjoy in the authentic tatami room in the basement…
Details: 147 Brick Lane, London, E1 6SB | More info
–
Opened by the team behind The Famous Curry Bazaar (that we indeed mentioned earlier in the guide), The Monsoon is another excellent, quintessential Brick Lane curry house. Fragrant Bangladeshi dishes mopped up with hot, crispy naans and washed down with mango lassi combined with late hours, BYOB, and an eternally convivial atmosphere make it one of the essential spots on the strip.
Details: 78 Brick Lane, E1 6RL | Book here
–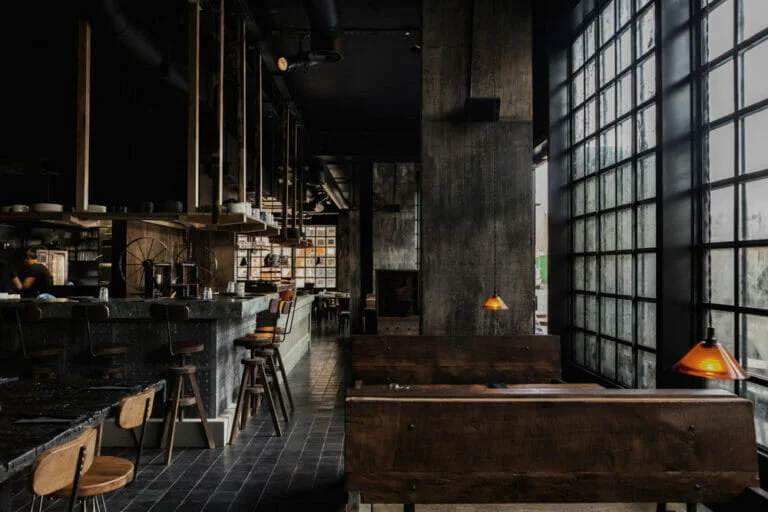 Dastardly handsome industrial interiors. Chefs doubled over the wood-burning smoker, retrieving charred hunks of 15-hour smoked brisket. Said brisket available to take away, whole, in its very own gift box. There are very few areas in which Smokestak could improve. Just go.
Details: 35 Sclater Street, E1 6LB | Book here
–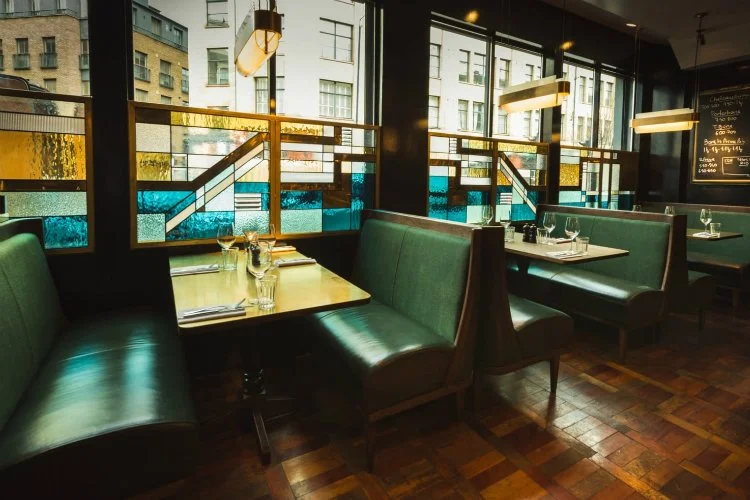 Fresh from a reboot with art deco windows, racing green leather booths and olde worlde maps, the original Hawksmoor is back at the top of the pile. Refined without being fussy, warm without being casual, it's still one of the best steakhouses in London, serving Ginger Pig-reared, dictionary-thick steaks accompanied by all the trimmings (triple-cooked chips, buttered English greens and bone marrow gravy).
Details: 157a Commercial Street, E1 6BJ | Book here
–
---
GREAT BARS NEAR BRICK LANE
Unsurprisingly, seeing as it's on the fringes of Shoreditch, there's a host of spots for late-night drinking on and around Brick Lane. A few choice highlights include:
–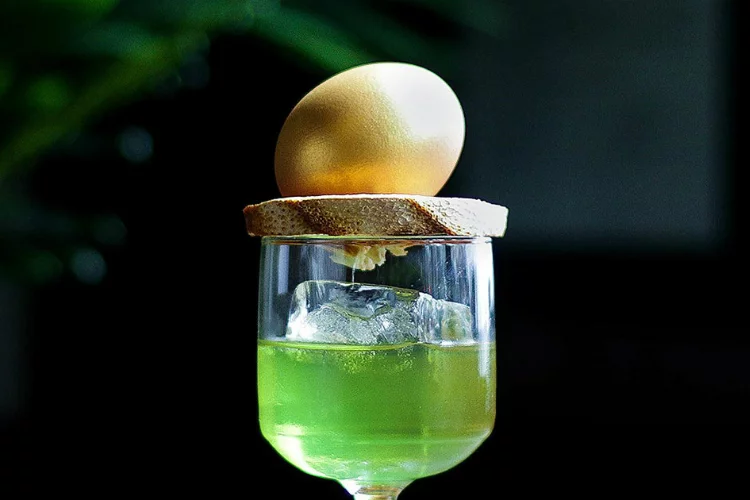 Decked out with rustic stone flooring and seductive dark woods, this creative mixology lair is Brick Lane's spot for an unusual tipple. From a bar stocked with over 400 different bottles (including 'extraordinarily rare' numbers like cola liqueur and German whisky) and their on-site distillery, the barkeeps here knock up intriguing concoctions like the Bag O' Chips (served in a crisp packet) for £12 a pop.
Details: 68 Bethnal Green Road, London, E1 6GQ | Book here (Fri-Sat walk-in only)
–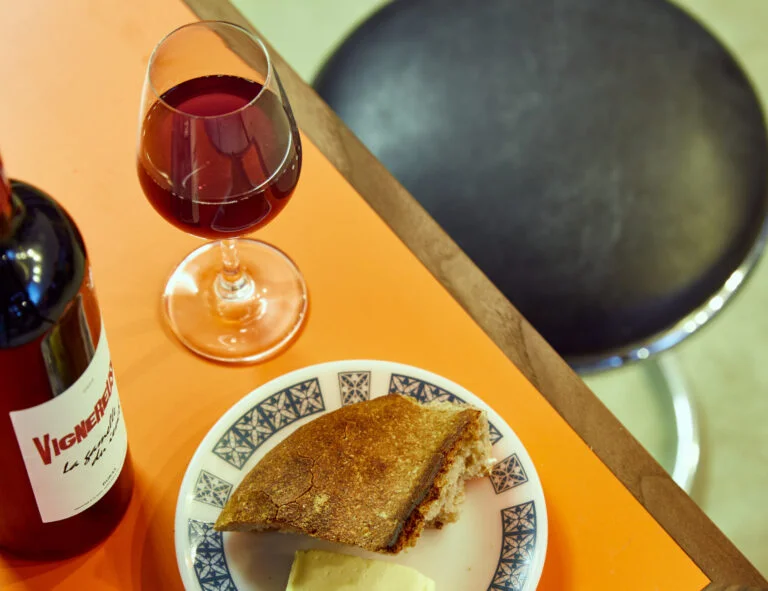 Oranj isn't your typical London wine bar – and not just because they spell orange the Romanian way. Having first built a rep as an online delivery service/lockdown saviour for those in need of their natural wine fix, they're now tackling the offline world in an industrial 20,000sq warehouse where you can pair food from rotating kitchen residencies (so far guests have included Decatur, Sarap, and Ha's Đặc Biệt) with juras, whites from Catalonia, lambic beers and orange wines. Naturally… 
Details: 14 Bacon St, London E1 6LF | Book here
–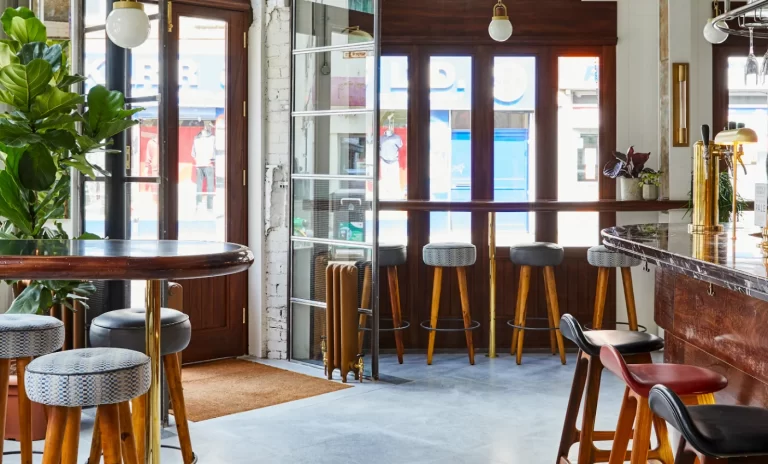 A beautifully renovated tavern from the team behind Spitalfields stalwart, The Culpeper. The ground floor is a pub and restaurant, with craft beers on taps, a cellar of natural wines and plenty of expertly rendered signature cocktails. Upstairs, you'll find boutique hotel rooms and the guest-only rooftop terrace… with a hot tub. All we're saying is, if the night lingers on you definitely have options.
Details: 42 Osborn Street, E1 6TD | Book here
–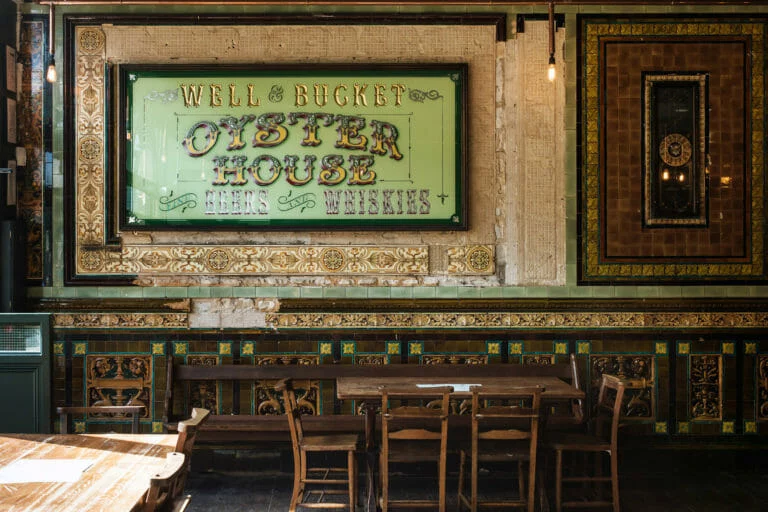 A crumbling drinking den and oyster house right at the head of Brick Lane, smattered with original features, patinated mirrors and peeling wallpaper. The bar's well stocked with interesting beers and wines, and it's a gloriously atmospheric spot for a drink at any time of day.
Details: 143 Bethnal Green Road, E2 7DG | Book here
–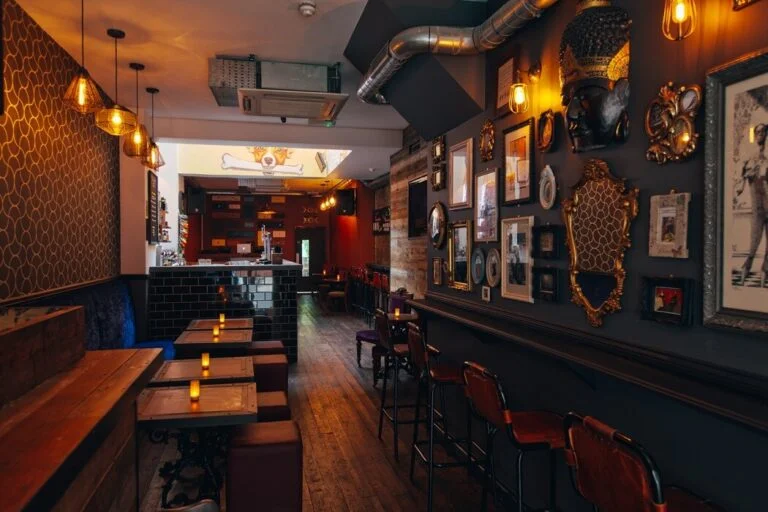 Your best bet for dancing, live music, and general silliness. Occupying a brick-walled, cavernous den filled with artwork (and an outdoor space round the back), it's an unpretentious spot serving twists on classic cocktails, including a banana and chocolate-laced vodka concoction served in a glass smoking pipe. There's acoustic music sessions by day, and by night a roster of guest DJs spin 80s and 90s classics.
Details: 26 Osborn Street, E1 6TD | Book here
–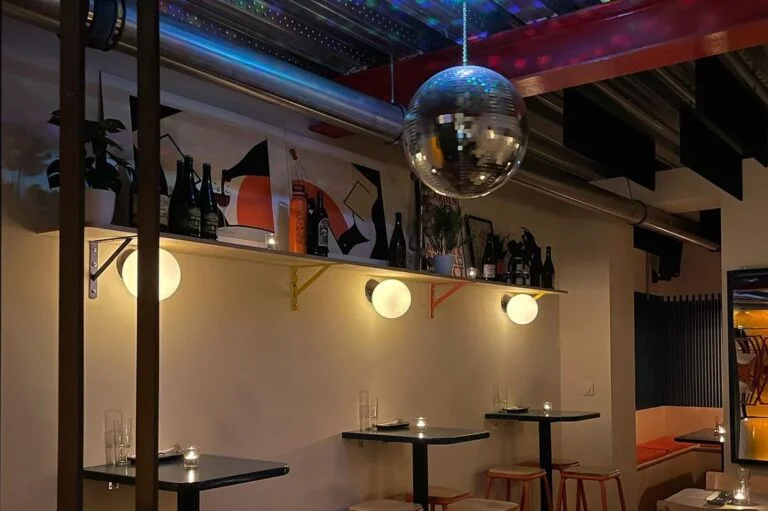 Cave Cuvée is one of London's best natural wine bars, split between dedicated bottle shop (that also sells deli items like chilli oil from My Neighbours The Dumplings and jars of Asian condiments from White Mausu) and a stripped back, subterranean dining area where you can sip your Chin Chins, Pet Nats from Australia or perhaps a skin-contact pinot gris from Supernature, alongside small plates and oysters. They also do masterclasses and tastings (hosted by the staff, who are absolute experts in the field) so by the time you leave, you'll be a complete natural…
Details: 250a Bethnal Green Road, E2 0AA | Book here
–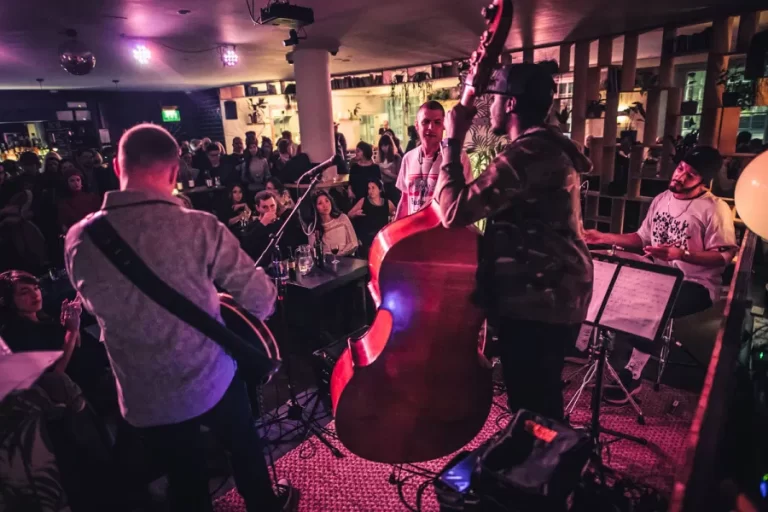 At Ninety One Living Room, you can get some work done during the day; ease into the night via small plates, burgers and cocktails; and then, later on in the night, let your hair down to jazz and live music when they fire up their world class sound systems, and clear the tables and chairs to make way for the dancefloor. The best part? No washing up.
Details: 91 Brick Lane, London, E1 6QL | More info
–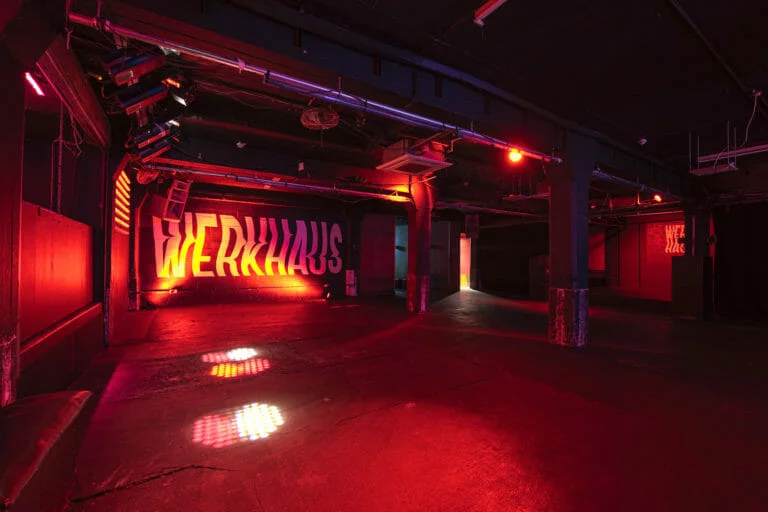 Housed in the Old Truman Brewery complex, Werkhaus is an industrial club venue dedicated to reviving live music in East London. When there aren't bands taking to the stage, though, they fill the space with house and techno, spun by DJs over a Funktion-One sound system.
Details: 85 Brick Lane, E1 6QL | Find out what's on here
–
---
Looking for more drinking spots nearby? Check out our guide to the best bars in Shoreditch
---
THINGS TO DO ON BRICK LANE
Go on Strike at All Star Lanes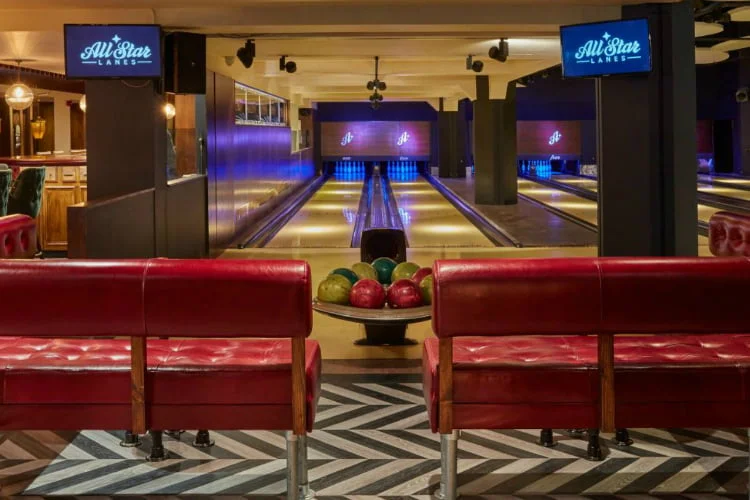 Swap Brick Lane for bowling lanes at Shoreditch's preeminent purveyor of retro bowling, with glossy 50s American decor; a photo booth; a diner; karaoke rooms; cocktails; and – crucially – non-sweaty shoes.
Details: 95 Brick Lane, E1 6QL | Book here
–
Catch an Arthouse Film at Close-Up Cinema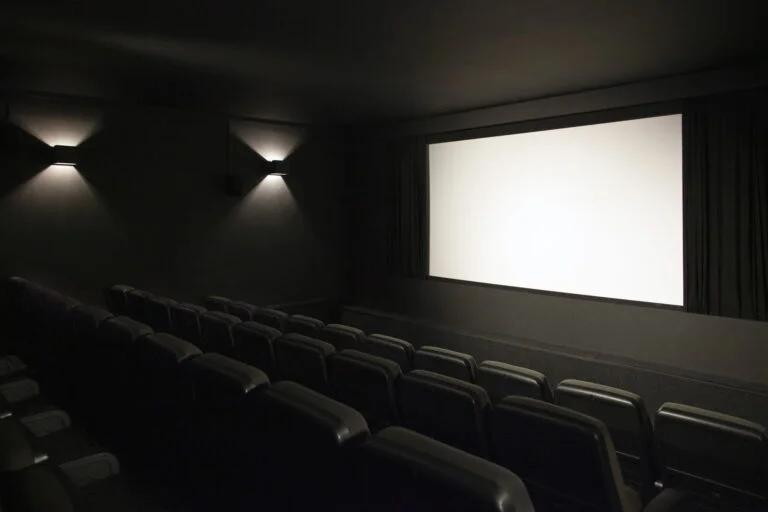 Despite the name, Close-Up Cinema isn't for the short sighted (it's got 40 seats in its near blacked-out, 35mm-equipped theatre, and you can sit at the back row for a less intense view). Instead it's a temple to arthouse film with a programme dedicated to covering early cinema, world cinema, rare movies and the classics. Besides the films themselves, directors and makers often drop-in to talk about their craft, and there's also a café and bar on-site for the pre and post film entertainment.
Details: 97 Sclater Street, London E1 6HR | What's On
–
See Amazing Art at Whitechapel Gallery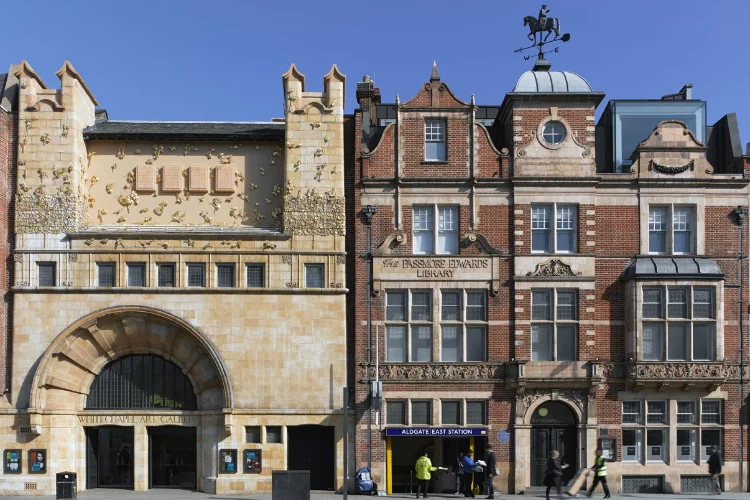 Founded in 1901 as one of the first free public galleries with visiting exhibitions, the Whitechapel Gallery is still one of the most treasured art galleries in London. It's housed the first major exhibitions of many now-famous artists, from David Hockney to Gilbert and George, and has frequent visits from the likes of Picasso, Kahlo, Rothko and more. A few years ago it expanded into the Passmore Edwards Library, doubling the exhibition space with vast, high-ceilinged, skylit rooms. Plus, there's Townsend, a fantastic modern British restaurant, attached.
Details: (At the end of Brick Lane) 77-82 Whitechapel High Street, E1 7QX | What's on
–
Get a Ride at Brick Lane Bikes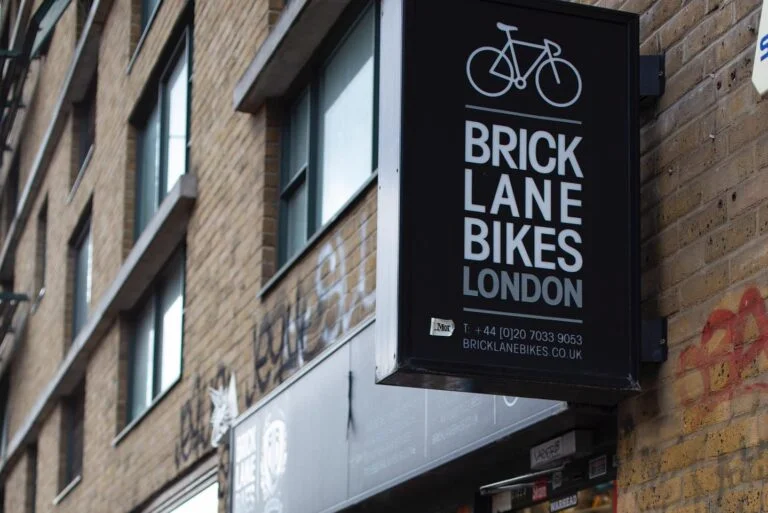 Yeah that handlebar moustache is impressive, and sure you've got a lot of outlandish, patterned socks, and that beanie collection is coming along nicely, but at the end of the day everyone knows to be a true member of the Shoreditch commuter community you need a single-speed bike. You can get one of those here, and you can also get it repaired at the workshop where they'll try to get it back to you before the end of the day…
Details: 118 Bethnal Green Road, London E2 6DG | More info
–
Hit The Vintage Shops
On Sundays, the vintage shops lining Brick Lane spill out onto the streets, with stalls decked out with leather jackets and 80s ballgowns to silk ties and 40s braces, worn cowboy boots and dainty handbags. But you can still find a second-hand bargain on any other day of the week – Cheshire Street is lined with American-style thrift stores: vast warehouses of old clothes, shoes and accessories; while you'll find cult store Rokit over on Brick Lane itself.
–
Hit That Craving at Dark Sugars
There's very little to be said after a photo like that, but the Dark Sugars cocoa house is as good as it looks: the chocolate is sourced from founder Nyanga's family farm in Ghana, roasted in the shop and turned into truffles with flavours like gin and lime; apricot brandy and cardamom & orange. Over in the café up the road, you can score hot chocolates topped with slowly melting shards of hand-shaved chocolate, by some of the friendliest people you'll ever meet.
Details: 124-126 Brick Lane, E1 6RU | More info
–
Feast on Street Food at Vegan Nights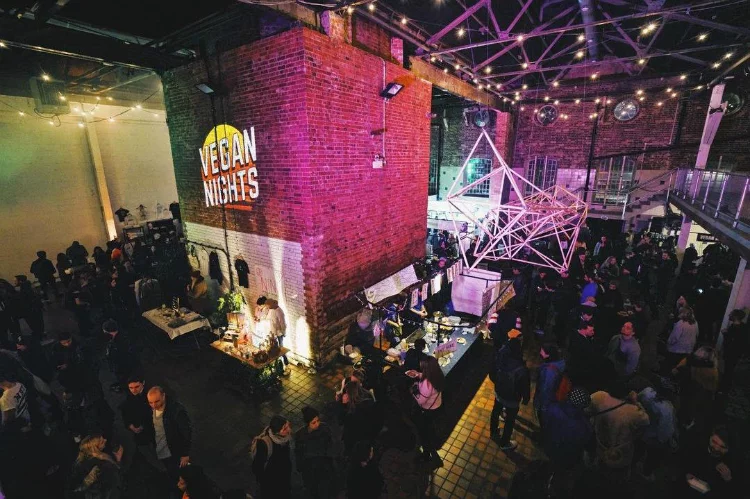 A night market-slash-party with DJs, a huge warehouse dancefloor, a fairy-lit al fresco area and over 40 traders specialising in completely vegan dishes and drinks.

Details: 150 Brick Lane, E1 6QL | Regular dates | More info
–
Explore The Old Truman Brewery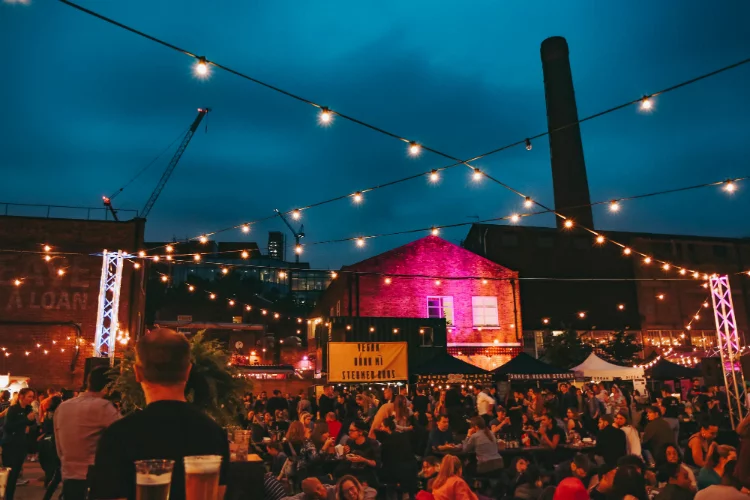 A huge complex of old brewing houses dating back to the 17th century, the Old Truman's Brewery was once the biggest brewery in Europe. Since brewing closed down in 1989, it's become a permanent home for indie businesses like the Rough Trade record store, as well as a rotating roster of events including sample sales, fashion shows, craft beer festivals, pop up exhibitions, and club nights at 93 Feet East and Café 1001.
Details: 91 Brick Lane, London E1 6QR
–
Mellow Out at the Brick Lane Jazz Festival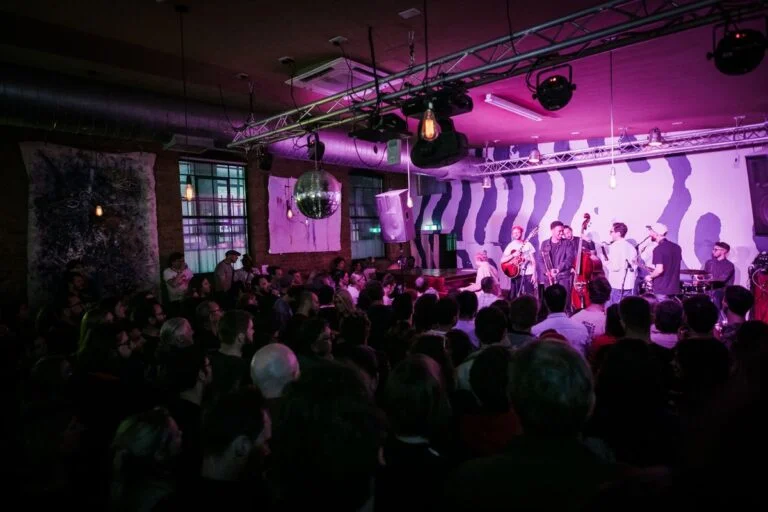 After a smash inaugural run in 2022, the Brick Lane Jazz Festival is set to become an annual occurrence, taking over seven stages at venues dotted along Brick Lane and filling them with some of the best rising jazz stars the city has to offer. And luckily, you won't need to improvise any of your plans… because there's also a load of afterparties that take place in local clubs like Village Underground.
Details: Every April | The Old Truman Brewery, 91 Brick Lane, E1 6QL
––
---
BRICK LANE MARKETS
Ely's Yard Street Food | Tucked round the back of the brewery is Ely's Yard, a daily street food market with regular traders including the Arancini Brothers, Orange Buffalo, Mother Cluckers and Mama's Jerk Station.

Details: Ely's Yard, E1 6QR | Open daily
–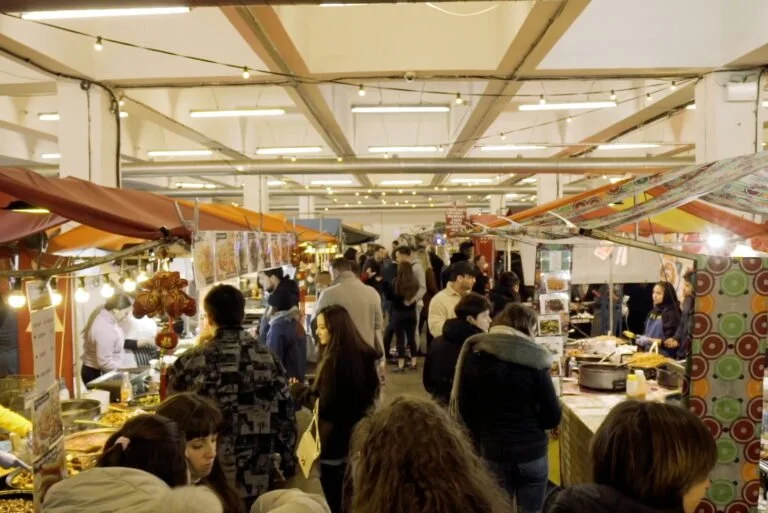 Going strong for two decades, the Upmarket has now evolved into a vast indoor food market with dishes from around the world, from Korean dak-kkochi skewers to Ethiopian injera bread.

Details: Ely's Yard, E1 6QR | Saturdays 11am-5.30pm, Sundays 10am-6pm
–
Backyard Market | Specialising in crafts, the Brewery's weekend Backyard Market houses vintage clothing, jewellery, prints, grooming products, plants and more.
Details: 146 Brick Lane, E1 6RU | Saturdays 11am-6pm, Sundays 10am-5pm
–
Open daily, this warehouse is filled with a sprawling array of stalls and boutiques touting vintage clothing from the 20s to the 90s. There's other retro goods to be found, too – from homeware to vinyl.

Details: F Block, 85 Brick Lane, E1 6QL | Open weekdays 11am-6.30pm, Sat 11am-6pm, Sun 10am-6pm
–
Tea Rooms | Finally, there's the Tea Rooms – an eclectic warren of second-hand and vintage homewares, antiques, letterpress prints, taxidermy, typewriters, handmade costume jewellery, antique china, and… ice jelly coffee.

Details: 91 Brick Lane, E1 6QL | Open Saturdays 11am-6pm and Sundays 10am-6pm


And once you've finished exploring Brick Lane?

You could hole up at one of the best restaurants in Spitalfields, pop into Spitalfields Market, or explore the rest of the neighbourhood with our Shoreditch guide.