The Best London Summer Date Ideas
If the pressure of planning a perfect date brings you out in a sweat…
…well you're going to be having a particularly hard time right now.
Fortunately, however, we've just updated our wonderful little collection of summer date ideas, from ice cream crawls to floating hot tubs, films on the canal, al fresco jazz, open air theatre, wild swimming, twilight zoo trips and rooftop croquet…
1.  Watch A Film Alfresco At One Of These Summer Pop-Up Cinemas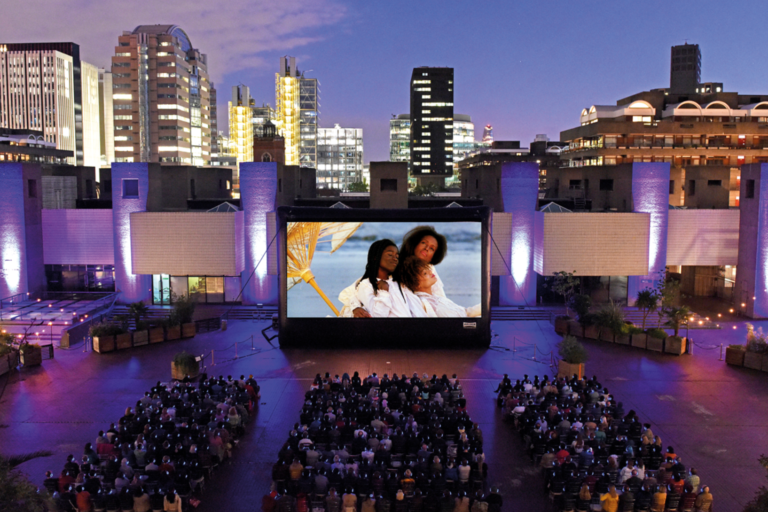 Take your pick from bottomless popcorn, BYO picnics, rooftop cinemas and more… or check out our run-down of every single outdoor film screening this summer.
–
2.  Enjoy Some Canal-Side Jazz At Grow Hackney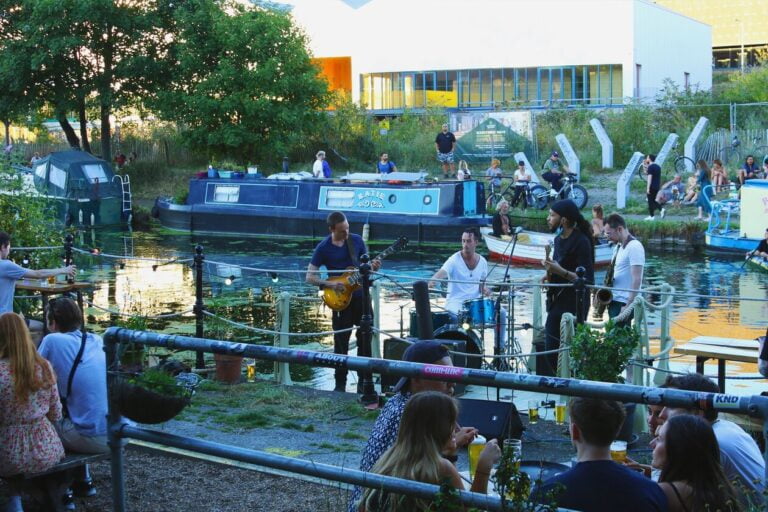 It's nearly as smooth as the bar's homemade Hackney Spiced Rum.
Details: Various dates throughout summer | Grow, Main Yard, Hackney Wick, E9 5LN | £6 | Book here
–
3.  Build Each Other Bouquets at Chiswick Flower Market
Revel in your blossoming romance… then get gelato at Foubert's.
Details: First Sunday of every month | Old Market Place, Chiswick High Road, W4 2DR | Free entry
–
4.  Go on a Rooftop Bar Crawl Hike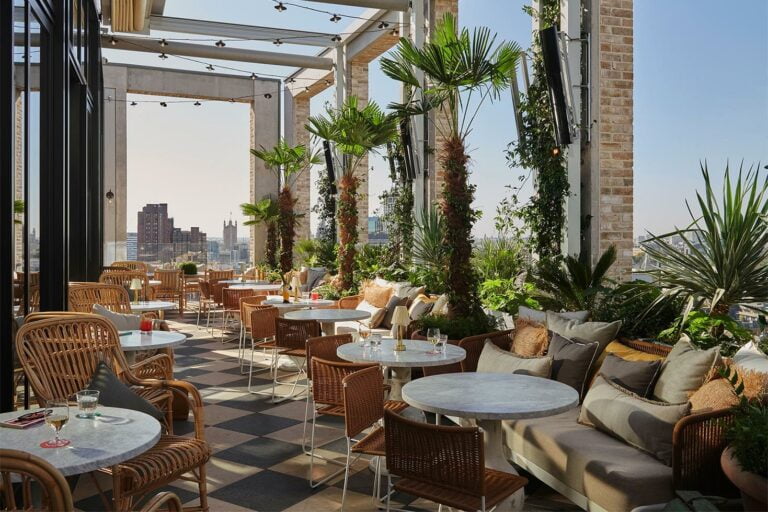 Take your relationship to dizzying new heights.
–
5. Rent a Hot Tub Boat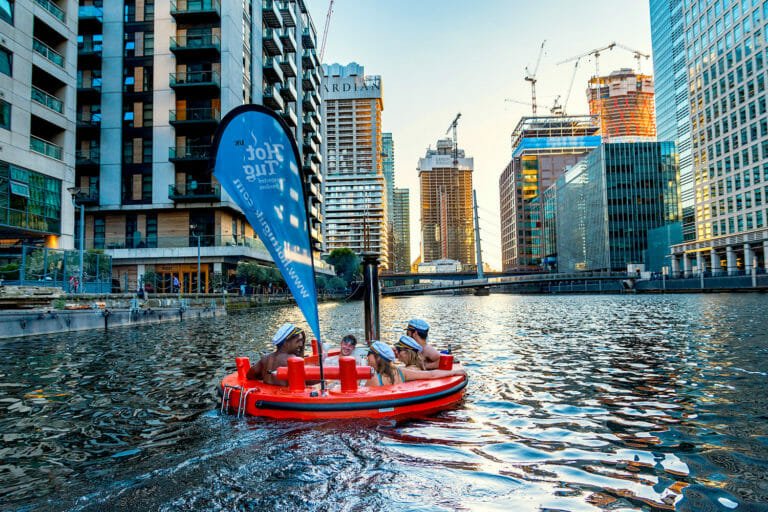 It's a boat, that's also a hot tub, guaranteeing a pretttty steamy time.
Details: Available daily | Off Hertsmere Road, West India Quay, E14 4AL | £225-250 per trip | Book here
–
6. Spend All Day at Summer By The River…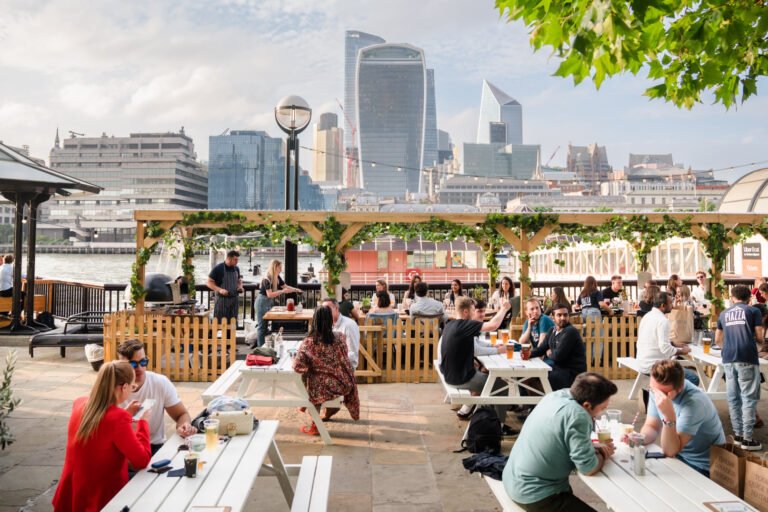 Flit from acoustic gigs to film screenings to al fresco discos without breaking a sweat…
Details: See what's on here | The Scoop at More, London SE1 2AA | Free Entry
–
7. Brush Up On Your Shakespeare At The Globe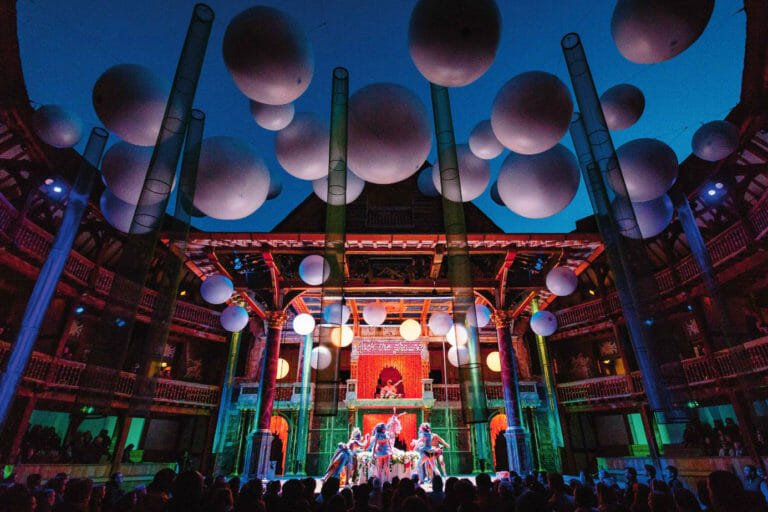 Bring a blanket and get £5 yard tickets to cuddle up under the stars.
Details: Throughout Summer | Shakespeare's Globe, 21 New Globe Walk, SE1 9DT | From £5 | Book here
–
8. Go On A Pub Crawl Around Richmond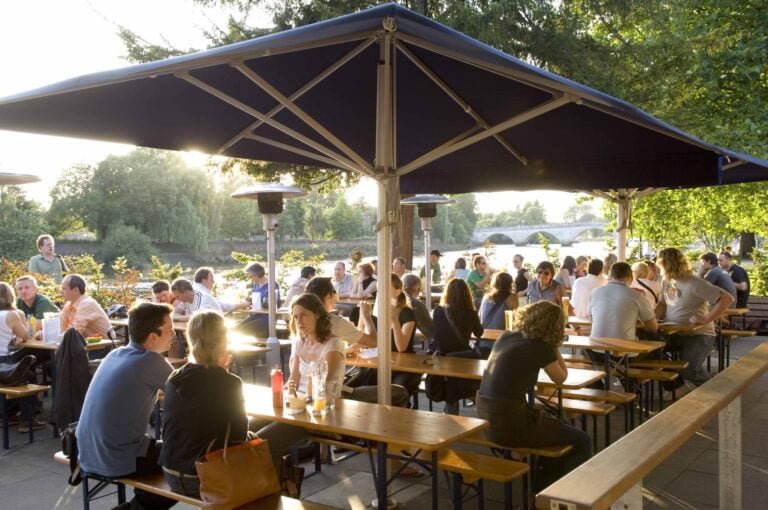 Or follow our Richmond itinerary to explore the riverside.
–
9. Toast Marshmallows at the Campfire Club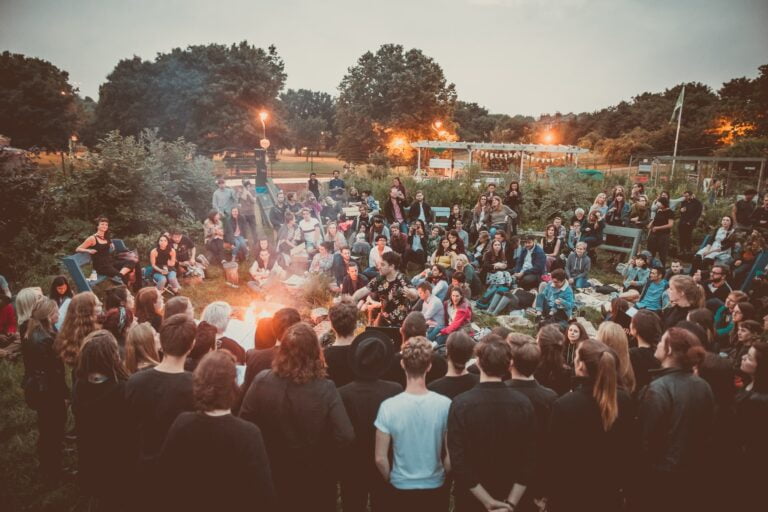 Enjoy some live music around a campfire…
Details: Various dates | Secret London Locations | £16 | Book here
–
10. See Big Name Acts at One of These London Festivals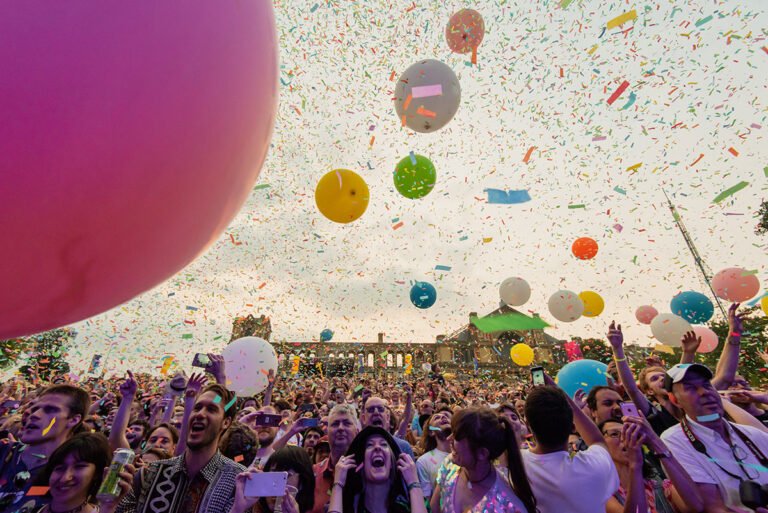 Because it's too soon to inflict your four-day wet-wipe-bath musk on each other.
–
11. Take A Boat Trip to Greenwich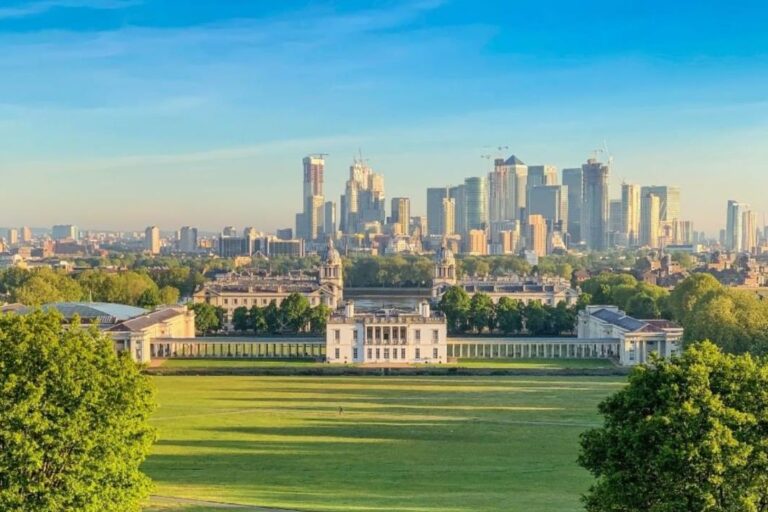 Before listening to some live jazz at the park bandstand.
Details: Jazz on various dates | Greenwich Park, SE10 8XJ | Free
–
12. Get Lost In Walthamstow Wetlands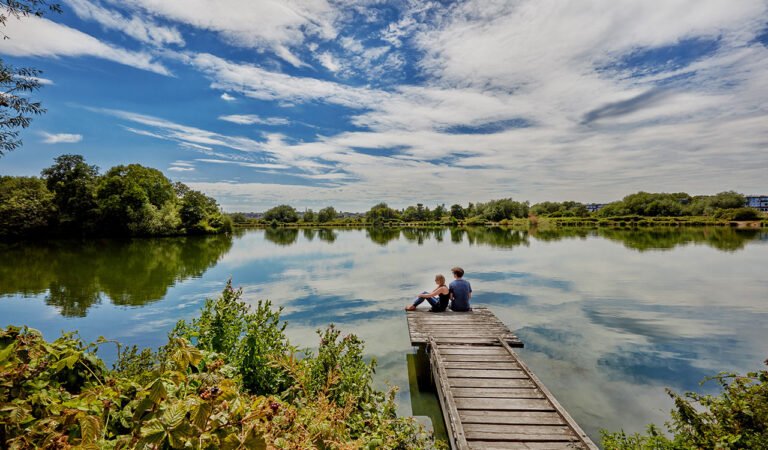 Then (re)discover each other over a cold pint along the Blackhorse Beer Mile.
Details: 2 Forest Road, Walthamstow, N17 9NH | Open daily, 9.30am to 5pm | Free entry
–
13. Complete the City's Tiniest Bar Crawl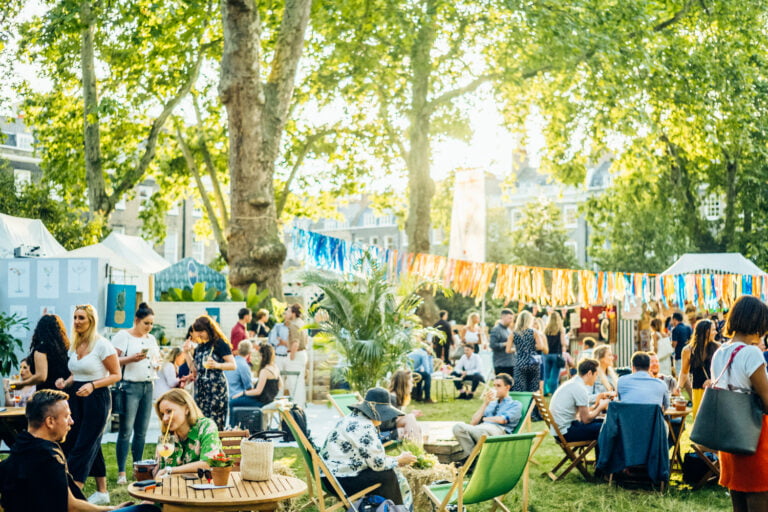 Cocktails in the City conveniently brings dozens of London's best bars together in one beautiful, leafy square. And this year, Nudge Members are going for free…
Details: July, August & Sept | Bedford Square, WC1B 3HH | £24/Free for Nudge Members
–
14. Hire A Go Boat and Sail Through Little Venice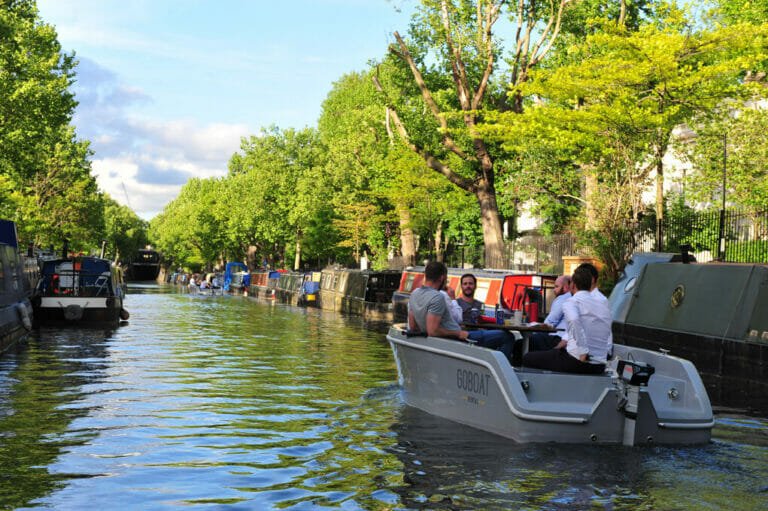 Bring a picnic… and your pooch.
Details: Available daily | Paddington, Kingston & Canary Wharf | £85+ | Book here
–
15. Grab A Coffee And Take A Stroll Around Stokey's Clissold Park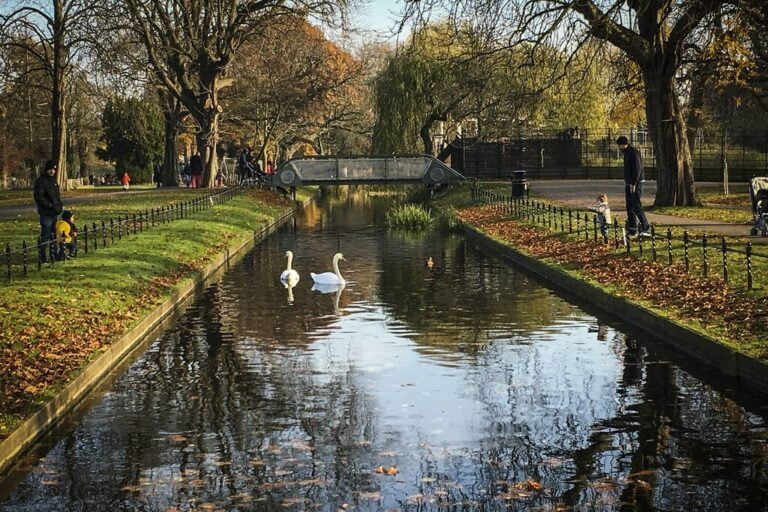 Feeling peckish? The Good Egg's got brunch (inc. babka) just down the road.
Details: Green Lanes, Stoke Newington, N16 9HJ
–
16. Test the Oysters-As-Aphrodisiacs Theory with London Shell Co.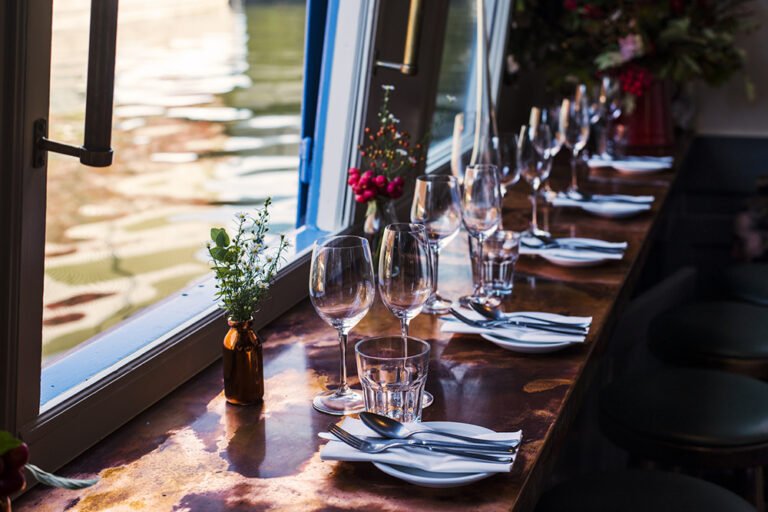 Thought the whole candlelight, sparkling wine, and London sailing past your window thing may disrupt the experiment…
Details: Cruises Wed-Sat | The Prince Regent, Sheldon Square, W2 6PY | £75 | Book here
–
17. Play It Cool With An Ice Cream Crawl Through Central London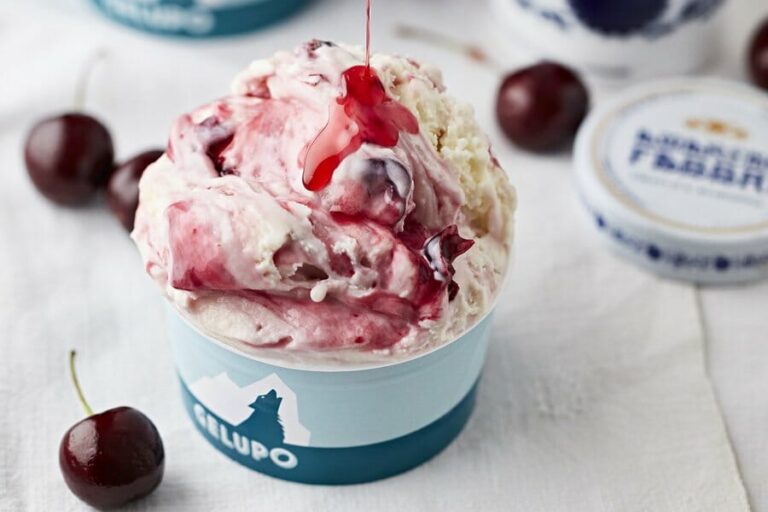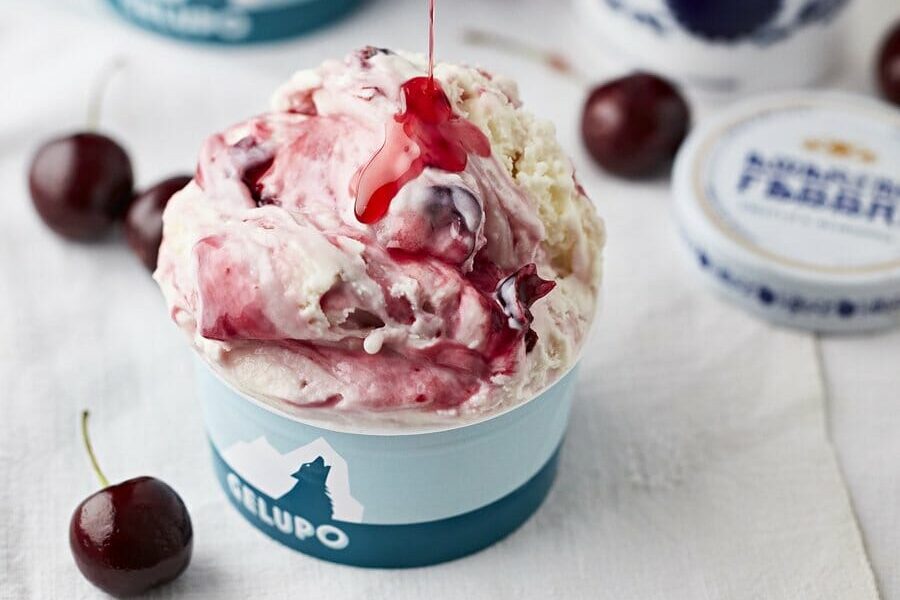 Make sure not to waffle on.
–
18. Play Croquet on a Rooftop At Skylight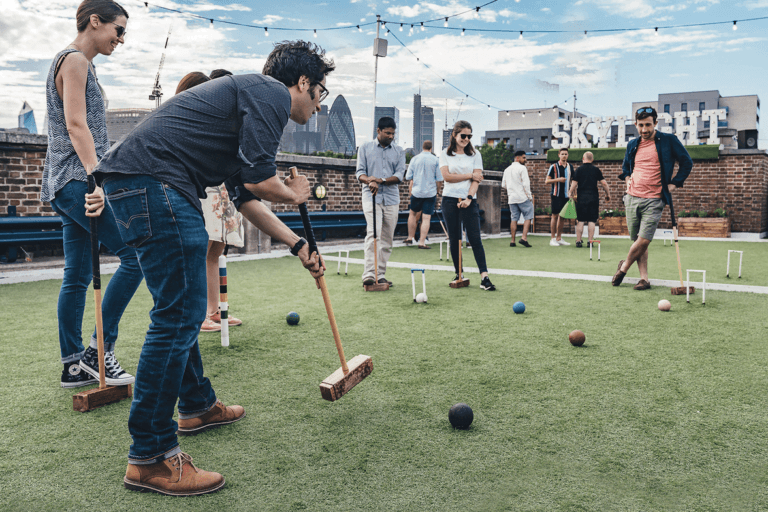 Because the stakes are automatically higher.
Details: Open Thurs-Sun | Penning Street Car Park, Wapping Lane, E1W 2SF | From £25 for 45 mins | Book here
–
19. Make a Picnic Hamper at One of London's Best Food Markets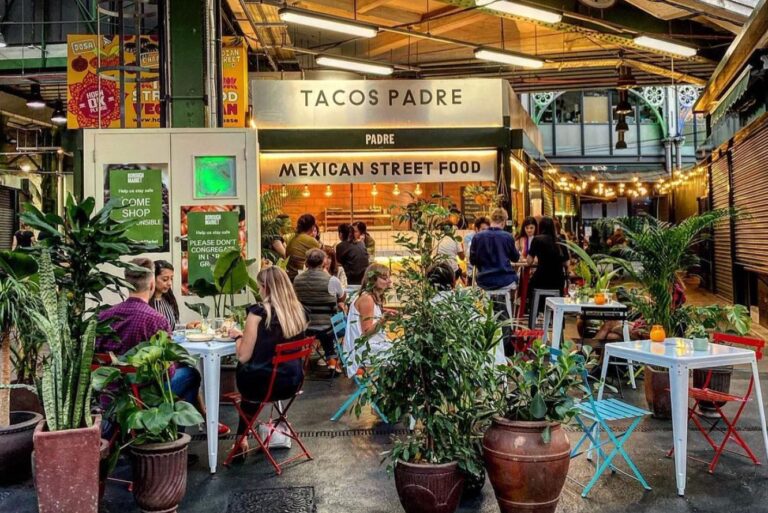 Or just cheat and get some street food hot out the kitchen.
–
20. Listen To Live Music in Dalston Eastern Curve Garden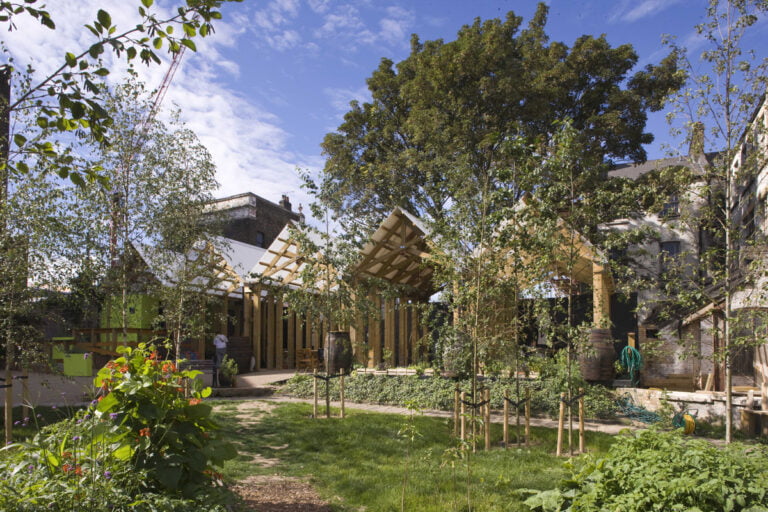 And learn how to plant seedlings…of love.
Details: Open daily | 13 Dalston Lane, E8 3DF | Free entry
–
21. Learn About The Birds & The Bees at Zoo Nights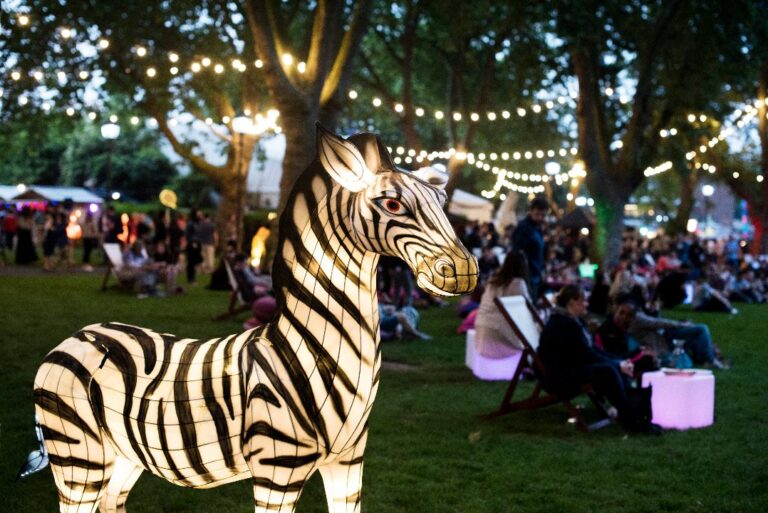 Champagne by the penguin pool and (actual) sleeping lions…
Details: Friday evenings from 9th June – 28th July | ZSL London Zoo, Outer Circle, Regent's Park, NW1 4RY | £21.50
–
22. Sip Cocktails From Coconuts At Limin Southbank
Soaked up by a little Trinidadian grill food…
Details: Open daily | Gabriel's Wharf, 56 Upper Ground, South Bank, SE1 9PP | Book here
–

23. Compete To Buy Each Other The Most Unusual Object at Spitalfields Vintage Market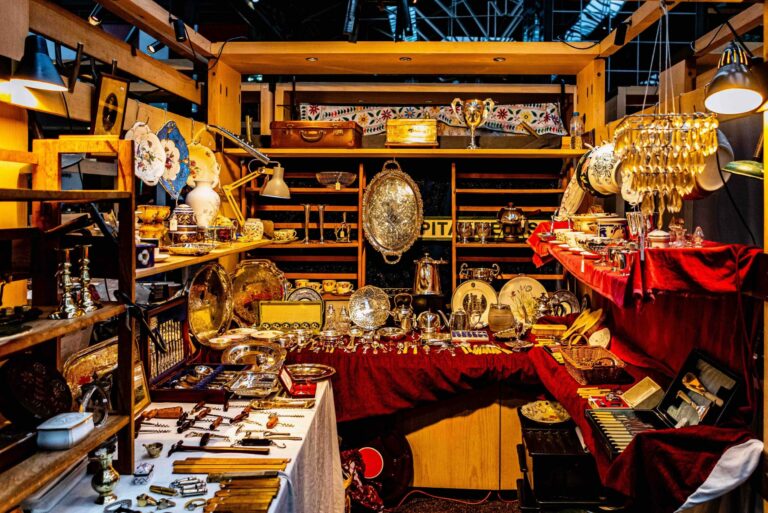 Victorian anatomical lung print? No really, you shouldn't have.
Details: Every Thursday, 8am-5pm | Old Spitalfields Market, 16 Horner Square, London E1 6EW | Free entry
–
24. Take A BBQ Boat Trip Around The City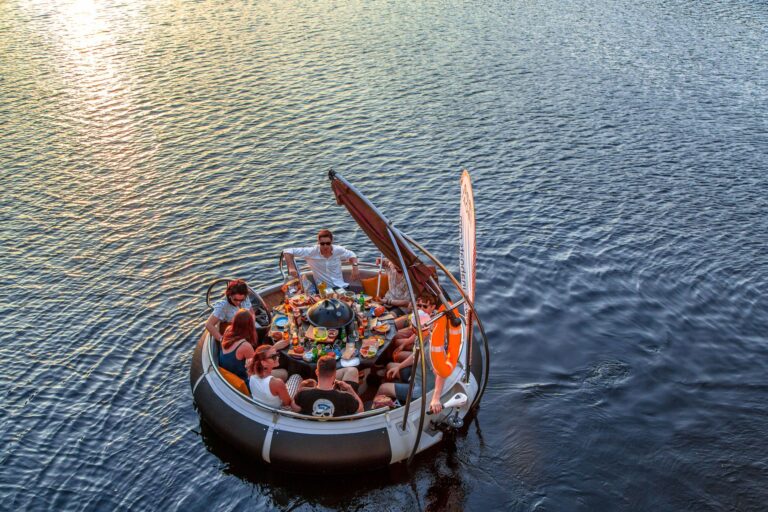 Good at cooking and sailing? Who knew.
Details: Available daily | Off Hertsmere Road, West India Quay, E14 4AL | £150-250 | Book here
–

25. Challenge Each Other To a Mini Olympics on Roof East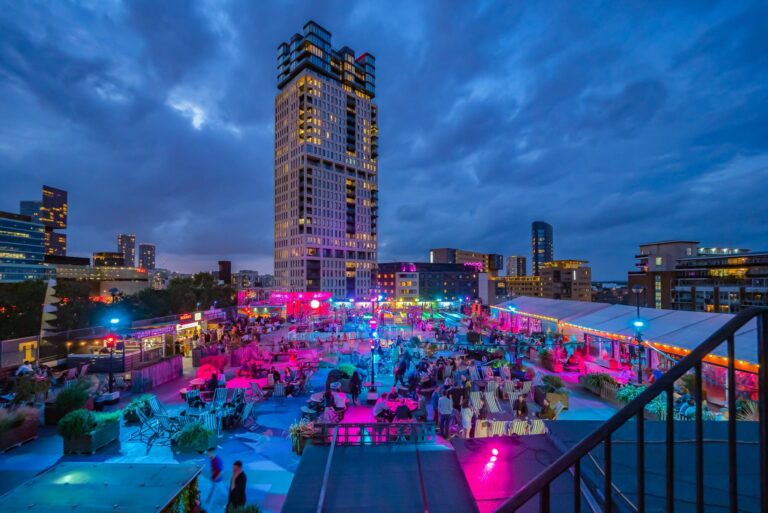 There's batting cages, disco lawn bowls, crazy golf and more…
Details: Open Tues-Sun, and bank holidays | Floors 7 & 8, Stratford Multi-Storey Car Park, Great Eastern Way, E15 1XE | Free entry – games from £12pp | Book here
–

26. Eat Al Fresco In Circolo Popolare's Hidden Courtyard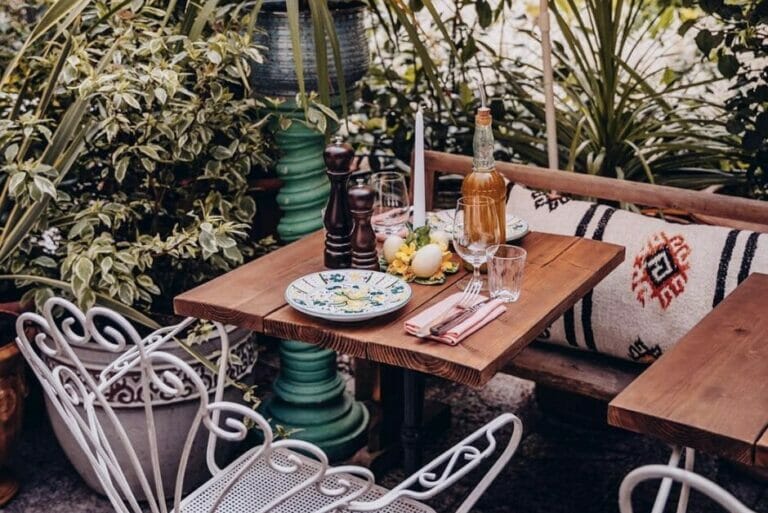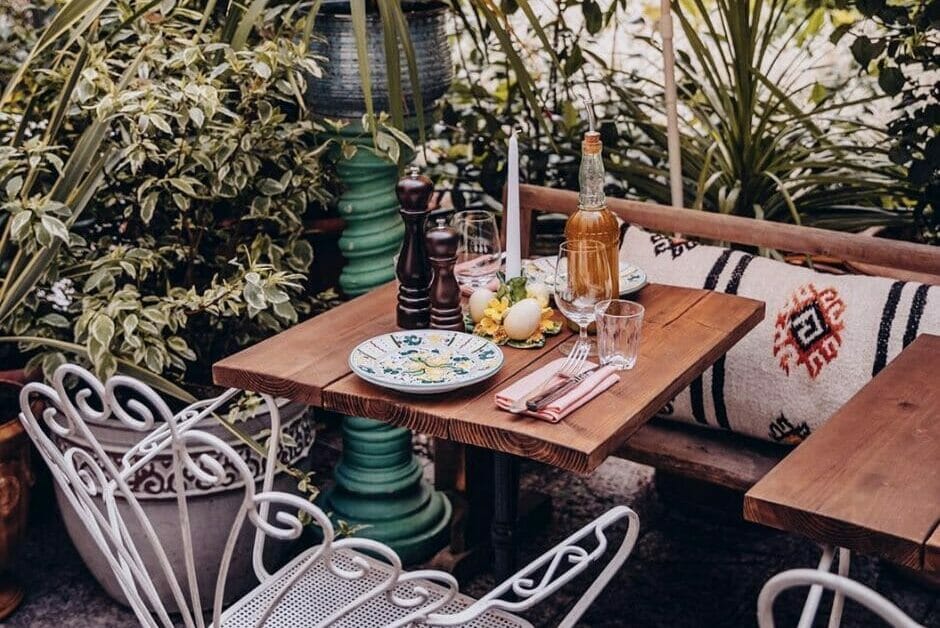 In fact….eat al fresco for EVERY MEAL, thanks to our al fresco dining guide.
–
27. Plan A Day Trip Out Of London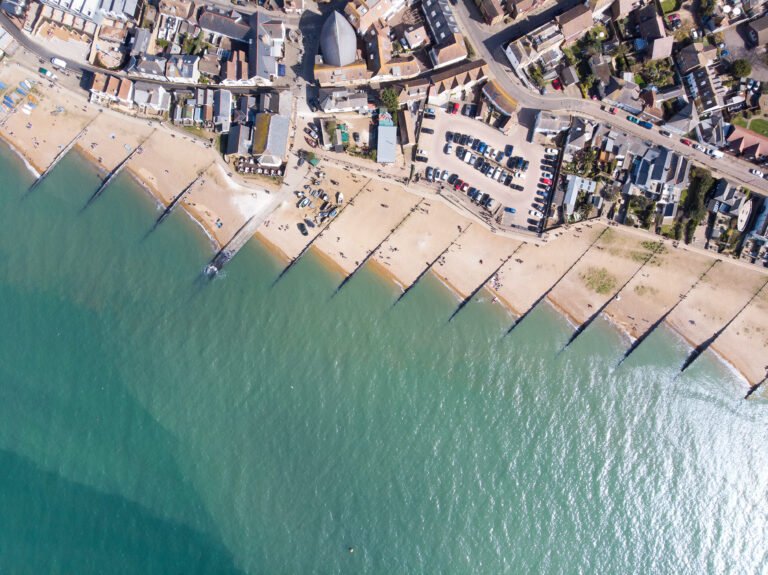 This beach is 90 minutes away….
–
28. Play Dinosaur Mini Golf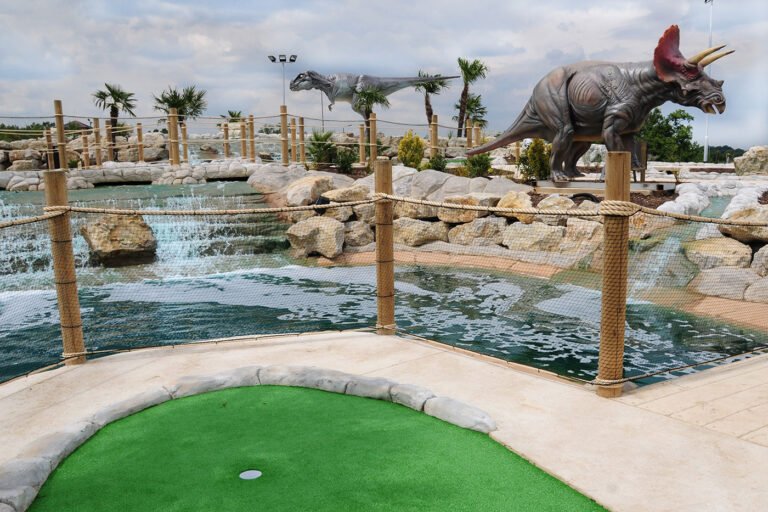 But if that's too terrifying a prospect, maybe one of these other crazy golf courses will do the trick.
Details: Dinosaur Safari Adventure Golf, A1 Golf Driving Range, Rowley Lane, Barnet, EN5 3HW | £8.25pp| Book here
–
29. Row A Boat On One Of London's Many Lakes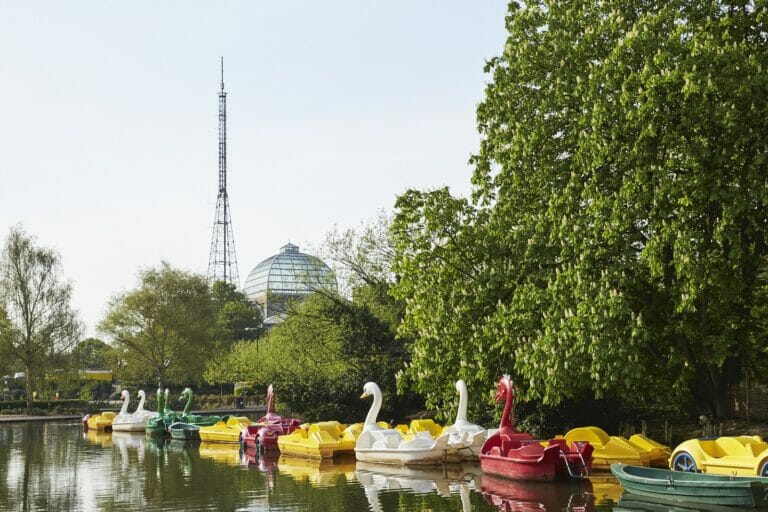 Or a pedalo, if you want a calf workout/the ability to eat ice cream while you're at it.
–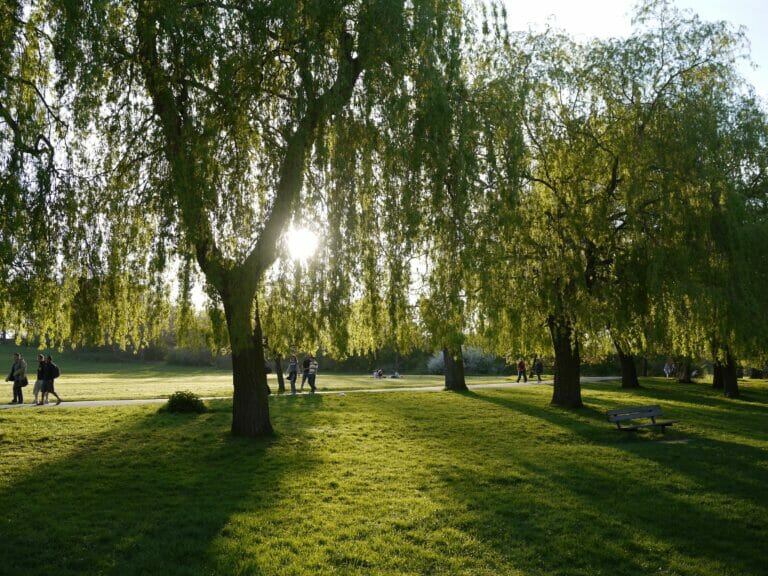 They're literally all over the city… meaning you can tie it in with a visit to the best restaurant in whichever neighbourhood you end up in.
–
31. Listen To Mozart In A Car Park At Bold Tendencies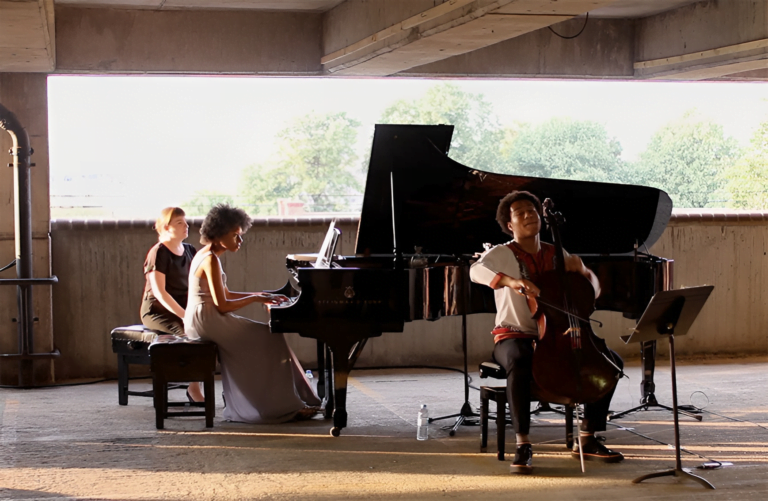 Then head upstairs for negronis at Frank's.
Details: Various Dates | Bold Tendencies, Floors 7-10, 95a Rye Lane, SE15 4TG | £6+ | Book here
–
32. Decide, Once and For All, Who Makes The Best Margarita
At the prestigious, and entirely bottomless, Margarita Rumble.
Details: 22nd July | Two More Years, 7 Roach Road, Fish Island, E3 2PA | £37.50+
–
33. Browse the Stalls at Hackney Night Market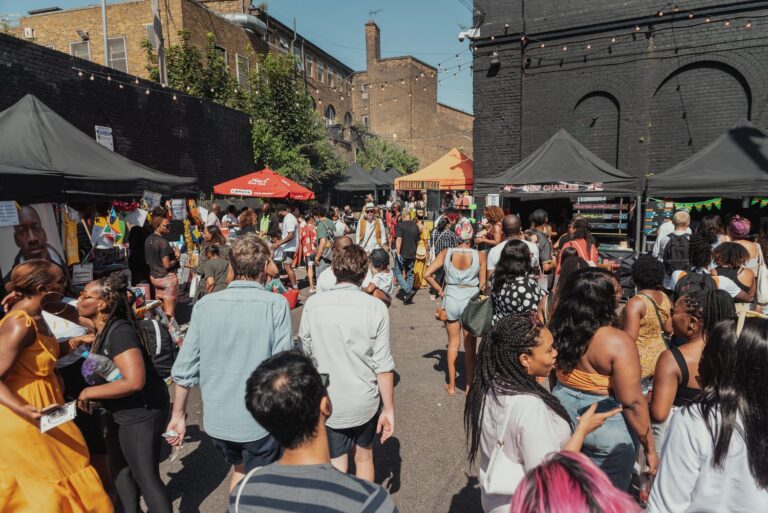 And stop off for drinks at Night Tales. 
Details: Friday nights, 6-10pm | Bohemia Place, Hackney Central, E8 1DU | Free entry
–
34. Take a Board Game to The Faltering Fullback's Roof Garden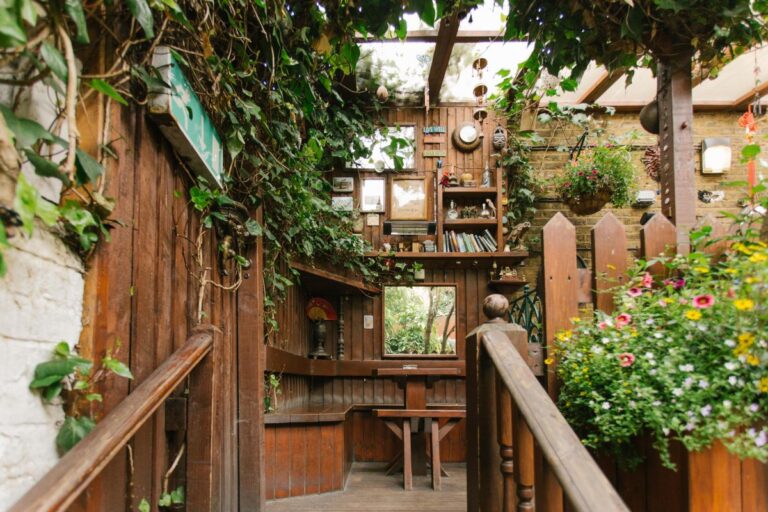 Then crush the competition at quiz night.
Details: Quiz night on Monday | 19 Perth Road, N4 3HB
–
35. Pick a Picnic at these PYO Farms near London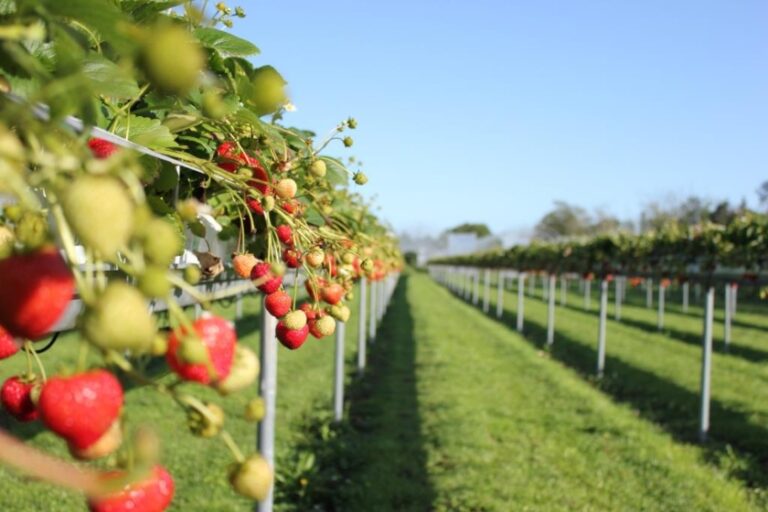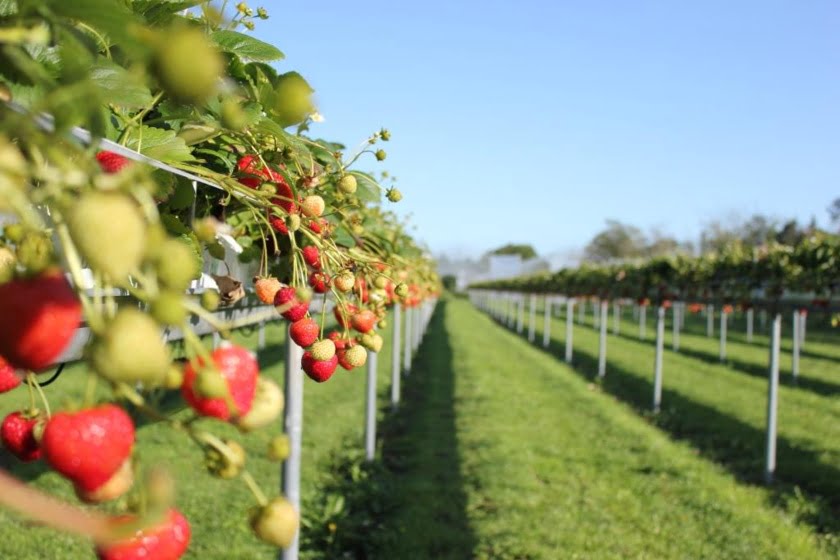 It's totally ok to just get five punnets of strawberries.
–
36. Show Off Your Knowledge of the Italian Futurist Art Movement…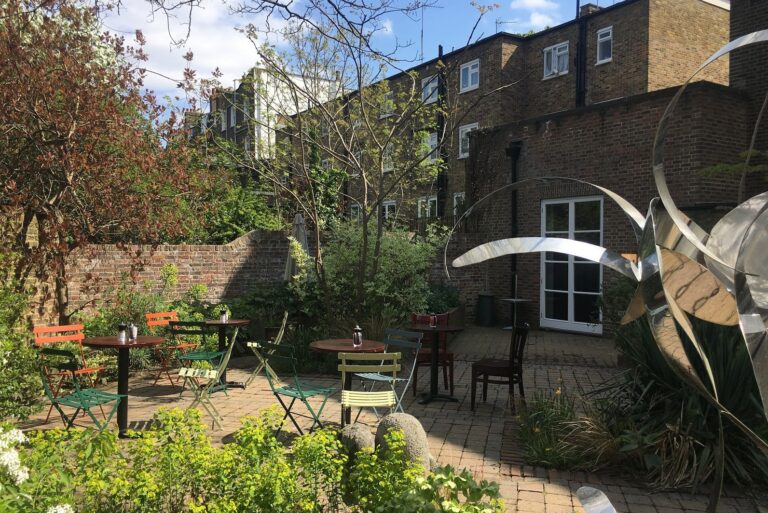 …just as soon as you've enjoyed a Campari spritz in the Estorick Collection's secluded courtyard garden.
Details: Open Wed-Sun | 39A Canonbury Square, Islington, N1 2AN | £7.50 gallery entry
–
37. Watch Stand-Up or a Musical at Regent's Park Open Air Theatre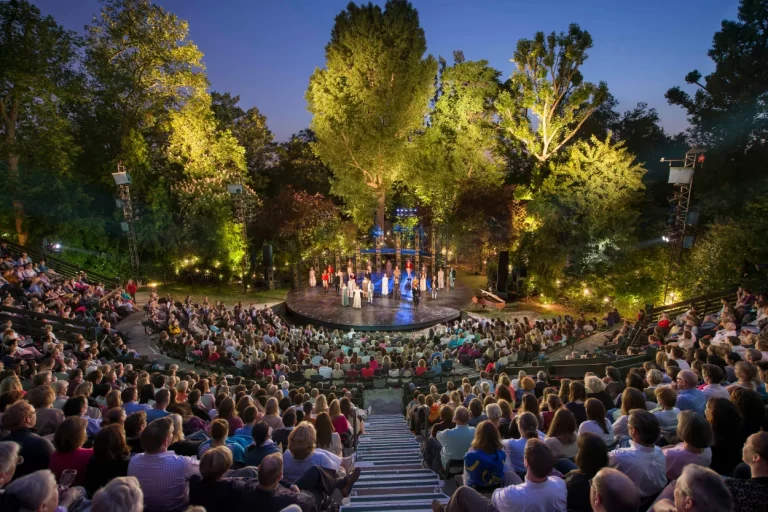 And pre-book a Champagne picnic for two.
Details: Throughout summer | Regent's Park, Inner Circle, NW1 4NU | Tickets from £25, picnic £55.95 for two | Book here
–
38. Attend a Seasonal Supperclub in an Ancient Apothecaries' Garden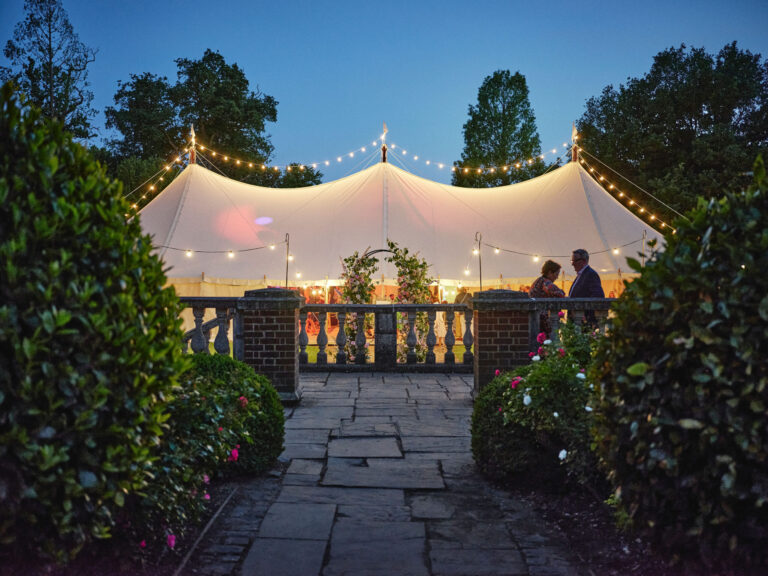 Here's hoping they can cure your lovesickness, wheeey….
Details: Various dates until September | Chelsea Physic Garden, 66 Royal Hospital Road, London SW3 4HS | £60-80 | Book here
–
39. See How Far You Can Get Along the Bermondsey Beer Mile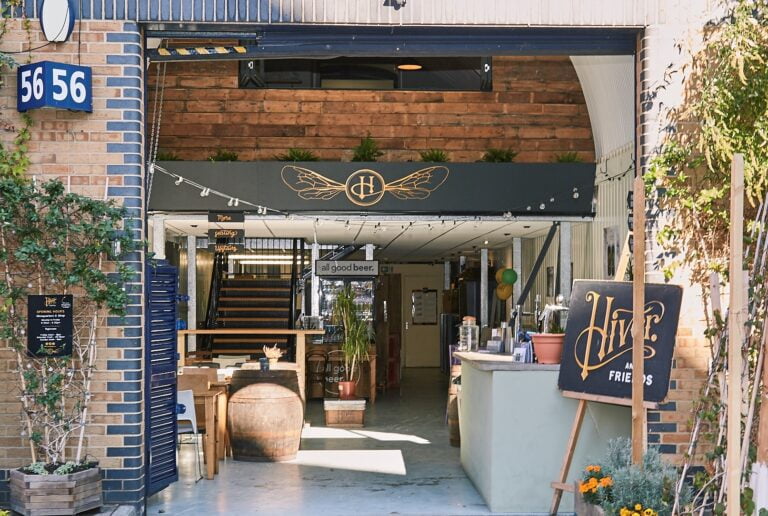 Remember, in these summer months it's important to stay hydrated.
Details: Saturdays 11am-5pm | See the route here
–
40. Listen To Live Music In An 18th Century Mansion Courtyard
Somerset House's summer gigs cover everything from pop, to rock, to grime, with artists like Goldfrapp and Greentea Peng.
Details: 6th-16th July | Somerset House, Strand, WC2R 1LA | £31.25+ | Book here
–
41. Follow A Cryptic Text Trail Around Hidden Parts of the City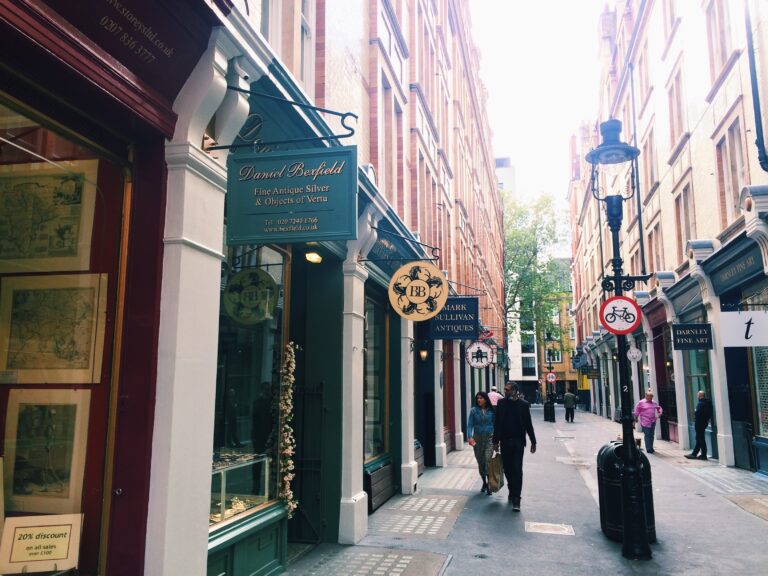 And stop in at tiny, off-the-beaten-track pubs en route.
Details: Daily | Across London | £25pp | Book here
–
42. Play a Little Al Fresco Shuffleboard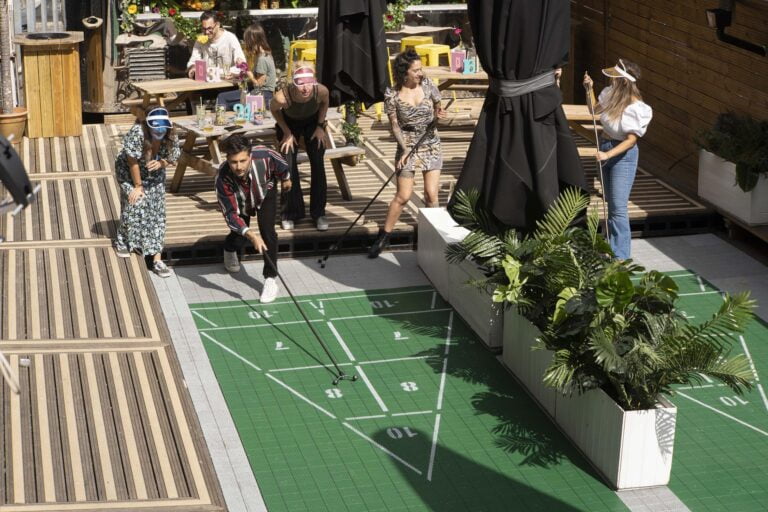 On weekends they do bottomless prosecco, beer, and stone-baked pizzas too.
Details: Open daily | London Shuffle Club, 4 Ebor Street, E1 6AW | £25-52 per lane | Book here
–
43. Go Wild Swimming At One Of These Outdoor London Swim Spots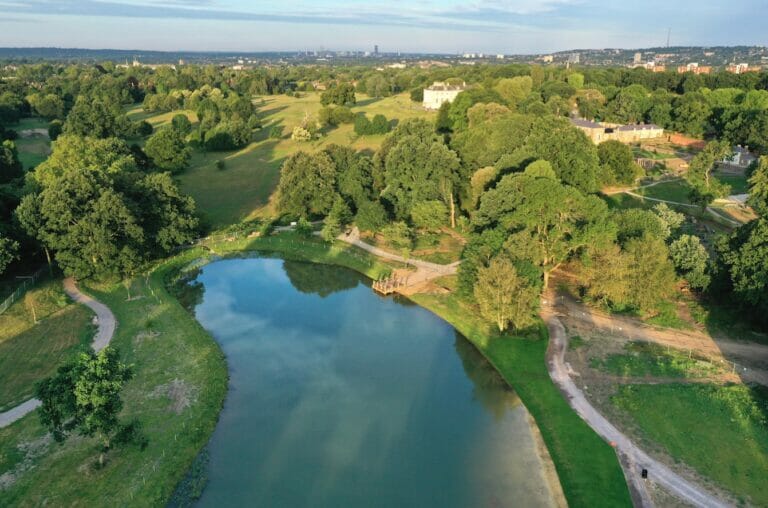 Work on your butterflies…
–
44. Go Dinosaur Spotting at Crystal Palace Park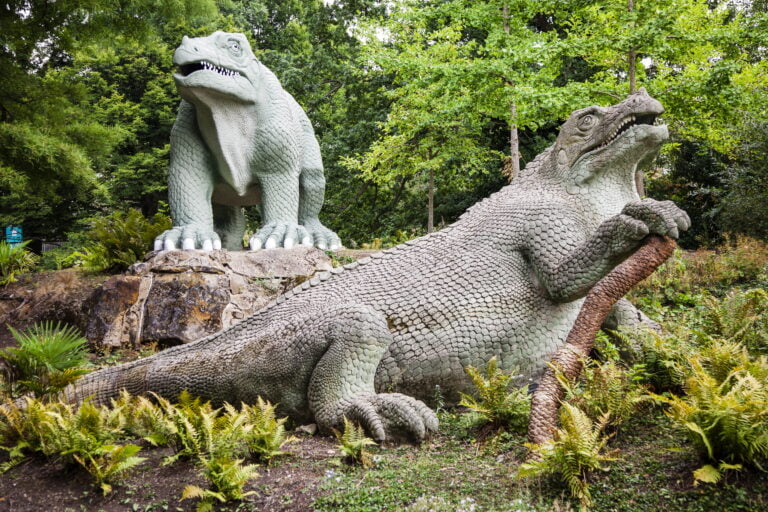 Decide why this one is soooo lazy.
Details: Crystal Palace Park, 13 Orchard Grove, SE20 8DN | Free
–
45. Take a Stroll Round Holland Park's Kyoto Garden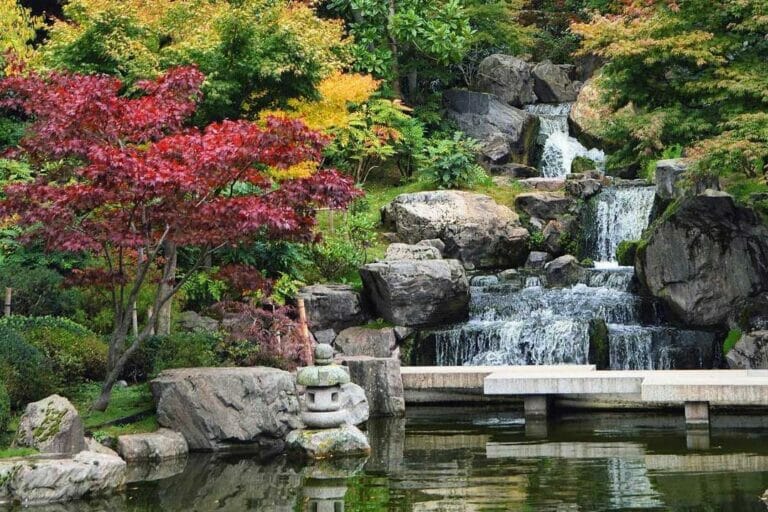 Then go for a drink at the equally floral Churchill Arms.
Details: Open daily | Holland Park, Ilchester Place, W8 | Free
–
46. Absolutely Thrash Each Other at Boules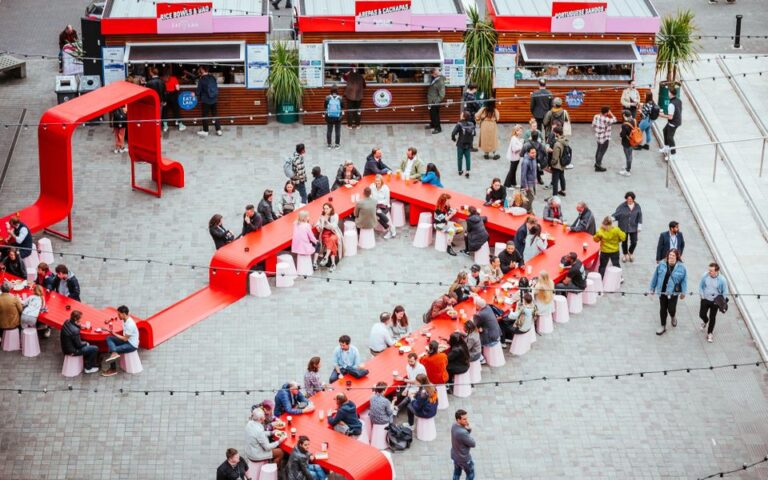 Then grab lunch by the river at KERB's street food market by the National Theatre.
Details: Open all summer | 101 Upper Ground, Southbank, South London, SE1 9PP | £25-42 (50% off for Nudge Members) | Book here
–
47. Go Kayaking Down the Thames By Twilight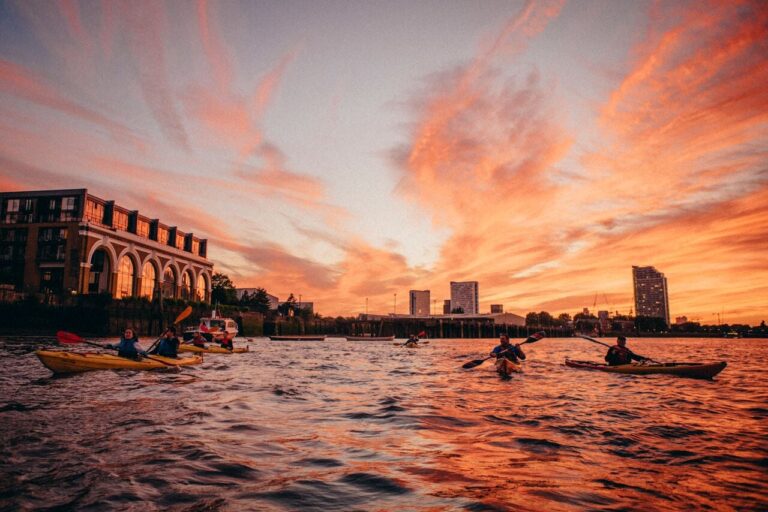 Prepare for renting in London together by squeezing into a double kayak.
Details: Various dates | The Beach Next to St Mary's Church Battersea, SW11 3LX | £79.95 | Book here
–
48. Enjoy Portuguese BBQ by the River from the Moro Team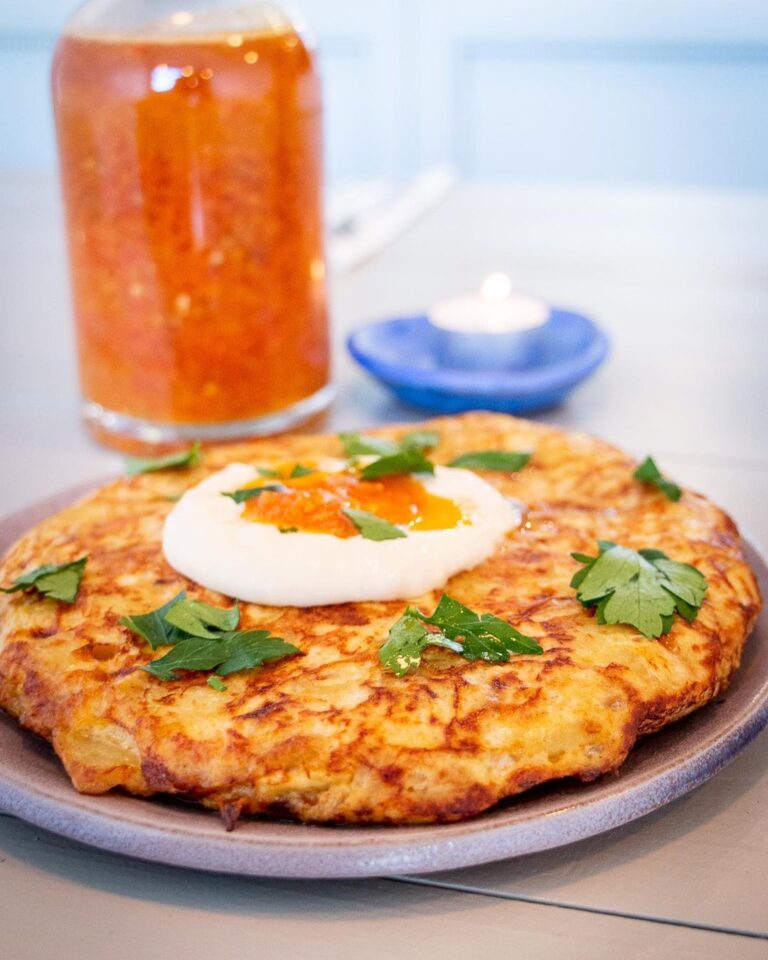 At their annual Summer Piri Piri pop-up.
Details: Friday – Sunday until September | Autumn Yard, Unit 2A, 39 Autumn Yard Street, E3 2TT | Walk-ins only
–
49. Eat Australian-Greek Fusion on a Rooftop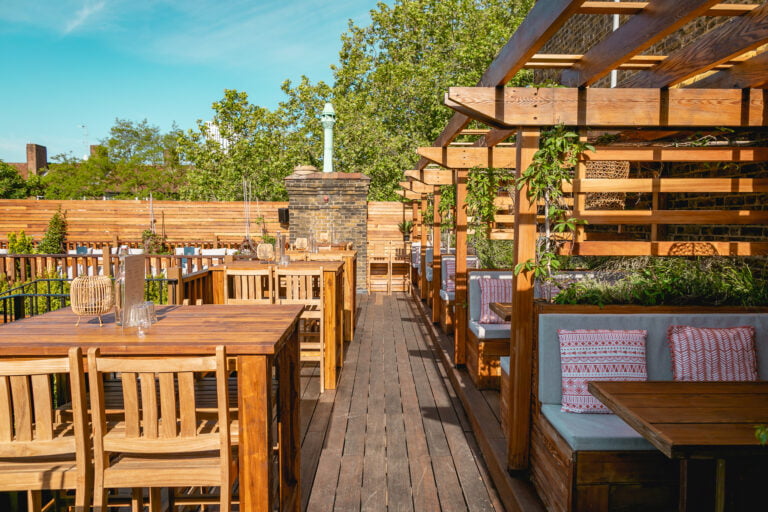 They're calling it Graustralian esti.
Details: Sundays throughout summer | TT Liquor, 17B Kingsland Rd, E2 8AA | Book here
–
50. Hang Out Canalside At Crate Brewery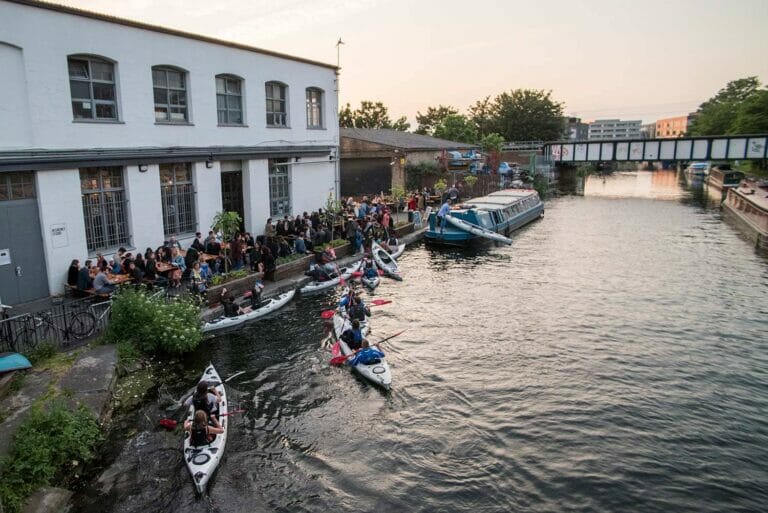 Share a pizza and design your imaginary houseboat together.
Details: Open daily from noon | The White Building, Queen's Yard, E9 5EN
–
51. Skate, Dine and Bowl at Skate, Dine and Bowl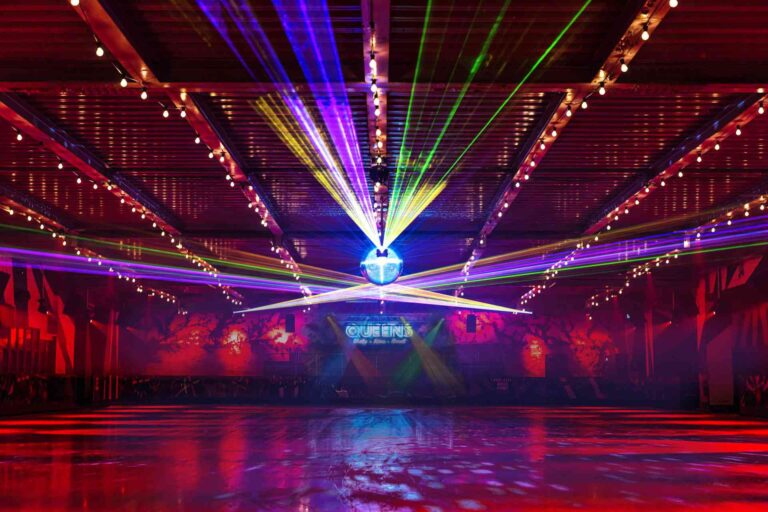 Keep cool while everyone else is sweltering above ground, at their DJ-fuelled ice skating nights.
Details: Open daily, DJ nights from 7pm | 17 Queensway, Bayswater, W2 4QP | £16 | Book here
–
52. Head to the Midnight Apothecary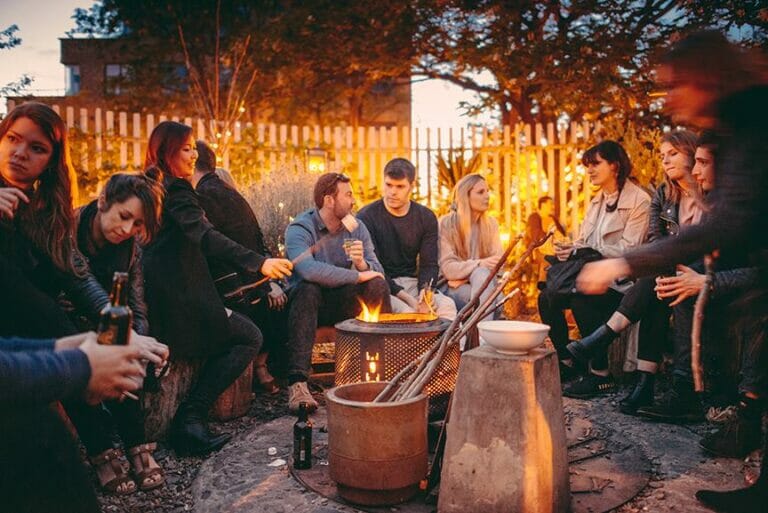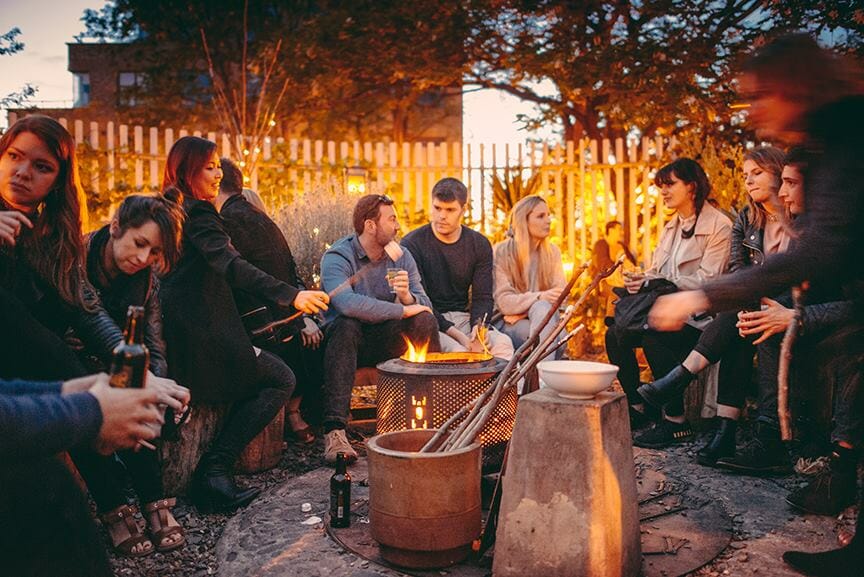 Because: botanical cocktails, subterranean live music, and bottomless, toastable marshmallows.
Details: Fridays & Saturdays | Brunel Museum Rooftop Garden, Railway Avenue, London, SE16 4LF | £8 | Book here
–
53. Take a Food Tour of the World at Mercato Metropolitano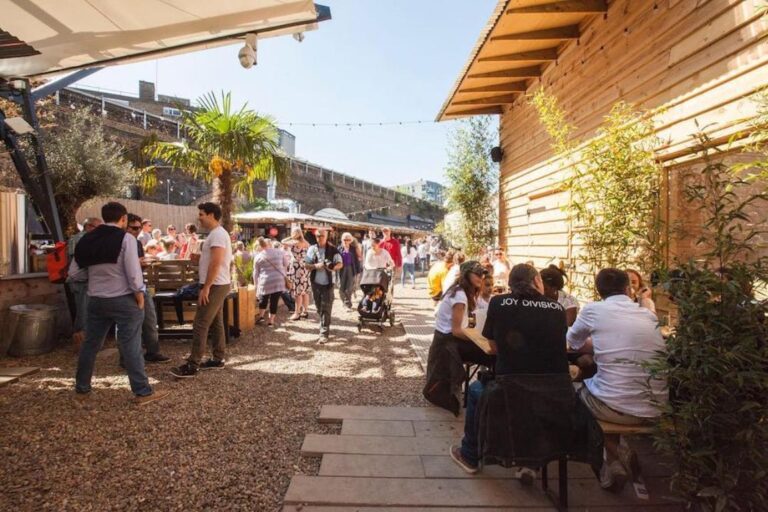 …and bop your head to live music.
Details: Open daily from 11am – late | 42 Newington Causeway, SE1 6DR | Free entry
–
54. Celebrate Bastille Day at Maison Francois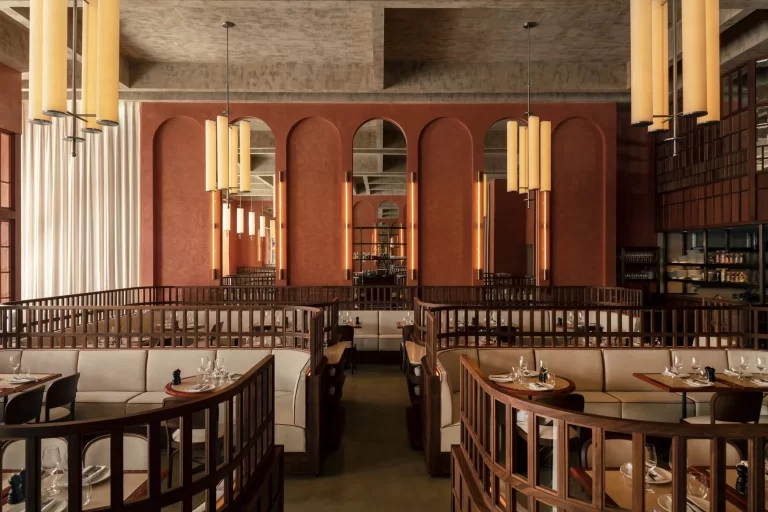 Unsurprisingly, this very French restaurant is throwing a very French party, with magnums of rosé, mime artists, and 'escargot-related entertainment.'
Details: 14th July | Maison Francois, 34 Duke Street, London, SW1Y 6DF | £60 | Book here
---
Need even more inspiration? Luckily there's 101 year-round London date ideas right here…